I love keeping a journal when I travel. I want to remember every moment, every detail. The good, the bad and the ugly. One way to do this is taking photos, but they will only tell so much. Looking at a photo of a trip I made a few years ago will certainly bring back some memories. Adding words to the mix however will immediately take me back to that exact moment, including thoughts and emotions I was experiencing right then.
Writing in my travel journal is not about perfection. I'm not pretending to be a professional travel writer. Not worrying about what others may think of it. They're my thoughts, my words and meant for my eyes only.
This year in South Africa, I realized something. The weather was really bad that day and since we were staying at this lovely house in Stellenbosch we decided to stay in. All the time in the world to read a book and write in my travel diary.
You'd think that because not much was happening that day I would be done pretty quickly. However, the words just kept on flowing. Travel memories are about more than what you eat, do and who you meet that day. It's also about how the destination and its people make you feel, little details that catch your attention.
There were so many conflicting thoughts running through my mind. Without trying to make sense of them, I decided to just write it down.
And reading it now makes me smile. Yes, I'm rambling for several pages long. And I don't intend to ever show them to someone else. But it reminds me what an impression this country made on me.
In a couple of years, the photos will show how beautiful South Africa is. It shows in chronological order where we went and what we did. But it's this travelogue that will tell me what it was really like.
Writing with Pen and Paper versus Digital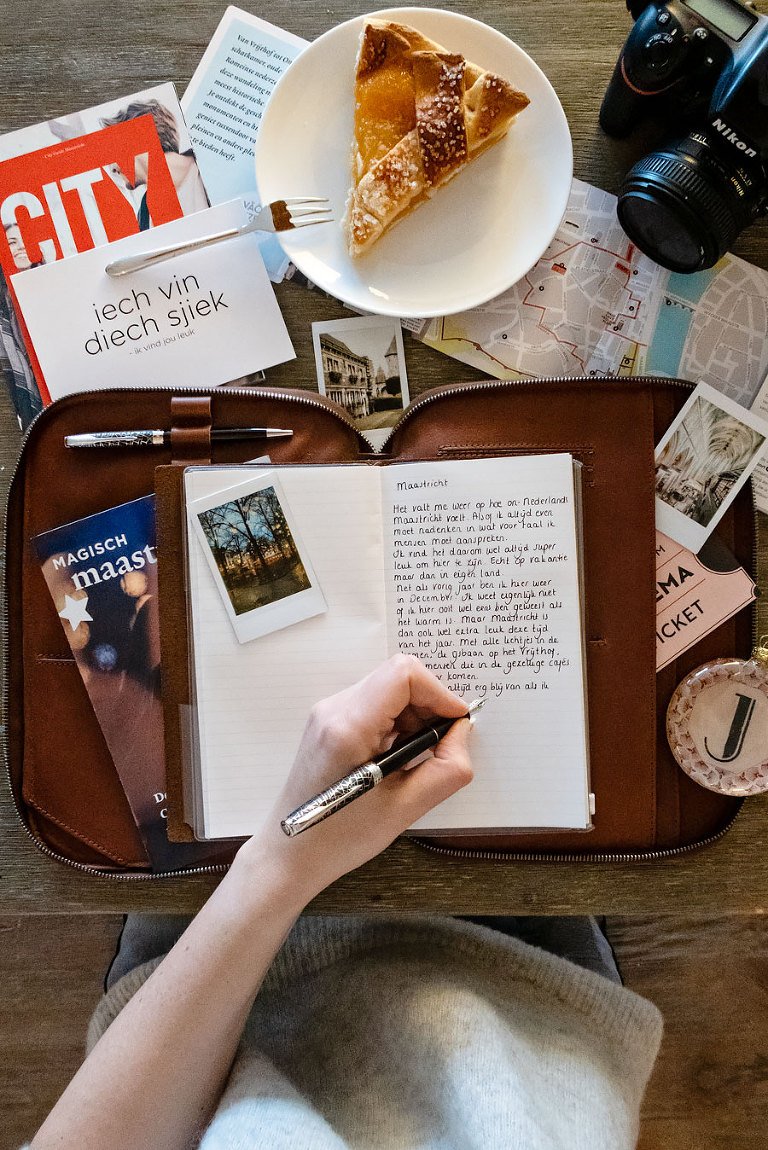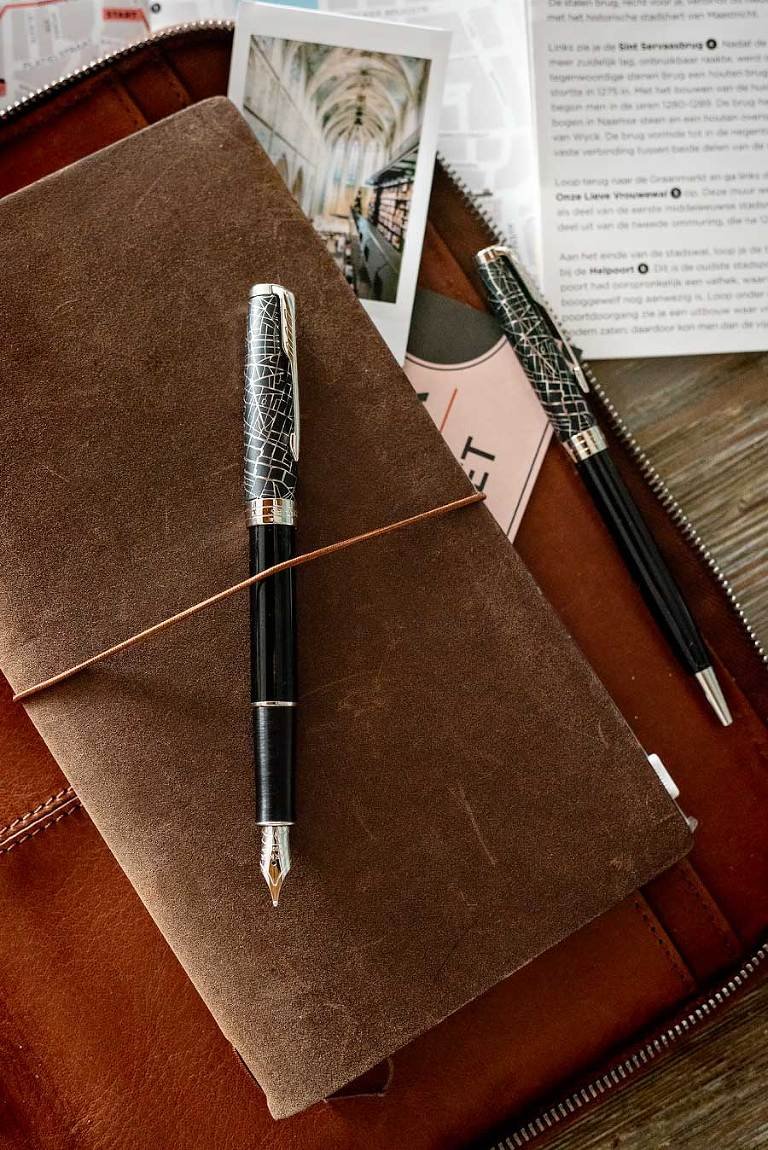 There was something else I realized in South Africa. And that's how much I love using pen and paper for my travel journal.
For years I've been using Evernote and before that other apps to write about a trip. It's practical. It saves me having to bring a notebook. I don't have to worry about losing it. And it's super easy when I quickly need to look something up for a blog post.
But it's just not the same as pen and paper. It feels more intimate. No distractions from other apps or notifications popping up. Just me, my notebook and a pen. It makes it easier for me to find the right words, capturing the essence of a destination. And I kind of like that there's no 'delete' option. Once I write it down, it stays.
Putting the World into Words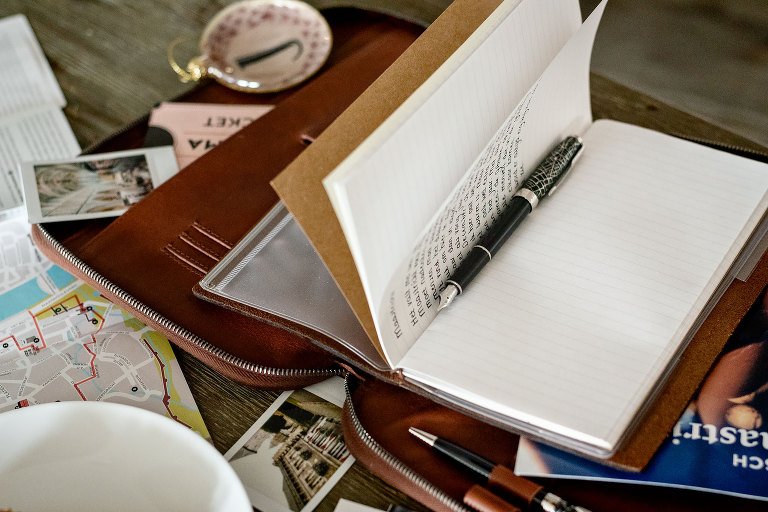 Still super pleased with my South Africa journal, Parker Pen approached me about their new campaign 'Put the world into words' with a collection of travel-inspired pens. This doesn't happen often, but it really felt like perfect timing.
The Sonnet Special Edition has four different finishes, each inspired by a different type of traveller, and comes as a fountain pen, rollerball and ballpoint pen.
On my two most recent city trips I've been using the Sonnet Special Edition Metro. Inspired by 'the dynamism of modern, metropolitan life' (the cap has an urban street map pattern). And developed to capture the experiences and sensations of unfamiliar streets and cityscapes. Very Urban Pixxels, don't you think?
I had forgotten how much I love writing with a fountain pen. I probably hadn't used one since high school (and that's a long time ago). Not only does it look super sophisticated and elegant, my handwriting improves and the whole writing experience is just more pleasant. This pen will be coming with me on every trip from now on.
And I'm pleased to let you know that if you're living in the UK, you can win one of these beautiful Sonnet Special Edition pens. Check out my Instagram post telling you exactly what you need to do to enter this competition.
Tips for writing a travel journal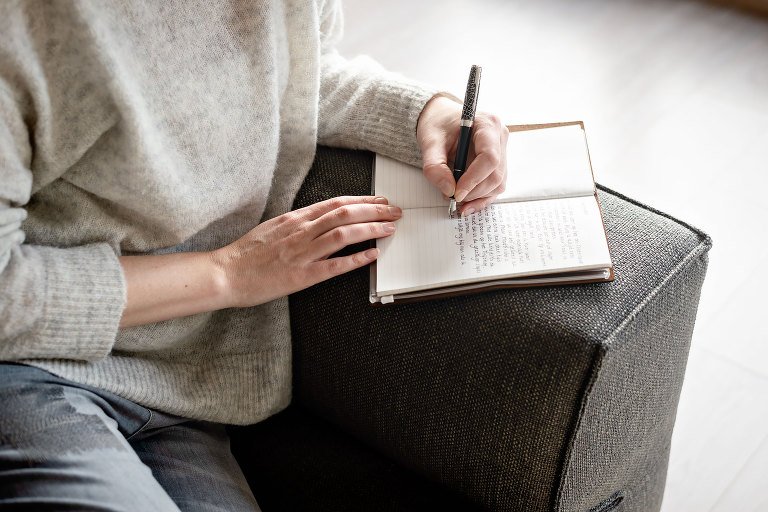 Use a beautiful notebook
This is an easy one, but it really helps. You'll be more proud of the end result, and more eager to fill those empty pages with your writing when the cover and paper look nice too. I'm a big fan of the Midori Traveler's Notebook. It has a beautiful leather cover and you can refill the inserts for every trip.
Don't try to be perfect
When I'm writing a blog post about my travel experiences I'm very aware that other people will read it. It makes me choose my words carefully and I may not always share all my thoughts. Travel journals are for your eyes only. It's not about well-written sentences and sounding eloquent, it's about expressing your travel experiences. You're not writing a travel guide for someone else. Just write down whatever comes to mind and it will be so much easier.
Add other elements
Yes, a travel diary is mostly about words, but that doesn't mean you can't get a bit crafty. This is another reason why I now prefer pen and paper over digital. For my South Africa journal I added entry tickets, a polaroid picture of the best part of that day, business cards of places we had lunch or dinner, etc.
Use your favourite pen
Writing about a trip should be fun and easy. You don't need any frustrations about a leaking or smudging pen, or one that stops working mid-sentence. No surprise here that I'll be using my new Sonnet Special Edition Parker fountain pen for every journal.
Make it a daily habit
It will be easier to capture the essence of a travel experience when you try writing it down immediately. It's surprising how quickly you forget about the little details that make that moment so memorable. I always take my travel journal with me during the day and when I have a moment I try to write.
Do you keep a journal when you travel? Let me know in the comments what you love about it and if you have any tips to share.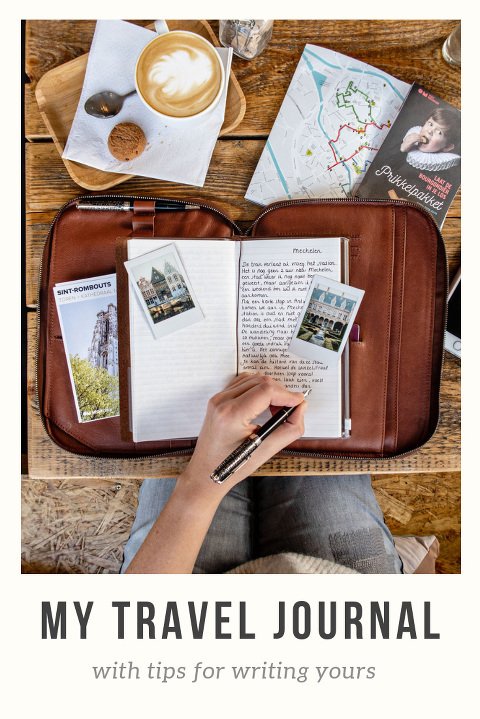 THIS POST WAS CREATED IN COLLABORATION WITH PARKER.