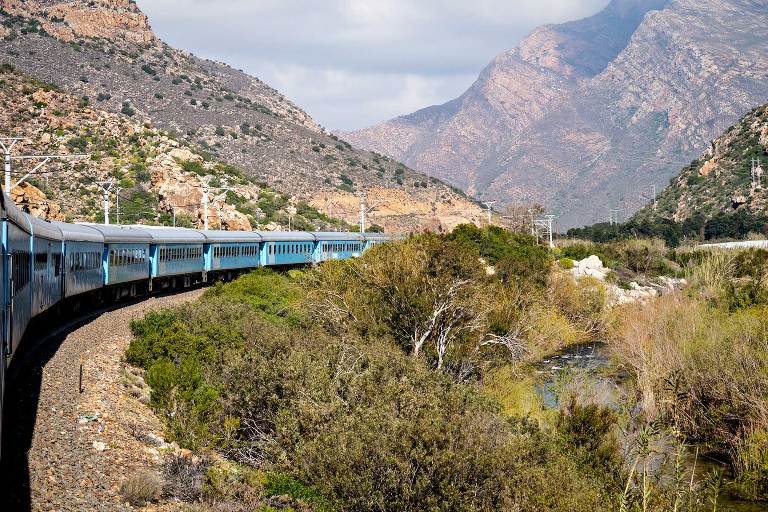 When time is not a factor, I love traveling by train. There's something about slowly seeing the world outside your window change as you're approaching your destination.
Premier Classe train: the luxury budget alternative to the Blue Train
My friend and I had only just decided that we would go to South Africa when I came across this story in the New York Times about a train journey between Johannesburg and Cape Town. Apparently one of the most scenic train rides in the world. Not the Blue Train, which is still on my bucket list, but a more affordable and still quite luxurious option. Twenty-six hours with the Shosholoza Meyl Railways Premier Classe Train compared to the two hours that it would take to fly between the two cities.
But we're in no rush and it sounds like an incredible experience. To sleep and eat on the train. No wifi or cell service. All the time in the world to read a book and stare out the window. We're doing this!

This is actually the very first thing we plan for our South Africa trip. Because the train only runs from Johannesburg to Cape Town once a week on Thursday (and back on Tuesday), we're reverse planning the first week of our trip in which we want to visit Johannesburg and Kruger Park. Only to make sure we can be back in Johannesburg on Thursday to catch the train.
Johannesburg Park Station
On Thursday morning we arrive at Johannesburg Park Station. Unfortunately the station is in a bad neighbourhood where nobody, including your Uber driver, likes to go. The station however is fine and safe.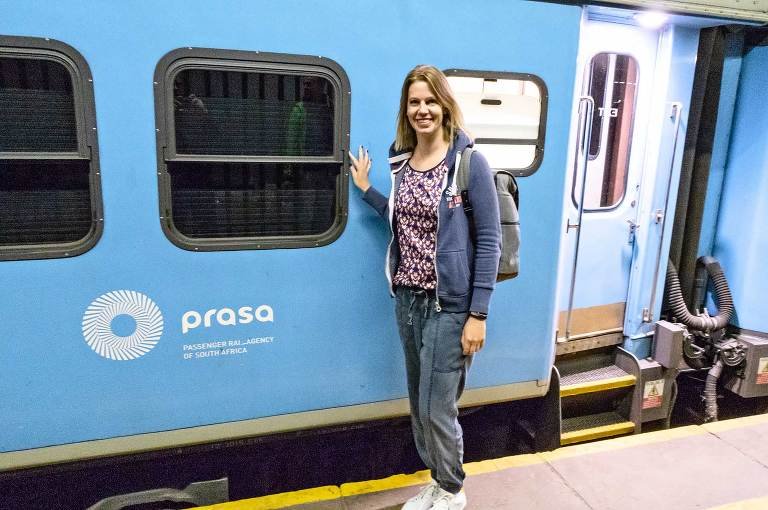 Premier Classe Lounge in Johannesburg
We're meeting the other train passengers at the Premier Classe Lounge. The staff checks our names on the passenger list, takes our luggage (which they'll bring to your train cabin) and gives us a boarding pass. Most passengers are South African and a bit older (as in: retired, grey hair), but there are also some other (younger) tourists that are just as excited as we are.
The voucher I'd received after booking already mentioned that we would be eating a lot, and they weren't kidding. You hope that while waiting in the lounge there might be some water, coffee and tea, a biscuit would be nice. Well, there's that. But also fruit, and cake and sandwiches… And we aren't even on the train yet!
The man who's in charge of the train comes to welcome us and explains that there are some issues on the track between Johannesburg and Cape Town. We'll be leaving on time but it's probably going to take longer than 26 hours. "And if we arrive in Cape Town…" Sorry, if?! I'm just going to pretend he meant 'when' and try to forget he said that.
The train is huge. We won't be seeing half of the passengers again until the we arrive in Cape Town as there's two of everything, like the dining car and lounge area. So when we're walking to the platform half of the passengers turn left and we turn right.
Private air-conditioned sleeper compartment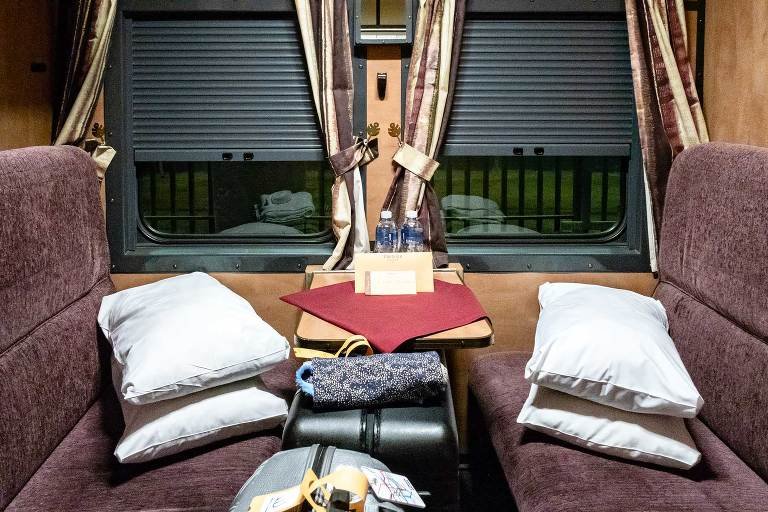 Our cabin is perfect. Two comfortable sofas that will be turned into a bed in the evening. Plenty of storage space (even above the door for our giant suitcases) and sockets to charge all my electronics. You share the toilets and showers with the other passengers, but they're super clean and stay that way throughout the entire journey.
Eating and drinking and eating and…
On the train we receive an itinerary and first thing is a welcome drink in the lounge. As the train leaves the station, the manager introduces all the staff that will be taking care of us while we're drinking champagne (it's 10.30am) with some biltong and other snacks.
All the meals that are being served in the dining car are included in the ticket price. The only thing you need to pay for (once you arrive in Cape Town) are your drinks. A nice bottle of wine however is only 6 euros. They also keep the bottle for you, so you can start one with your lunch and finish at dinner.
The food is not super fancy, but I'm really enjoying it. And it's a lot! Three courses for lunch and four courses for dinner. Plus an afternoon tea break in between. You almost don't have time to do nothing as you'll be busy eating.
Sleeping on the Premier Classe train
When we return to our cabin after dinner our beds have already been made. There's even a bathrobe and slippers in case you need to go to the bathroom. I'm surprised how comfortable the beds are, given we're sleeping on a train. And I'm so happy I didn't forget to bring my ear plugs. The moving of the train is fine, but it does make a lot of noise which could make it difficult to fall asleep.
Changing Scenery
Even though I did see the scenery change a bit on the first day, it wasn't that spectacular. Most of the landscape is flat and dry with not that much to see. But things change completely the next morning. As we're heaving breakfast and approaching Cape Town we see mountains (with snow on top) and vineyards. Everything is so much greener, it's beautiful.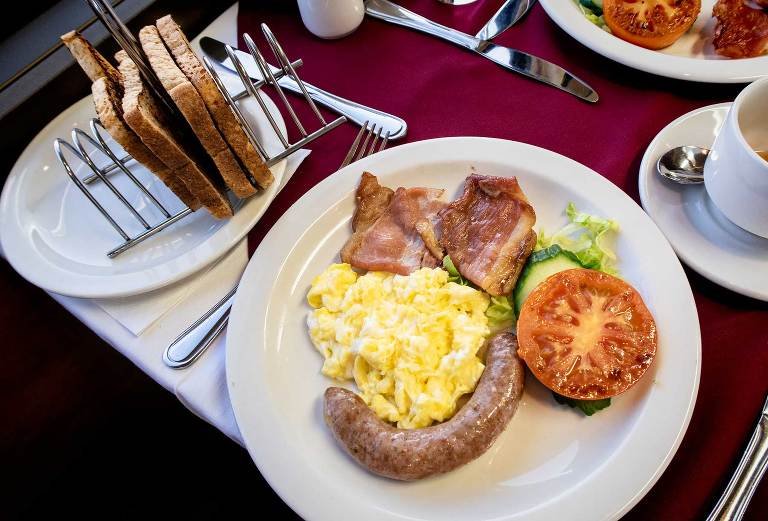 You can see on the map how close we are to Cape Town, but it's still going to take us several hours. We eventually arrive two hours later than scheduled. Twenty-eight hours to travel the almost 1500 kilometers between Johannesburg and Cape Town. As excited as I am to start exploring Cape Town, a city I've been wanting to visit for so long, I'm also sort of sad to leave the train. The Premier Classe is more than a way to get you from A to B. It was almost like a 28 hour mini holiday in itself.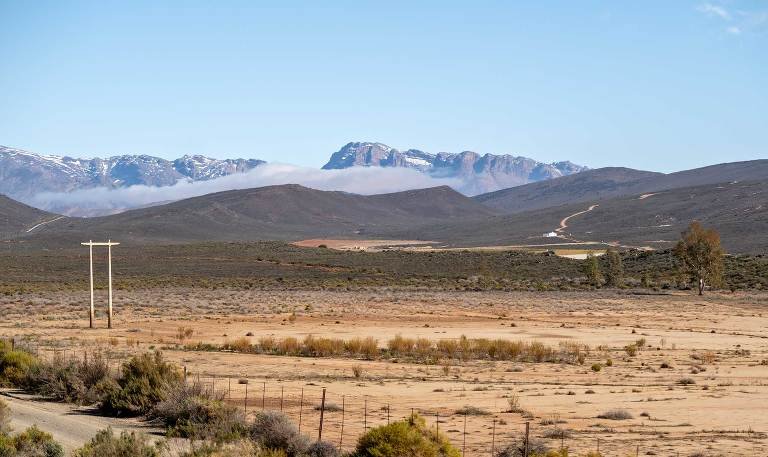 Practical information
We booked our train ticket online via African Sun Travel. After filling in the booking form someone contacts you via email for all the details and payment.
A ticket for the Premier Classe between Johannesburg and Cape Town costs SAR 3120 (around €185 with the current exchange rate). As a comparison, the Blue Train that runs between Pretoria and Cape Town starts at SAR 15.500.
You can book your ticket up to a year in advance.
The train plans to stop along the way so you can get some fresh air (not long enough to leave the station), but they don't always do this when they're already behind schedule (like with us).