This post is also available in:

Nederlands (Dutch)
A few minutes before arriving in Tallinn, the pilot informs us about the weather. Cloudy, windy, and snowy. Not what I would typically call holiday weather. But I decided to visit Tallinn in winter because of the snow, so this announcement actually makes me smile. And as the plane is starting its descent, I look out the window and see the most beautiful winter wonderland below me. 
From Amsterdam it's less than a 2,5-hour flight with KLM / airBaltic to Tallinn, the capital of Estonia. It's my first visit and with my new intention to travel more slowly, I'll be staying five full days. And I can tell you already: there are more than enough things to do in Tallinn.
Can you visit Tallinn in one day in the winter?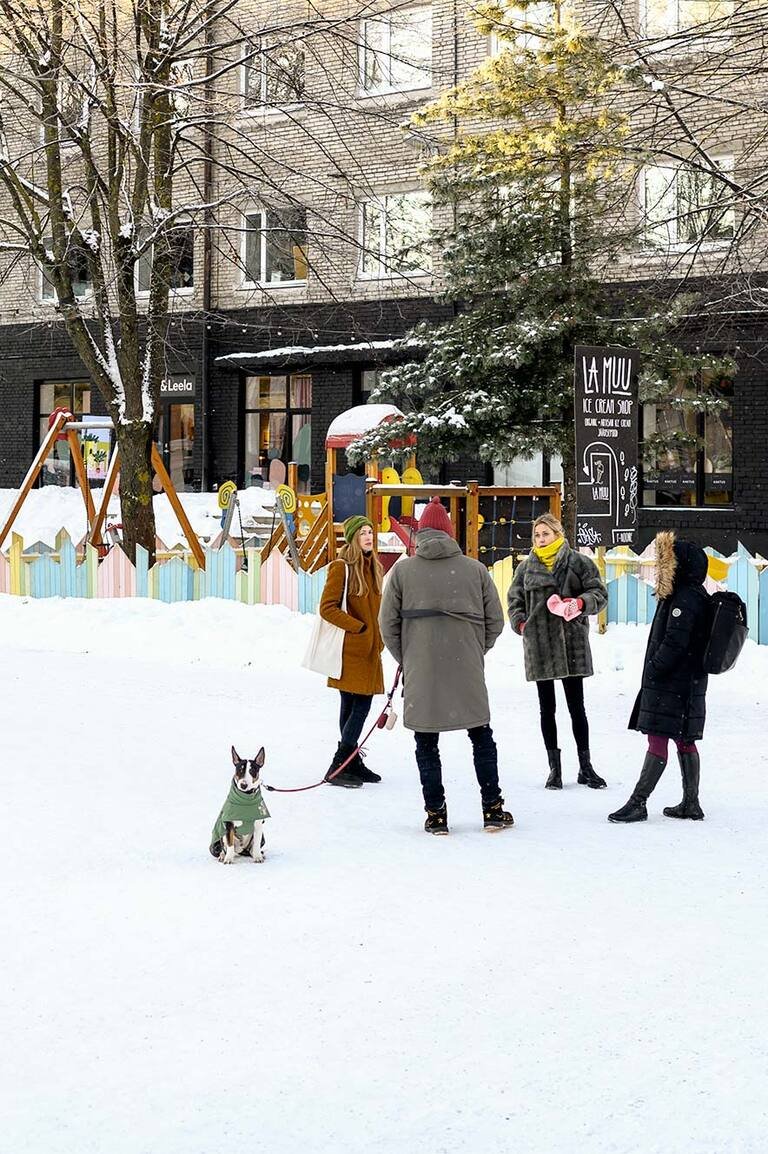 Many people choose to visit Tallinn as a day trip from Helsinki, Riga or St Petersburg. The historic city center is not that big, so you should be able to combine most 'highlights' in one busy day. But trust me: don't do it. Tallinn deserves its own city trip. There are so many interesting things to do in the Old Town as well as the other neighborhoods, that you'll have a great time spending several days here.
Plus when you visit Tallinn in winter it gets dark around 3.30-4pm. If you're staying a couple of days, you won't have to visit sights when it's already dark outside.
Where to stay when you visit Tallinn in winter?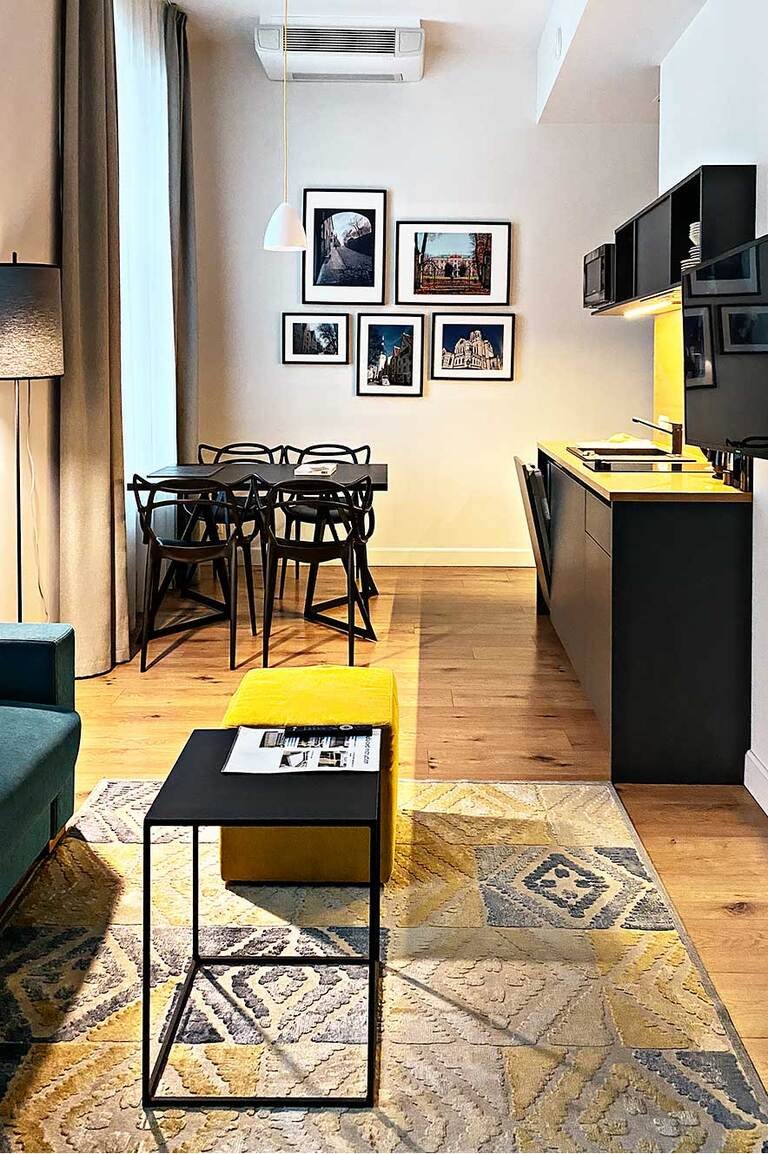 With tram 4 it only takes me 20 minutes to get from the airport to my apartment in the Old Town. Both the location and the apartment itself are perfect.
The Tallinn City Apartments Old Town Suites has a reception where you can check in and out, and that can help you if you have any questions. But other than that, you have a beautiful modern apartment to yourself. And from here I can walk to almost all the sights I want to visit this week.
KGB Museum in Hotel Viru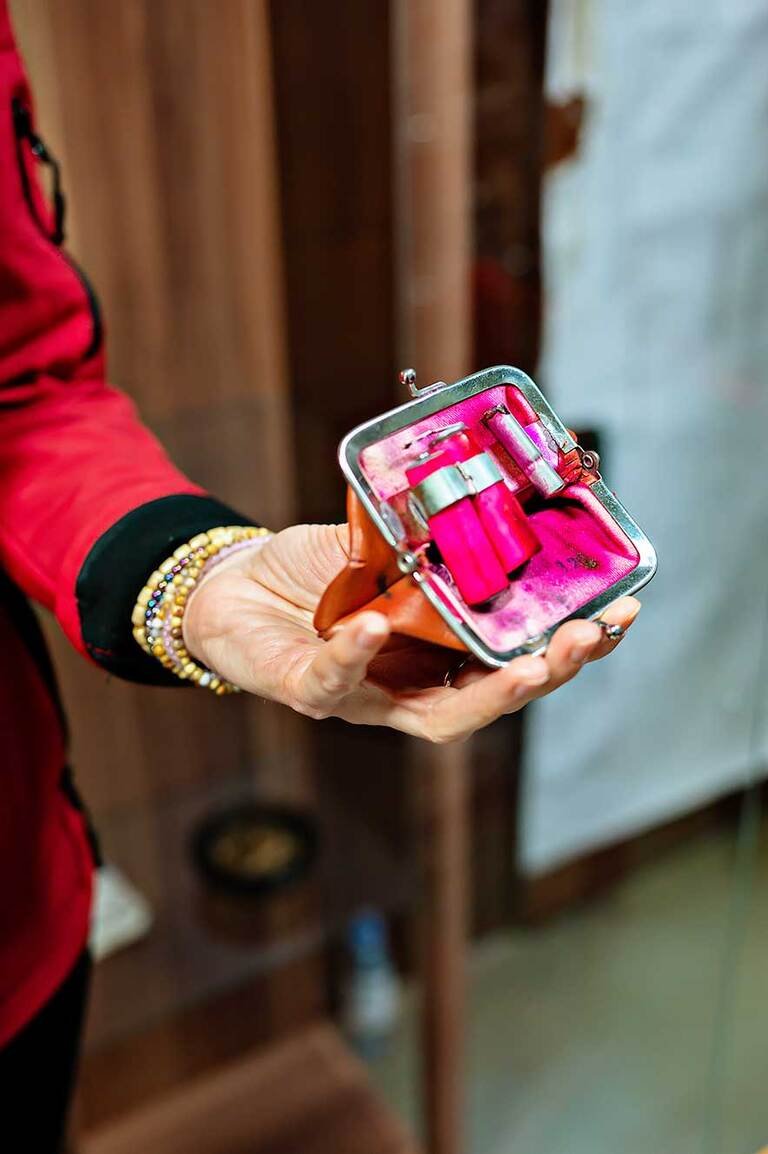 Starting in 1972 until Estonia's independence in 1991, the KGB used a 'hidden' floor at Hotel Viru to secretly observe the hotel's foreign visitors (and staff). You can take a guided tour to learn more about the hotel's history and see how the KGB operatives used to work. It's a great way to start your city trip in Tallinn!
Tallinn in winter at its best: Toompea Hill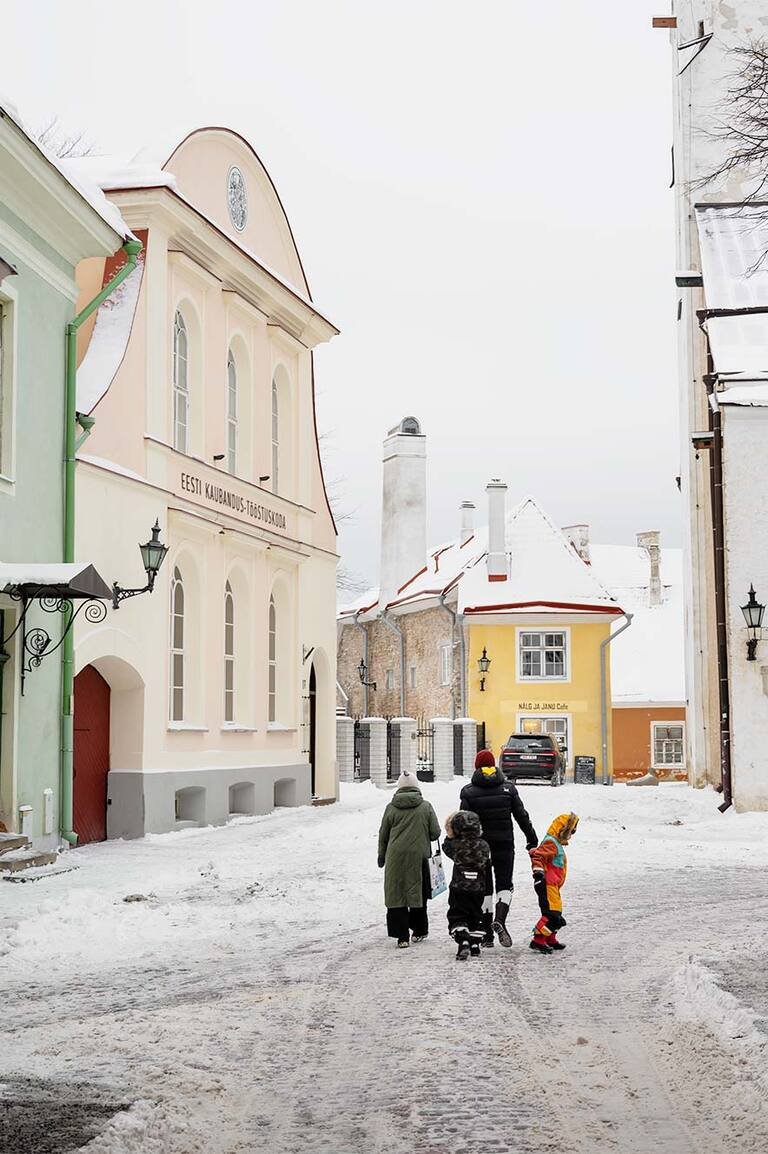 It requires climbing a few stairs, but then you reach – in my opinion – the most beautiful part of Tallinn: Toompea. With its colorful houses, charming streets and some of the city's most important sights, this is an area you cannot miss. The hill is approximately 20 meters higher than the rest of the old town, which gives you some amazing view points.
Alexander Nevsky Cathedral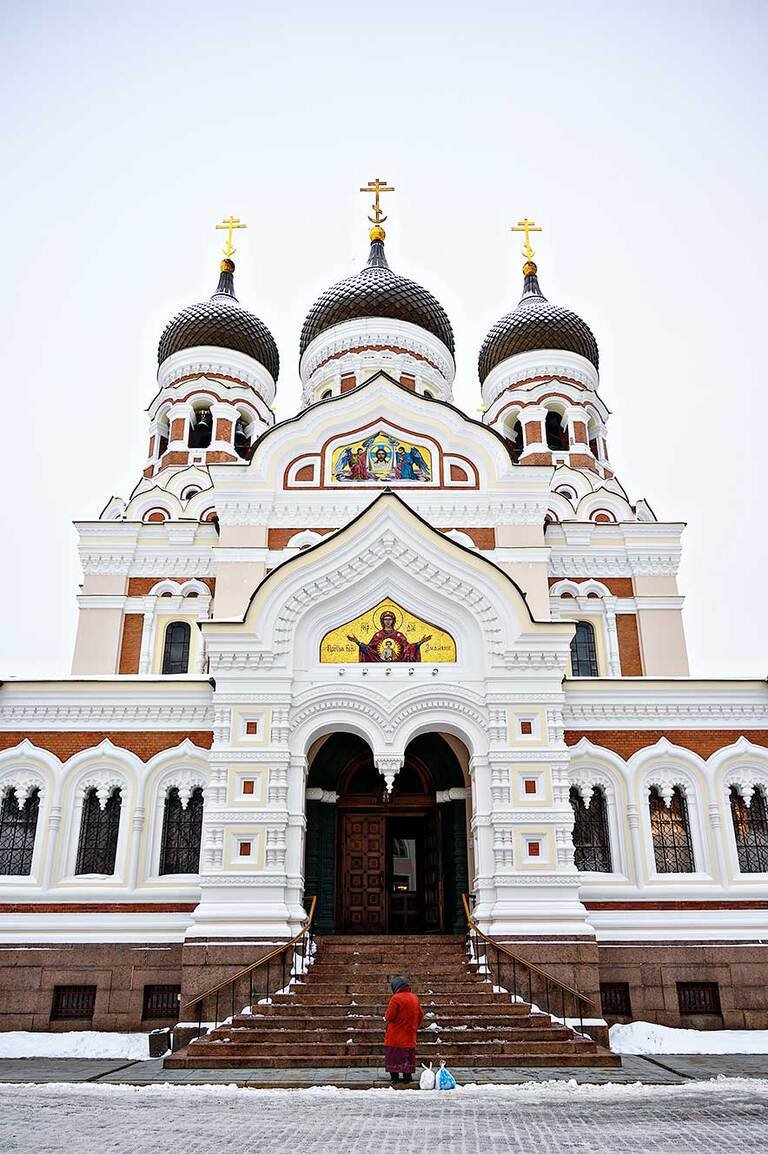 On top of Toompea Hill stands the spectacular Alexander Nevsky Cathedral, the most important Russian Orthodox cathedral in Estonia. Unfortunately you're not allowed to take pictures inside, but I can tell you that the cathedral is just as beautiful from the inside as it is on the outside.
Kiek in de Kök
Next to the cathedral you'll find an impressive Medieval artillery tower with the brilliant name Kiek in de Kök, meaning 'peek into the kitchen' in Low German. From the 38 meter high tower, you could see what was happening in the surrounding houses but also what the enemy was 'cooking up'.
During a visit you can climb up the tower to enjoy the view and walk over the city wall to the other defense towers. And don't miss the hidden underground tunnels (Bastion Passages) that were built in the 17th/18th century and have an interesting history.
The Danish King's Garden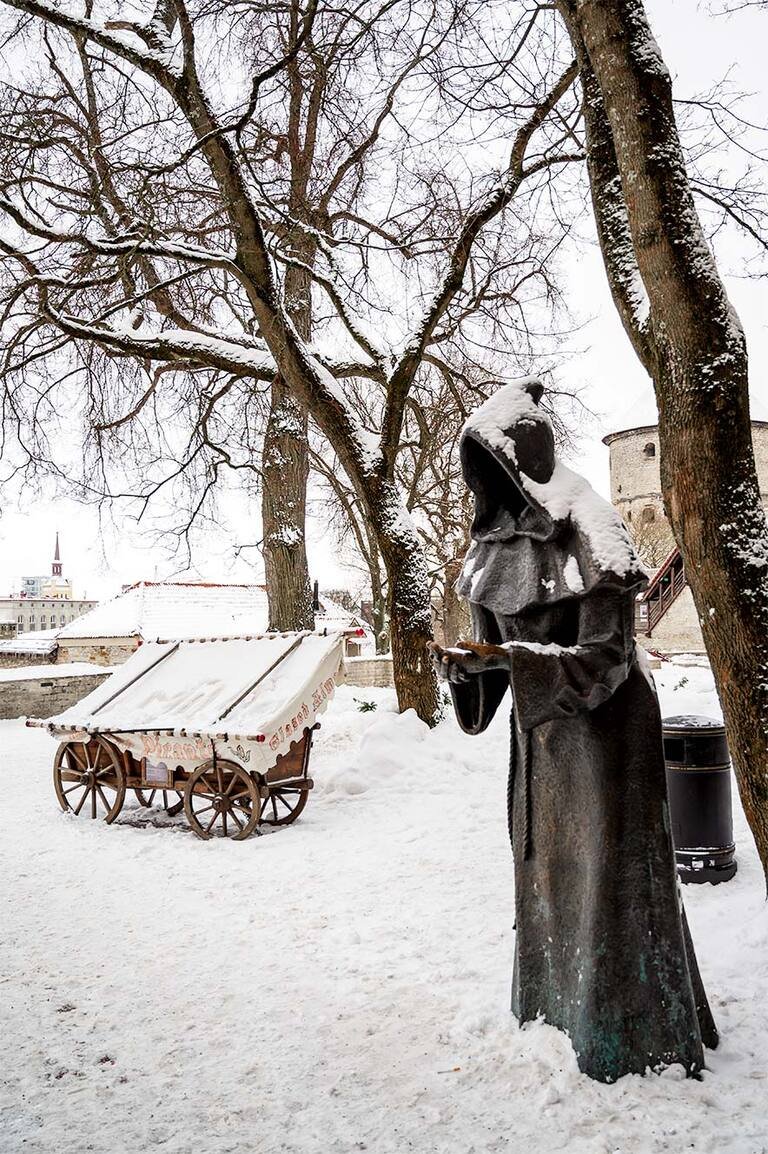 Right next to the city wall is the Danish King's Garden (Taani kuninga aed). From 1219 to 1349 Estonia was ruled by Denmark. The legend goes that in 1219, the Danish King Valdemar II was standing here, planning to conquer Toompea after losing his previous battles with the Estonians. Looking at the sky a white flag with a red cross appeared and his invasion turned into a success. The white flag with its red cross then became the Danish national flag. The 'day of the Danish flag' is still celebrated in the garden every year on 15 June.
But what I found more intriguing are the three large bronze sculptures of monks without faces. There are many ghost stories going around of people who have spotted ghosts that look like monks. You've been warned…
Best View of Tallinn In Winter: Patkuli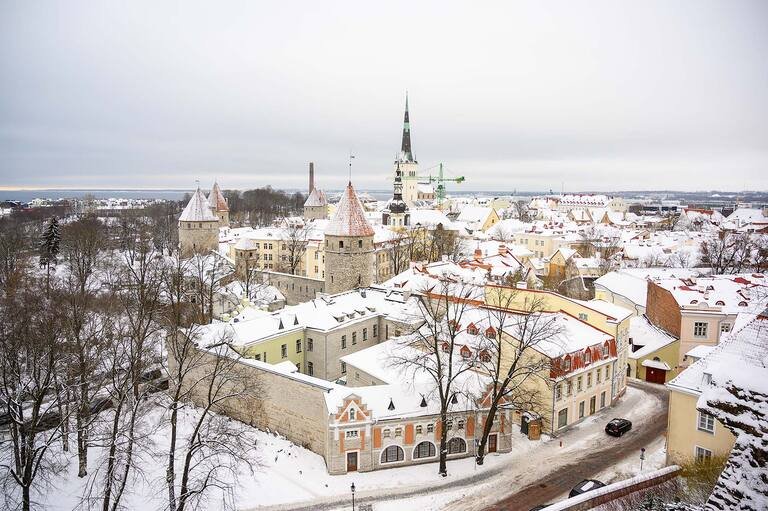 As I mentioned before, because of the height difference Toompea offers an amazing view over the city. A great spot to take some pictures of the city covered in snow is the Patkuli Viewing Platform.
The times we had: Kohtuotsa Viewing Platform
And you don't have to go very far to get to another viewpoint: Kohtuotsa. You might recognize this spot from the many Instagram pictures that were taken with the mural text 'The times we had'. The text is still there, but you will need some Photoshop skills to remove all the graffiti around it.
Vanalinn: Tallinn's Old Town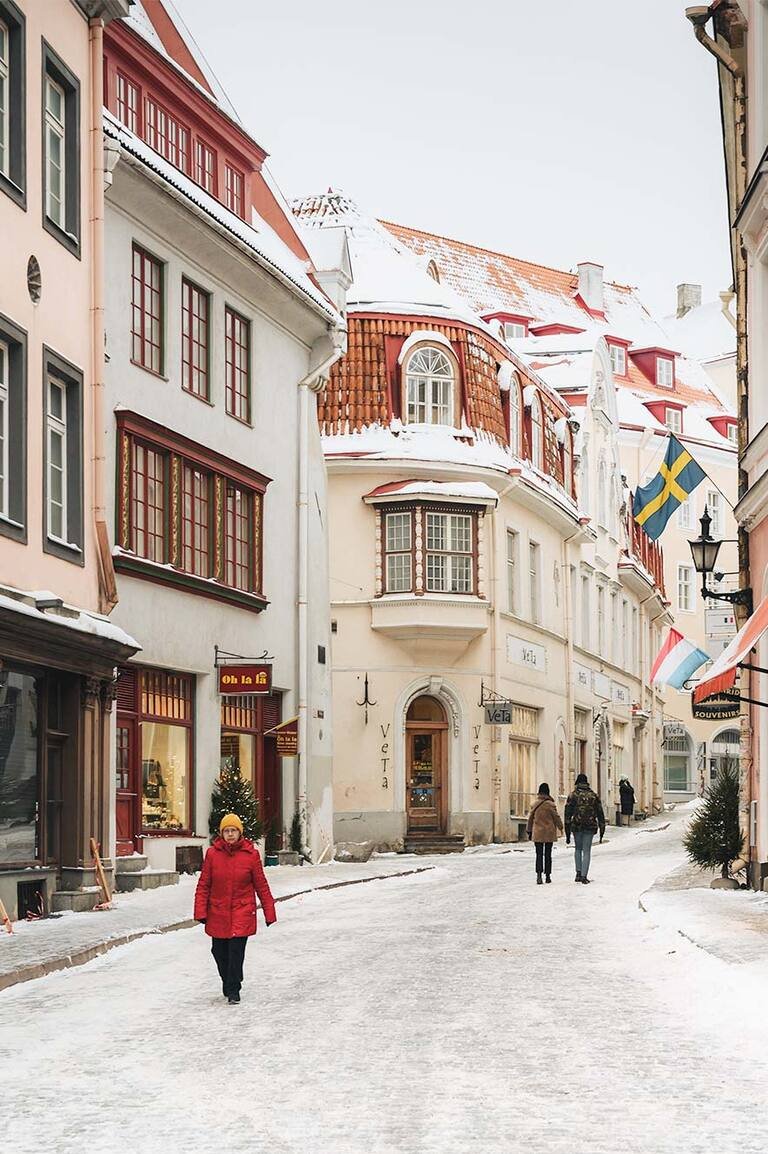 There's a reason why Tallinn's Old Town made it onto the UNESCO World Heritage List. The beautiful city centre with all its well-kept Medieval buildings is why Tallinn is attracting so many visitors.
What I love about the Old Town is that even though there are plenty of restaurants and shops for tourists, the city hasn't turned into a theme park. And because I'm visiting Tallinn in winter, I'm walking around a calm city with hardly any tourists and one that still feels really authentic.
I can imagine that during peak season it will be different with tourist groups from Helsinki, Riga or St Petersburg. Another reason to visit Tallinn in winter.
Tallinn's Christmas Tree on Town Hall Square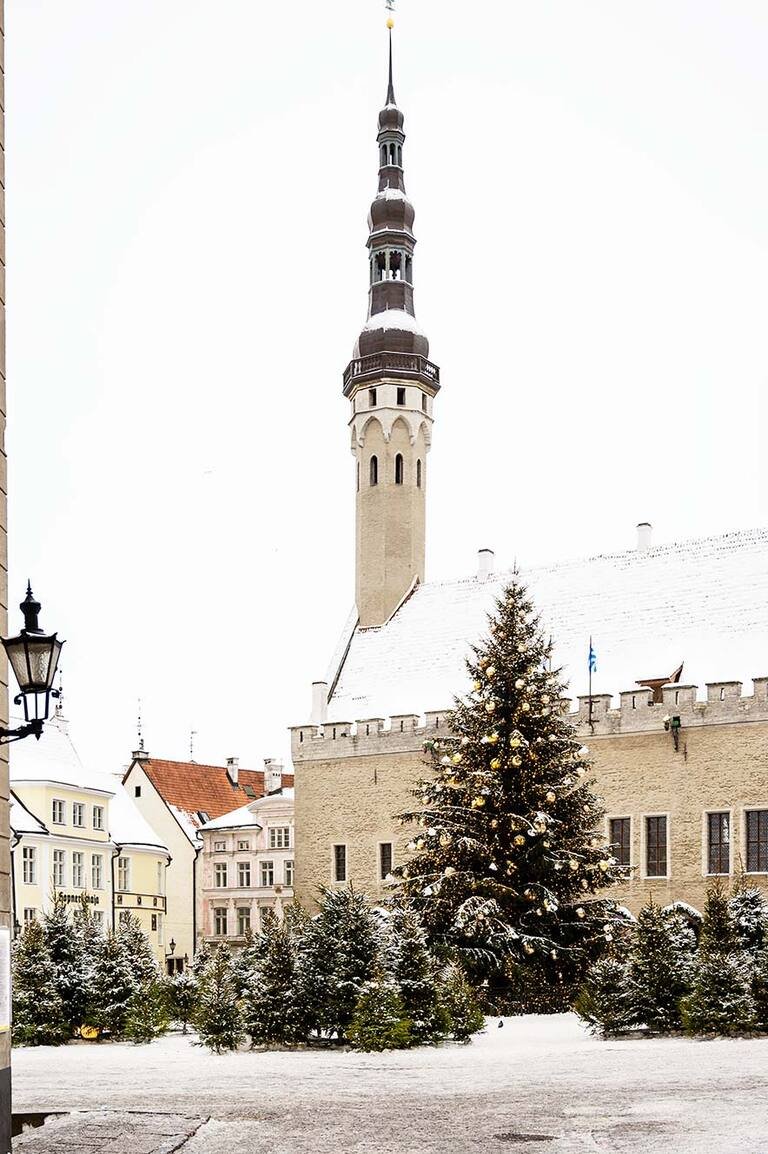 In the heart of the city centre you'll find Town Hall Square. From late November until early January you can visit Tallinn's famous Christmas market. Unfortunately I've just missed it, but mid January the huge Christmas tree is still here. Tallinn started putting up a Christmas tree in its town square back in 1441, which makes them – as they claim – the first one in Europe. However, there are more European cities with a similar claim….
Town Hall Pharmacy
I'm not 100% sure if the Town Hall Pharmacy really is the oldest, still functioning pharmacy in Europe, but it's certainly old. And worth a visit. You'll find the pharmacy at the corner of the Town Hall Square and it's free to visit. In the back of the pharmacy is a small museum with old medicines and medical instruments.
Masters' Courtyard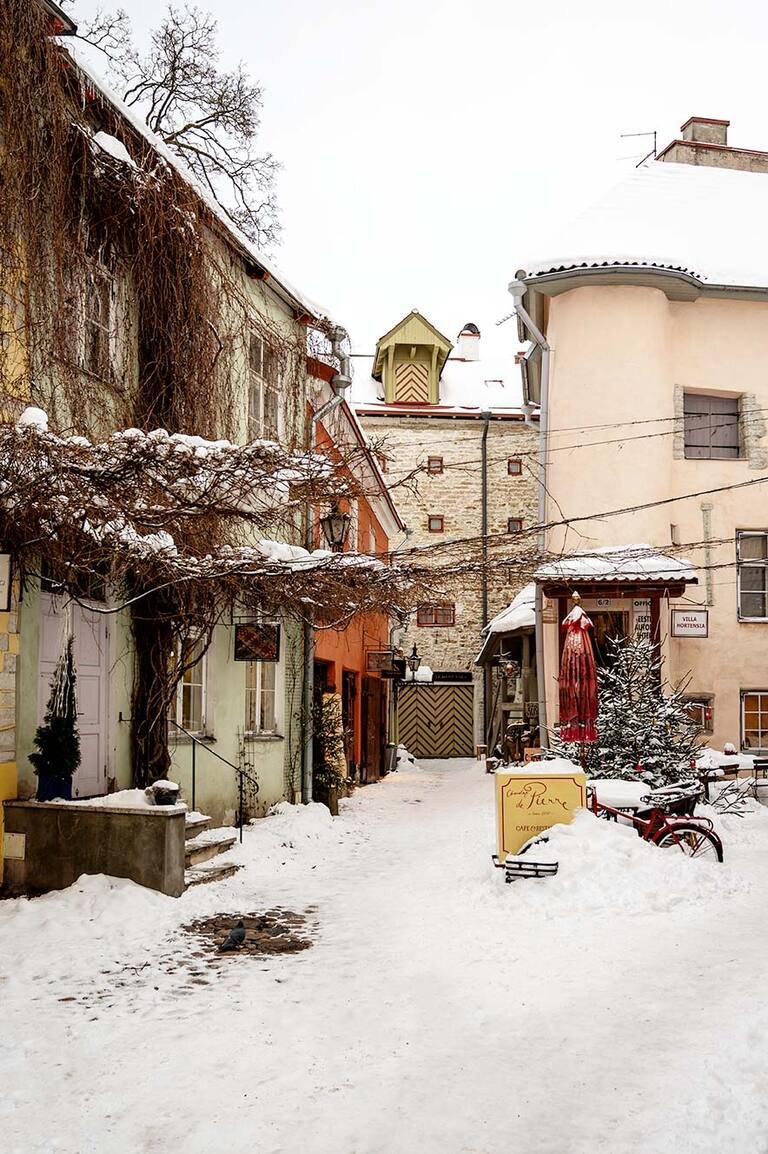 This charming courtyard is somewhat hidden in the historic city centre. You can visit a café that's known for its chocolate (Tallinn in winter is not complete without some hot chocolate) and cute craft shops where you'll certainly be able to find an original souvenir.
Telliskivi Creative City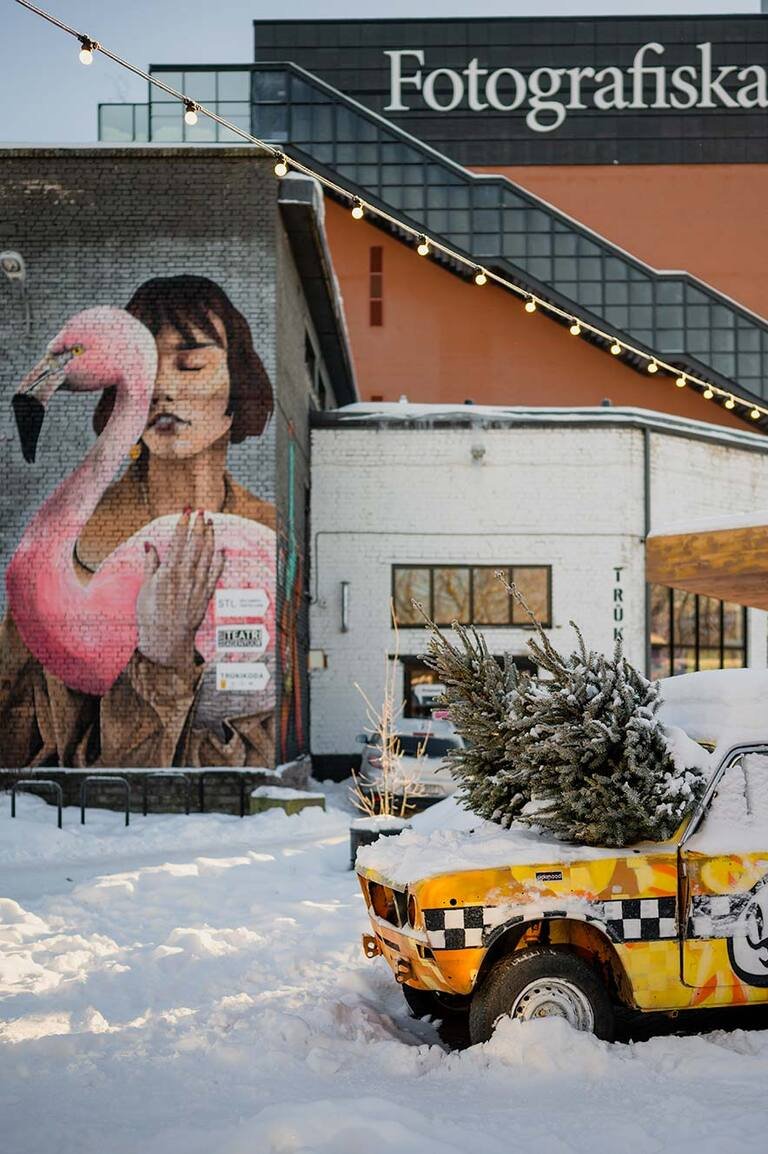 As charming as it is, you need to leave the Old Town to see what else Tallinn has to offer. And the best place to go is Telliskivi Creative City. Tallinn is known for its startup scene and many new businesses are starting here.
I absolutely loved this creative (hipster) area. Industrial buildings and beautiful street art, plus so many cool pop-up shops, cafés and other hotspots.
Fotografiska Photography Museum
One place you cannot miss when you're in Telliskivi is Fotografiska. I visited this photography museum when I was in Stockholm and now they've opened another museum in Tallinn. There's no permanent collection, so with every visit you'll discover different inspiring photographers.
I've been told that the restaurant on the top floor is also worth a visit, but it's not always open so make sure to check their opening hours in advance.
Kadriorg Palace & Park: Tallinn winter wonderland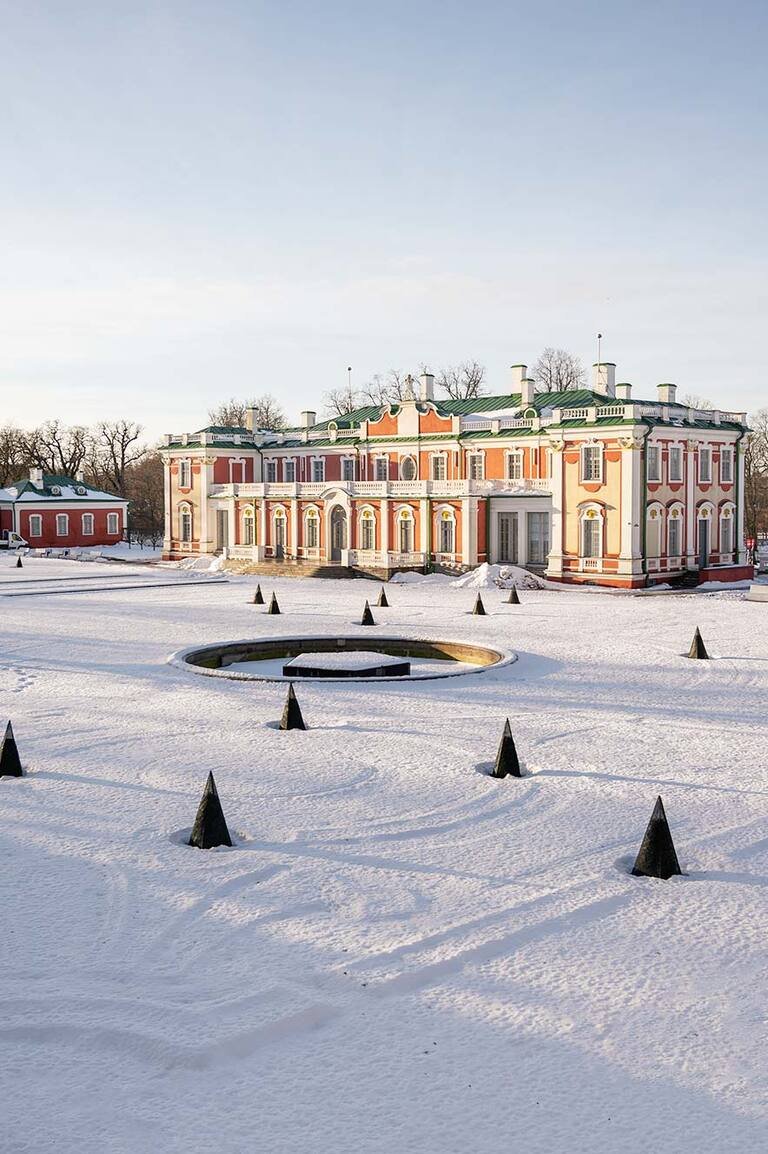 So far I've been able to walk to everything I wanted to see, but I'm taking the tram to visit Kadriorg. This impressive baroque palace was built in the 18th century by Tsar Peter the Great for his wife Catherine. He died before it was finished and also Catherine almost never used it.
As a museum I thought it was a bit disappointing, but it's always fun to walk around and get lost in such a beautiful palace. And take your time to explore the park surrounding the palace. If you'd like to visit another museum, the Kumu Art Museum for Estonian art from the 18th century until today is in this park.
Beat the winter cold in charming cafés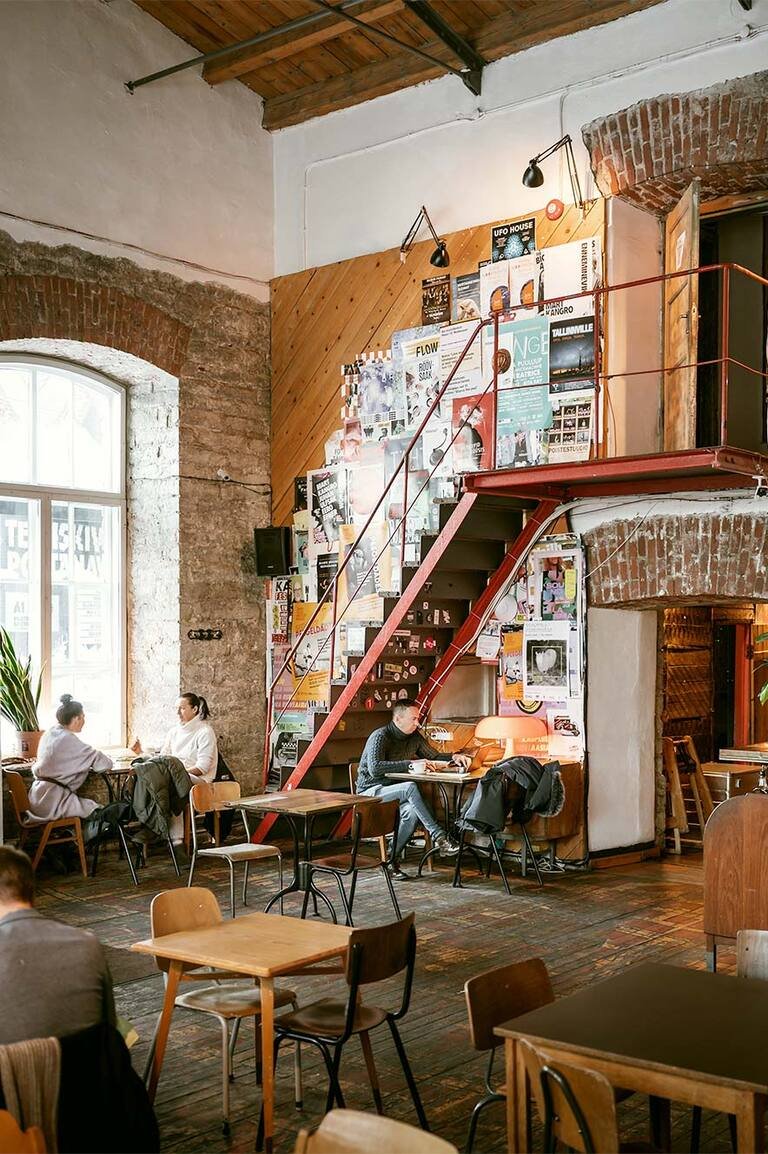 I'm not going to lie: it can get very cold when you're visiting Tallinn in winter. One day it was -18°C! So you'll be spending quite some time in cafés and coffee shops warming up. Fortunately, there are many in this city. I'll share all my favorite places in a next post.
Tallinn in winter
Ever since I got back I've already told so many people that they should book a trip to Tallinn. And I mean it, what a beautiful and fun city! Even though it gets dark early and you'll need lots of warm clothes, I would definitely visit Tallinn in winter again. A Medieval city like this covered in snow is simply irresistible!