This post is also available in:

Nederlands (Dutch)
I'm not sure how long I'll be able to keep this up, but for now I'm trying to avoid trips that require getting on an airplane. Which means that if I do want to travel abroad, I look for places just across the border. So when I received an invite to visit Essen and Duisburg in the Ruhr Region in Germany, I couldn't say no.
The Ruhr Area is probably not the first thing that comes to mind when you're planning a city trip to Germany. But it's really worth it. What makes it especially interesting is that there are many places to visit only a short distance away from each other. Essen to Duisburg is only a twenty minute drive. And also cities like Cologne, Dortmund and Düsseldorf are easy to get to.
I've only been to Essen and Duisburg these three days, but if you're planning a longer trip I'd highly recommend combining it with some of the other cities.
Things to do in Essen
Essen is one of the largest cities in the Ruhr region and has plenty of things to do and see. Here are the places you definitely don't want to miss.
Industrial Complex Zollverein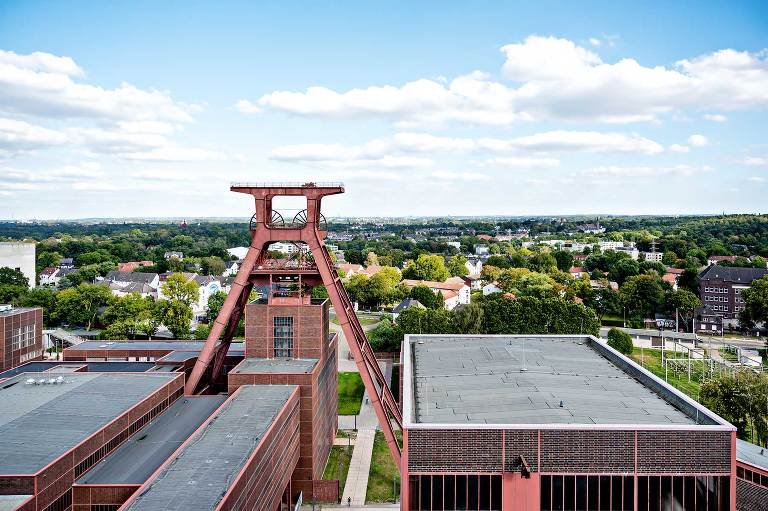 During the industrial revolution, the Ruhr region became one of the most important industrial areas in Europe. This history becomes especially apparent when you visit the industrial complex Zollverein. Until 1986 (when they closed the mine) this was one of the most modern and largest coal mines in the world. Today it's listed as a UNESCO World Heritage Site.
The former mine premises can be a bit overwhelming, but just take your time to walk or cycle around.
And don't forget to visit the Ruhr Museum where you'll learn more about the natural and cultural history of the area. The building that was the coal washing plant has been transformed by architect Rem Koolhaas and looks amazing. From the roof you get a great 360-degree view.
Museum Folkwang
Museum Folkwang shows that there's more to Essen than its industrial culture. This was the first art museum in Germany when they opened in 1902 and it still has one of the best collections in the country.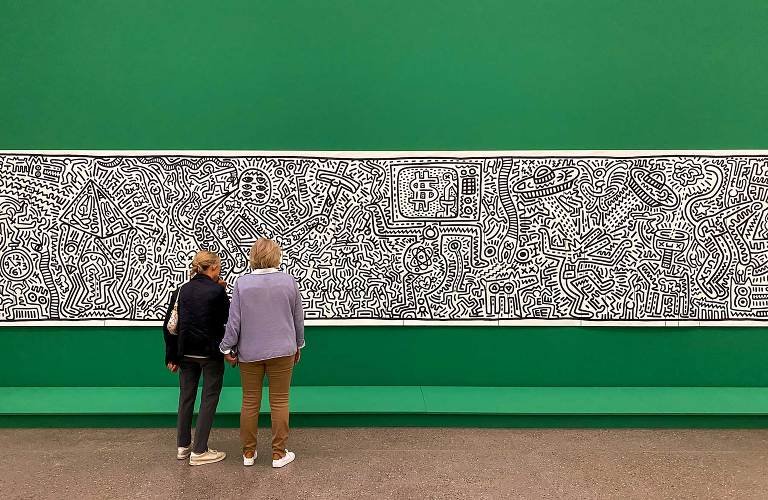 In addition to changing exhibitions (like the one about Keith Haring when I was there), there's a permanent collection with work from famous artists like Cézanne, Van Gogh, Matisse, Rothko and Pollock.
Beautiful towns in the Ruhr Region
As interesting as the Ruhr Area may be, I wouldn't necessarily call it one of the most beautiful areas of Germany. Although you may think differently after visiting Kettwig.
Kettwig is a borough of Essen on the river Ruhr. From the city centre it's about a 15 minute drive.
Where much of the city of Essen was destroyed during the Second World War, Kettwig was mostly spared as it didn't have any important industries. That's why you can still visit its Medieval old town with its pretty houses today.
Villa Hügel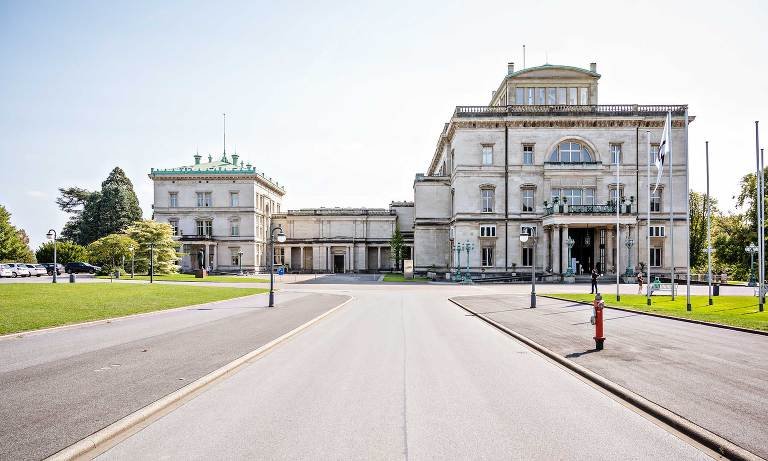 Another interesting place to visit outside the city centre is Villa Hügel. This beautiful mansion with 269 rooms was the residence of the Krupp family until 1945.
The Krupp company (founded in 1811) was once the largest steel, artillery and ammunition producer in Europe. During the Second World War they became the premier weapons manufacturer for the German army, for which they used slave labour. After the war Alfried Krupp (who was running the company at the time) was convicted of war crimes and condemned to 12 years in prison. He was released after three years.
Where to stay in Essen
We spent two nights at the Niu Cobbles, an affordable and modern hotel in Essen. Its location is perfect. It's easy to reach from the highway, so it won't take long to leave the city when you're exploring the rest of the region. Plus there's parking in front of the hotel. And you can still walk to the city centre.
Where to eat in Essen
I'll be honest, despite its name ('essen' means to eat or food in German), Essen is not the place to go to for amazing food or great restaurants.
There are plenty of restaurants to choose from (most are centered around the Rü, the Rüttenscheider Strasse), but I didn't find any hotspots that I would highly recommend. Also, make sure to bring cash since many restaurants don't accept debit or credit cards.
Café Livres is a good place for breakfast or lunch.
Le Chat Noir is a well-known wine bar and bistro. Food wasn't great, but the wine is and so is the atmosphere.
Café Zucca is a popular brunch place (with a very pink interior).
Things to do in Duisburg
As I mentioned before, it only takes twenty minutes by car to get from Essen to Duisburg, so perfect to combine the two.
Tiger & Turtle – Magic Mountain
Is it a rollercoaster? Art? A staircase? Trying to explain Tiger & Turtle isn't easy, but it's definitely worth a visit when you're in Duisburg.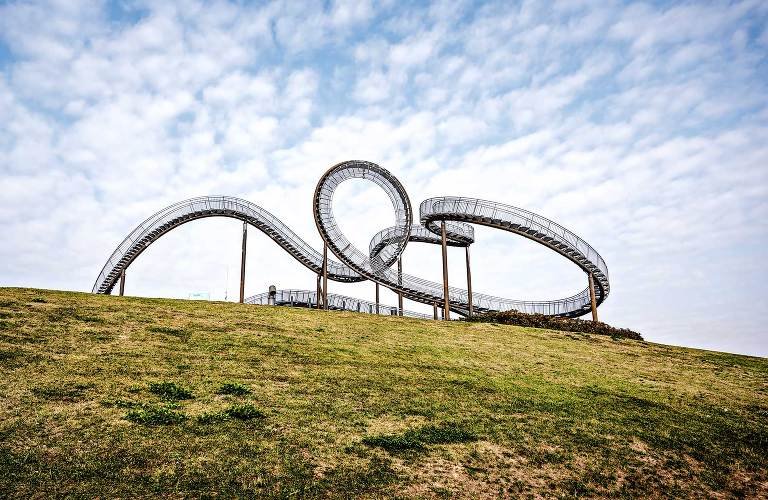 The 20 meters high 'rollercoaster' was made in 2011 by artists Heike Mutter and Ulrich Genth on top of a so-called spoil tip (places where spoil was stored). Because of the coronavirus you're not allowed to go and walk on the rollercoaster, but normally you can (except for the loop). From here you get an amazing panoramic view.
Duisburg's Inner Harbour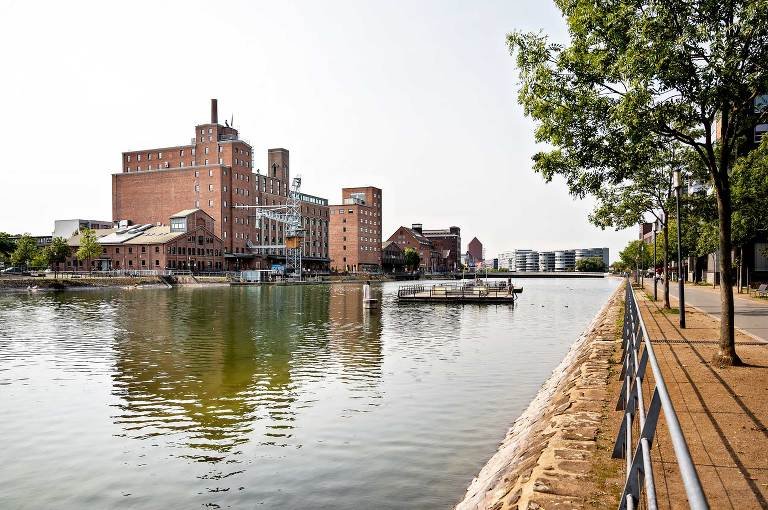 It's almost impossible to miss the inner harbour in Duisburg as it is the largest inner harbour in the world. This was once a central port and trading centre on the Rhine and today a popular district with restaurants by the water and museums in converted warehouses. It's a great place to go for lunch. Although it gets even more spectacular in the evening with the illuminated industrial buildings.
Garden of Remembrance
From the inner harbour it's a short walk along the river to the Garden of Remembrance (Garten der Erinnerung). At first you're not quite sure what you're looking at.
These are the remains of demolished post-war warehouses. Once part of the inner harbour, but now transformed into a park.
Duisburg-Nord Landscape Park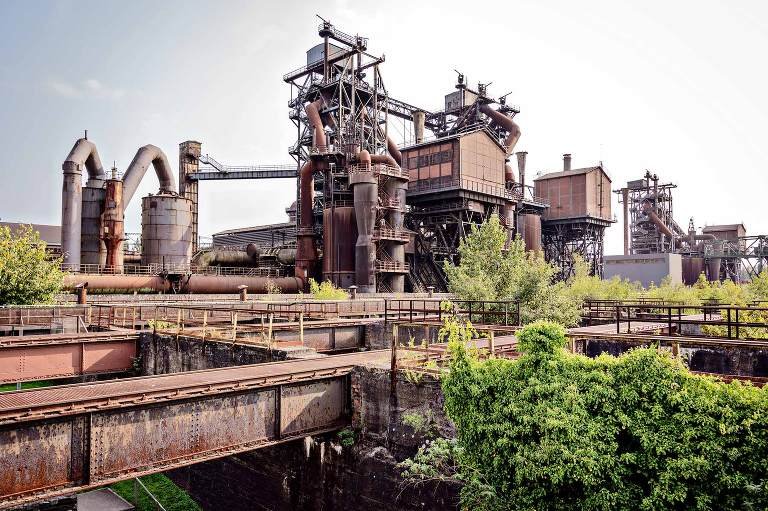 One thing you absolutely cannot miss when you're visiting the Ruhr Region is the Landscape Park in Duisburg (Landschaftspark Duisburg-Nord). Just like Zollverein in Essen, this is an important industrial complex where pig iron was being produced.
The park covers an area of 180 hectares where the old ironworks have been turned into a 'living' industrial monument and nature is reclaiming its terrain.
Unfortunately at the moment you cannot climb up the 70 meters high platform at one of the furnaces to enjoy the panoramic view, but the rest is just as impressive.
The Ruhr Region as a German city trip destination
I wasn't expecting to like these industrial cities in Germany so much. Essen and Duisburg are both cities you don't really need more than a day for to cover the highlights. But by combining multiple cities it becomes a really fun city trip. Or a mini road trip, as the nature surrounding the cities is quite beautiful as well. After these three days I can't wait to see more of the Ruhr Area and hopefully visit the other cities like Cologne, Dortmund and Düsseldorf soon.