This post is also available in:

Nederlands (Dutch)
It's been 30 minutes since we left our car and anything that reminds us of our hectic city life behind. Carrying a backpack that hasn't been used in years. And pulling a folding wagon filled with food and drinks for the coming days. Any doubts about whether it's still possible to find quiet and remote places in The Netherlands, fade with every step and every disappearing signal bar on my phone.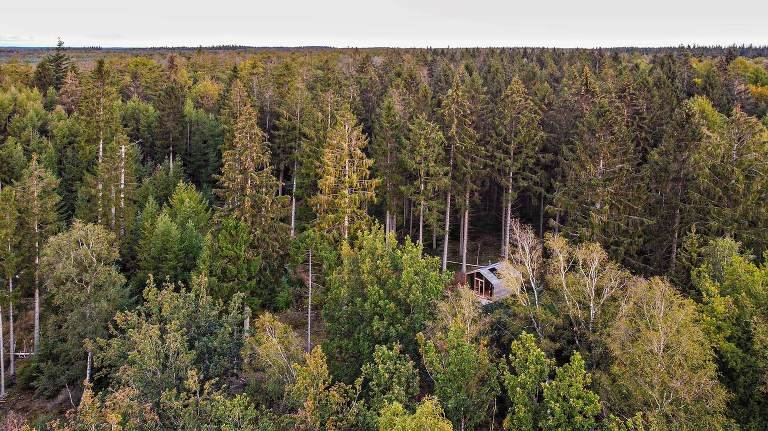 With the coordinates that we received from Cabiner, we're trying to find our destination in the woods. Going 'off-the-grid' also means that there are no signs along the way to point you in the right direction. 
Back to nature in style with Cabiner
If you're looking for something that comes close to wilderness in the Netherlands, you need to be in National Park 'Hart van Drenthe' in the north-east part of the country. This is where Cabiner has developed the most beautiful self-sustaining cabins in the woods that you can rent for one or multiple nights.
The location of each cabin has been carefully selected in close collaboration with the forest rangers. As a result not only are they in the most beautiful spots but it also ensures minimal impact on the environment.
Self-sufficient living for a few days
Cabiner sends us an email with the location of our cabin and the code to the key lock box a few days in advance. Plus all the information you need about what is available in the cabin and things you'll need to bring.
Normally I'm not that worried when it comes to forgetting things. As long as I have my passport and a credit card I should be fine. This time however, you want to make sure you bring everything you need. Although going by the weight of my backpack I'm wondering if I've taken 'everything' a bit too far…
Comfortable Cabiner cabins in the most beautiful remote places
The cabin is exactly what I had hoped it would be. Not only is it beautiful and charming, it's also constructed in such a clever way. Despite it being sort of a tiny house, there's room for four people and offers everything you need to cook, eat and shower.
The ultimate slow living experience
And those who hadn't realized it before will figure out soon enough that this is all about slow living. Everything takes longer than you're used to.
Need water to take a shower, wash your hands or cook? Then you'll first need to pump the water out of the ground. The wood stove will only burn after you've chopped some wood and get the fire going (which you'll also need for warm water). And making a cup of tea or cooking with one cast iron pot on the stove will require a bit of time. This is #cabinlife! And it's fantastic.
Cabiner Unplugged or Trekking
With Cabiner you can choose to stay one or multiple nights in the same cabin ('Unplugged') or walk to a new cabin every day ('Trekking'). Where you can then choose between distances that range from 2 to 10 kilometers or 2 to 20 kilometers. We've opted for the Unplugged version and are staying two nights in our comfy cabin. 
Fully relax and unwind in Drenthe
Although I wish I could stay longer. Waking up in the morning, in the middle of a forest, where the only sounds you hear are the wind in the trees and the birds singing, is amazing.
Then going on a hike in this beautiful part of the Netherlands. Playing games in the evening with no distractions from a television or wifi. Which I hadn't done in such a long time. And of course watching the stars at night.
If there's one place in The Netherlands that lets you escape these crazy times, then it's a Cabiner cabin in the woods. Because there are only eight cabins, they're fully booked for the coming months. Fortunately they're working on new locations which we'll hopefully be able to enjoy soon. Or simply book a stay for next year, so you'll have something great to look forward to. 
If you'd like to see video images of our stay at Cabiner, then have a look at my Cabiner Instagram Stories.
— related posts —