It's my first time in Chicago. In a week I'll be starting a new job and even though I didn't know that when I started planning several months ago, the timing is now kind of perfect. Traveling 'in between jobs' always gives me that extra sense of freedom where I don't have to worry about deadlines or work stuff waiting for me when I get home.
Many people asked me 'Why Chicago?' It's interesting how some destinations never get that question and others do. Not that I have a well-thought-out answer. I just really like American cities. So far I have only visited cities on the east and west coast and based on what others have told me, Chicago sounds like a city I would like as well. Then KLM had a sale which was a good enough reason for me to make it my next destination.
I'm spending a full week in Chicago. Enough time to experience some of the best things this city has to offer and still take my time to also enjoy it. Especially with that terrible jet-lag that's unavoidable with a seven hour time difference, you want to take it easy those first days.
But even though I did take it easy (I am slowly learning), I still have plenty of travel tips to share with you. In this post I'll focus on my favorite things to do and see in Chicago. And I'll cover my food and shopping tips in a next one.
Cloud Gate (The Bean) at Sunrise
If you're going to wake up early because of that jet-lag, you might as well make use of it. The iconic Cloud Gate – also known as 'The Bean' – is my first stop in Chicago. This smooth, reflecting sculpture by Anish Kapoor is on everyone's list so if you come here during the day you won't only see your own reflection but also that of many others.
That's why, if you want to have The Bean to yourself, you need to arrive around sunrise (6.30am in April).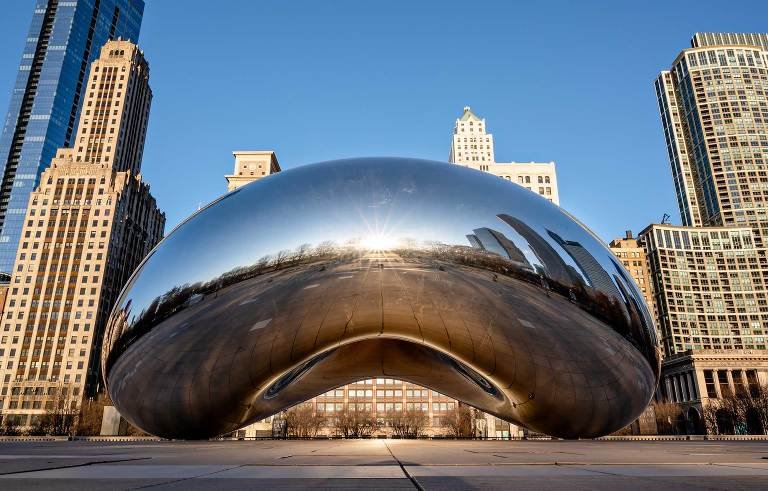 Millennium Park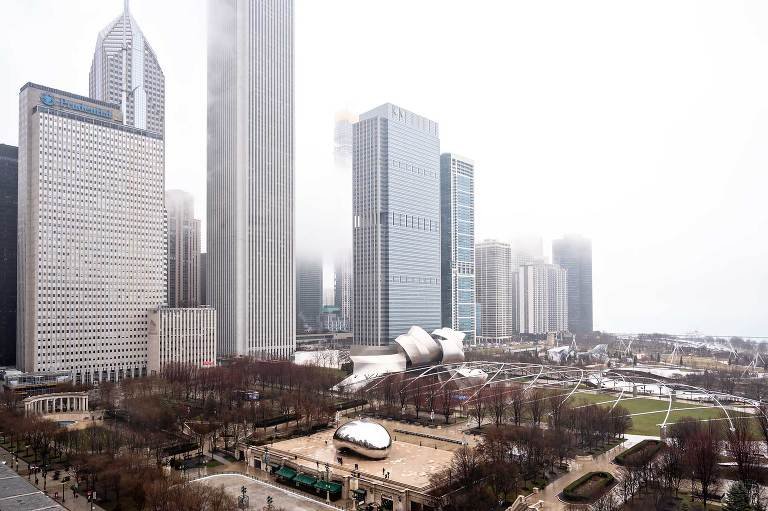 Cloud Gate may be its main attraction, but while you're here, don't forget to walk around the rest of Millennium Park. For a long time (until 1997), this now super popular public space was industrial wasteland with parking lots and railroad tracks. Underneath there's still a parking garage and rail station, but above ground it's an impressive urban park with beautiful gardens and landscape design. And check out the events calendar to see if there are any music, theatre of other events happening.
Crown Fountain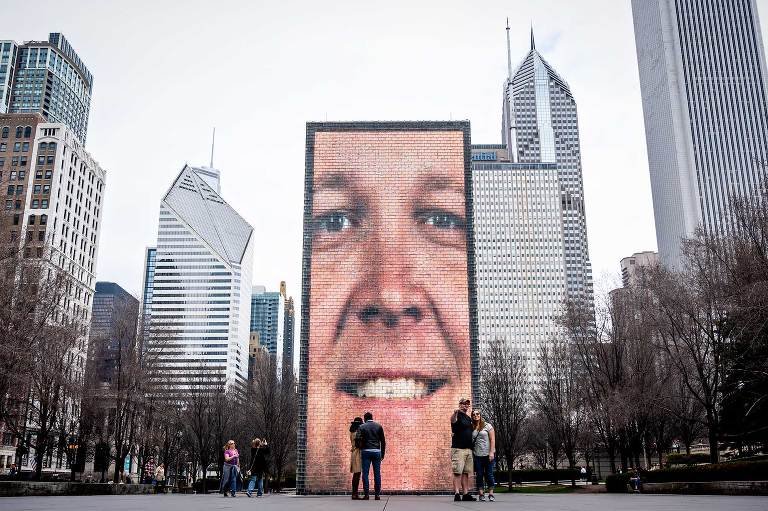 Another highlight of Millennium Park is the Crown Fountain. On both sides of the public square, two large towers show videos of different people (all from Chicago). Their faces remain still (apparently for this project they were strapped in a special chair), but you see subtle changes such as blinking of the eyes or a smile.
In the summer water spurts from their mouths, turning it into a fountain. But because I'm here in April I get to see a different set of faces with no water.
Impressive views from above at 360 Chicago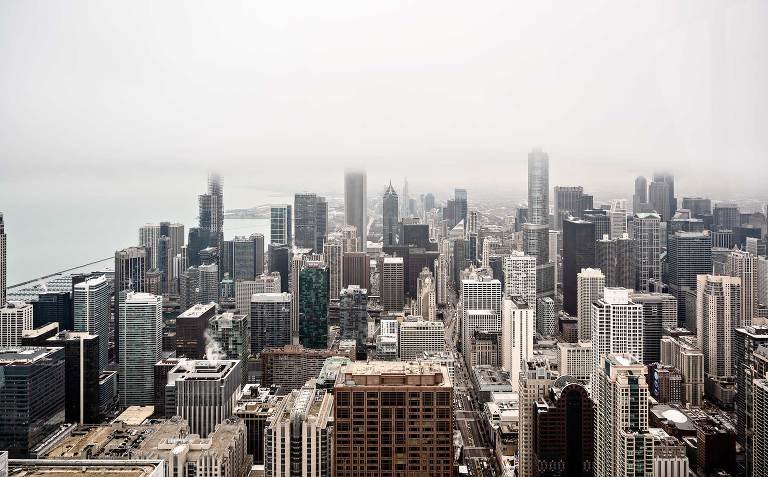 When a city has this many tall buildings it's always worth finding an observation deck to admire the view. The most well-known options for tourists in Chicago are the Willis Tower – which is the city's tallest building – and John Hancock Center with its 360 Chicago.
Both offer something extra for those with no fear of heights (which doesn't include me). At the Willis Tower you can step into a glass box ('The Ledge') on the 103rd floor if you like looking 1400 ft / 427m down. Visitors of 360 Chicago can 'tilt out' over Michigan Avenue with a moving platform on the 94th floor.
Both experiences are clearly not for me, but I can appreciate a nice view. Some photographers online said that they prefer the view from the John Hancock building which is why I choose to visit 360 Chicago. It's a bit cloudy, but the views of the city and Lake Michigan are still very impressive.
Chicago Architecture Center River Cruise
If there's one thing that literally everyone recommended me to do in Chicago, it's the Chicago Architecture Center River Cruise. I'm glad they did, because I have to agree with them. Chicago is known for its architecture (the first skyscraper was designed and built here) and this tour is a great way to learn more about its most iconic buildings as well as to hear some fascinating stories about the city's history. Including how at some point they managed to reverse the Chicago River…
Cycling around Chicago on a Divvy Bike
I love cycling in a new city. And Chicago is perfect for it. The city is quite flat and many areas have cycle lanes. Plus it has a good public bike sharing program called Divvy. Using it is pretty straightforward. You can pay for a single ride or buy a 24-hour pass at a Divvy station or online, download the app, and you can unlock these blue bikes all around the city. With a single ride you need to return your bike at a Divvy station (any one) within 30 minutes, but with the 24-hour Explorer Pass you can use it for up to 3 hours. Of course after that you can pick up another bike and use it for another 3 hours.
If you're looking for this view of the city, then cycle along the North Lake Shore Drive.
Nature Boardwalk Lincoln Park Zoo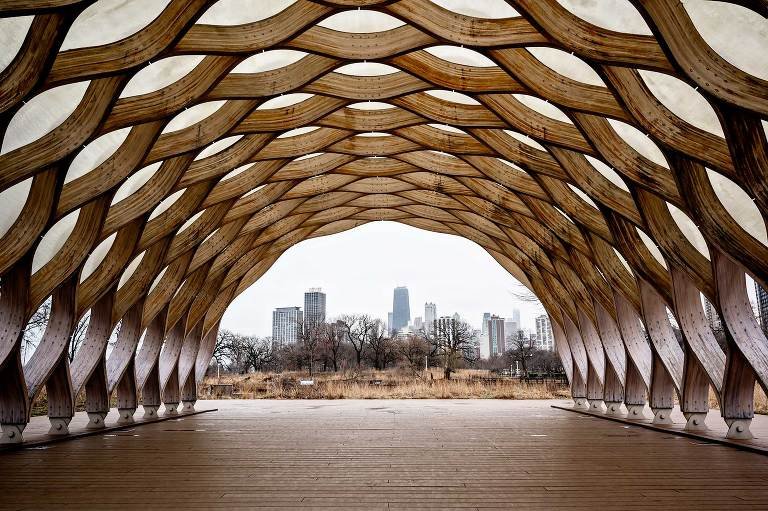 Another great thing about cycling is that along the way you sometimes discover unexpected places like this pavilion as part of the Nature Boardwalk at Lincoln Park Zoo.
The 606
I wasn't sure if I should include The 606, since I wasn't that impressed by it. I guess the fact that I didn't take any pictures says it all. But that's also because I was expecting a second New York High Line, which it isn't. Just like the High Line, The 606 is an abandoned elevated railroad track that's been converted into an urban path for cycling, walking and running.
What's nice about it is that you walk through these different neighborhoods, which are very different from downtown Chicago. I began by walking the trail, but quickly picked up another Divvy bike to continue the rest cycling. And it is perfect for cycling, but I wouldn't recommend walking the entire path.
Adams / Wabash Station
Walking around Chicago you quickly get used to the sound of the L Train. The elevated ('L' is short for elevated) trains will take you to most parts of the city if you want to use public transportation. It's not difficult taking a photo of the L trains, since you'll find them everywhere. But if you're looking for a good spot to see the tracks, trains and the city, then go to Adams / Wabash Station, around the corner from the Art Institute of Chicago.
Art Institute of Chicago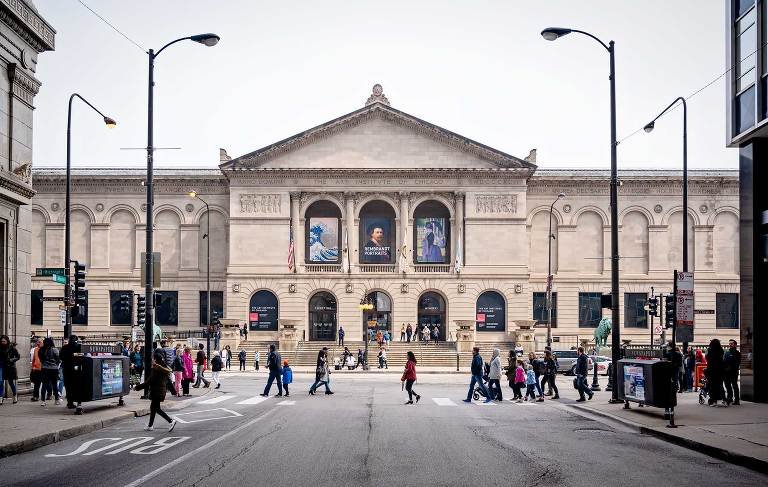 If you only want to visit one museum in Chicago, then make it The Art Institute of Chicago, one of the largest and oldest art museums in the United States. With a collection of around 300.000 works of art you can easily spend several hours here. I especially loved the American Art collection which includes Edward Hopper's Nighthawks and Grant Wood's American Gothic.
Living Urban Canvas Wabash Arts Corridor
However, there's so much public art and street art in Chicago that you don't even have to pay for a museum to see interesting art (although I would really recommend The Art Institute). One area where you'll find a lot of public and street art such as Jacob Watt's Moose Bubblegum Bubble is Wabash Arts Corridor.
This part of the South Loop, mostly Wabash Avenue from Van Buren to Roosevelt, is meant to be a 'living urban canvas' for creative expression and innovation.
Street Art at The B_Line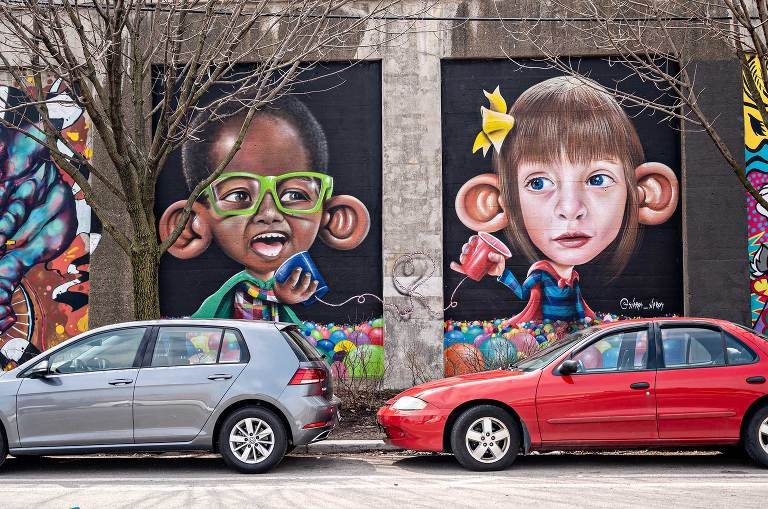 Another interesting part of the city to find street art is West Hubbard Street in Fulton Market. Here you'll find The B_Line, an art experiment where different artists create beautiful murals under a historic train line.
Public Art in The Loop
What's so impressive about the public art installations in Chicago is that many of them are by well-known artists, such as Alexander Calder (Flamingo – photo above), Picasso (The Picasso – photo below), Joan Miró (Chicago – photo below), Marc Chagall (The Four Seasons) and Jean Dubuffet (Monument with Standing Beast). If you walk around The Loop, the central business district in Downtown Chicago you can't miss them.
Greetings from Chicago Mural for a Postcard Selfie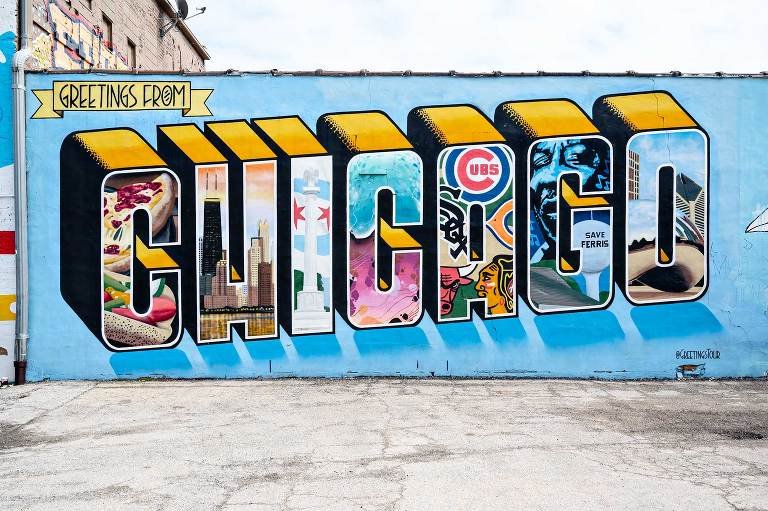 It's a short walk from the more interesting part of Logan Square, but if you want to take that Chicago postcard selfie, then this is the spot. The Greetings from Chicago mural can be found at 2226 N Milwaukee Ave, Chicago, IL.
The Iconic Chicago Theatre Sign
That's what you get when you wait until the very last moment to take a photo of the iconic Chicago Theatre sign: heavy rain and a thunderstorm. The weather had been nice all day and it was only a ten minute walk from my hotel, so no need to bring an umbrella… It started raining the second I arrived at the theatre, but while hiding from the rain at the State / Lake Station I had plenty of time to take the shot I was looking for. After all, you can't spend a week in Chicago without at least one photo of the Chicago sign.
Also, since we're talking about the best things to do in Chicago, getting tickets to see music (blues), theatre or comedy (Second City) should also be on this list. But I'm saving that for the next time I'm in Chicago.