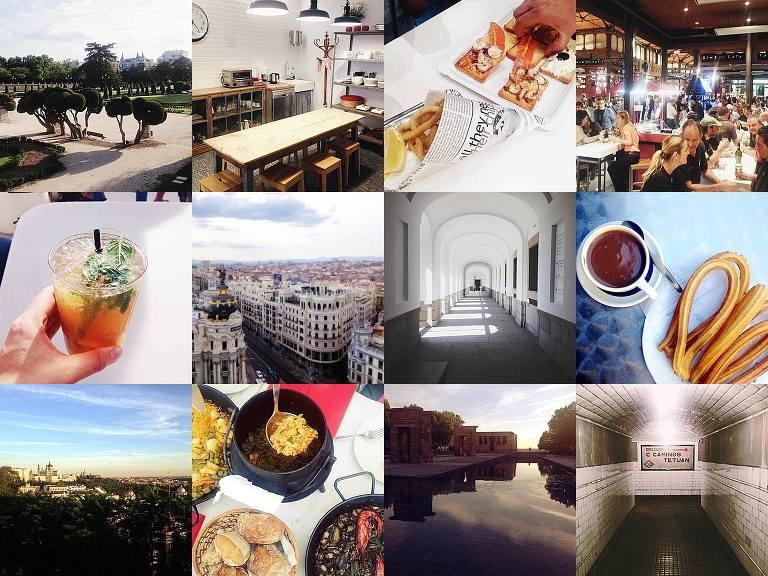 I don't know how other bloggers do it. Having a full-time job, a social life, traveling…and then still finding the time to blog according to a fixed schedule? After doing the A Beautiful Mess Blog Life e-course, I'm now trying to blog more regularly. But after one week I'm already wondering if maybe 3 posts a week is a bit too ambitious. But not giving up quite yet!
So if you're following me on Instagram you've seen that I was in Madrid last weekend. And it was so much fun. Warm weather, amazing food and great friends. I love this city!
I will share more photos of Madrid later – I promise – but for now a quick preview of some of last weekend's highlights.
Relaxing in Parc del Retiro (siesta time!) – Our charming B&B which I can highly recommend – Tapas, tapas and more tapas – Mercado de San Miguel (oh yes, more tapas) – Cocktail hour at the rooftop terrace of the Circulo de Belles Artes – With a great view over the city – Cultural fix at the Reina Sofia museum where you can see Picasso's Guernica (no photo taking allowed) – Spanish snack 'chocolate con churros' – Enjoying another view of Madrid and the sunset from the Temple of Debod – Paella for lunch – And visiting an old metro station that's not in use anymore.
Have you been to Madrid? What were your highlights?