This post is also available in:

Nederlands (Dutch)
The first time I visited Hotel des Indes was to celebrate my grandmother's 90th birthday. Despite having lived in The Hague her entire life, it also happened to be her first time to see the hotel from the inside.
Hotel des Indes is a landmark in The Hague. Everyone knows it. The grand, impressive 5-star hotel with its yellow facade in one of the most beautiful parts of the city.
Famous Guests of Hotel des Indes
Since 1881 – the year that this city palace became a hotel – presidents, kings, artists, and other celebrities such as the Dalai Lama, Eleanor Roosevelt, Winston Churchill, Igor Stravinski, Michael Jackson, and Prince have stayed here. The world-famous Russian ballet dancer Anna Pavlova (also known for the dessert named after her) died here in her suite.
Afternoon Tea Deluxe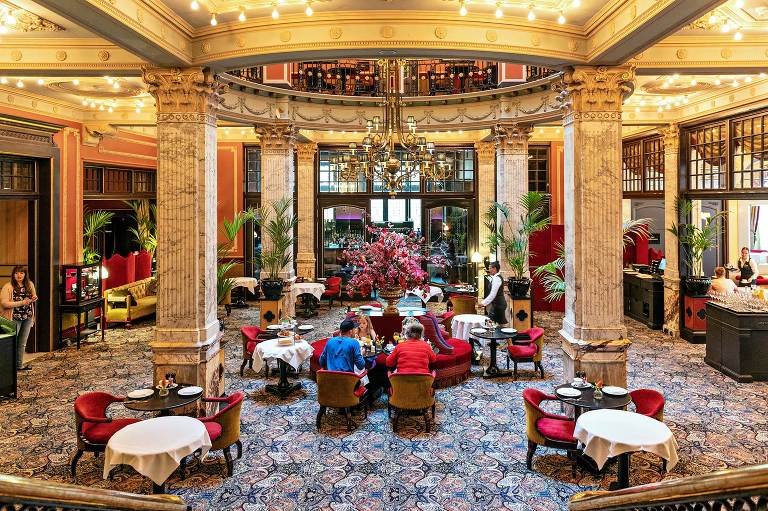 No wonder that my grandmother had always thought (until then) that this hotel was not for 'people like us'. By the way, she loved (!) the afternoon tea with two of her granddaughters, and so did I. It's probably the best afternoon tea you can find in The Hague.
Hotel des Indes might be a luxury hotel in the city center of The Hague, it's also very welcoming and friendly. And the staff are doing everything they can to make your visit memorable. I remember thinking that I would love to stay here someday.
Special Summer Offer
And someday is today. Now that most travel plans have been canceled or postponed, Hotel des Indes has introduced a special offer (Helemaal Haagsch) for people living in The Hague. Until 31st August you can stay in one of the luxurious rooms for €99 per night. (If you're coming to The Hague some other time, it's worth checking their special offers page.)
Staycation in The Hague
I don't have that much experience with 'staycations', but I'm loving it. It's kind of funny to arrive at such a fancy hotel on your bike, but I live pretty much around the corner (I recently shared my favorite shops and restaurants in The Hague). And also deciding what to bring isn't that complicated.
Room with a view
There are 79 rooms and 13 suites at Hotel des Indes, none of them exactly the same. My spacious Deluxe room on the first floor is impressive. The large windows offer a great view of the Voorhout, the lanes with their beautiful old trees and historic houses. Definitely not getting a view like this from my bedroom at home!
The king size canopy bed makes perfect use of the high ceilings and is very comfortable. The bathroom has a double sink and a bathtub (with rain shower). And there are two armchairs in addition to a desk in the corner of the room.
It's not a modern room. Don't expect a smart tv or USB sockets to charge your phone next to the bed. Even though the hotel has been completely renovated in 2005 by French interior designer Jacques Garcia (he also worked on Hotel Costes in Paris), some things feel a bit dated. But you don't stay at Hotel des Indes because you're looking for new and modern.
The Leading Hotels of the World
What makes a stay at Hotel des Indes so special for me is maybe not so much the room (even though I slept really well), but that I can spend time in such a beautiful, elegant building. Every time I walk up and down those grand, stately staircases I find myself automatically walking a bit more up straight. No wonder the hotel joined The Leading Hotels of the World group in 2018, a prestigious group of 400 premium hotels in the world.
A City Palace Built for Parties
As I walk around the hotel, it's easy to imagine how Baron von Brienen, a councilor to the King in the 19th century and the first owner, hosted parties here in his city palace. How horse-drawn carriages would enter through the (current) entrance into the courtyard where the restaurant is today. And how the Baron would welcome his guests, looking down from the first floor. If these walls could talk…
Breakfast at Hotel des Indes
The next morning I'm walking down the marmer staircase to have breakfast. This is always one of the things I look forward to the most when staying at a hotel.
Understandably, but unfortunately, the breakfast buffet has been temporarily replaced by a breakfast that is being served at your table. When you're having breakfast with two people or more, they serve it on a tiered stand and the tea comes in beautiful silver teapots. It's more than enough and the scrambled eggs that were prepared for me in the kitchen are delicious. But let's hope that the breakfast buffet can return soon.
Check out is not until noon, so if you want you can sleep in and really take your time in the morning. Since this was a 'one night vacation' for me I've already made other plans. So time to take my bike that I parked in front of the hotel and cycle home.
Disclaimer: I was a guest of Hotel des Indes for the purpose of this review.
— related posts —