I don't particularly like celebrating my own birthday. But I do love celebrating other people's birthdays! Unfortunately, many of my friends go through the same phase of not wanting to be reminded that they're getting older and prefer not to make a big deal out of it. Yeah…. That's all very nice, but when it comes to my oldest and closest friends, I don't accept no for an answer.
And that's why we're in the car driving to Antwerp. I've only told her this morning what the destination of our surprise trip would be. If your friends are like mine and like to be in control of everything, then keeping them in the dark about the details until the very last moment and seeing them get all nervous about it, is just a nice extra bonus for you.
I've arranged for several things to do while we're in Antwerp, but the main reason we're going here and not another city is because I needed an excuse to stay at the new August hotel. That's just the kind of friend I am….
The fact that I'm only spending 5 euros for the entire weekend to park my car in front of the hotel (free on Sundays), tells you that the location is not in the city centre. But this area, Het Groen Kwartier (The Green Quarter), is changing fast. The extremely popular two-Michelin star restaurant The Jane is right next door. And so is PAKT, a creative and sustainable hub (unfortunately closed on the weekend). Today it's a pedestrian-only neighborhood, but this was once the site of a military hospital.
From the hotel it's about a 25 minute walk to the city centre or 15 minutes with public transport. I would highly recommend getting a bike from the hotel though (€10/day). Antwerp is very bike-friendly and since there are more interesting places to visit outside the city centre, this is the best way to move around.
Just make sure when you plan your weekend that you leave enough time to enjoy the hotel. Because: wow!
August opened its doors in April 2019 after a thorough renovation and restoration. This was not only an Augustinian convent, but also five different buildings that the architect combined in its new design. What is now the bar and lounge area with its black painted ceiling was once the nun's private chapel.
Walking up the stairs to our room (no worries, there's also an elevator), you can smell the brand new carpet. There's fresh paint on the walls and all the furniture is modern and super stylish. But because of the construction and history of the building, it immediately feels warm and welcoming. As if it's always been like this.
The hotel has 44 guest rooms and ours is on the second (top) floor with a gorgeous high wooden ceiling. There are different room categories to choose from (we're staying in one of the Signature rooms), but even within each category no two rooms are alike.
Breakfast in the morning can make or break a hotel experience for me. At August breakfast is included ánd fantastic. You can tell that a successful chef, Nick Bril of The Jane, is responsible for the breakfast, lunch and dinner menu. Seriously, take your time to enjoy it.
There are three different breakfast buffet 'stations': healthy stuff (yoghurt, fresh fruit, etc), savory (cheeses, meat, smoked salmon), and croissants and other pastries (and delicious bread). Everything is fresh and local, like coming from the PAKT rooftop garden next door. And eggs any way you like them will be served at your table.
After going back several times for more just because we really don't want to leave, it is time to check out. Time to jump on our rented bikes to explore more of Antwerp on this beautiful sunny day. Unfortunately birthday weekends can't last forever, but I'm sure I will find another reason to come back to August soon.
Website: August (check rates & availability)
Address: Jules Bordetstraat 5, 2018 Antwerp, Belgium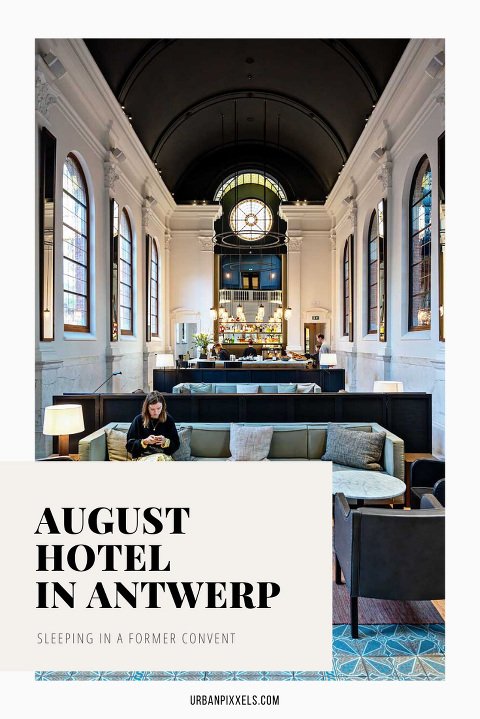 — related posts —