This post is also available in:

Nederlands (Dutch)
Travel plans may have turned into vouchers for (hopefully) next year, but that doesn't mean that we won't be traveling at all. It will just be a bit closer to home. Starting with: Dordrecht, a perfect day trip from Amsterdam or Rotterdam.
If I'm being honest, there are still many beautiful places in the Netherlands that I know by name, could probably point out on a map, but other than that know nothing about. It's time to learn more about the Netherlands!
At the end of my day in Dordrecht I'm seriously wondering why you hear so little about it. It's such a nice, beautiful and interesting city with so many things to do. So if you're looking for the best cities to visit in the Netherlands outside of Amsterdam, then Dordrecht should definitely be on your list.
Villa Augustus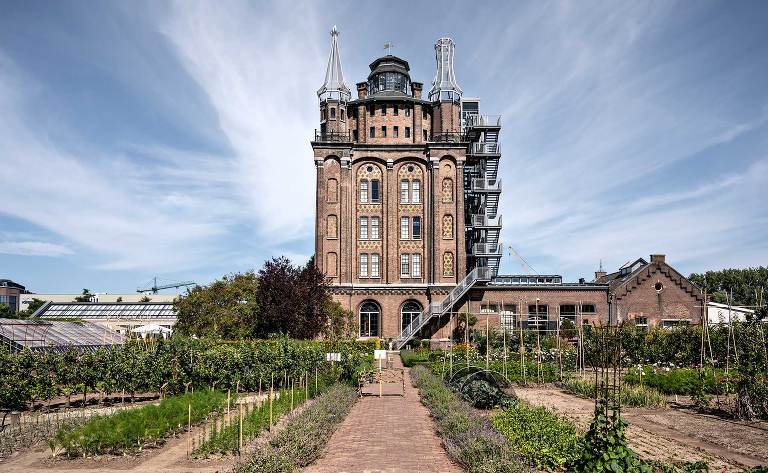 We're starting with coffee and cake at Villa Augustus. More photogenic spots will follow later today, but this one is really special.
The old water tower has been turned into a hotel, shop and restaurant, surrounded by a gorgeous garden. The garden is bigger than I'd expected with fruit and vegetables (that will soon end up on a plate at the restaurant) growing everywhere you look.
The roses and other flowers are in full bloom, the sun is shining… this feels like a proper holiday.
Behind the tower is the river 'Wantij' where you can step onto one of the small boats of Villa Augustus for a tour of the historic city centre of Dordrecht.
I'm only in Dordrecht for one day, but next time I would love to stay longer and sleep in one of the rooms in the water tower.
Dordrecht City Walk
Villa Augustus is located just outside the city centre. You could walk, but we decide to park our car next to Dordrecht's tourist office. Here you can buy a self guided city walk that starts here and that will take you to all the interesting places of Dordrecht.
Dordrecht is one of the oldest cities in the Netherlands (and the oldest of 'Holland') which you can tell by looking at the well-preserved houses. All around the city you see beautiful houses with those typical Dutch step-gabled facades, similar to the ones along the canals in Amsterdam.
If you look closely you'll notice that the houses are leaning forward. This is done on purpose to make sure that the facade wouldn't be damaged when larger items had to be hauled up through the windows on the upper floors.
And did you know that the painter Albert Cuyp (as in the Albert Cuyp market in Amsterdam) is from Dordrecht?
Arend Maartenshof
During our walk we see several beautiful 'hofjes', a courtyard with (originally) almshouses. The Arend Maartenshof is the most interesting one. Built in 1625 for widows whose husbands had died as soldiers, and other poor women, there are 38 houses around the large courtyard with old trees and an original water well.
You can visit the old regent's room with portraits of different generations regents responsible for the almshouses.
Hof van Nederland
I'm only visiting the Hof van Nederland from the outside today, but for the Netherlands this is a place of historical importance.
The first free assembly of the states came together here in 1572, during the 80 years' war with Spain, to organize and finance the uprising against Spain. This can be seen as the beginning of the independent republic of the Netherlands, which later became the Netherlands as it is today.
It's worth visiting the museum if you want to learn more about it.
Pretty Dutch Houses in Dordrecht
Behind the Hof van Nederland is the Hofstraat, probably the most photogenic street of Dordrecht with beautiful houses.
Bluebirds in the Backyard
Lunch time! And again we found a special spot: the city garden of Bluebirds in the Backyard. With this kind of beautiful weather (it's 28 ℃ by now) we want to sit outdoors in the shade.
The menu is not that special, but the location is perfect. Although inside it looks even more interesting. This monumental Huis (House) Roodenburch is one of the oldest stone houses in Dordrecht. In the 16th century a rich wine merchant lived here who used the cellars to store wine. Today the rooms are full of interesting lifestyle and vintage finds that you buy.
Museum Huis van Gijn
Seeing these beautiful, old, stately houses always makes me curious. What would it look like on the inside? And what did it look like back in the day?
Huis (House) van Gijn calls itself a home museum. For some reason that makes me think of people turning their shed into a museum for a collection that got a bit out of hand. I can promise you, it's nothing like that.
The house was built in 1729 and from 1864 until his death in 1922 owned by business man, lawyer and collector Simon van Gijn.
In his will he wrote that the house with all its collections should be turned into a museum, maintaining its original state.
Because of that, when you're visiting the house with its three floors plus attic, it feels like he just left the house. The rooms are decorated, tables have been set. The interiors go back to the 17th, 18th and 19th century and all throughout the house you see the interesting items that Simon van Gijn collected during his life. It's very interesting and worth a visit.
And after your visit you can enjoy the garden with something sweet from the museum café.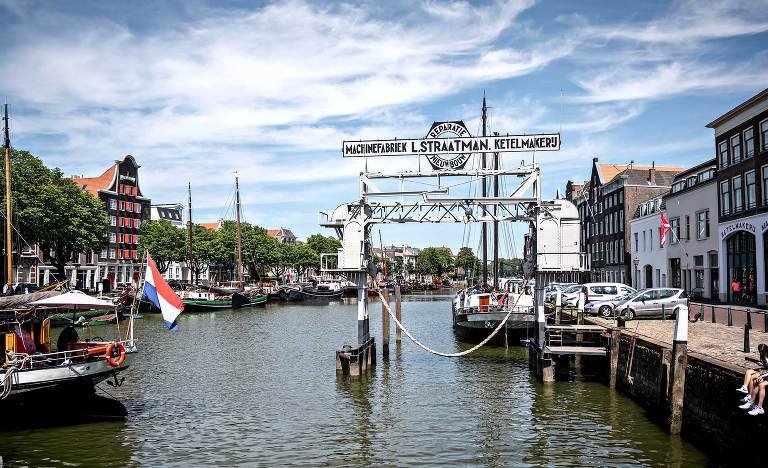 We continue the last part of our city walk, but then it's time to leave.
I won't say that I don't miss traveling abroad, but exploring the Netherlands this way is also a lot of fun. Dordrecht showed me that there are still many places to 'discover'. Where should I go to next?