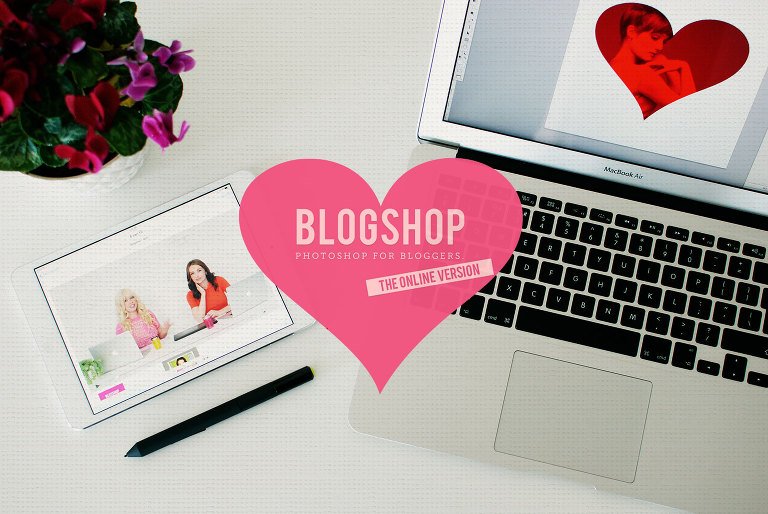 See what I just did there, in the picture above? A week ago that would have taken me ages. And it probably wouldn't have looked like this. I find it hard to believe, but it looks like I'm finally 'getting' Photoshop. At least the basics that I need for my blog. All thanks to two crazy talented women and an online course called Blogshop at Home.
I remember the first time I heard about Blogshop. It was my first week in London and I was at Meet the Blogger, the weekend I decided to start my own blog. The week after, some were going to another event for bloggers, but this time to learn about Photoshop. When I saw this video, I knew that that was exactly what I needed. But I had just missed the one time they were in London!
Anything digital usually doesn't scare me, but I've always found Photoshop just too overwhelming. I saw what others were doing with it, but then every time I opened an image in Photoshop I had no idea where to start or what to do. The only reason I still had Photoshop on my computer was because of my favorite editing tool, but I wasn't using 99,9% of its features.

How much can change in just one weekend! Blogshop now also offers Blogshop at Home, an online course over a 2-day period from the comfort of your own home. The only thing that's missing is that incredible goodie bag.
What I learned at Blogshop at Home
I had some doubts before signing up. The thought Is that all? even crossed my mind. But summing up a list of the tricks they teach you doesn't do this course justice. The video is 3.5 hours long, but with all the pauses to practice yourself, rewinding to check if you fully understand what they're doing, and typing out notes (10 pages of tips and tricks – small font!), you'll spend about a day and a half learning about Photoshop.
So without making a complete list of all the things you'll learn, here's my top 5:
Creating templates: you know how I usually place two portrait photos next to each other? Well, I had figured out a way to do that, but with a Photoshop template this is going to save me so much time!
Using shapes: placing a photo into a shape (like the example on my screen in the first photo) and then adding some interesting effects. It's not that difficult if you know how to do it… and I do now.
Masking: which is when you replace a part of one photo with a similar part (that's looking better) from another photo. That felt like serious Photoshop magic! I don't want to use too many tricks in my photos to keep it real, but this can change a photo from good to great.
Retouching: Flawless skin in every photo from now on!
Animated GIFs: I don't see myself using this on my blog anytime soon, but they're so much fun to make.
Should you do it?
I realize it's a lot of money, but if you're like me and you have all these ideas of what your blog should look like, but you don't know how to do it… then YES! I'm still no Photoshop expert, and I don't need to be. But for bloggers this is just what you need. Still not convinced? Then have a look at what other Blogshop students have to say: