Where do you go when you have enough vacation days left in November for a weeklong trip? Is there a place that won't require too much traveling, but is still sunny in November? Or if not sunny, at least with a minimum chance of rain? Apparently I'm not the only one with this question, since a quick Google search offers me a lot of recommendations with 'Best places to go in November' lists. And almost all of them tell me I should visit Seville in Spain.
Seville is a city I've been wanting to visit for a long time, so I decide to not overthink it and book my flight. Unfortunately even a minimum chance of rain still means it could rain, and I end up exploring this beautiful city in the pouring rain.
I'll be honest, this wasn't the vacation I was hoping to have, but rain or no rain, there are plenty of interesting things to do and see (and eat!) in Seville. So no matter what time of year you're going, make sure you're not missing these things to do, places to eat or my hotel recommendations.
Real Alcazar de Sevilla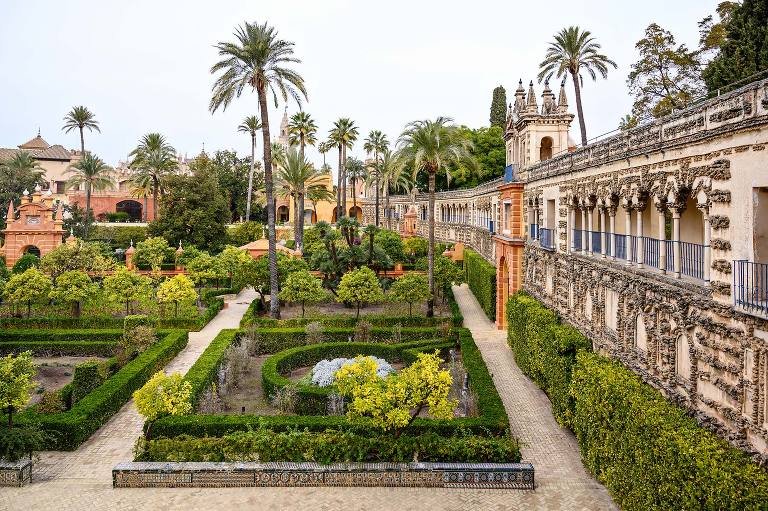 One thing that should be on anyone's list is a visit of the Real Alcázar de Sevilla, the royal palace of Seville. The Spanish royal family still uses some of the rooms when they're in Seville which makes it the oldest European palace that's still in use. And if you're a Game of Thrones fan you may want to see where they filmed the Water Gardens of Dorne.
As Spain went through different eras in the five centuries of construction – Moorish, Gothic, Mudejar and Renaissance – you'll find the different styles as you explore the palace.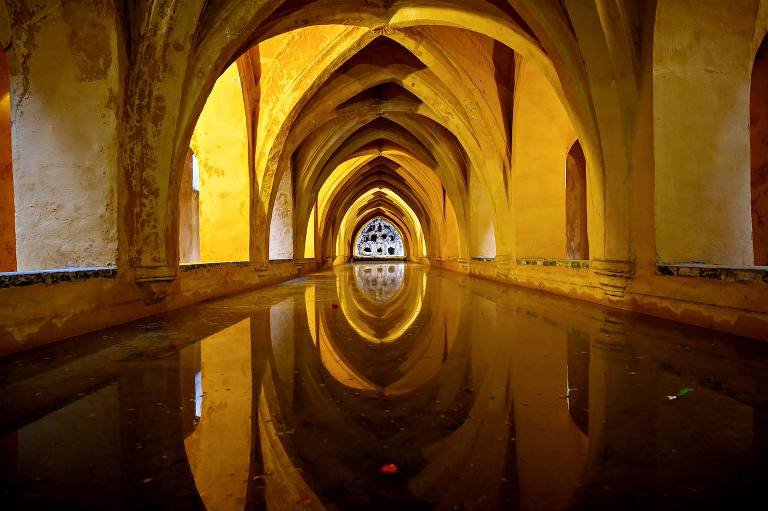 As this is one of the most popular tourist attractions in Seville, make sure to book your ticket in advance!
Metropol Parasol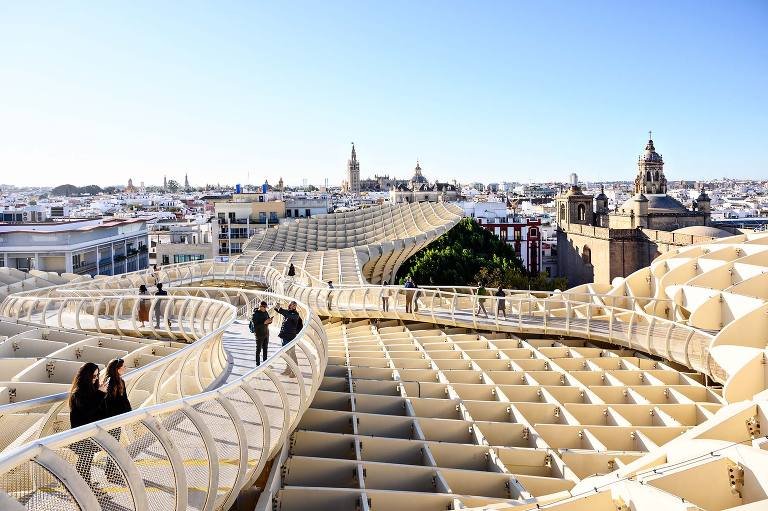 The Metropol Parasol at La Encarnación square, better known by locals as Las Setas de la Encarnación (Incarnation's mushrooms) is a huge wooden structure in the form of six mushrooms. It's an interesting contrast with the old quarter, which led to some controversy when it opened in 2011.
Take the elevator to the panoramic terraces for a great view of the city.
Plaza de Espana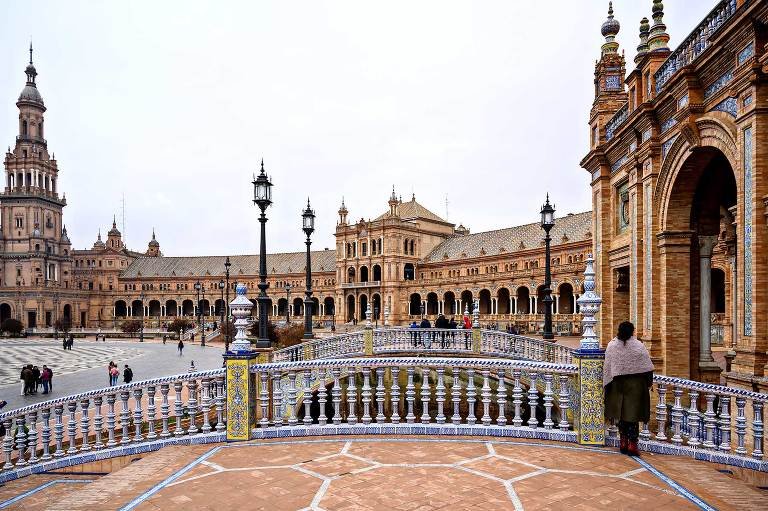 Another must-visit in Seville is the impressive Plaza de España. The square was designed for the Ibero-American Exposition World's Fair in 1929. The buildings (now mostly used by the government) form a half-circle around the square combining a mix of architectural styles.
The 50 colorful tiled alcoves each represent a Spanish province.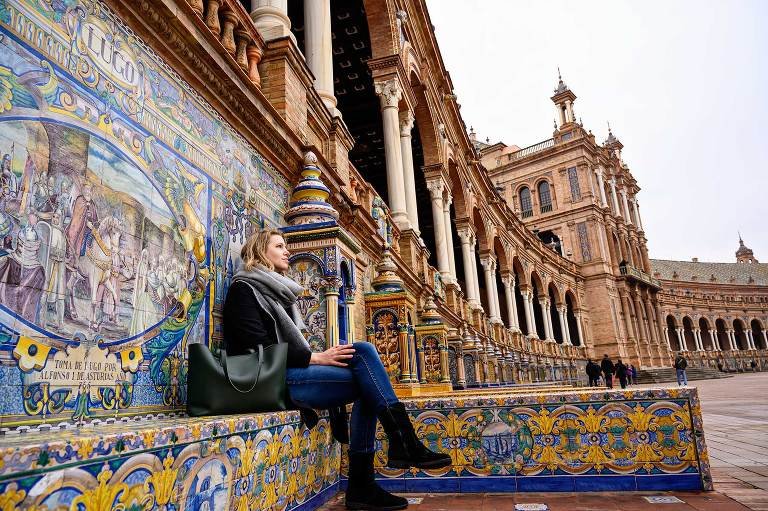 Plaza del Cabildo
This beautifully decorated square, close to the cathedral is such a hidden gem. It's one of those places you'll never find unless you specifically know where to look for it. Google Maps is your friend here, so look it up and combine it with your visit to the cathedral.
Catedral Santa Maria de la Sede (Seville Cathedral)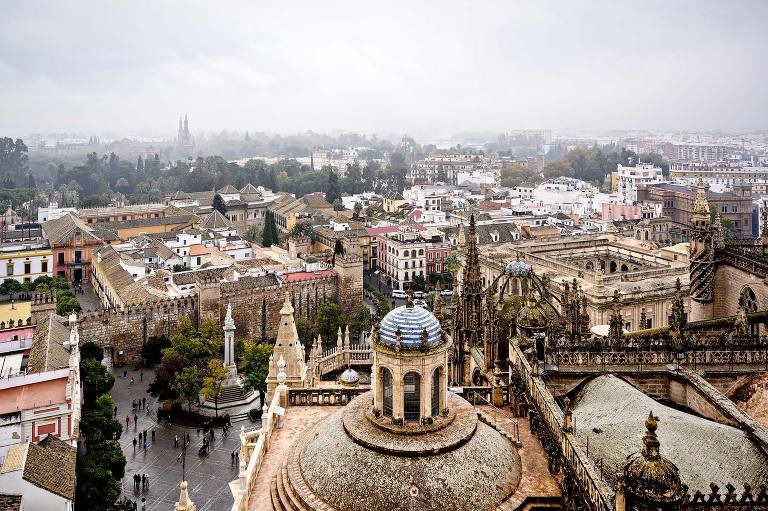 You could say Seville was built around its Cathedral, so it's impossible to miss this impressive building in the city centre.
The Catedral Santa Maria de la Sede is the largest Gothic church in the world. In the 12th century it was the main mosque of Seville, but Ferdinand III turned it into a church in 1248. Just like the royal palace, during its many years of construction, construction styles changed as well which you'll see in different parts of the cathedral.
While you're admiring the interior of the cathedral don't miss the tomb of Christopher Columbus.
What was once the mosque's minaret is now the bell tower known as La Giralda, offering a great view of the city. What's interesting is that the tower has no stairs but a series of ramps instead to get you to the top. Apparently to make sure that animals could go up, carrying people that didn't want to walk.
When you're planning your visit, make sure to get your ticket in advance via their website to skip the queues.
Where to eat in Seville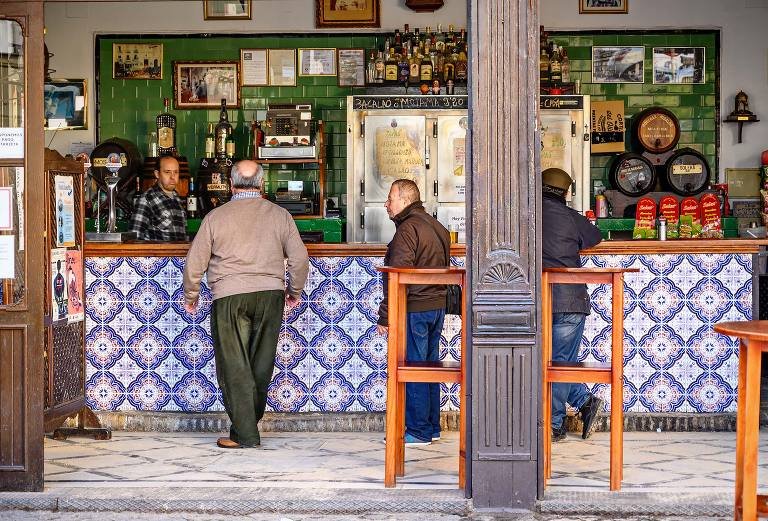 Finding a great place to eat is never a problem in Seville. The challenge is rather that there are so many options, that you don't know where to start. Here are my absolute favorites.
Eslava
Eslava was recommended by so many people that I almost skipped it, thinking it would either be crazy expensive or impossible to get a table. Both turned out not to be true, and this is definitely the one restaurant in Seville you cannot miss.
The good thing about being used to slightly different hours to have lunch or dinner, is that I would usually arrive before the locals would. They open for lunch at 12.30pm and when I arrived at around 1pm I got one of the last tables (there aren't that many). By the time I left, the bar area looked like the picture on the left and they let me go behind the bar as it was almost impossible to otherwise leave the restaurant.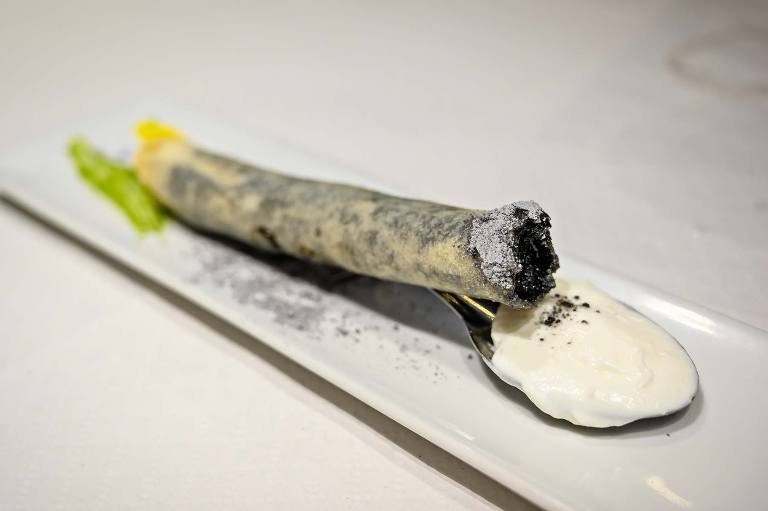 But despite its popularity, the waiters were super friendly and didn't rush me at all. Oh and the food…. so good!
Some of their tapas on the menu have won awards, so you definitely want to try those. The 'Yema sober bizcocho de boletus y vino caramelizado' (slow-cooked egg served on boletus cake with caramelized wine reduction) and 'Un cigarro para Becquer' (brick pastry cigar-shaped with cuttlefish and algae) are both amazing.
Address: Calle Eslava 3
El Pinton
In terms of interior design El Pintón is one of my favorites in Seville. The main part of the restaurant is an indoor courtyard, bright, modern and with lots of plants. Around the corner there's another eating area (same menu) with traditional ceramic tiles, dark wood and a completely different atmosphere.
On the menu you'll find modern tapas, with sometimes Asian twists. I absolutely loved the first dish I ordered: Huevo en tempura con parmentier trufada y quinoa (tempura egg with parmentier and truffle), but was disappointed by the tuna tartar which would have been better to share.
Address: Calle Francos 42
El Rinconcillo
From something modern to 'as traditional as it gets' in Seville. El Rinconcillo has been around since 1670 and claims to be the oldest bar in Seville.
The atmosphere inside is hard to beat which is why you'll still find plenty of locals here. Bottles (most of them covered in dust) everywhere you look, the jámon hanging from the ceiling. Order a drink and tapas and the waiter will write your tab with a piece of chalk on the bar in front of you. They erase it after you've paid, ready for the next order.
Address: Calle Gerona 40
Torch Coffee Roasters
Compared to other cities, I didn't find that many artisan coffee shops in Seville. Which is why I kept going back to Torch Coffee Roasters every time I needed to escape the rain. Definitely the best coffee in Seville!
Address: Ave. Paseo de las Delicias 3
Taberna Coloniales
Another popular restaurant where it helps to get here before the local crowds do is Taberna Coloniales. Nothing fancy, but friendly people and delicious traditional tapas.
Address: Plaza Cristo de Burgos 19
La Cacharreria de Sevilla
Breakfast is clearly not the most important meal of the day in Spain. So if you're looking for breakfast or brunch places you won't find as many. La Cacharrería de Sevilla serves breakfast all day long and is your go-to spot if you wake up hungry. (cash only)
Address: Calle Regina 14
Ovejas Negras
This modern fusion tapas restaurant could just as well be found in New York or London. Don't expect to have a quiet conversation at Ovejas Negras as it quickly gets quite loud with music and the other guests. But the food is excellent (especially the tuna tataki) and despite being a bit chaotic, the staff is very friendly.
Address: Calle Hernando Colón 8
Un Gato en Bicicleta
A super cute place for a quick stop with coffee and cake or a simple breakfast. Un Gato en Bicicleta is a café as well as a bookstore and gallery. As for breakfast, there are not that many options except for the traditional tostada with different things on it. However, as simple as it sounds, I loved my tostada with tomato and olive oil.
Address: Calle Pérez Galdós 22
Sal Gorda
I had walked past Sal Gorda several times before finally having lunch here on my last day in Seville. And I'm so glad I did, because the food is fantastic. There are only a few tables on the ground floor, but I understand there's more space upstairs. When you look at the menu it first seems like they're traditional dishes, but almost all of them have a modern twist. The menu is in Spanish, but the staff was clearly used to translating it to English if you have any questions.
Address: Calle Alcaicería de la Loza 17
Where to stay in Seville
Because I'll be in Seville for a full week, I decide to look for a nice apartment instead of a hotel. I found the perfect (!) apartment, but unfortunately it's not available on my first night in Seville. Of course, now that I've seen it I don't want to go anywhere else… So I'm staying at a boutique hotel for one night and then switch to the apartment for the rest of the week.
H10 Casa de la Plata
My first night in Seville I'm staying at H10 Casa de la Plata, a new four star boutique hotel in the historic centre. The location is perfect for exploring the city.
The interior (inspired by a Sevillan house) feels traditional and modern at the same time. I'm almost disappointed that I'll only be staying here for one night. Especially after enjoying the incredible breakfast buffet the next morning.
Address: Calle Lagar 2, 4
CH Apartments Boutique
But I know what's waiting for me. Because the rest of the week I'll be staying at CH Apartments Boutique, only a short walk from the hotel. Or at least I think I know, because it turns out to be so much better!
The building with six luxury apartments is very old (from the year 1850) but went through a complete renovation in 2019. My 'penthouse' apartment is located on the 3rd floor and it's gorgeous. It's really too bad that the weather is not cooperating, because with a huge rooftop terrace including a jacuzzi and another terrace on the other side of the apartment, I would have been happy to spend all my time relaxing here.
But even while it's cold and raining outside, I'm super comfortable watching Netflix in my charming living room. I just really want come back and try that jacuzzi when it's warm though!
Address: Calle Daoiz 11
— related posts —