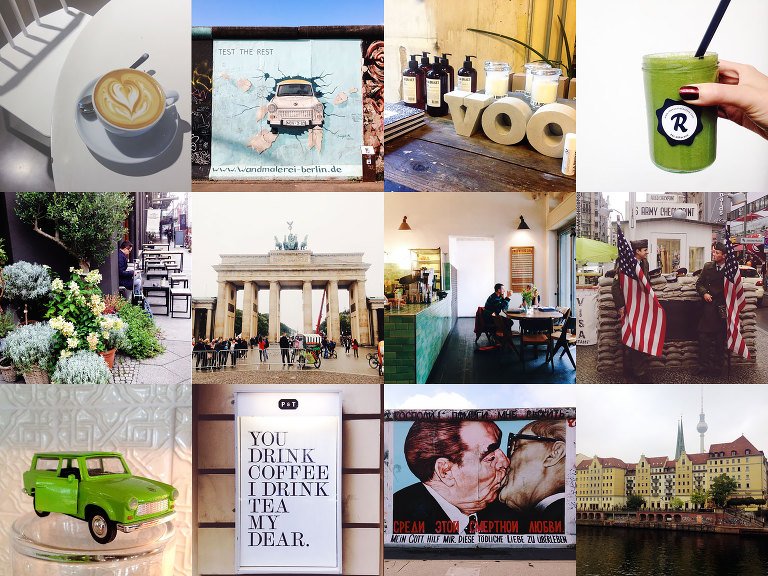 Writing a post about Berlin in a New York hotel room. Life could be worse. It's so great to be back in New York. I can't wait to share all my photos and stories, but first: Berlin. Yes, my travel schedule is a bit crazy at the moment. But hey, I wanted to travel…so travel is what I shall do!
I've been to Berlin a couple of times now. And as I mentioned in my previous post about Berlin, I think it's the most amazing city…when it's sunny. Unfortunately rain and cold weather was all I got this time. So what do you do when you're not dressed for cold and rainy weather and feeling really sorry for yourself because you're catching a cold and you don't want to have a cold because you want to be fit and fabulous on your trip to New York? (Recognize those moments?) You spend the few hours you have in the city drinking coffee and eating. Okay, and taking the occasional touristy photo to show that you're actually in Berlin.
So in case you find yourself in Berlin on a cold and rainy day, here's where you should go.
Café Nest
Kreuzberg is one my favorite areas in Berlin. Right next to Görlitzer Park is Café Nest.  A nice café / restaurant to warm up with a good cup of coffee.
Westberlin
After taking that touristy photo at Checkpoint Charlie, go to Westberlin. This coffee bar / media shop is known for its delicious coffee and cakes.
Le Labo
Looking for the ultimate hipster smoothie? Le Labo actually has one on the menu. They also serve great coffee.
Café Oliv
My local hotspot was Café Oliv near Alexanderplatz. Because of the cold weather I ordered this big bowl of yummy goulash soup, but next time I'm coming back to try the rest of the menu.
TYPE HYPE
I found this really cool design store TYPE HYPE near Café Oliv. Their collection is all about the alphabet. If you're looking for a great gift for someone who's into typography, this is the place to go.
VOO
Another shop you don't want to miss is VOO, a concept store in Kreuzberg. It's the ultimate hipster store, with trendy clothes, books and accessories. They also have a little coffee corner.
P & T
If you're more of a tea drinker, then you should definitely have a look at P & T (Paper & Tea). This specialty tea company has an impressive collection of high-end tea.
East Side Gallery
Not really a tip for a cold and rainy day, but something you just have to see when you're in Berlin: The East Side Gallery. This 1.3 km section of the Berlin Wall is the longest open air gallery in the world, with 105 different paintings.