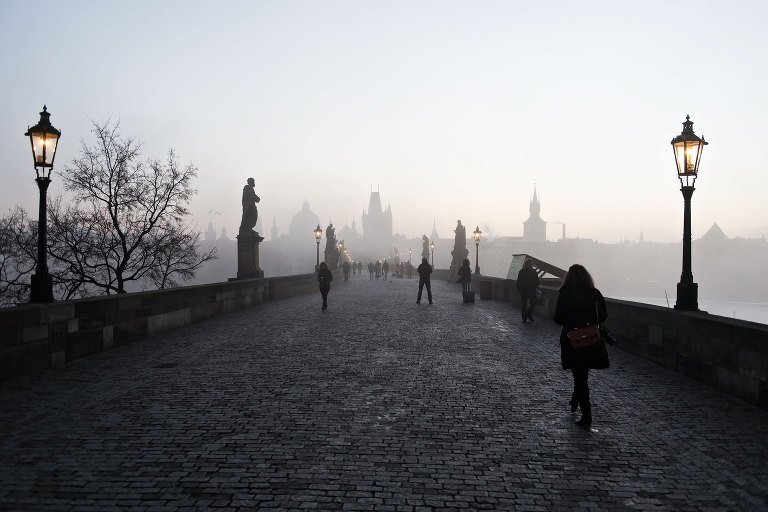 When you find yourself in Prague in December to experience a very special hotel, you could decide to stay in all day. Sleep, eat, drink cocktails and have a massage at the spa. But if you're like us, you probably want to make the most of your stay in one of the most beautiful cities in Europe, and see what more it has to offer.
For most of us it wasn't our first time in Prague, but the Augustine hotel did a fantastic job suggesting new places to visit and eat. And we wouldn't be travel bloggers if we didn't discover some places ourselves as well.
So, to summarize three days in Prague, here's the video (best in HD):
Catching the sunrise on the Charles Bridge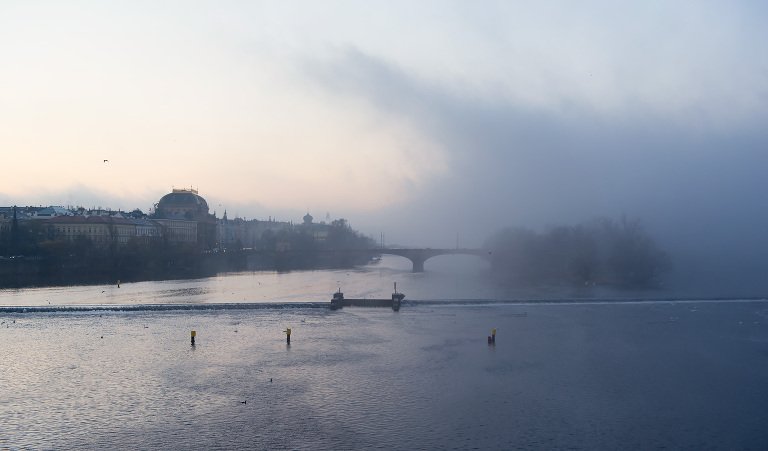 The Charles Bridge is the most touristy part of Prague. You haven't seen Prague if you didn't cross the river Vltava (Moldau) via this historic bridge. Despite all the tourists I love walking on the bridge with the old city on one side and the Malá Strana area and castle on the other side.
But when you arrive early in the morning to watch the sunrise, it's absolutely amazing. The fact that most tourists are still sleeping is a big plus, but the bridge, the city and the water look…magical. There's no better word to describe it.
So, sleep in the next day or when you get home, setting the alarm clock to see this is worth it!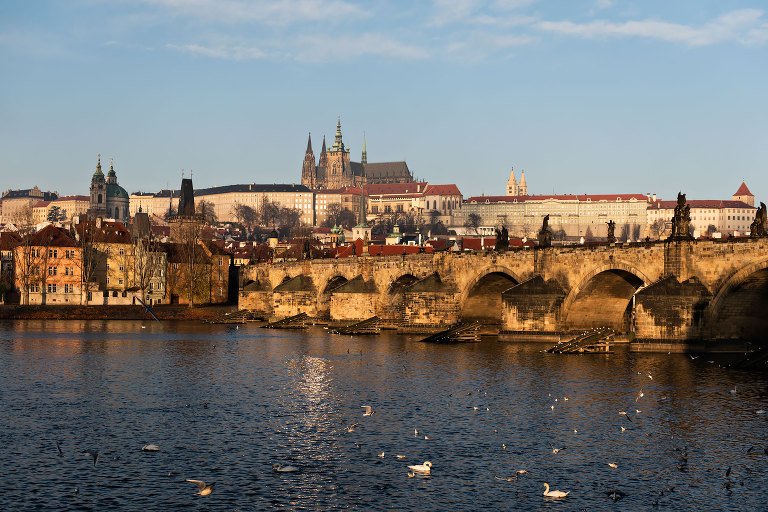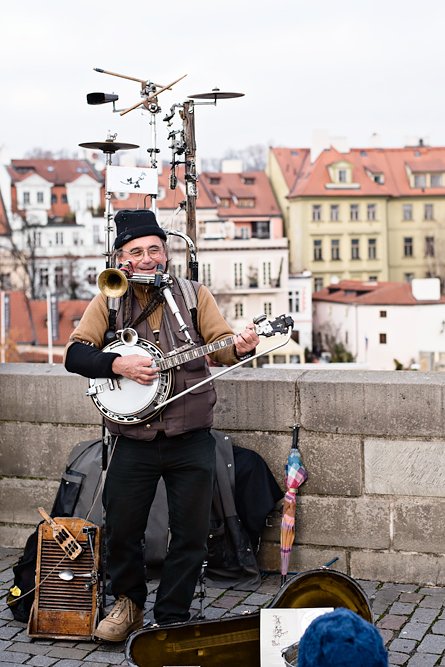 Christmas markets in Prague
I would visit Prague any time of year, but a good reason to go in December are the Christmas markets. Walk around the city and everywhere you go you'll see Christmas trees, beautiful decorations, stables, and wooden stalls selling food and mulled wine… If there's one city that understands the concept of Christmas markets, it's Prague.
Don't miss the one on the Old Town Square. The huge Christmas tree is the most beautifully decorated tree I've ever seen. We should send the person responsible for decorating the tree on Trafalgar Square in London to Prague, because this is how to do it.
View of Prague from the Klementinum astronomical tower
Actually the main reason I would suggest to visit the Klementinum is the baroque library hall. Just google it to see all the photos that others have taken of this amazing library. Unfortunately, you're officially not allowed to take photos. And since I didn't want to make our friendly guide angry, I didn't take any.
But the next best thing is the astronomical tower. I'm not a fan of heights, so I can't say I particularly enjoyed standing outside, but the view is great.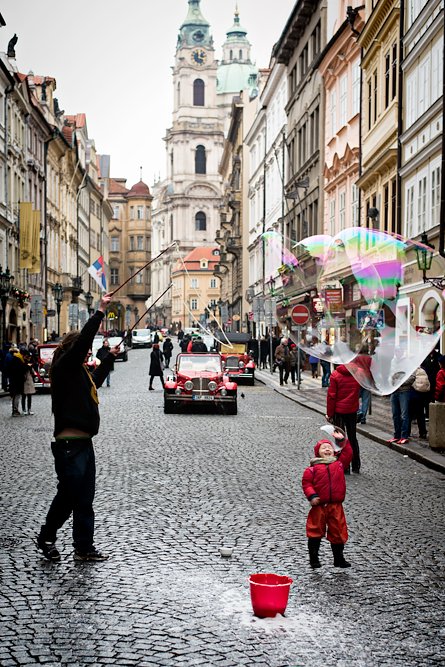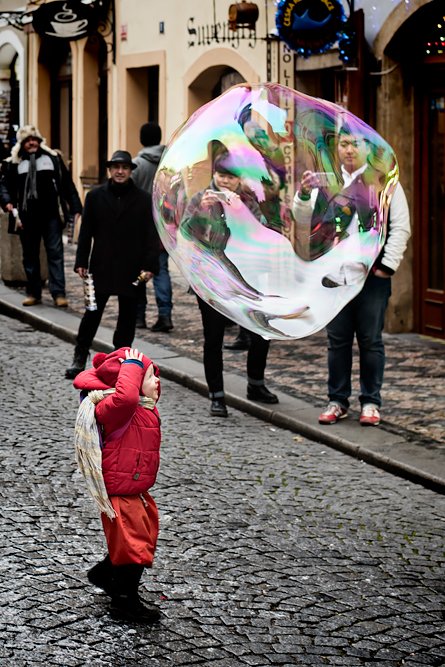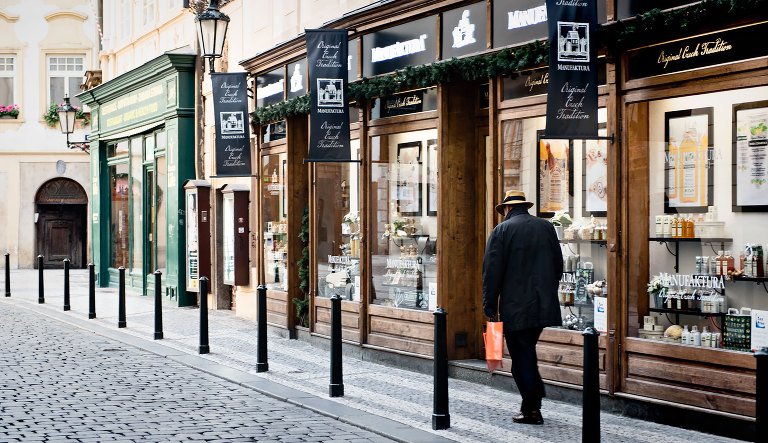 Hidden Gem: Colloredo-Mansfeld Palace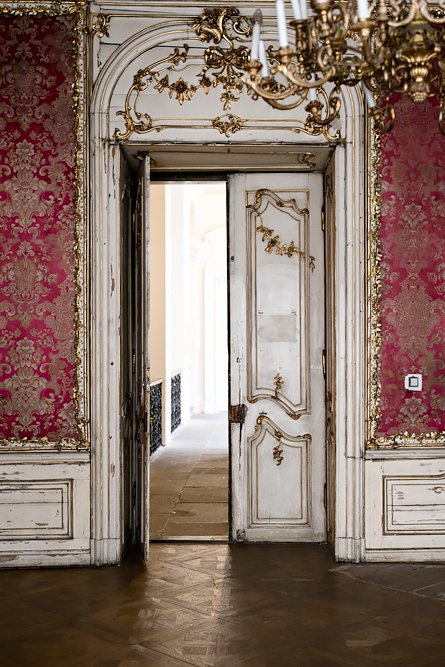 I remembered Colloredo-Mansfeld Palace from when I was in Prague the year before and it was one of the Design Week venues. It's this gorgeous baroque building, just across the Charles Bridge, that's now completely empty and in clear need of renovation. It's easy to miss as you couldn't tell it's a palace when you walk past it on the street.
By the way the staff kept an eye on us, you'd think we were trespassing, but we actually bought a ticket to go in. Not the best example of Czech hospitality, but still a great place to visit and to let your friends take pictures of you (thanks Jo).
And don't forget….
Other Great Places to Visit in Prague: 
John Lennon Wall
Vyšehrad cemetery
Great Places to Eat in Prague:
Cukr Kava Limonada: we had lunch here, they have the best savory pancakes.
Atelier Red & Wine: pretty looking and tasty dishes, another excellent place for lunch.
Mincovna: in a very touristy area next to the Old Town Square, but I loved the modern interior and they serve delicious Czech food and wine.
Thanks again Starwood Hotels and Augustine, a Luxury Collection Hotel for this magical trip!