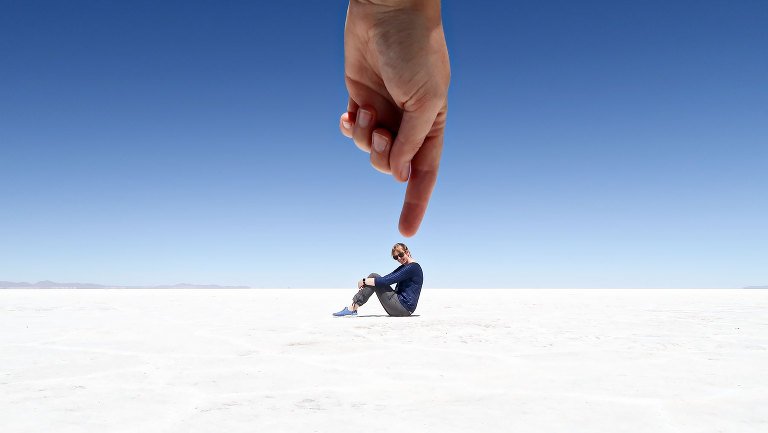 There's more to Bolivia's Uyuni than the salt flats. True, standing on those bright, white grounds with clear blue skies is one of those experiences you'll never forget. But if you limit your visit to Uyuni to 'just' the salt flats, you'll miss some of the most beautiful and diverse landscapes I've ever seen.
We joined a small group with a guide to do a 3 day (2 nights) tour. I've been back two weeks now and I'm still struggling to find the words to describe this experience. Words, photos and videos will never do it justice. So I'm hoping that this post will do enough to convince you to go to Bolivia to see it for yourself.
The title of this post is therefor a bit misleading, since not all of the experiences were on the salt flats. But they're all part of the tour and it's what made Uyuni one of the highlights of our trip.
Staying at a salt hotel
Most of the hotels I show here on the blog are usually modern, luxury design hotels. I love staying at places like that for city trips, but when I'm traveling to countries like Bolivia I really don't care that much where I sleep.
All the hotels and hostels we stayed at were nice, but basic. Especially (!) those two nights during the tour. I don't think I can actually use the word 'nice' there, it was simply very basic. The second night we slept with the rest of the group in one room with about 5 heavy blankets + sleeping bag on each bed to keep you warm, and no showers.
It's no big deal, but that's why we decided to treat ourselves to a bit more luxury at the beginning and end of the tour: Salt hotel 'Luna Salada'.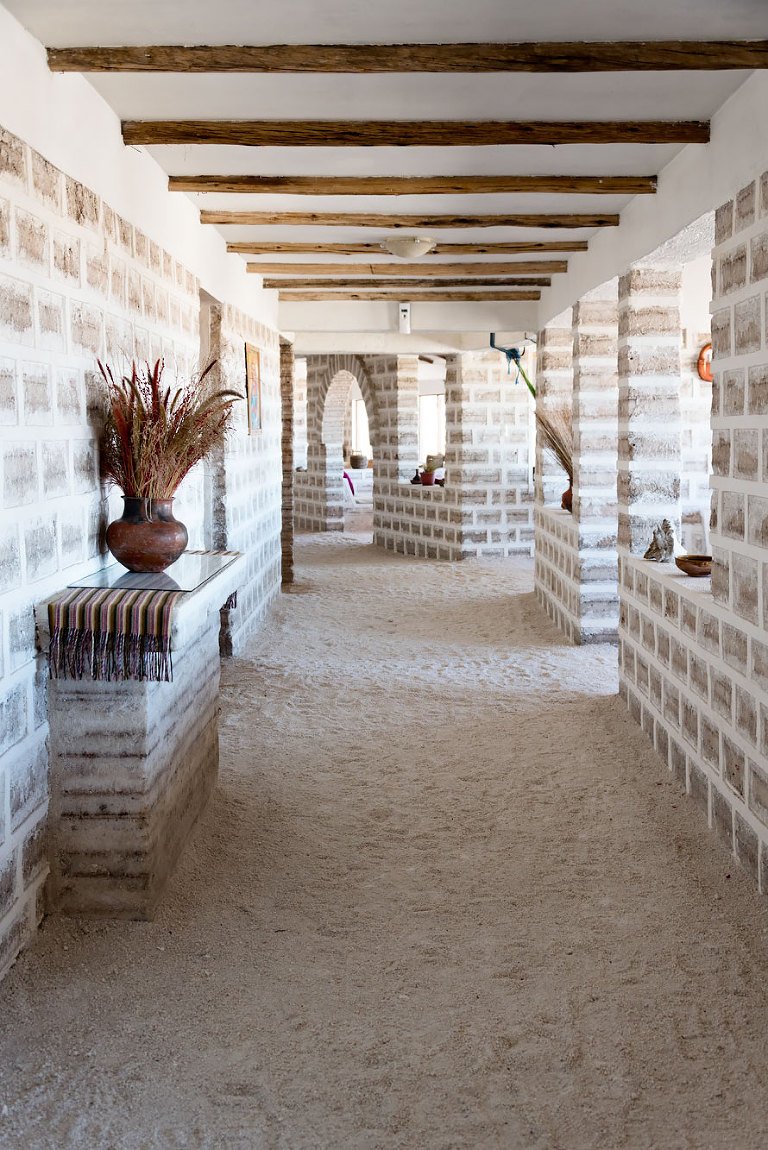 It was everything I hoped it would be. Everything (well, almost everything) is made out of salt: the floors, the walls, the beds, tables, chairs. With little nooks with fireplaces to read and stay warm. Our room was very modern – and warm – with super comfy beds.
And in the morning you see the sun rise over the salt flats from your room! Incredible. And because the location of the hotel is quite remote (it's a bit of a drive from the city centre) you'll have all your meals at the hotel restaurant which was delicious.
For European standards it's not even that expensive, but it is compared to what you pay anywhere else in Bolivia. But I couldn't have wished for a better beginning and end of this tour.
Standing on the salt flats
As I said before, it's hard to describe what it feels like to stand on the salt flats and seeing nothing but white as far as you can see.  There are a couple of places where you'll find the other tourists, like an old salt hotel where you'll stop for lunch with all the country flags, and the cactus island. But the rest of the time it feels like you're almost on your own.
And yes, it's a super touristy thing to do, but of course you need to take some funny pictures on the salt flats. Which was actually more difficult than we thought. We struggled a bit, but fortunately our guide – who probably does this every week – came to our rescue and told us exactly what to do.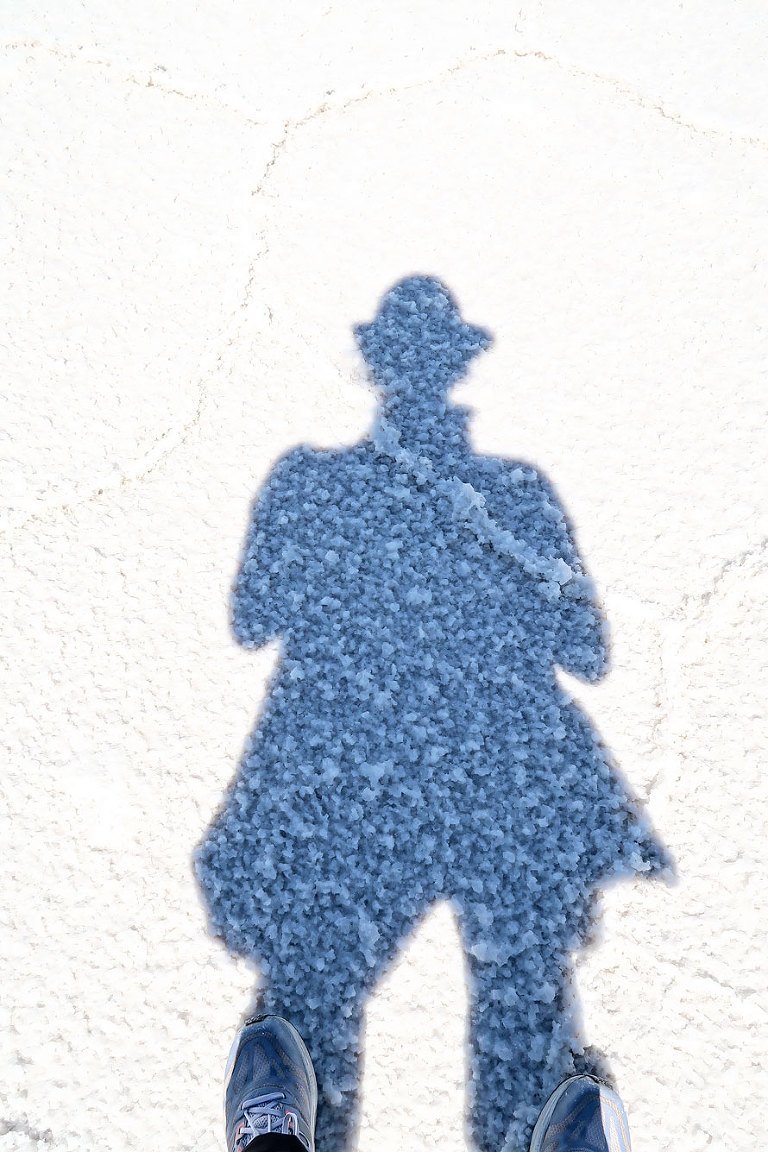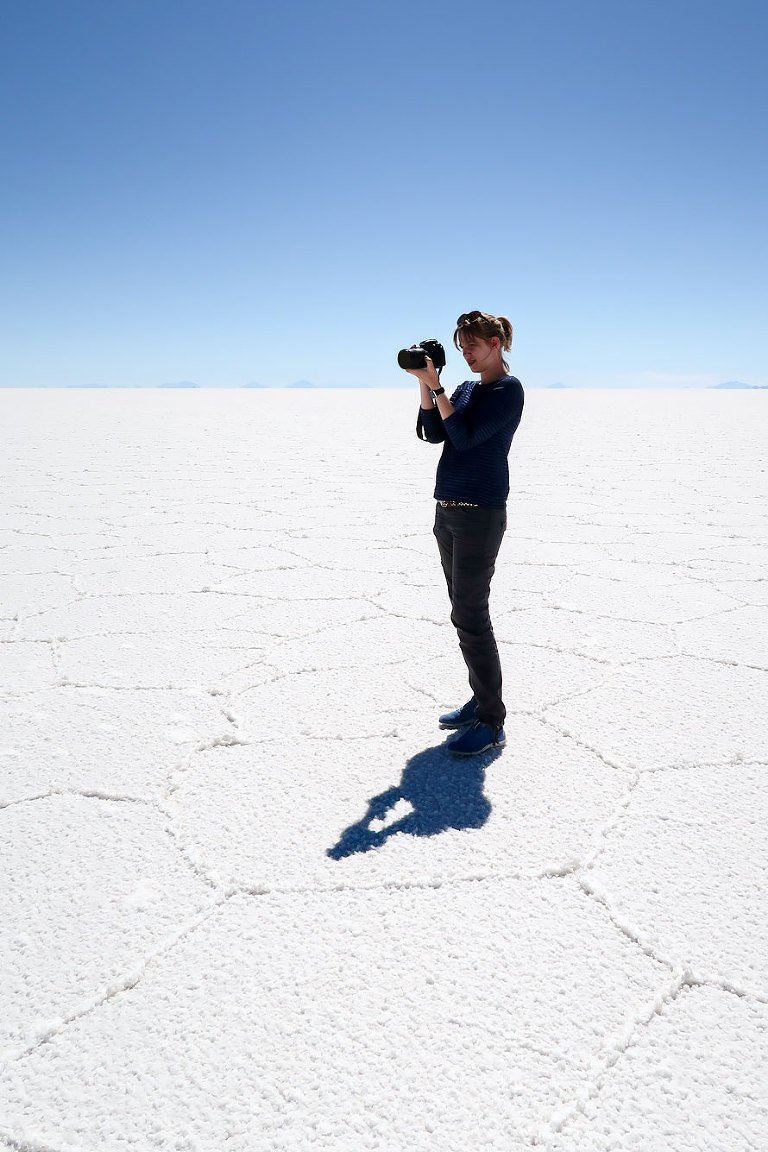 Walking to the top of Isla Incahuasi (Cactus Island)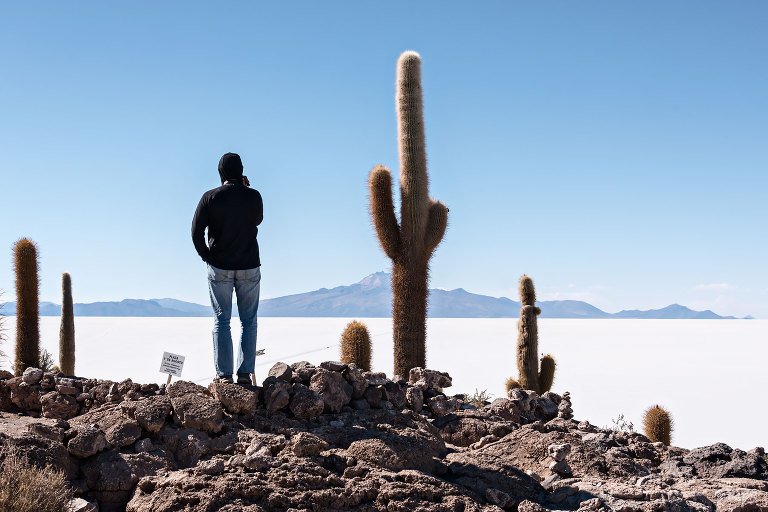 While driving on the salt flats you see nothing but salt. But then all of a sudden, out of nowhere appears this 'island' with giant cactuses. It's so weird, but also very special. You need to pay a bit of money to access the island for which you can then also use the toilets (where else would you go in the middle of a salt lake).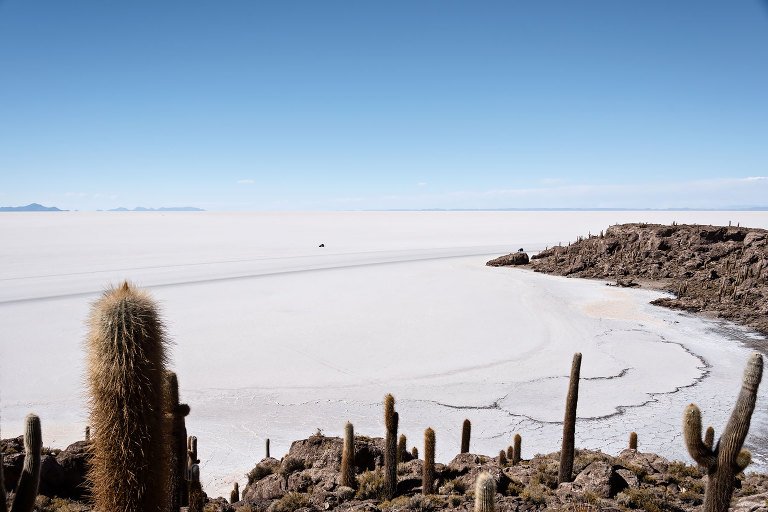 The view from the island is just incredible. I couldn't stop taking pictures while climbing to the top. It's definitely a surreal moment standing next to a huge cactus looking over this empty salt desert.
Admiring the colored lagoons with flamingos
At the end of day one you leave the salt flats to drive to your hostel for the night and then the next day it's time to visit the colored lagoons. The landscape and roads couldn't be more different from what you experienced before. It's why you need that 4-wheel drive and an experienced driver.

It's quite a long drive in between each stop, but just looking out the car window makes it worth it. The landscape keeps changing and is so beautiful.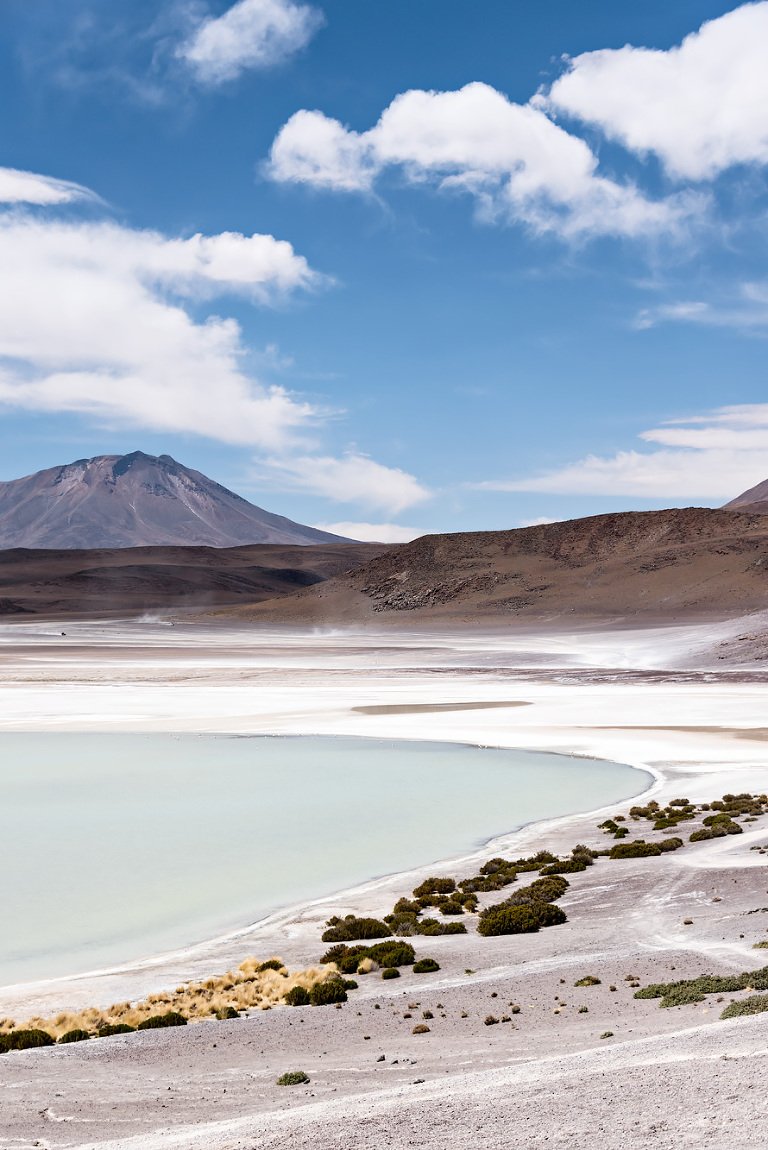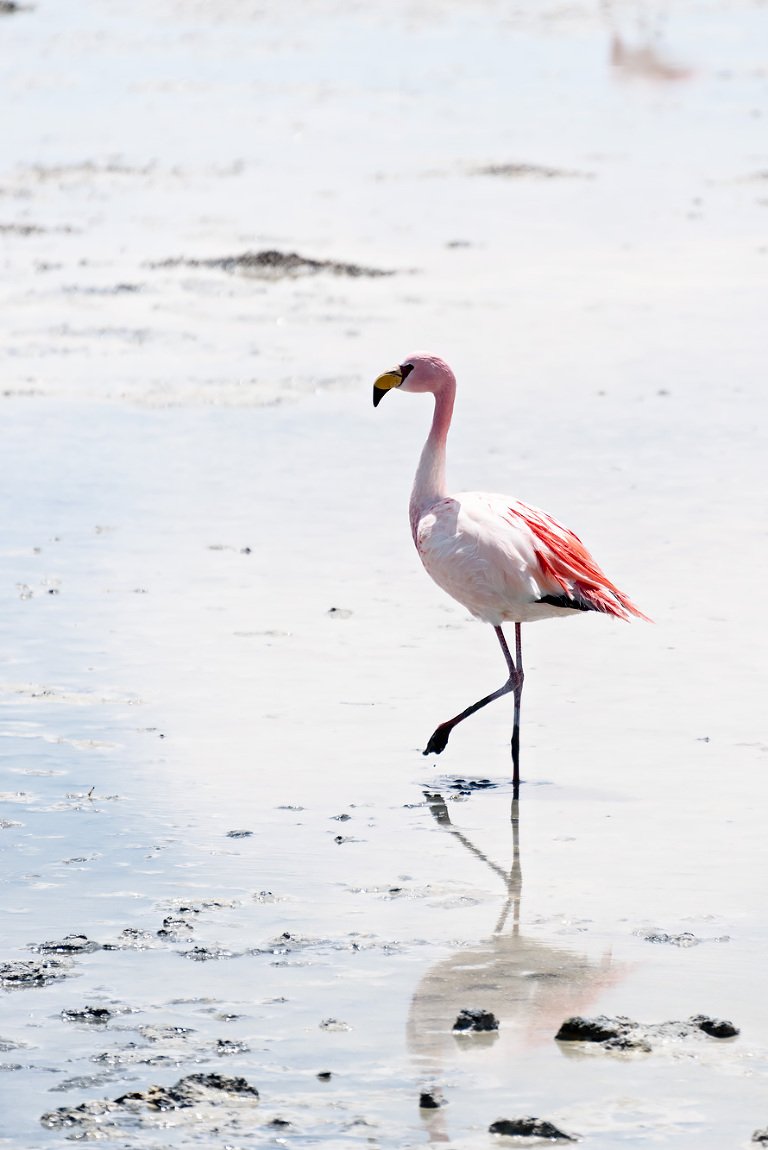 But eventually you do want to see the colored lagoons: one green, one red. It's the minerals that give the lagoons this special color. And the flamingos seem to like it as well.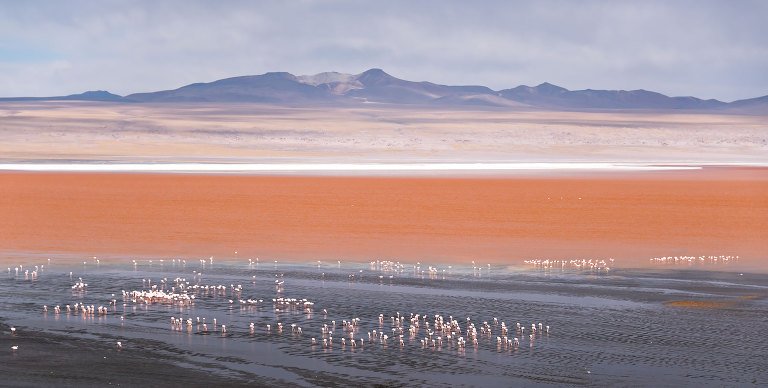 Watching the sunrise at the geysers of Sol de Mañana
The third day of the tour. Wake up time: 4.30am. There's no shower at this hostel, so we drag ourselves out of bed, get some breakfast and pack our bags to get back in the car while it's still super dark and cold outside. While I'm still waking up and wondering why we're doing this I first see the sun rising behind the mountains and then the steam coming out of the geysers. Okay, I'm awake now.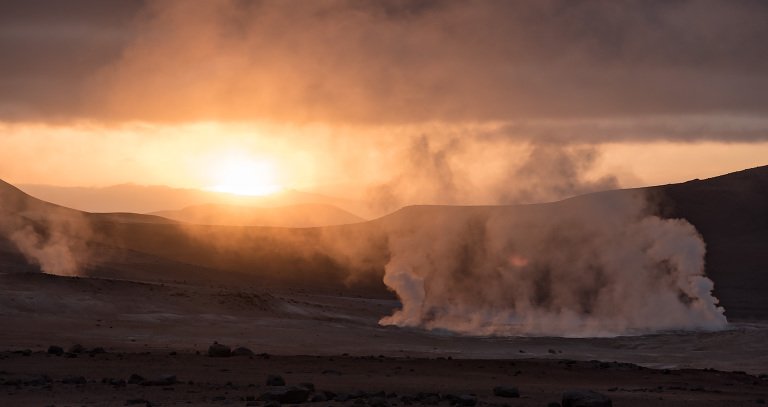 It wouldn't be me if I didn't take lots of photos, but this is also one of those moments where you have to put your camera away and enjoy the moment.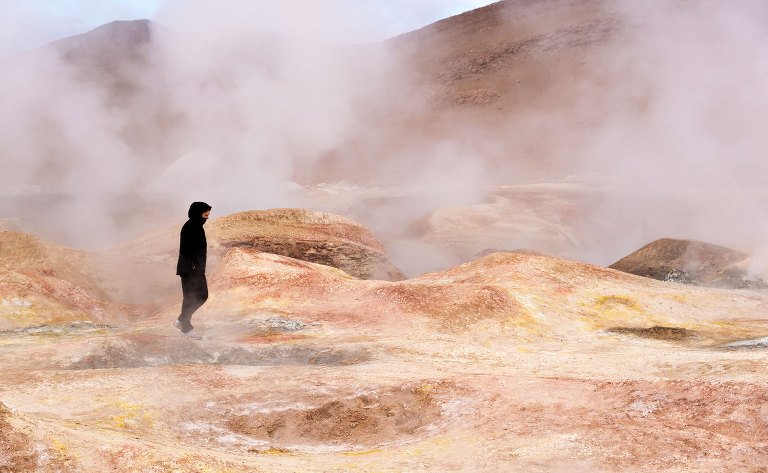 I thought the geysers and sunrise were already pretty spectacular and worth the early wake up call, but there was more.
This was just the best viewpoint for the sunrise. But the best part of Sol de Mañana is a bit further down. With multi-colored grounds, steam escaping everywhere, mud bubbling, you feel like you're walking on some sort of moon-like landscape. It's interesting how close they let you get to the geysers. There are no signs or lines to warn people. You can get as close as you want.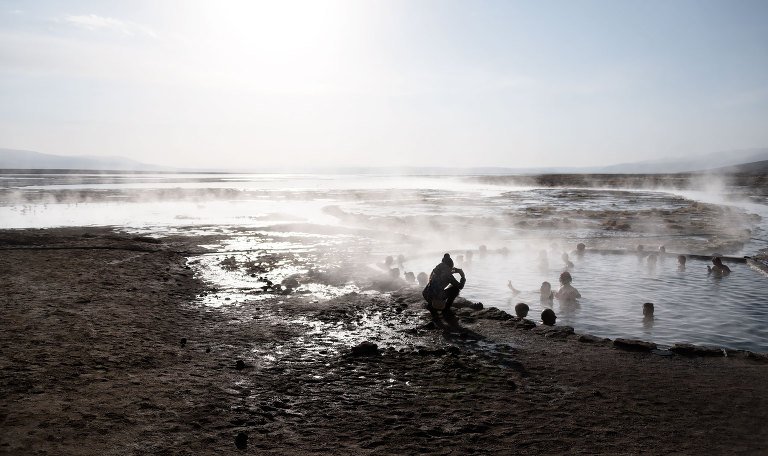 Then it's time for the final (official) stop of the tour, the hot springs. Since we're now very close to the border with Chili most people end the tour here and cross the border.
We went back to Uyuni. A long six hour drive but since we took a different route we could again enjoy the beautiful changing landscape. And we knew that at the end, our beautiful warm room at the salt hotel was waiting for us.