When you go back to working full time after a long period of – well – not working at all, it's a rule that you go on a trip to enjoy those final moments of total freedom. At least it's one of my rules.
Talking about #firstworldproblems, I can't make up my mind where to go. Somewhere warm, but preferably in the same timezone (no jetlag). Somewhere I haven't been to before, but also a place that doesn't require a lot of research to find things to do. And somewhere that isn't crazy expensive since I am booking my flight and hotel only three days in advance. A couple of days later I'm on a plane to Lisbon.
Since I'll be going back to work soon I want to make sure I'm not coming back completely exhausted. Wouldn't be the first time after a citytrip. So how do you make sure you're taking enough breaks from all the sightseeing? You eat. And drink coffee. And then eat some more.
Fortunately, Lisbon is all about incredible food. Here are my favorite places that I discovered while I was there.
Where to get the best pastel de nata in Lisbon
Let's start with the best part about eating in Portugal: pastel de nata. You can get these sweet Portuguese custard pastries everywhere in Lisbon, but once you've tasted one from these two shops, you'll never want anything else.
Manteigaria

My absolute favorite. The crust is flaky and the custard often still warm. Plus you can watch how they're being made. When they walk outside to ring a bell, that means a new batch is coming freshly out of the oven. Yum!
Address: Rua do Loreto 2
Pasteis de Belem
If you're as big of a fan of pastéis de nata as I am, then visiting Pastéis de Belém is a must. This is where it all began, and where you can taste the original 'pastel de Belém'. Of course it's super touristy and there's a queue outside, but they're very efficient so you won't have to wait long.
Address: Rua Belém 84-92
Where to get the best coffee in Lisbon
Hello Kristof

Coffee and magazines, that's what this popular little café is all about. Also a great spot for a simple breakfast.
Address: Rua do Poço dos Negros 103
Fabrica Coffee Roasters

Very 'hipster' with two cafes in Lisbon.
Address: Rua das Flores 63
Where to get the best chocolate cake in Lisbon
Landeau

It's easy to get my attention when you're talking about chocolate. So when several people were telling me about the best chocolate cake ever, I had to try it. And yes, it's incredible!
Address: Rua das Flores 70
Where to go for breakfast in Lisbon
Going out for breakfast is not really a 'thing' yet in Lisbon. Even places that offer somewhat of a breakfast menu often open between 9 and 10am, or later.
Dear Breakfast

With a name like that, the breakfast has to be good. They open at 9am and I especially loved the pretty – very instagrammable – white interior. The food is quite simple, but I really liked it.
Address: Rua Gaivotas 17
Nicolau Lisboa
Not necessarily a breakfast place, but a great spot for whenever you're in the mood for something healthy and (again) a pretty interior. To be honest, I wasn't that impressed with my smoothie bowl (looked very pretty, didn't taste so great). But since it's such a popular restaurant, I'm sure the other items on the menu must be better.
Address: Rua São Nicolau 17
Where to have lunch and dinner in Lisbon
A Cevicheria

The interior with the blue and white floor tiles and the giant octopus hanging over the bar makes this one of Lisbon's coolest places to go for lunch or dinner. They don't take reservations and when I arrived 5 minutes after they'd opened for lunch (on a weekday) I managed to get the very last seat at the bar. So either get there in time or stop by to put your name on the list about an hour before you'd like to eat.
Address: Rua Dom Pedro V 129
Bairro do Avillez

José Avillez is one of Portugal's most famous chefs with several restaurants in Lisbon, some with Michelin stars. Bairro do Avillez is not just one restaurant. There's the traditional 'Taberna' in the front and then the spacious (more expensive) Páteo in the courtyard, focussing on seafood and fish. I had the grilled squid with the most delicious black rice at the Páteo. It was great, but I kind of wished I had opted for the Taberna since I would have been able to try several of the smaller (and cheaper) dishes instead of one main meal. Unfortunately I went here on my last day in Lisbon, so I'll definitely come back for the Taberna next time.
Address: Rua Nova da Trindade 18
The Decadente
I had dinner at The Decadente on my first evening in Lisbon simply because it was close to my hotel. With the other restaurants I was already expecting great food because I'd heard so much about them. But with The Decadente, I had no idea what to expect. And it was amazing! Great atmosphere, nice people, delicious modern Portuguese food and not expensive. I could have eaten here every night.
Address: Rua São Pedro de Alcântara 81
Time Out Market

When you don't have enough time to try all the restaurants in Lisbon, then Time Out Market is the place to be. According to Time Out: "If it's good it goes in the magazine. If it's great it goes on to the market." Here you'll find many of the best restaurants and food related shops under one roof.
Address: Avenida 24 de Julho
Pap'acorda
If you are at Time Out Market, but you'd rather eat at a real restaurant, then go upstairs to Pap'Açorda. It's a Lisbon favorite for traditional Portuguese food. They've been around for over 36 years, but only recently moved to the Time Out Market building, so the restaurant looks very modern. And when you're there you might as well try a typical Portuguese dish that the restaurant was named after: açorda. They describe it as a bread soup, although it tastes more like a stew with shrimp, garlic and coriander. It's super heavy so skip the starters and you won't have room for dessert, but I does taste good.
Address: Avenida 24 de Julho 49
Where to go for drinks with a view in Lisbon
Lost In
With all this food it's a good thing that you'll burn so many calories walking up and down those hills in Lisbon. Another good thing about these hills is that they offer beautiful views. The garden at Lost In is a great place to enjoy the view while having a drink in one of those colorful seats under the trees.
Address: Rua Dom Pedro V Nº56-D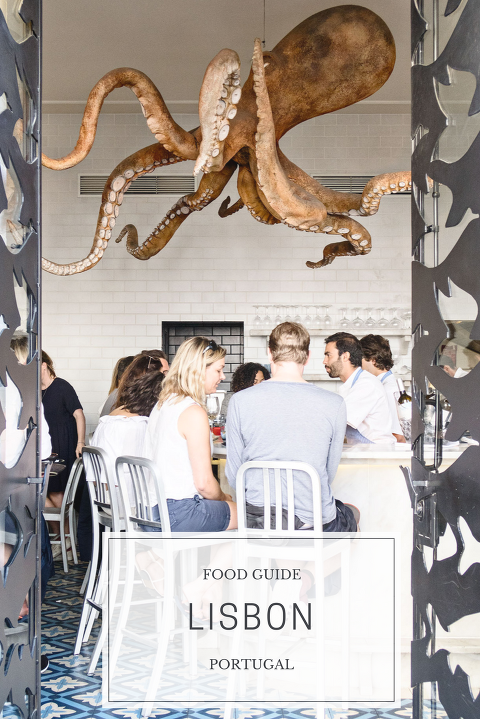 Bewaren
Bewaren
BewarenBewaren
BewarenBewaren
BewarenBewaren
BewarenBewaren