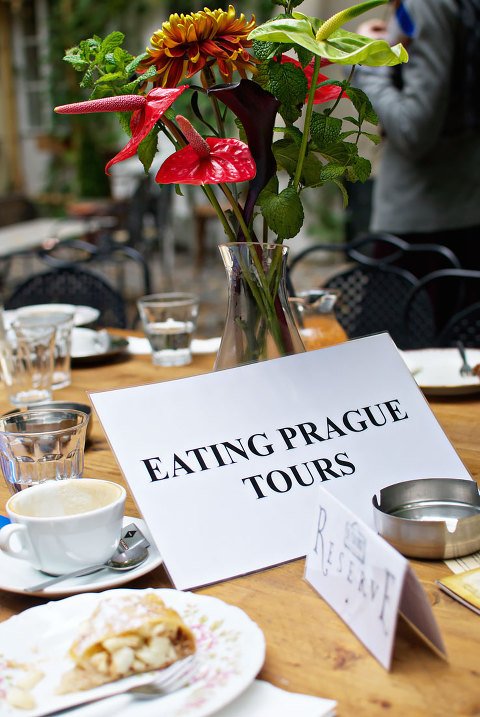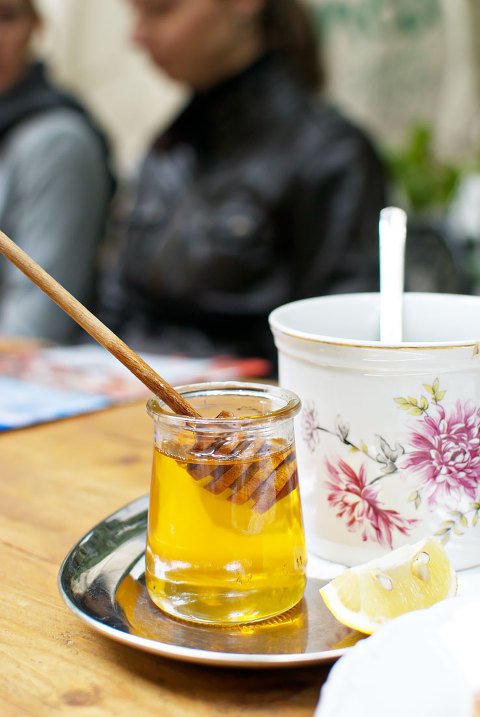 There are places that have such an excellent foodie reputation, that you would visit them just to go crazy on the food. I love exploring the typical local cuisine when I travel, but when I was planning my trip to Prague I had no idea what to expect. I heard many great stories about the city, but not often did these stories say anything about the food. So I was about to visit a country that I'd never been to before and where I had no idea what to eat. Challenging… Unless you plan a food tour on your first day. And let a food loving local not only show you the culinary treasures of Prague, but also some beautiful hidden gems along the way.
Eating Prague had invited me to go on their Prague food tour. And after having such a great time on the Eating London Food Tour, I knew they would be perfect to introduce us to eating and living in Prague.
We met our guide Jan and the rest of the group at Gallery Le Court. A lovely courtyard café just a few blocks from our hotel where we had our first Czech tasting: homemade jablečný závin. Or, for those of you that aren't fluent in Czech: apple strudel. I could have known then that this tour would be slightly different from the one in London… No such thing as small portions here.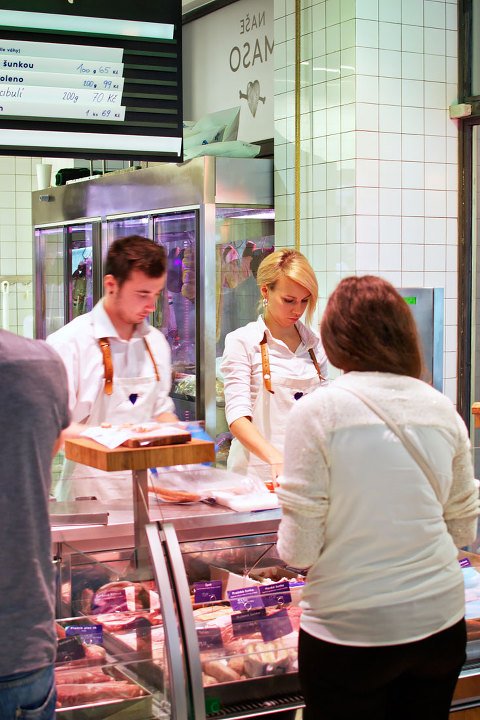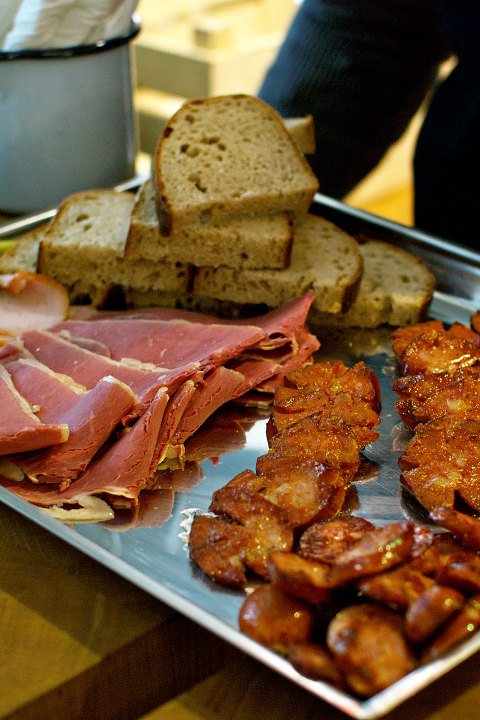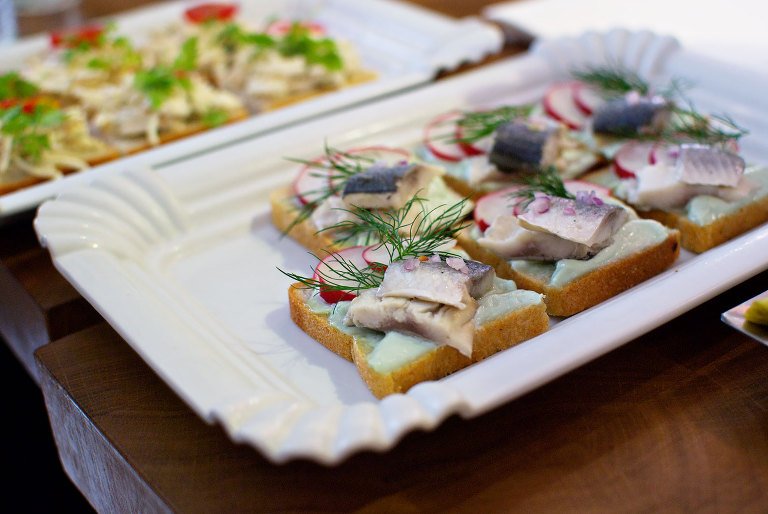 Our second and third stop were not far, so no time to work on our appetite. Both places opened earlier this year and are already considered as some of the hottest foodie spots in town.
Naše Maso is an artisan butcher and people are standing in line for their Prague ham and sausages. Right opposite is sandwich shop Sisters, founded by a famous Czech food writer (Hana Michopulu) and her sister. I loved their sandwiches. It's a classic Czech open-faced sandwich (chlebíčky), but then with a modern twist. It reminded me a bit of the sandwiches I had in Copenhagen. Delicious!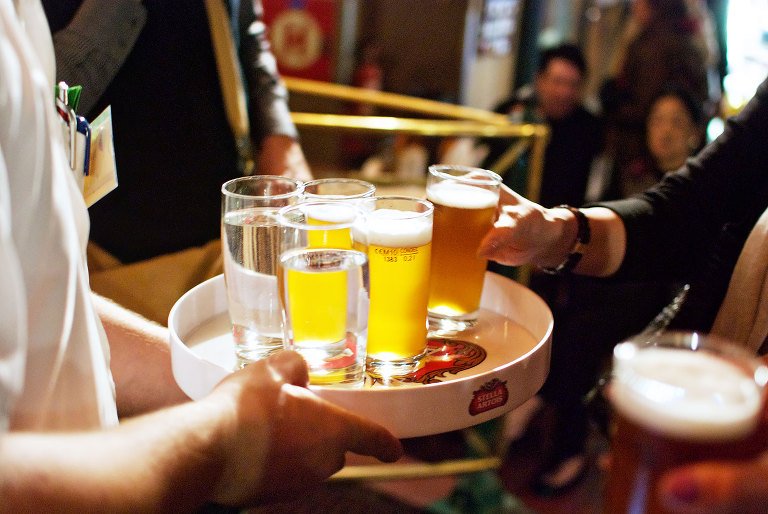 After a nice walk through the city we arrived at brewery Novoměstký Pivovar. In a country that has the highest beer consumption per person in the world, it only makes sense that this is part of the tour. I'm just not a beer drinker. I tried, but I really didn't like it. Despite the fact that I was trying hard to get rid of my drink without offending anyone, I did actually enjoy this part of the tour where we were shown how beer is made. Interesting, but still not a fan…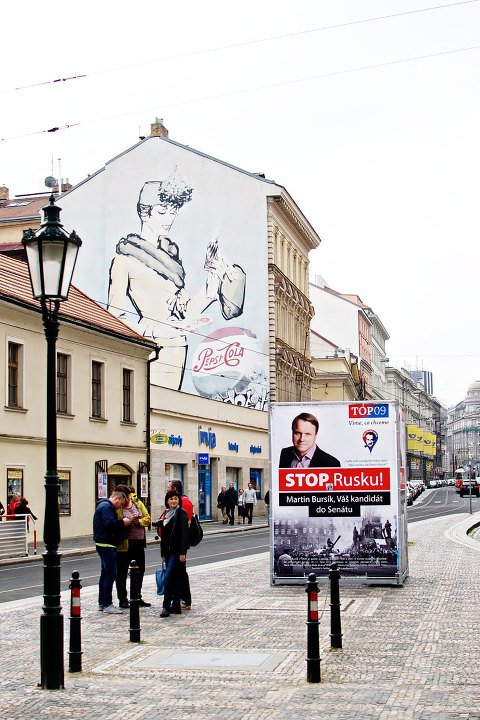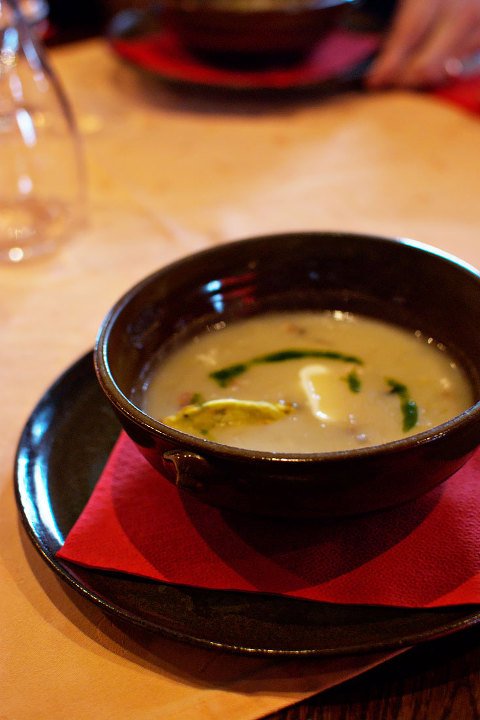 One thing my friend is not a fan of, is sauerkraut. So when she heard what was on the menu for our next stop she got slightly nervous.
Hidden in the top of an old bell tower is restaurant Zvonice and they serve the best Old Bohemian sauerkraut soup in the world. I think it was the first time for me to try sauerkraut soup so I don't have a lot to compare it to, but I loved it! This was so good! Even my friend thought it was good. (Okay, she didn't love it, but it counts for something right?)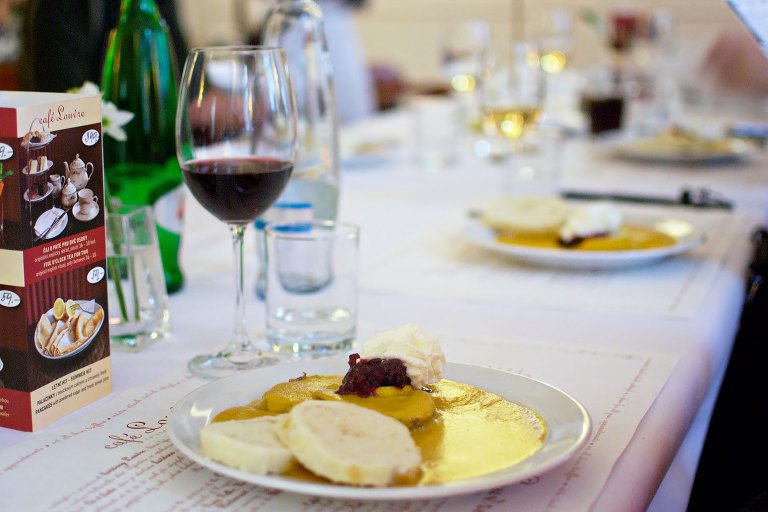 This was all just a warm-up for our main meal: svíčková na smetaně or dumplings, braised beef in a sweet cream sauce and cranberry compote at Café Louvre. Now that's a proper Czech meal that will keep you warm and full in the winter! Because we were on a tour and doing tastings, we only had two of those super filling dumplings. But otherwise you'd get four or more!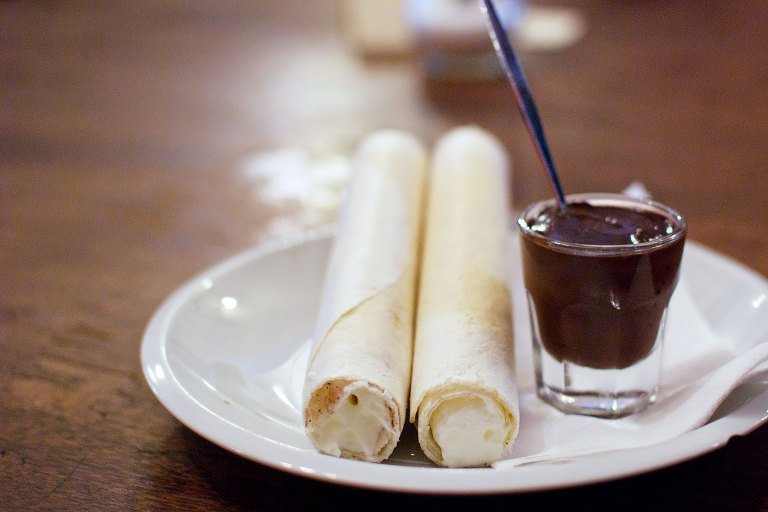 And then it was time for dessert. Now, there's always room for dessert. Especially when there's chocolate involved. If you have a sweet tooth then this is a must-visit when you're in Prague.
The story goes that back in 1812 a cook in Napoleon's army gave the recipe of the famous rolled wafers (Napoleon's favorite treat) to a certain Czech woman (living in Hořice) after saving his life and taking care of him after he got wounded.
We had them at a café that specialises in all things chocolate: Choco Café U Cervené Zidle. The hořice wafers are filled with cream and you dip them in the thick hot chocolate before eating them. Oh yeah, so good!
Four hours had passed between my first bite of the apple strudel and dipping my rolled wafers in chocolate. And in that time I got a pretty good idea of what the food scene in Prague has to offer. Most of it is quite heavy – and creamy – but it's interesting to see how many of the new places are putting a modern twist on traditional dishes. And who would have thought that sauerkraut soup would be so tasty?!
If you're planning to go on this tour I'd highly recommend to do it on your first day like we did. I couldn't have asked for a better introduction to Prague and the Czech cuisine.