As I cross the street from Oslo's Central Station I'm looking up to this impressive building that's been here for a hundred years. This was once the headquarters of the Norwegian America Line ('Amerikalinjen'), a cruise ship company taking passengers to the United States. Most of them probably in the hopes of starting a new and better life. 
Today this is the new Amerikalinjen hotel. A boutique hotel that opened its doors earlier this year and was named after the original owners of the building. The heavy wooden front door, the grand staircase and high ceilings – still in excellent condition – tell the story of its history. And so do the framed black and white photos of passengers, shipping documents and maps on the wall in my room. 
It's this combination of a new, modern, luxurious boutique hotel with a loving respect for its past that makes me instantly fall in love with it. And unlike the people in the photos, I'm not hoping to go anywhere else right now. 
From my room I'm overlooking the square in front of Oslo's Central Station (some rooms have a view of the fjord). The deep windows offer a window seat to watch the people, trams and busses come and go. It never stops. I can open the windows, but thanks to an additional window in front of the original single pane glass, it stays quiet at night. 
It's the little details that makes this hotel room stand out. The wooden floors, high ceilings and smoked-glass wall behind the bed gives it a spacious and luxurious feel.
When you need to use the bathroom at night, a sensor automatically turns on a soft light. And the delicious homemade chocolate chip cookies on the night stand are something to look forward to. 
Amerikalinjen's Cocktail bar Pier 42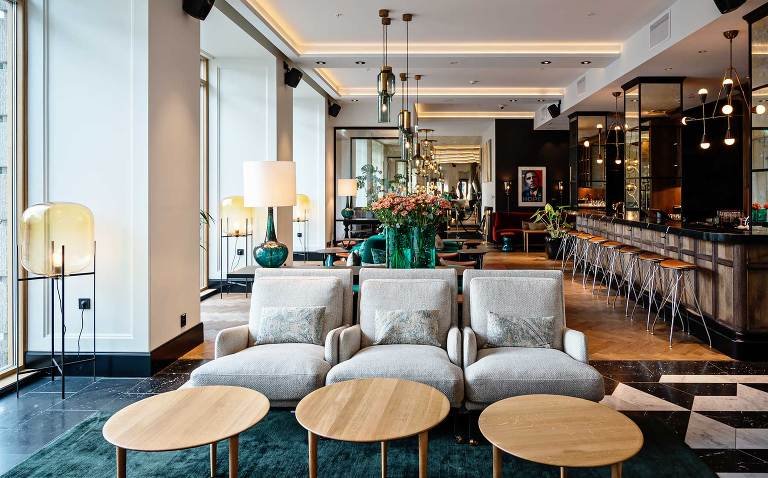 Pier 42 – named after the spot where immigrants would arrive in New York – is worth a visit. Even if you're not staying at the hotel. The long wooden bar, beautiful floor, the fire place and comfortable velvet seats make it the perfect spot to start or end your evening with a seriously delicious cocktail. The drinks on the menu have interesting names of important events that took place in Norway and the US between 1919 and 2019. Such as the XVII Olympic Winter Games cocktail.
Breakfast at Amerikalinjen
Getting out of bed in the morning when a king size bed is this comfortable isn't easy, but breakfast (which is included) is waiting. Served in the Atlas Brasserie, there's an impressive buffet to choose from. I'm glad I'm staying here for three nights so I can try different things each morning. There are the things you'd hope to see in a Norwegian hotel, like smoked salmon, waffles and 'brunost' (the brown cheese I mentioned in my previous post). But if you're more of an eggs with bacon or fresh fruit with yoghurt kind of person, then there's that too. 
Atlas is open all day as a brasserie for breakfast, lunch and dinner. And as a café if you want to grab a coffee or quick snack. 
Then there's the gorgeous courtyard 'Haven'. With a glass ceiling, lots of plants, this bright space would be the perfect place to have brunch on the weekend or just relax with a cup of coffee. Unfortunately, during my stay a corporate event has taken over the courtyard and I am unable to enjoy it or take any pictures. Another reason to come back! 
And I would love to go back. After a long weekend in Oslo, I feel like I'm only starting to get to know this city. There's still so much I want to do and see, so many cool neighbourhoods to explore. But no matter what my plans are next time, I know I'll be checking in at Amerikalinjen again for sure. 
Website: Amerikalinjen (check rates & availability)
Address: Jernbanetorget 2, 0154 Oslo
Disclaimer: I was a guest of Amerikalinjen for the purpose of this review
— related posts —