I have booked my flight. The next question is: where to stay in Chicago? As much as I like hotels, I always find this extra difficult when I visit a city for the first time. After all, you don't want to end up in a bad neighborhood, or be too far away from all the sights and restaurants. Then there's the challenge of hotels I like versus hotels I can afford (unfortunately, most of the time not the same list).
I decide to look for a hotel in Downtown Chicago. This way I'll be able to walk to many of the places I want to visit and then take the metro to other parts of the city.
Dana Hotel and Spa in Downtown Chicago
I'm staying at the Dana Hotel and Spa. The location is perfect: in the heart of Downtown Chicago (River North) and the Magnificent Mile (the main shopping street) just around the corner.
With 216 rooms it's not a small, intimate hotel, but it does have a certain boutique hotel feel to it. What I should mention is that the name of the hotel is no longer Dana Hotel and Spa. Shortly after my stay, it became a Eurostars hotel and is now called the Eurostars Magnificent Mile.
Junior Suite at the Dana Hotel and Spa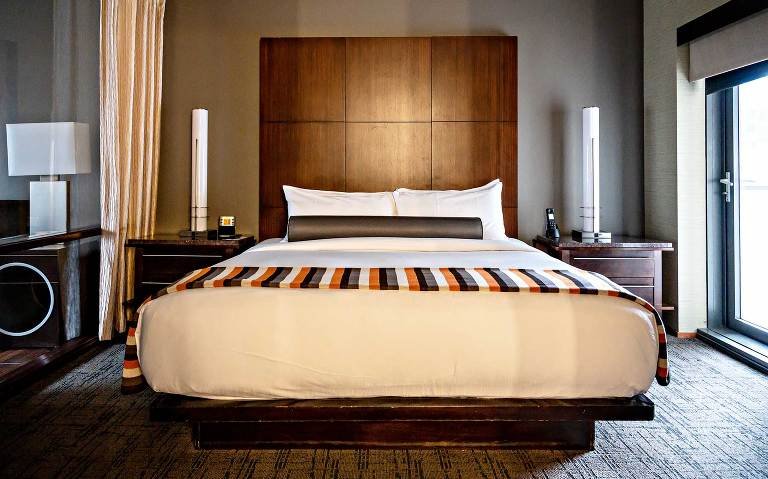 I can tell you plenty of stories about walking into a hotel room and thinking 'it looked so much bigger in the pictures'. At Dana Hotel and Spa (Eurostars Magnificent Mile) it's quite the opposite: my room is huge!
Actually, there are two rooms. The Junior Suite has a 'living room' and a bedroom with floor to ceiling windows. Both rooms have a balcony. And the bathroom is amazing. It doesn't have a bathtub, but it does have a super luxurious 'spa shower' with two rainfall shower heads and body jets.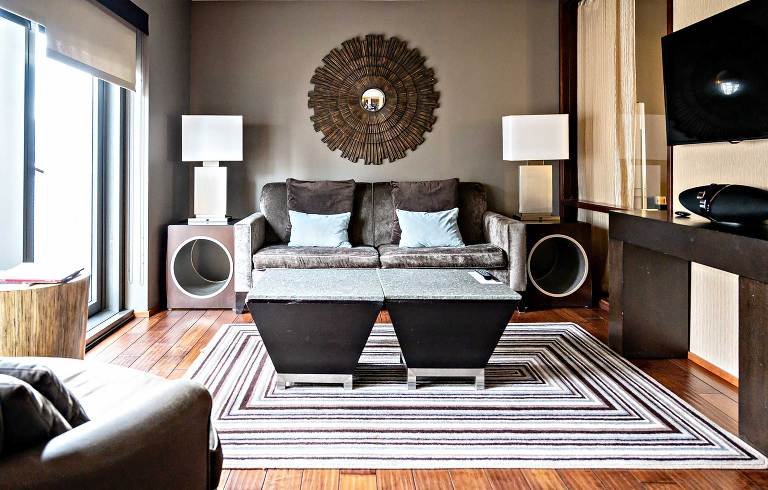 The interior design of the room feels a bit dated compared to the rest of the hotel, but it has everything you'll need and I loved coming 'home' to it after a long day exploring Chicago. Also, the staff will do anything to make you feel at home. For example, there was no kettle in my room to make a cup of tea (which I love – or better said: need – at the beginning and end of the day), but when I asked they immediately brought one to my room.
Best luxury spa in Chicago: Spa at Dana
At the end of my first day in Chicago I'm more than ready to try the hotel's spa. After all, when you're staying at a hotel with an award-winning spa, you can't leave without trying one of their treatments. The hotel's luxury spa has recently been remodelled and I felt my body relaxing the moment I arrived.
I'm sure you can't really go wrong here, but they suggested I'd try the Pink Himalayan Stone Therapy. I had never had a hot stone massage before, but I'm a fan now. It was seriously one of the best massages I've ever had. Especially after two days of traveling and exploring the city, this was just what I needed.
Portsmith Restaurant at Dana Hotel and Spa
After such a relaxing spa treatment you may not want to leave the hotel anymore. Fortunately for a good restaurant you don't need to go very far. The first thing you'll see when you walk into the hotel on North State Street is the Portsmith Restaurant. A beautiful restaurant where you can have breakfast (not included), lunch and dinner.
Then, when walking up to the first floor (which is where you'll find the reception), there's the Leviathan Lobby Bar.
With so many restaurants to try in Chicago, I only had breakfast at the Portsmith restaurant on my last day. And even though I've heard they serve some interesting cocktails at the Leviathan Bar, I'm sorry to say that I didn't try them.
Apogee Rooftop Bar
What I definitely didn't want to miss is the hotel's rooftop bar. I mentioned that the interior of the room may be a bit dated, the Apogee rooftop bar and terrace on the other hand is the coolest part of the hotel. It looks beautiful!
Whether you're staying at the hotel or not, it's worth going up to the 26th floor to enjoy the view and drinks. And when it's not raining, you can sit outside on the terrace.
It's one of the many reasons why I wish I could have stayed longer. Choosing a hotel in downtown Chicago, and specifically the Dana Hotel and Spa (Eurostars Magnificent Mile) was definitely the right choice for my first time in Chicago. Exploring a city on foot is always my favorite way to experience a new city, and the hotel's central location proved to be the best place to start and end each day.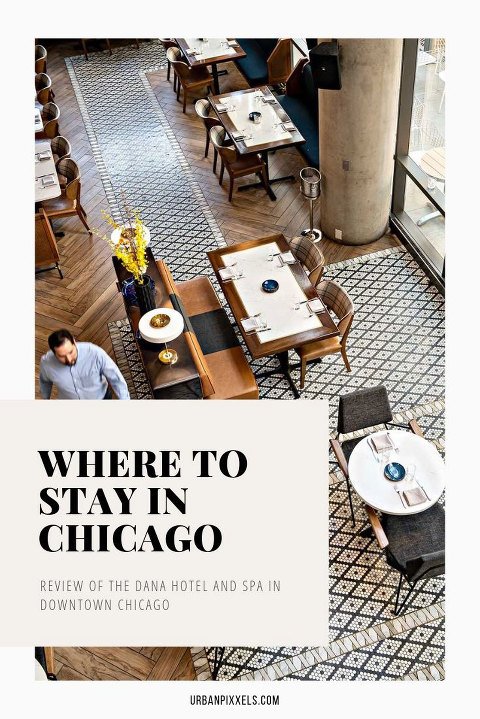 Disclaimer: I was a guest of Dana Hotel and Spa for the purpose of this review
— related posts —