Tourists and digital nomads have clearly discovered Chiang Mai, Thailand's second city. Mostly known for the over 300 Buddhist temples, these days you'll be just as impressed by the number of hotels, restaurants and trendy coffee shops. They're everywhere.
Finding a place to stay isn't difficult, but the question is: where do you want to stay? What part of the city? Since Chiang Mai doesn't have a public transport system like you'll find in Bangkok, you'll want a location from where it's easy to explore the city.  
In general there are three areas to choose from: the Old City, Nimman (west of the old city) or the River Side (east of the old city). I've stayed at four different boutique hotels in all three areas, so here are my recommendations for the best places to stay in Chiang Mai. 
Nimman, Chiang Mai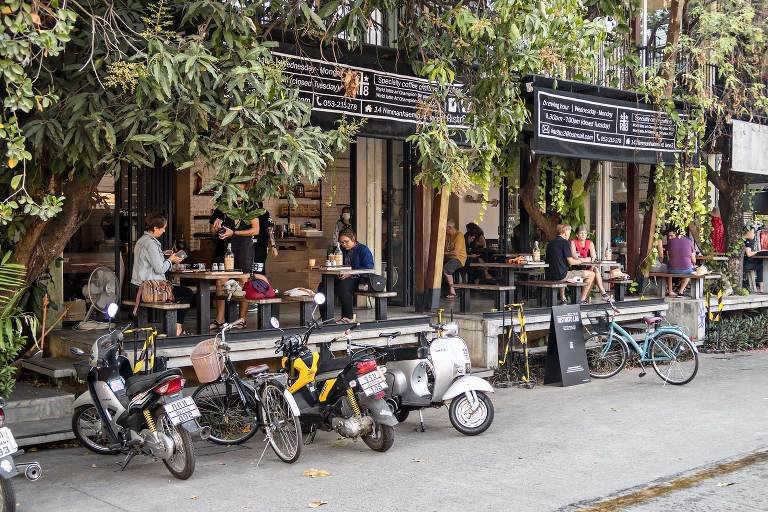 Nimman is the up and coming trendy part of Chiang Mai. I start and end my time in Chiang Mai here. If you're a digital nomad and looking for places with decent WiFi to work from, or you're a coffee lover who wants to try new coffee shops every day, this is where you want to be.  
The street pattern of Nimman looks a bit like a grid with straight roads crossing each other. And the only thing you'll find on every single street are restaurants, hotels / hostels, coffee shops and places to get a massage.  
What I like about Nimman is that it's easy to walk around and you'll have everything you need nearby. But it doesn't feel very Thai. The whole city is focussed on tourism, but especially in Nimman I feel like I'm walking around in a world created for foreigners. 
Also, what you should know is that Nimman is the area closest to Chiang Mai airport (15 min by car). Wherever you are in Chiang Mai you'll see and hear planes fly over, but it can get very loud in Nimman (so bring earplugs!). 
Hotels in Nimman: Cherlock Hotel 
My first hotel in Chiang Mai is Cherlock, a new, modern hotel in Nimman that opened at the end of 2018. Even though it's located in the heart of Nimman, it's very peaceful and quiet.  
Rooms
My room is very spacious and new with a balcony overlooking the garden and swimming pool. The bathroom is nice and modern. I would have preferred a separate shower instead of one in the bathtub, but I can live with that. WiFi is available in the room, but comes and goes. Which is something that happens everywhere in Chiang Mai. Especially in the evening it often slows down quickly.  
Breakfast / Food
They don't really serve breakfast at Cherlock Hotel, but you can get free drinks and snacks (including fresh fruit) in the lobby area. In the morning there's coffee and tea, and they'll bake off croissants or other pastries for you in the oven.
Address: 15 Nimmanhaemin Road Lane 15, Suthep, Muang, Chiang Mai 50200
Hotels in Nimman: Hotel Yayee 
Hotel Yayee, a very popular 'hipster' place in Nimman, is just around the corner from Cherlock. The owner is a famous Thai actor and a lot of thought went into the interior design of the hotel. Even if you're not staying here, make sure to check out the rooftop bar, which is great.  
Rooms
There are two type of rooms you can choose from: a big room or a small room. My booking is very last-minute when the only available room left is a big room. Maybe it's because I have the last available room, but unlike the rest of the hotel I'm not loving it. The bed is on the floor and doesn't have a night stand / light. There's no comfy chair or sofa like I've seen on photos of this room. The bathroom is super basic / old with an electric shower and a toilet in the same space (so always a wet floor). And the rooms are not sound-proof. You'll definitely need earplugs. 
High speed WiFi is available in most parts of the hotel. However, the walls of my room seem to be blocking the signal, so even though I can get around 30 Mbps outside of my room, inside it drops to 0,5 Mpbs.
Breakfast / Food
Hotel Yayee has a nice restaurant / café area where breakfast is served in the morning, which is included in the price of the room. What is interesting is that you need to let them know what you want for breakfast and at what time the day before. So on the first day, during check-in I had to think about what I wanted to eat the next morning and what time I was planning to wake up. There are several options to choose from though and it's really nicely done. 
The star of the hotel is the rooftop bar on the 5th floor (open between 5pm – midnight). You get an incredible view and it's a perfect place to see the sun go down while sipping a cocktail.  
Address: 17/4-6 Sainamphueng Rd., T. Suthep, A. Muang, 50200 Chiang Mai
Old City, Chiang Mai
For sightseeing and a feel of the 'real' Chiang Mai you want to be in or near the Old City. When I was in Nimman I would walk to the Old City which takes around 25 minutes. Doable, but with this kind of weather you don't want to walk for too long.
I loved wandering around the Old City. It's very different and the roads are quiet compared to the rest of Chiang Mai.
Hotels in the Old City: Lanna Thaphae Hotel
I stayed at the Lanna Thaphae Hotel just outside the city walls. Even though the hotel wasn't that special, this was probably my favourite area to stay in. Unfortunately I didn't take any photos of this hotel, but I still want to mention it. Check out these photos to get an idea of what the hotel looks like.   
Rooms
I was pleasantly surprised by my room. There's nothing really special about its interior design, but it just feels very new and modern. The bathroom is very spacious with a nice rain shower. And because it's located in a side street with not a lot of traffic, it is very quiet. WiFi is not amazingly fast, but it was the most stable of all the places I stayed at.  
Breakfast
Breakfast is included, but I skipped it after the first morning. It just wasn't very good. So if you're staying here I would recommend having breakfast somewhere else. 
Address: 6, Kotchasarn Soi 1, Chang Khlan, Chang Moi, 50200 Chiang Mai
River Side, Chiang Mai 
The area on the other side of the Ping River is more residential which is why you won't find as many hotels here. However, if you're looking for a bit more luxury, then this where you'll find some of the best hotels and resorts.  
Hotel des Artists, Ping Silhouette 
I stayed at Hotel des Artists, Ping Silhouette for three nights and almost didn't leave the hotel. It's just one of those places that offers everything you need. And because I had to do some work, I was more than happy to eat at the hotel restaurant.
There are several areas where guests can sit and relax if you don't want to be in your room. And the pool is perfect.
Rooms 
My room at Hotel des Artists, Ping Silhouette is amazing. Modern with beautiful Asian touches. A super comfy bed and a very nice bathroom. One of the reasons I'm staying here is that I really need steady WiFi for work and I was hoping that a hotel like this would offer that. Unfortunately, same as with the other hotels, WiFi is not very stable and the internet speed drops especially in the afternoon / evening. Also, instead of just giving you the password for the WiFi, you get a piece of paper with the login codes for 3 devices. It works, but a simple password would have been easier. Especially if you're in the middle of a conference call and you need to log in again when it kicks you out…. 
Breakfast / Food 
Breakfast is included and I loved it here! Served at the hotel restaurant with in- and outdoor seating, it comes with fresh fruit and you get to choose from several hot dishes. There's also a very charming café for if you want to get a drink during the day. And in the afternoon they serve a complimentary 'afternoon tea' for all hotel guests.   
Address: 181 Charoenrat Road, Wat Ket, Mueang, Chang Moi, 50000 Chiang Mai      
Where to stay in Chiang Mai
Wherever you're staying, you'll probably have a great time in Chiang Mai. And if you figure out how the 'songthaew' works (pick-up trucks that fit 8-10 people and the only available – sort of – public transportation) you can cross the city and explore different neighborhoods without having to walk everywhere.
Each area is very different though, so think about why you're visiting Chiang Mai (digital nomad, trendy places, culture or to relax) so you'll know what part of the city you're probably going to be the most. Or if you're like me and you can't decide, just keep changing hotels and try them all…
— Related Posts–