Whether you're visiting Thailand to lie on a tropical beach or explore the hipster coffee scene in Chiang Mai, your first stop is probably going to be Bangkok.
I'm not using Bangkok simply as a jump-off point to visit the rest of the country. It's my first time in Thailand and I want to take my time to explore this city that seem to evoke such mixed feelings. Some love it so much that they keep coming back, others want to leave as soon as they arrive.
But no matter how long you're staying, if it's just for one night or a full week, you still want to stay at a really nice hotel, right? I am staying at three beautiful boutique hotels that I can highly recommend. Hopefully helping you answer the question: Where to stay in Bangkok?
Best Location to Stay in Bangkok
When I'm looking for hotels in a city I've never been to, choosing a neighborhood is always the most challenging part. How do you know which area to stay in?
What's important to know about Bangkok is that it has a good public transport system: the elevated Skytrain (BTS) and metro (MRT). It's clean, cheap, it has air conditioning (very important!) and just works really well. However, it doesn't cover the entire city. To get to the other parts of the city, I'm relying on Grab cars that you can order (and pay for) via a mobile app like Uber.
Because of this I would recommend finding a hotel that's only a short walk from a BTS (Skytrain) station. Both the IR-ON Hotel and Volve Hotel that I'm reviewing below are a four minute walk from the Thong Lo station in Thonglor. Thonglor is part of the larger Sukhumvit area, and the most trendy neighborhood of Bangkok with lots of great restaurants and cafés.
What's nice about the location of my 3rd hotel, Bangkok Publishing Residence, is that it's in Bangkok's Old Town. Here you're closer to the famous sights, it feels more authentic and it has less of that modern, big city craziness you'll find in Sukhumvit. But, you don't have public transportation (unless you want to take the bus) and you won't find as many restaurants here.
IR-ON Hotel
My first hotel in Bangkok, and the cheapest option of the three, is the IR-ON Hotel. If you're a fan of industrial design, you will love this hotel.
Rooms at the IR-ON Hotel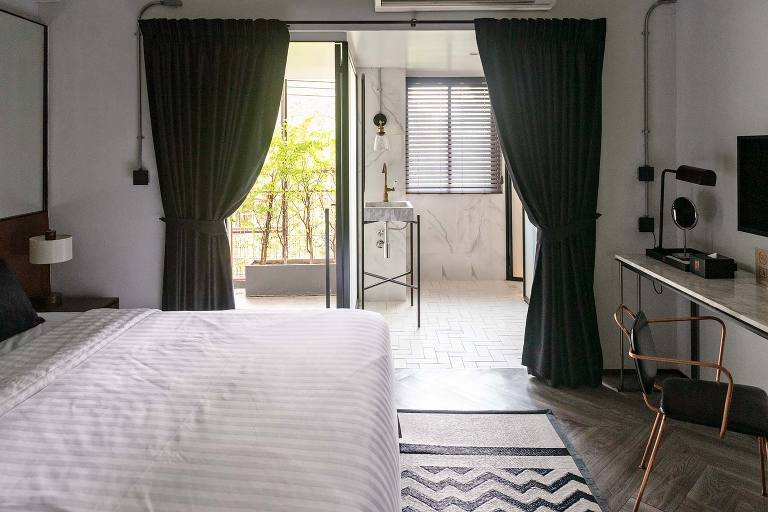 They have five different types of rooms at the IR-ON Hotel, from a standard room to an executive suite. I'm staying at the 'Deluxe room', which is very spacious (35 m2), has a little balcony (although you won't be using that much) and a nice bathroom in that same industrial design as the rest of the hotel.
There's free wifi that works okay, but is not always enough to stream a Netflix movie for example.
Breakfast & Food
Unfortunately there's no breakfast at the IR-ON Hotel. The coffee at the Kurious café (downstairs in the lobby) is really good though, so you can always start with that and then find a nice breakfast place in the area (which isn't difficult).
Website: IR-ON Hotel (check rates & availability)
Address: 10/10 Sukhumvit 36, Klongton, Klong Toey, Bangkok 10110
Volve Hotel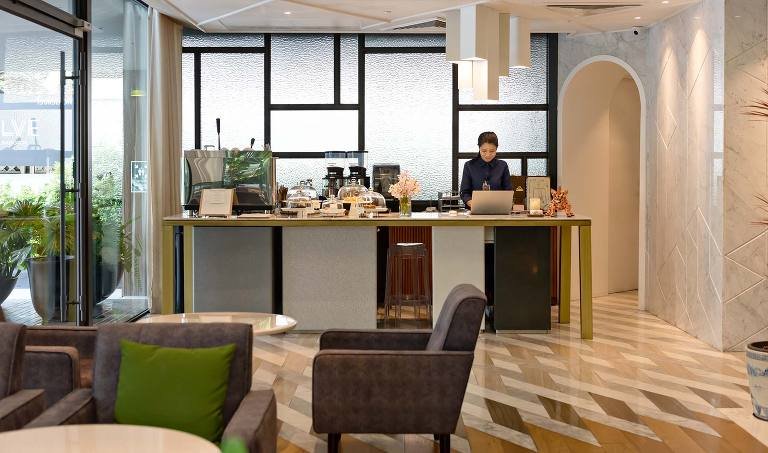 From the IR-ON Hotel I can walk to my second hotel that's located on the other side of Sukhumvit Road. The Volve Hotel is a beautiful new design hotel (they opened in 2017) with 28 rooms and I just loved everything about my stay here.
The lobby and reception area is also a café and I was welcomed with a refreshing drink while they prepared the paperwork.
There's no pool, but the hotel has a nice rooftop terrace overlooking the city.
Rooms at the Volve Hotel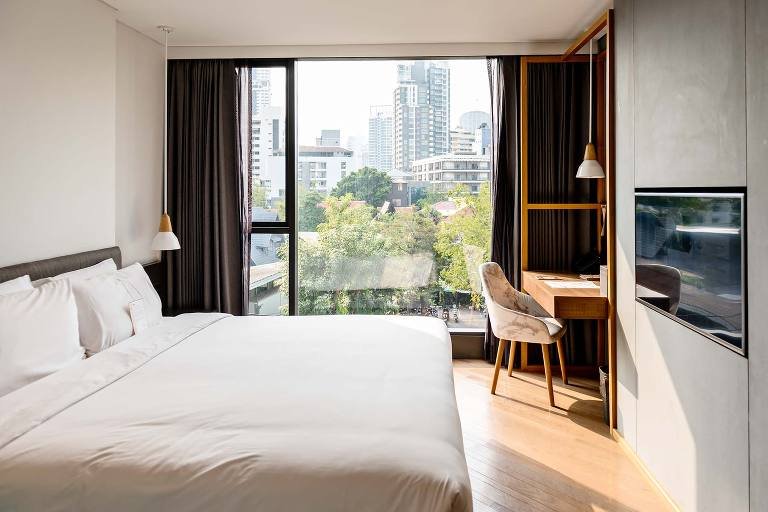 The Volve Hotel has four types of rooms and suites, where the most standard room is already called the 'DeLuxe Room'. This is where I'm staying and it definitely feels luxurious when you walk into your room.
With floor to ceiling windows the room is bright and modern (bit of a Scandinavian design) and has a great city view. The bathroom is also beautiful and even though quite small still has a luxurious feel to it. And the bed is amazingly comfortable.
A really nice touch is the hand-drawn map in my room with their recommendations for restaurants, bars, shops and transportation in the area.
And yes, the wifi works! It's free, fast and you get a great signal in your room and all other areas of the hotel.
Breakfast & Food
Breakfast is included and served in the dining room downstairs. Not much daylight in here, but the food and decor make up for that.
There's an extensive buffet, but you can also choose from the à la carte menu with options such as eggs benedict and pancakes, but also more local breakfast dishes.
And since we're talking about food. Not part of the hotel, but right next door is Michelin star restaurant Bo.lan which you may have seen in one of the Chef's Table episodes on Netflix.
Website: Volve Hotel (check rates & availability)
Address: 26/1 Sukhumvit 53, Bangkok 10110
Bangkok Publishing Residence
To end my trip in style, I'm spending the last two nights before I'm flying home at the Bangkok Publishing Residence.
It's hard not to love this new boutique hotel (open since 2017) that was once a successful family-owned publishing business. In the hotel decor you'll find old type writers, rolls of paper and other collectables you would have seen here back in the day. That and the metal cage elevator give it a bit of an industrial feel, but it mostly feels very warm and welcoming. And even though it feels nostalgic it's anything but old-fashioned.
There is no pool, but the roof garden has a private jacuzzi that you can book at the reception if you like. Here you also find the hotel library with books and dvd's (the room has a dvd player) to take to your room during your stay.
Rooms at the Bangkok Publishing Residence
There are only eight rooms at the Bangkok Publishing Residence, so I'm happy I'm even able to get a room.
The nostalgic feel of the rest of the hotel is also present in the rooms. No bright, Scandinavian decor, but dark wood, an old fashioned alarm clock on the night stand, a beautiful writing desk and antique furniture in general.
But there's also a Nespresso machine, a bluetooth speaker, a new flat screen tv and high-speed wifi in the room to remind you it's definitely a modern hotel.
Breakfast & Food
Breakfast is included and served in the hotel lobby since the hotel has no real restaurant or café.
Even though the buffet is small, it offers enough delicious food to make you happy. Including fresh fruit and the most delicious fresh guave juice I've ever tasted. In addition you can choose eggs and sausages from the à la carte menu.
To help you find restaurants for lunch and dinner in the area you receive a helpful map with the hotel's recommendations when you check in.
Website: Bangkok Publishing Residence (check rates & availability)
Address: 31-33-35-37-37/1 Lan Luang Road, Wat Sommanat, Pom Prap Sattru Phai, Bangkok 10100