It's great when you get to travel a lot. But flying home from New York on a red-eye flight and then leaving that same day for Vienna is not something I would recommend. After struggling to keep my eyes open during meetings on the first day, I did eventually find some time to explore Vienna before flying to Prague. (Yes, I've been busy). So now two months later I figured it's about time I shared how I spent my birthday in Vienna.
It was my first time in the city and with only a couple of hours to spend, I asked my local colleagues and friends who had been here before for recommendations. And they all said the same: just go to the historic city center and walk around. That's it? Oh, and have some Sacher-Torte. (They know me well).
They were right. The old city is beautiful! And perfect to explore on foot. But being Dutch, I love cycling even more. And Vienna is the perfect city to do that. There are many cycle lanes and with the Citybike system, renting a bike is free for the first hour. 
Even though it was not in the city center, I really wanted to visit Schönbrunn Palace. I'm not a big fan of the Sissi movies (my sister used to 'force' me to watch some of them), but actually walking around the palace and learning about all the historical drama is something else. Unfortunately you're not allowed to take photos inside the palace, but take my word for it: it's beautiful.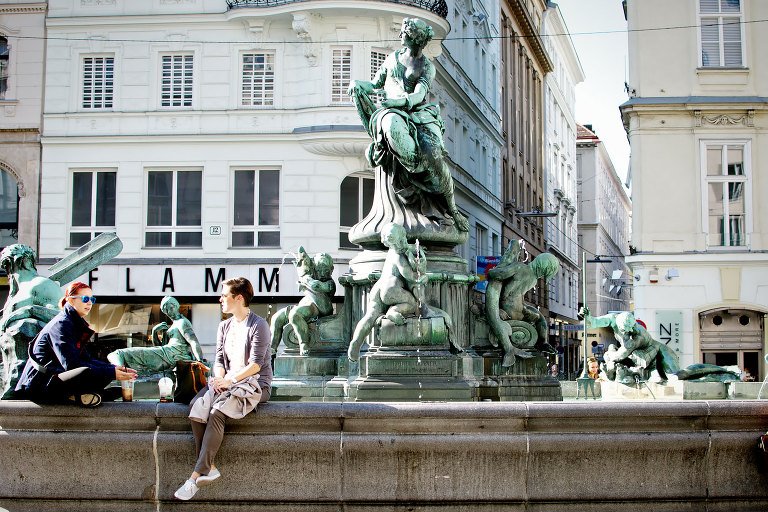 So I couldn't leave before treating myself to some cake. It was my birthday after all. (As if I needed an excuse.) There was some debate whether I should go for the emperor cake or the Sacher-Torte, but I figured that a visit to Vienna wasn't complete without trying the original Sacher-Torte at
Café Sacher
. Delicious!
When I was in New York I didn't do a lot of shopping, but one thing I did buy was a GoPro camera. I had seen so many cool videos online that were shot with a GoPro, that I convinced myself I really needed one too. After all, you need a decent camera to create videos for your blog, right?
The funny thing with a GoPro though is that you cannot see what you're filming. So it takes some trial and (a lot of) error to get it right. Plus walking around with a little camera on a stick without feeling silly takes some time as well. Anyway, I used it in Vienna for the first time to show you the city. (And how I almost crashed into two women with my bike).