I'm spending the last three days of my three month trip in Singapore. Three days and three nights before I'm flying back to Amsterdam. It's a strange thought that once I leave Singapore, I'll have to start thinking about everyday life things again. Work, cleaning my house, grocery shopping, paying bills, or just grown-up responsibilities in general. So even though it's only three days, I feel this pressure of getting the most out of it, since this wonderful 'life on the road' adventure will be over soon.
The humidity in Singapore doesn't make it a city / country to explore on foot. You could in theory, but in my case it is either too hot / humid or it's raining. Even when a neighborhood looks great to walk around, you'll start searching for something indoors after a few minutes to escape the heat or rain.
If you're also planning a trip to Singapore and looking for things to do, places to eat or nice hotels, here are all the places that I really like and recommend.
Things to do in Singapore
Gardens by the Bay and Cloud Forest

One of the most spectacular sights in Singapore is Gardens by the Bay and then especially the Cloud Forest and Supertree Grove. The 35 meter indoor waterfall that you see as soon as you walk in the conservatory is apparently the tallest in the world and quite impressive. From there you walk around and up the mountain as you see the plants and flowers change.
National Gallery Singapore

Located in the former Supreme Court and City Hall buildings, the Singapore National Gallery is an interesting combination of old and new. If you're interested in architecture there's a tour you can take in which you'll learn more about the history of the building and the changes they made in the recent renovation to turn it into one museum.
This is the place to be if you want to see modern art from Singapore and South East Asia.
Street Art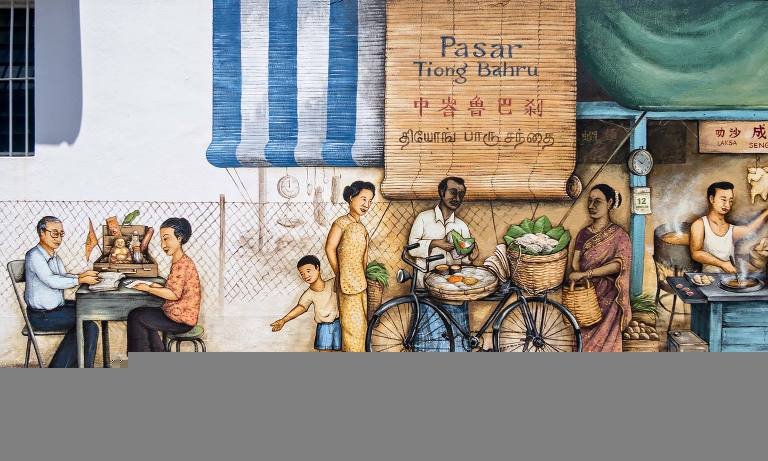 I love discovering local street artists when I travel. And there are some amazing murals all around Singapore. One great place to spot them is Tiong Bahru. The exact locations of the murals are listed on the website of the artist YC.

Singapore Botanic Gardens

As I mentioned before, Singapore is not a place where you'll go for a long walk during the day. However, if you do feel like being outside, then the Singapore Botanic Gardens are wonderful. Plus they're free to visit.
The tropical gardens (a UNESCO World Heritage site) are 158 years old and have more than 10.000 types of plants. So lots of shade to stay cool (well, sort of).
Mystery Books Vending Machine

The mystery books vending machine is such a quirky find in Tiong Bahru. All the books have been wrapped, so even which book you're buying remains a mystery. You'll find it right outside the BooksActually bookstore, which is also really nice.
CHIJMES

This is a great tip from Sarah (The Wanderblogger) and one I hadn't heard of before. CHIJMES is a former catholic convent which is now used for different purposes, one of them being an art gallery. The white gothic style architecture and the spiral staircases make it a beautiful place to visit.
Where to eat in Singapore
National Kitchen by Violet Oon

When you plan to visit the Singapore National Gallery then make sure to do it around lunch time so you can combine it with National Kitchen by Violet Oon. This stylish and elegant restaurant in the National Gallery serves the best of the Singapore kitchen. Whenever I see this photo of the dry laksa (one of her signature dishes) I want to go back for more. So delicious!
Din Tai Fung
Unfortunately I didn't take any pictures when I was here (too busy eating), but I have to mention Michelin Star restaurant Din Tai Fung as one of the best places to eat dumplings in Singapore. And I'm not the only one who thinks the food is amazing. According to the New York Times it's one of the top 10 best restaurants in the world. And the best part: it's not expensive at all. They have several restaurants in Singapore. I went to the one on Orchard Road.
Tiong Bahru Bakery

A French bakery in Tiong Bahru and a great place to stop for breakfast, lunch or whenever you're in the mood for something sweet. It is hard to choose from all the delicious pastries at Tiong Bahru Bakery, but you can't go wrong with their kouign amann.
Chye Seng Huat Hardware

Ah, coffee! There are several good coffee places in Singapore, but my favorite is Chye Seng Huat Hardware. It was once the home of a hardware company and it still has that industrial interior.
This is also the flagship store of Papa Palheta, a coffee roaster that I first discovered in Kuala Lumpur but that is originally from Singapore.
Punch

I love the bright and modern interior of Punch. The plan was to only order an iced coffee but when I saw the menu and the food on the other tables I couldn't resist to get something sweet as well. There's also a nice courtyard if you'd like to sit outside.
Strangers Reunion

More good coffee at Strangers Reunion. This is another café that stands out because of the excellent coffee and healthy food, combined with a nice modern interior with cool art on the walls.
Hotels in Singapore
Hotel Jen Tanglin Singapore by Shangri-La
I stayed at two different hotels in Singapore. The first night I spent at The Warehouse Hotel which I wrote about in a separate post. And for the other two nights I checked in at Hotel Jen Tanglin Singapore.
As the hotel is near Orchard Road, the famous shopping street, the location is perfect to explore Singapore. And the picture above was taken from my room… Not bad, right?!

Hotel Jen is part of the Shangri-La Group and has several modern 4-star hotels in Asia-Pacific, two of them in Singapore. It's not as luxurious as a stay at a Shangri-La hotel, but it has a more fun and younger vibe to it.
The hotel has recently been renovated (in 2015) so everything looks brand new, with funny details like the mural in my room and the bicycles in the lobby. With Orchard Road practically around the corner, there are plenty of restaurant options nearby. But if you don't feel like going out, Hotel Jen also has a buffet restaurant with a huge variety of food to choose from.
And one thing that I especially liked about the hotel is that they offer you a free smartphone to use during your stay. With free internet access, a useful city guide and unlimited calls to Singapore, several countries in the region, but also to the UK and USA. Super handy since I'm pretty much lost without Google maps.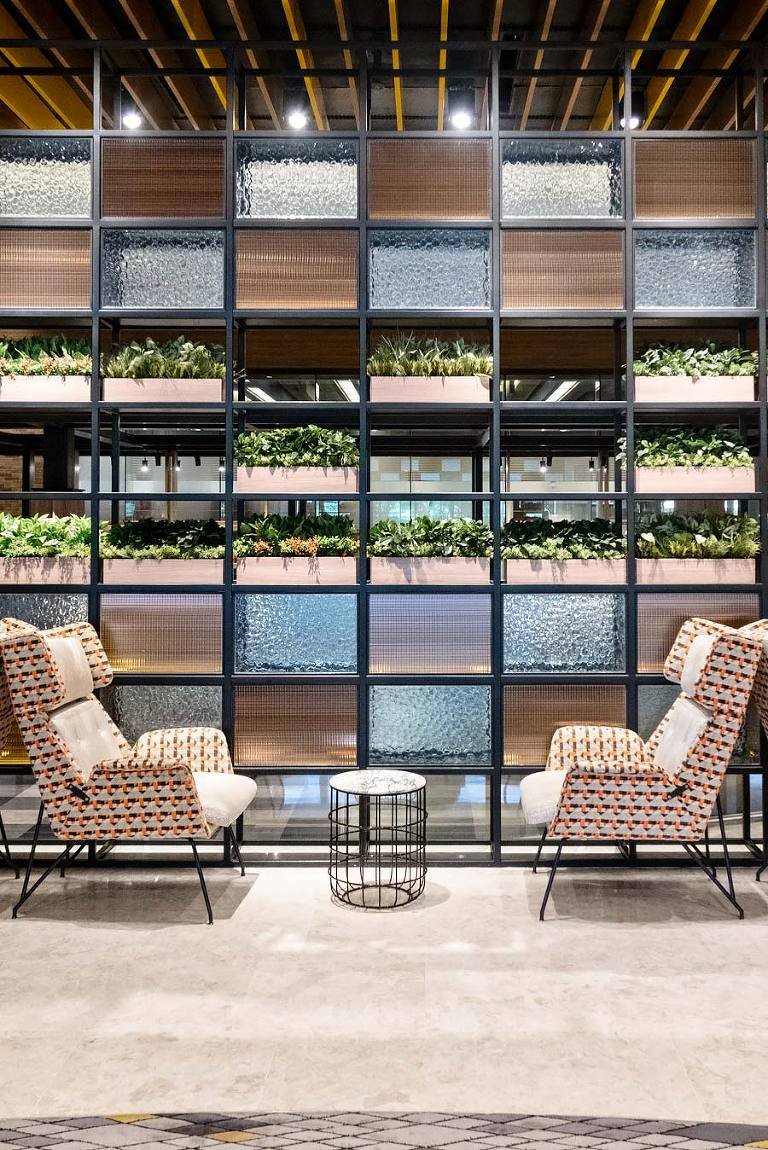 Website: Hotel Jen Tanglin Singapore
Address: 1A Cuscaden Rd, Singapore 249716
Disclaimer: I was a guest of Hotel Jen for the purpose of this review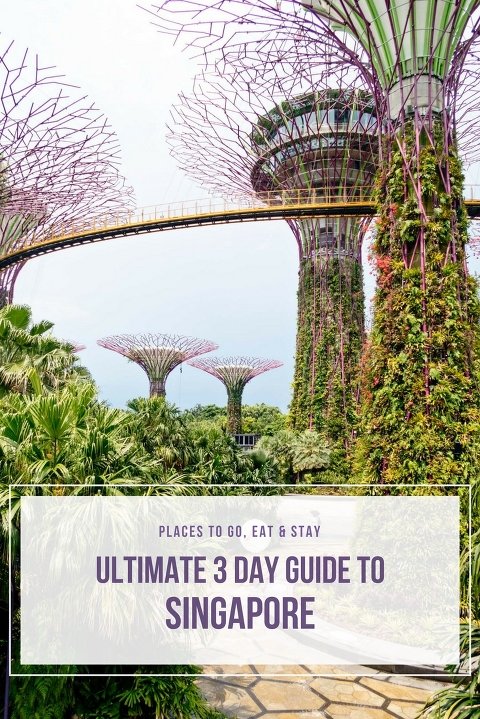 Bewaren
Bewaren
BewarenBewaren
BewarenBewaren
BewarenBewarenBewarenBewaren
BewarenBewaren
BewarenBewaren
BewarenBewaren
BewarenBewarenBewarenBewarenBewarenBewaren
BewarenBewaren
BewarenBewaren