This post is also available in:

Nederlands (Dutch)
Today, in addition to sharing some (definitely not all) of the 'The Hague hotspots' you should check out when visiting The Hague, I'll also be sharing these and more tips on a new app that gives you an easy way to collect, remember and share all the places you love.
Disclosure: this guide with some of my favourite places in The Hague was commissioned by Bimble to showcase how this new app can help you plan and organise where you want to go. All opinions are – as always – my own.
My hometown The Hague has changed a lot in the last couple of years. When I moved back in 2017 after spending four years in London, I felt I had to get to know the city all over again. With many new great little places, going out for dinner, coffee or shopping in The Hague is now so much more interesting.
Like with most cities, putting together a blog post with all your favourite places, such as restaurants, shops and cafés is almost impossible. Because as soon as you hit 'publish', there will be a new one opening up next week that you wish you had mentioned. Or one of your favourites is closing its doors. It gets outdated quickly. So I've tried to list some of my current favourites and will be adding more in future posts and of course as soon as I discover them add them to Bimble.
Bimble: a home for your places
No surprise: I like sharing travel tips. It's why I started Urban Pixxels and why I share my travel experiences on Instagram. But where do I go for tips and inspiration when planning my own trips?
Throughout the years I've come up with some sort of system to find ideas for where I want to go. I organise saved Instagram posts in 'collections' per destination. I'll save interesting blog posts in Evernote, pretty images on Pinterest. Maybe bookmark an address on Google Maps. But I have to admit there's not one easy, user-friendly platform to collect all my favourite places for a certain destination and continuously add new ones.
That's what the founders of Bimble realised as well as they explain in this video:
I'll tell you more about my first experiences with Bimble later on, but here are some of the independent shops, restaurants and coffee places I've shared on Bimble in my The Hague Hotspots list.
Bookstor
Bookstor (yes, without an 'e' at the end) has quickly become one of my favourite shops in The Hague. There was always a bookstore here, but the previous owner only sold judicial books. Not really my 'genre', so this is so much better. In addition to buying books, you can also stop by for a cup of coffee. The King's working palace is across the street, so I'm still expecting to find him sitting on the sofa with a book and cappuccino one day.
Looking for a unique experience in The Hague? Then sign up for one of the 'Keukenverhalen' (kitchen stories) dinners that are being hosted in this bookstore, where every month they explore the food of a different country.
Address: Noordeinde 39
Lola Bikes & Coffee
In the same street as Bookstor is one of the best places to stop for coffee: Lola Bikes & Coffee. As the name suggests, not only are they passionate about serving good coffee, but also about cycling. You can rent a bike, buy one or bring yours in for repair (not for city bikes).
Address: Noordeinde 91
Het Appeltaartgevoel
And for great independent shops you don't have to go far either. Again, in the same street (Noordeinde) is the shop with the best name ever: Het Appeltaartgevoel, which translates as that 'Apple pie feeling'. Dutch and Scandinavian design that will add a certain cosiness or that typical Dutch 'gezelligheid' to your home. On a sunny day you can also enjoy their garden and stay for a coffee or tea.
Address: Noordeinde 79
Little Green Shop by Bar & Zo
One area in The Hague that has changed a lot and is now one of my favourites is the 'Zeeheldenkwartier'. It's still close to the city centre, but with more original independent shops and great restaurants. The shop I never miss is the Little Green Shop by Bar & Zo. It's super cute with lots of plants, vintage finds for your interior and second-hand clothing.
Address: Prins Hendrikstraat 103
Wauw
Speaking of shopping in The Hague, after you've visited Little Green Shop, continue to the Piet Heinstraat where you'll find Wauw (Wild And Unique Warehouse). I only recently discovered this one although I still don't understand how I could have missed it. It has an amazing and diverse collection, from items for your home to plants and jewellery.
Address: Piet Heinstraat 51a
Collecting, organising and sharing places with Bimble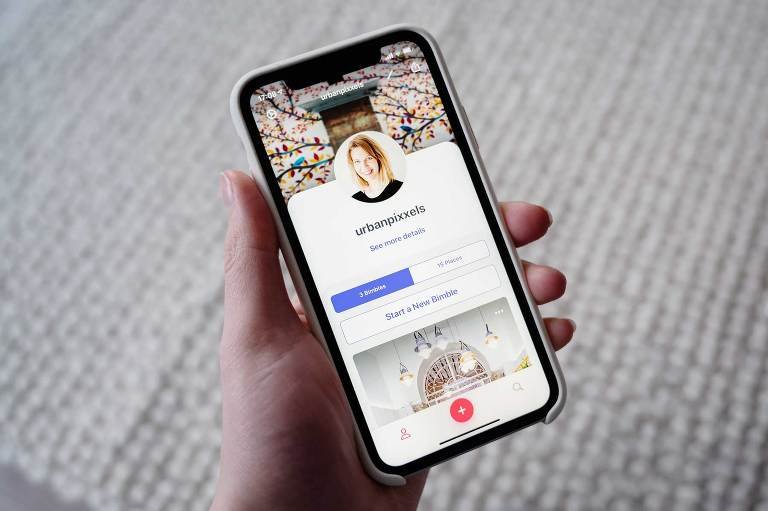 Now that we're half way through my list with food and shopping hotspots in The Hague, let's quickly talk about my first experiences with Bimble.
The challenge that every app has that relies on user generated content, is that it will get better and more interesting over time. The same goes for Bimble. It's new and therefor doesn't have a massive amount of users yet who've created lists ('bimbles') that you can use to create your own.
But that being said, I can see this app becoming an essential tool for my future trips. It's super easy (and fun) to create your own list before or while you're traveling. Just search the name of the place you want to save and it will automatically add the address and a map view for directions. Then all you need to do is add your own photo to make it more personal and a short description. You can organise them by theme, mood or location.
Now let's say you're planning a trip to a destination I've already created a Bimble list for (just search for 'urbanpixxels' in the app), then you can go through my saved places (for example my 'The Hague Hotspots' list) and with one click add the ones you like to your personal list. So no need to remember where you saw that restaurant you wanted to try.
Single Estate Coffee Roasters
Okay, going back to where we left off: the Piet Heinstraat in The Hague. Seriously, it's hard to keep up with the many great coffee places that are opening up. I tried Single Estate Coffee Roasters for the first time this weekend and loved it. When you order a coffee, you get to choose from different coffee beans. And their croissants are incredible! Will definitely go back soon.
Address: Piet Heinstraat 15
Plenty
Another recent discovery in the same street is Plenty. If you're looking for a calm and beautiful space to recharge while drinking good coffee and eating plant-based food, then go here. I haven't tried the menu yet, but the dishes with Middle Eastern influences looked amazing.
Address: Piet Heinstraat 37
Foodhallen Den Haag
After Amsterdam and Rotterdam, The Hague now finally has its own Foodhallen. Calling it an indoor food market wouldn't really do it justice. It's the perfect spot to go for lunch, dinner or drinks. There's a wide variety of food to choose from with 12 different food stands.
Address: Haagsche Bluf 40
Lot Sixty One
When I discovered Lot Sixty One in Amsterdam a few years ago, I already thought about how great it would be to have something similar in The Hague. Fortunately I didn't have to wait very long, because in 2018 they opened Lot Sixty One Den Haag. With a lot more space than the original café in Amsterdam, it's a great spot to meet friends for brunch or catch up over coffee.
Address: Torenstraat 98
Bleyenberg
Whenever I'm working from home, but feel I need to leave my apartment because my brain has stopped working, I often go to Bleyenberg. With a cafe/ restaurant on the ground floor, a rooftop terrace on sunny days and a club in the basement, this place is huge. But they've done a great job making it feel warm and welcoming with different sections, vintage furniture and plants hanging from the ceiling.
Address: Grote Markt 10
Looking for more tips for when you visit The Hague?
As I mentioned at the beginning, it's impossible to list all my favourite The Hague hotspots in one blog post. Especially since I'm a local and discover new restaurants, cafés and shops all the time. I'm planning to share more The Hague tips here on a regular basis. But in the meantime, I'll also be adding more places to my 'The Hague Hotspots' list on Bimble.
I've also created an Oslo and Seville list. Just search for 'urbanpixxels' in the app. I can't wait for you to check it out and let me know when you've created your own list!