I'm in Stockholm! This city is just as fun and beautiful as I'd hoped, I love it! One of the reasons I got so excited about visiting Stockholm is that Sweden – or Scandinavia in general – is hot in London. No longer associated with IKEA and Swedish meatballs, these days Sweden stands for cool design, trendy restaurants, and cafés that combine modern minimalist interior design with delicious coffee and food.
Before I finally got to experience the real deal, I tried some of the Swedish cafés in London. (All in the name of 'field research' of course.) And there are many! So if you're in London, but in the mood for some Swedish cinnamon buns, then this is where to go.
Fabrique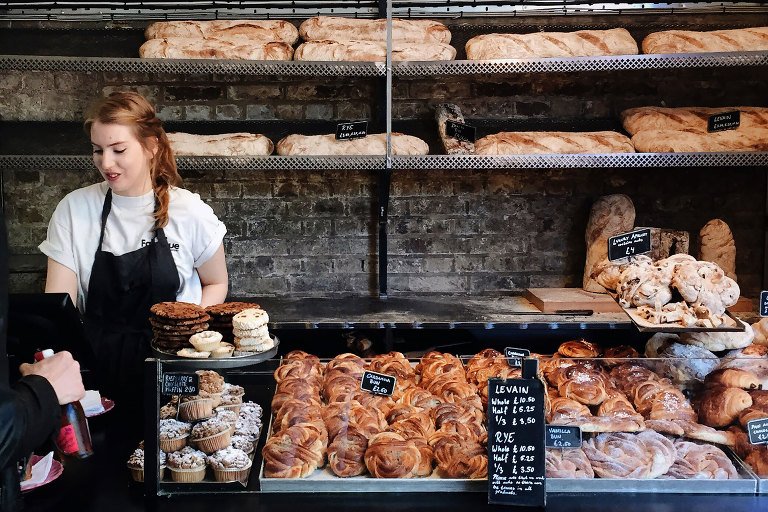 Fabrique bakery is high on my list of places to visit in Stockholm. And that's because I got to try the delicious cinnamon and cardamom buns in their London bakery. It's a small place inside a railway arch near the Hoxton overground station. You can get their award-winning sourdough bread and pastries to go, but there are also a couple of tables (in and outside) if you can't wait that long to taste them. (Full review)
Address: Arch 385, Geffrye Street, London E2 8HZ
Nordic Bakery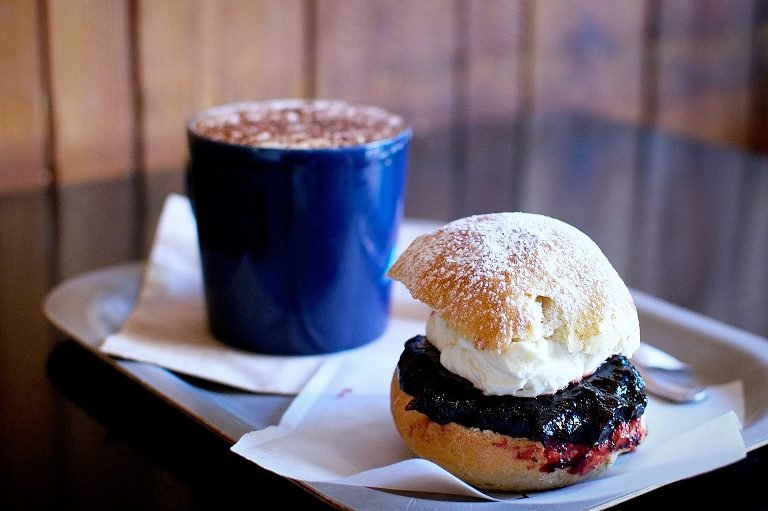 Not necessarily Swedish, but very Scandinavian. There are currently three Nordic Bakery cafés around London, and it takes great strength not to go in when you see one. They sell Nordic savory food such as the open sandwiches and many sweet options, like their legendary cinnamon buns. My favorite café is the one in Soho on Golden Square. (Full review)
Address: 14a Golden Square, London W1F 9JG (and other locations)
Hej Coffee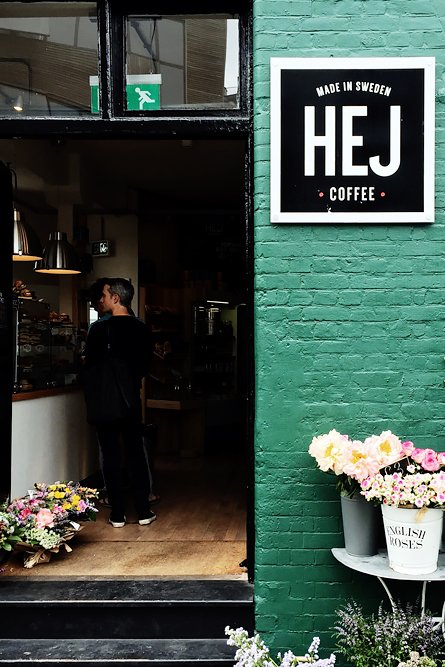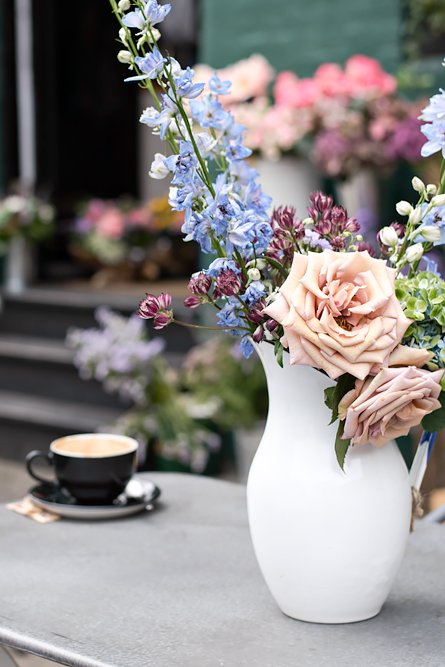 Walking around Bermondsey I found this great new Swedish coffee / flower shop on Bermondsey Square. The interior is quite basic, but the little terrace in front with all the pretty fresh flowers makes Hej Coffee a great stop for a lunch or coffee break.
Address: 1 Bermondsey Square, London SE1 3UN
Cooper & Wolf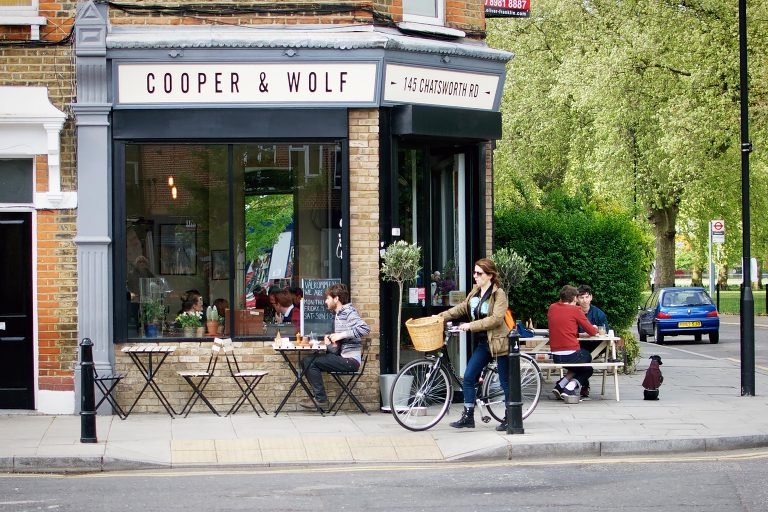 Clapton in East London is not a neighborhood I find myself in very often, but Cooper & Wolf is worth the detour. Their menu is inspired by Swedish family recipes (including Swedish cakes and pastries) and the coffee is great. (Full review)
Address: 145 Chatsworth Rd, London E5 0LA
Bageriet

This is one of my latest discoveries in London. Tucked away in a small alley in Covent Garden is Bageriet, a cute Swedish bakery that has the best cinnamon buns. Well, don't know if they're the best, since there's some tough competition in this list, but I love them.
Address: 24 Rose Street, London WC2E 9EA
Fika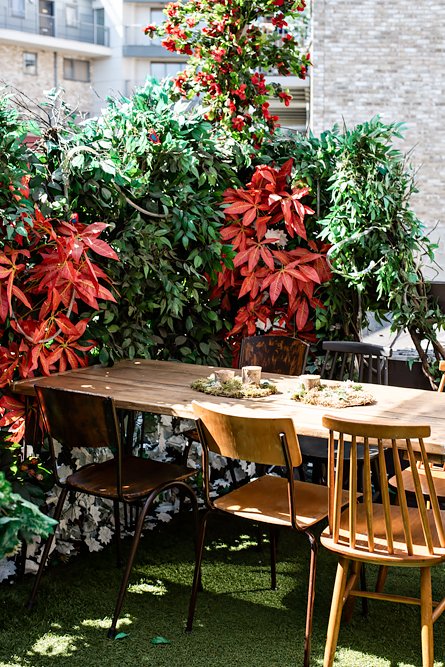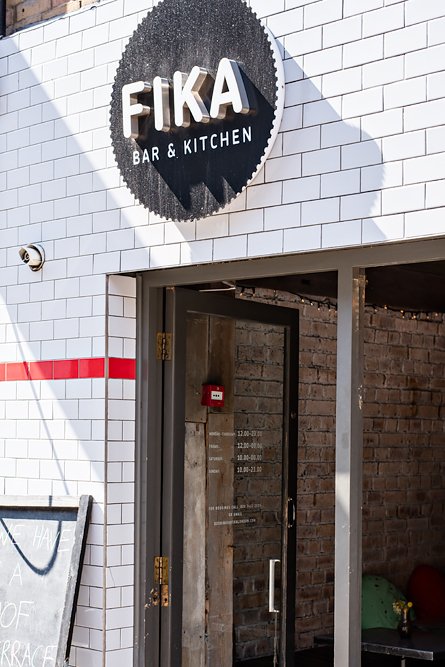 With all this talking about Swedish coffee and pastries, there's one word that comes to mind: Fika. It how the Swedes call their coffee break, most of the time with pastries. So this list wouldn't be complete without the London Fika café on Brick Lane. It's a cute café, although I wasn't that impressed with their food (didn't try the pastries). Their rooftop terrace however is really nice, so worth popping in for your daily fika on a sunny day.
Address: 161 Brick Lane, London E1 6SB