Why do I keep forgetting how long it takes to change the design of your website?! Anyway, that's what I've been working on these past weeks. And the reason why it's been a while since I shared my last post here. But I'm mostly done now (it's never really done, now is it?), so let's continue with the next part of my Chicago tips and stories. And I hope you're hungry, because it's all about the most yummy, best places to eat in Chicago. Well, and one amazing concept store you definitely don't want to miss.
What I love about the food scene in Chicago is that it's just as creative and exciting as other major cities around the world, but they seem to be more relaxed about it. It's not impossible to get a table at the most popular restaurants. (Apart from maybe Au Cheval where I've been told you still need to wait several hours to try one of the best cheeseburgers.) Being used to eating out in London I always try to make a reservation if I can, but most of the time it wasn't really necessary. Especially when you're going out for breakfast or lunch.
Food you need to try in Chicago
So what people had told me about food in Chicago is: 1) Have a deep dish pizza, 2) Get a Chicago hot dog (no ketchup!) and 3) Buy the cheddar and caramel popcorn mix (previously known as the 'Chicago Mix') from Garrett Popcorn Shops. They were right, it's all part of your Chicago experience. And cheddar and caramel popcorn is an odd combination, but works surprisingly well together.
However, Chicago has more to offer when it comes to great food. As tasty as pizza, hot dogs and popcorn can be, you might love the following Chicago restaurants even more.
Little Goat Diner
With its retro interior (with a modern twist) you may think you stepped into a typical American diner, but Little Goat Diner is so much more than that. Stephanie Izard is one of the most popular chefs in Chicago at the moment, and this is one of her restaurants. Based on my experience with Little Goat Diner I can't wait to try her other restaurants such as Girl & The Goat and Duck Duck Goat next time I visit Chicago.
I can't tell you what it's like in the evening, but if you come here during the week for breakfast you'll have no trouble getting a table. And trust me, you'll want to.
Everything on the breakfast menu (that's being served all day) looked so good, that I had a hard time deciding. But with a little help from the friendly staff I opted for 'This Little Piggy Went to China'. It's a sesame cheddar biscuit with sunny side eggs, a Sichuan pork sausage and a chili garlic chive sauce with gooseberries. Yum! Nothing wrong with the usual eggs benedict or avocado toast, but this is something else. If there hadn't been so many other restaurants I wanted to go to this week, I would have come back here every morning to try everything else on the menu.
Address: 820 W Randolph Street
The Allis at Soho House Chicago
When I was looking for where to eat in Chicago on Instagram, The Allis at Soho House Chicago kept popping up. Because of that I was expecting it to be packed with people taking more photos, but it was almost empty around breakfast time. Seems that in Chicago people are actually working during the week instead of eating out. Who knew?!
On the weekend or later in the day it will probably be different, because it's the perfect place to meet people. The more than a century-old building was an industrial warehouse commissioned by industrialist and art collector Charles Allis (hence the name). Soho House acquired it in 2012 and refurbished it into the beautiful spaces they're known for.
Address: 113-125 N Green Street
Proxi
I have to be honest, I wasn't sure if I should include Proxi in this list of best places to eat in Chicago. Every review I had read was raving about the food and the decor. And now that they're also serving brunch on the weekend it was one of the must-try restaurants in every blog post about brunch in Chicago.
There are three types of seating options at Proxi: standard, counter and high-top. Because I was by myself I was given the option to sit at the counter or a high-top table. Which I don't mind at all. However, turns out that the counter and high-top seating options are in a different part of the restaurant than the standard seating. Both look great, the interior is beautiful, but the part where I was sitting was completely deserted. I was early, so I expected it to change, but it stayed this way. Everyone else was being seated on the other side of the restaurant.
Sometimes someone would get behind the bar to get a drink. Sometimes the waiter would walk by as if he suddenly remembered that there was actually someone sitting in that part of the restaurant. It was all very awkward. I never mind eating by myself, but this time I felt like an unwanted guest. Especially since there were plenty of free tables available on the other side of the restaurant.
Anyway, the reason that I am including them here is that the food was indeed very good. Especially their donut is amazing. Also, I just checked and apparently you can now choose 'standard seating' when you make a reservation, even by yourself. Which, as you can imagine, I would highly recommend.
Address: 565 W Randolph Street
Doughnut Vault
I normally don't eat that many donuts, but every time I go to the US I can't seem to get enough of them. If you're the same, you'll want to visit the Doughnut Vault. Their fresh classic donuts (doughnuts?) are just the best. I especially loved the 'Buttermilk Old Fashioned'.
There are several restaurants and cafés in Chicago where you can get them, but if you want them super fresh go to one of their two shops. The one in the photos is on N Franklin Street. Come early, because they close the shop once they're sold out.
Address: 401 N Franklin Street
Cindy's
Looking for a restaurant with a view? Then don't miss rooftop restaurant Cindy's at The Chicago Athletic Association Hotel. I came here for lunch when I was escaping the rainy weather, so I didn't stay outside for too long to appreciate the view. But if you want to see Millennium Park and Cloud Gate ('the Bean') from above this is one of the best places to go to.
With this kind of weather I wanted comfort food and couldn't resist the Reuben sandwich, which was delicious. And despite the weather, sitting inside the glass atrium felt like a bright, sunny day.
Address: 12 S Michigan Avenue
Mindy's HotChocolate
Something else I want when it's cold and rainy: hot chocolate. Okay, who am I kidding? I always want hot chocolate. Especially when it's as tasty as the one at Mindy's HotChocolate.
With a name like that you kind of have to try one of the seven hot chocolates on the menu (with a house-made marshmallow). But Mindy Segal's HotChocolate is also a restaurant and dessert bar. I only had the Mexican hot chocolate (with cinnamon and cayenne) since I already had lunch (despite what you may think there are actually limits to how much I can eat in one day). But the food looked really good.
Address: 1747 N Damen Avenue
Longman & Eagle
And the price for best atmosphere at a Chicago restaurant goes to… Longman & Eagle. This is such a great and friendly restaurant in Logan Square. Nothing fancy, just good food and nice people who make you feel welcome. On their website they describe themselves as 'a contemporary take on a traditional Chicago inn' and it works. The menu is original, without making it complicated. I'll definitely come back next time I'm in Chicago.
Address: 2657 N Kedzie Avenue
Sawada Coffee
Whenever I'm researching a new destination I always end up with a long list of places that claim to have 'the best coffee'. Chicago was no different. But when I was there, I enjoyed walking around the city with my new camera so much that I didn't want to stop for coffee all the time. Or at least not go on a detour for it.
However, I feel there are two coffee places I should include here. The first one is Sawada Coffee, across the street from The Allis in The West Loop. The coffee shop is named after one of its founders and Japanese latte art expert Hiroshi Sawada. It's a bit of a quirky space, but Chicago loves their coffee. I found it a bit too strong, but of course I should have gotten a Dougnut Vault doughnut to pair it with…. Rookie mistake.
Address: 112 N Green Street
Café Integral
Now when it comes to good coffee, I know I can always rely on my friend Rebecca (Runawaykiwi). She recommended Café Integral at the Freehand Chicago hotel and I loved it. If I had known sooner it was just around the corner from my hotel in Downtown Chicago, I probably would have made it a daily stop. In fact, I enjoyed the coffee so much that I went twice and forgot to take any decent photos with my camera. So you'll have to do with these two grainy iPhone photos.
Address: 19 E Ohio Street
Space 519
Okay, I promised you food and shopping, so here is the shopping part. I actually didn't do that much shopping when I was in Chicago which is why my tips are mostly about things to do and see or food. But since this place made me so happy, I really want you to know about it as well.
Space 519 is an amazing concept store in the Gold Coast neighborhood. If you're looking for unique gifts, fashion, home decor or accessories, you'll find it here. It's all curated by the owners and most of it I'd never seen before. Such as beautiful handbags by a (to me) unknown Dutch designer (not the ones in the photo).
In addition to all the great items that are for sale, you can also visit Space 519 to have lunch at their restaurant and café or get a coffee to go at the coffee counter. The menu of the lunchroom is inspired by the owner's travels, but made with locally-sourced ingredients.
Address: 200 E Chestnut Street
Save for later on Pinterest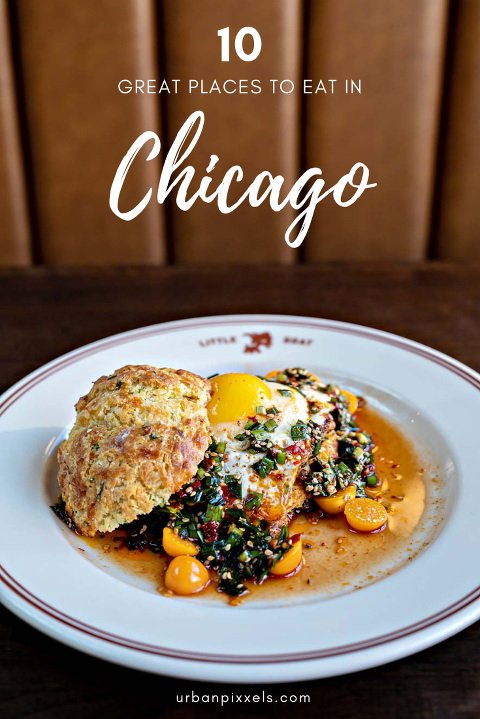 — Related Posts —