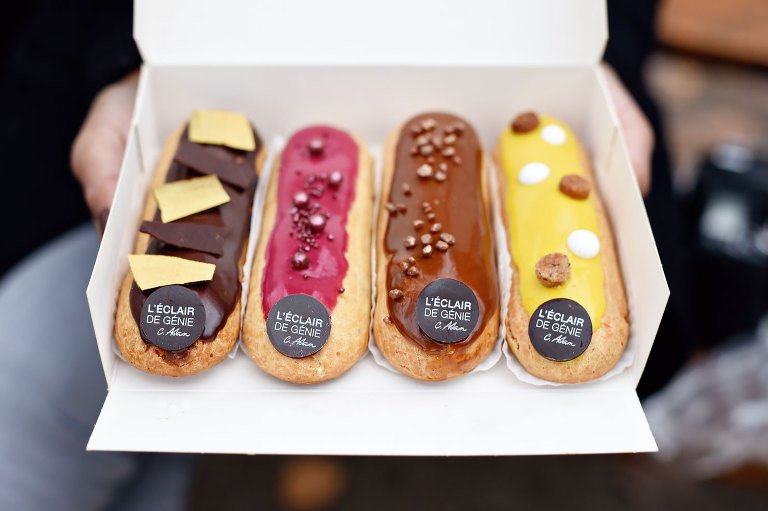 A little warning for friends and family of bloggers. Don't spend too much time reading their blogs and listening to their stories about blogging 'adventures' (drinking afternoon tea can be an adventure too right?), or you might run the risk of turning into one of them. I've seen it happening, and let me tell you… it ain't pretty. I'm kidding of course. But it turned out that I wasn't the only one in Paris focussing on taking nice pictures and finding foodie places to write about. My friend Sandra (who took the photos of me with my ONA bag) is becoming a serious food blogger with her first stories on Holland's most populair culinary website Culy.nl. So how do two foodies spend two days in Paris? Eating of course!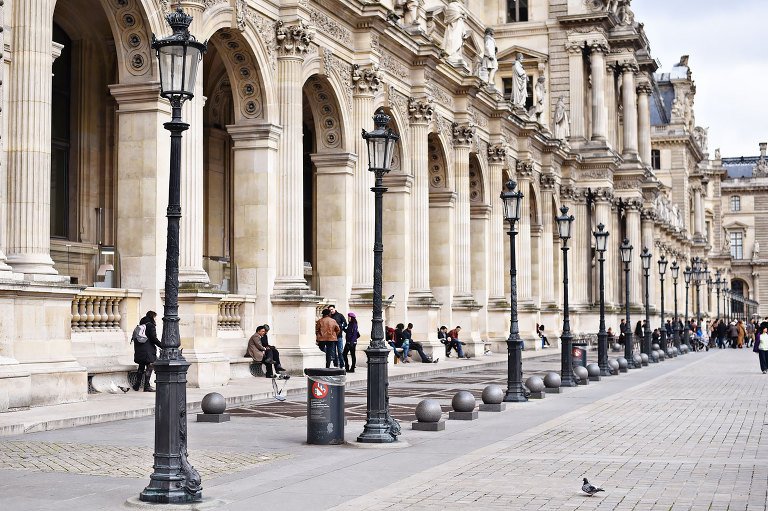 Okay, maybe eating wasn't all we did. But when we were comparing notes on what we were hoping to do in Paris, there were an awful lot of macaron, pastry and coffee places on that list.
We both had already spent enough time in Paris to skip the touristy attractions. Although I would have loved to visit the Louvre or Musée d'Orsay again, with only limited time we decided to focus on the things we hadn't done before. (And I really didn't want to wait for 30 minutes to get in). But you can't write about Paris without including at least one touristy photo of the Louvre, so we just admired it from the outside and enjoyed looking at all the people standing and posing on these blocks to get the same photo. Although I'm not so sure what the girl lying on the ground was trying to do here…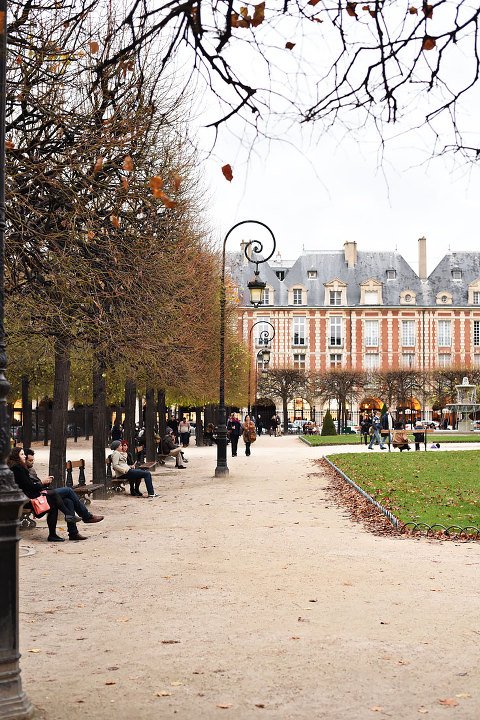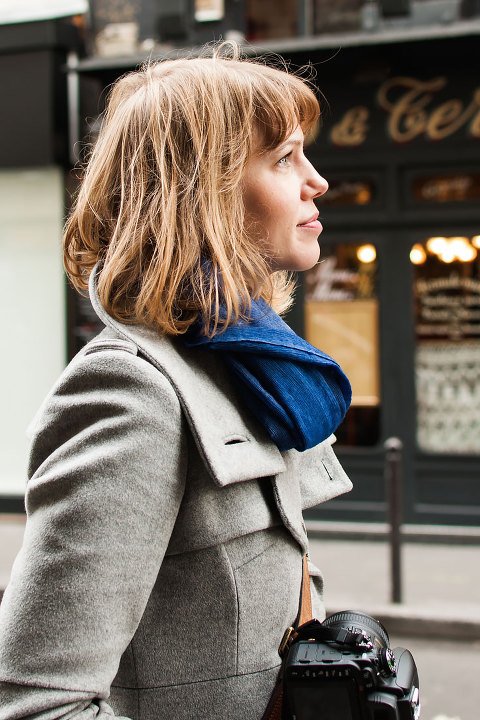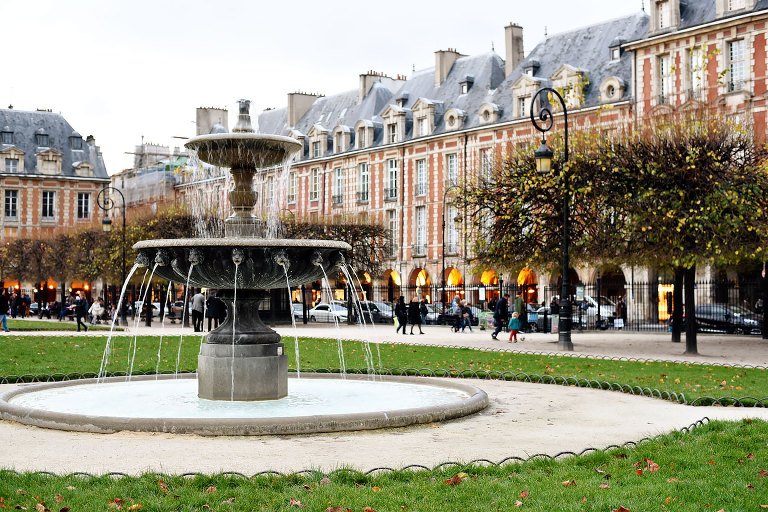 It may have been all about the food this weekend, but my favorite spot in Paris is still Place des Vosges in Le Marais. It's the oldest planned square in the city and so beautiful with its 17th century architecture.
Le Marais is also one of the few neighborhoods where the shops are open on Sunday, which made it super busy when we were there. But as soon as you reach Place des Vosges, you're leaving all that craziness behind. Which makes it the perfect place to enjoy these scrumptious eclairs from l'Eclair de Génie. Seriously, don't leave Paris without them!
We didn't do much shopping (shocking, I know), but there was one place I really wanted to see: Buly 1803. I've been using the same perfume for years and I'm not much of a scented candles fan, so I'm probably not the type of customer they're looking for, but I love this place! It's as if you're going back in time and stepping into a beautiful old pharmacy shop, but then filled with perfumes, candles and oils. It's very 'French' (and very expensive).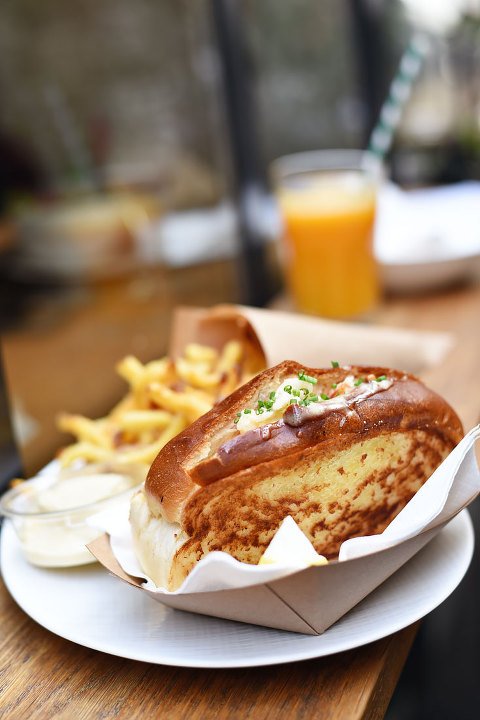 One of the most popular lunch places in Paris these days is Frenchie to Go, so we decided to make this our first stop. The place is very small and was packed when we arrived, but determined to try their lobster roll (plus very-very hungry), we used the seating outside. I think this was my first lobster roll, but it was so good! With all the food/sweets we knew were coming, we shared ours, but I could have easily eaten the whole thing.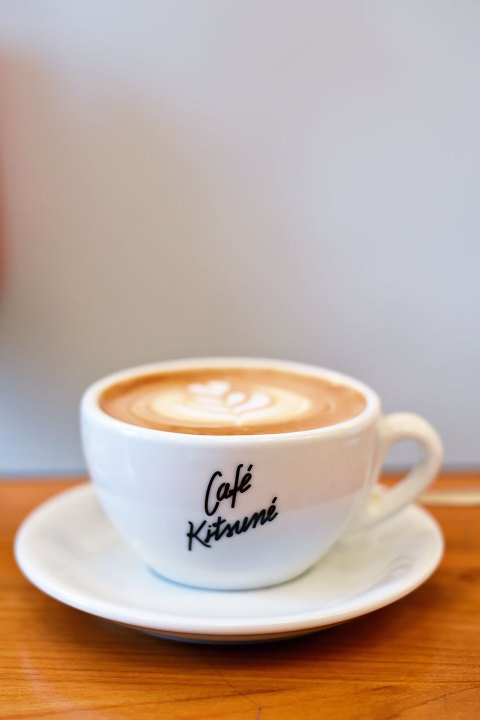 To show you all the other foodie places we tried would take a very lengthly post, so I'll just share a list of some of my other recommendations.
Best Sunday Brunch in Paris
We skipped the hotel breakfast and had brunch at Un Dimanche à Paris. Sunday is the only day they serve their brunch and it's recommended that you make a reservation. It's all about chocolate here with their chocolate shop next door. Yum!
Best Dinner in Paris
With so many great restaurants it's hard to choose. We started our evening with oysters and champagne at Clamato, a seafood restaurant in the 11th arrondissement. They don't take reservations, but if you come a bit early (dinner time doesn't really start before 9pm), then you should be able to get a table. Or take a seat at the bar like we did.
We then went to La Gazette, in the 16th arrondissement, for the rest of our dinner. Modern French cuisine in a classy – but not uptight – decor with friendly service. And the scallops were amazing.
Best Macarons in Paris
For macarons in Paris you can't go wrong with Ladurée, but since I can also get them in London, I wanted to try something else.
Hugo & Victor is a beautiful pastry shop where it's unfortunately not allowed to take photos. This is one of the go-to places for macarons, but they were not my favorite. Next time I'll try one of their other pastries.
Sébastien Gaudard recently opened a beautiful new shop near the Louvre. We couldn't walk by without trying a salted caramel macaron. Delicious!
Café Pouchkine is one I'm saving for my next visit, but I've been told that theirs are the best. If that isn't a reason to go back soon…
Best Coffee & Tea in Paris
Surprisingly I only had one proper coffee in Paris, and that was at Café Kitsuné. Tucked away in the Jardin du Palais-Royal, they serve an excellent flat white. The place is tiny, but on a warmer day you can of course always take your coffee outside and drink it in the beautiful gardens.
On our way to Un Dimanche à Paris for brunch, we walked by Coutume Instituutti. A bright and spacious modern café inside the Institut Finlandais. This place is worth a visit as they also have interesting exhibitions with Finish artists and a shop with modern Finish design.
And for a nice cup of tea with – what else – beautiful pastries, go to Claus. They're actually an épicerie du petit-dej (breakfast grocery shop), so you can also go here for breakfast/ brunch. I must admit that their upstairs seating area isn't as pretty as the shop downstairs, but then the shop looks so good that you don't want to miss it.
So, what did I miss? Where should I go next time?
Photos of me were taken by Sandra Jaipal.