As much as I love exploring all the cool coffee places in London and starting my weekend with a delicious flat white, I'm actually more of a tea drinker. I start and end my day with a nice cuppa and there's usually a fresh cup at arm's length during the day. So when Parisian tea brand Kusmi Tea asked me if I wanted to try some of their teas I couldn't say no.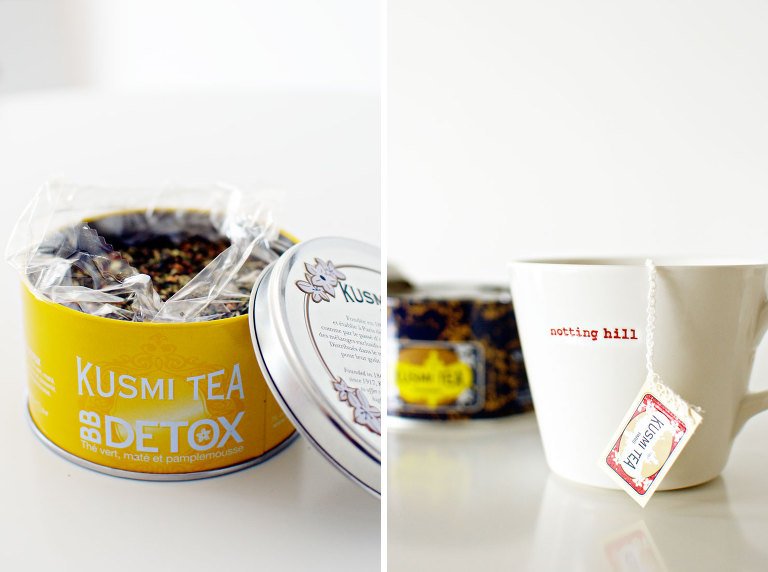 I used to be a builder's tea type of person (brewed in a cup versus a teapot). Minus the milk and sugar of course. I still haven't gotten used to that strange British habit. Boil the water, pour in a mug, dip in the tea bag a couple of times… dip, dip and there you go. I know, I know, far from lady like.
But some of that British tea tradition has started to rub off on me. These days I love trying different quality teas at home. Taking the time to prepare it the way it deserves.
Last year the first (and until now only) Kusmi Tea store in the UK opened its doors in Marylebone, here in London. A new store, but definitely not a new tea brand. Each tin tells the story of how P.M. Kousmichoff (aren't you glad they shortened it to Kusmi?) founded the company in 1867 in Russia before he moved to Paris.
The store looks beautiful with all the tea in pretty and colorful packaging neatly lined up on the shelves. This is paradise for every tea lover. But how are you ever going to choose?! Fortunately there's a friendly and expert staff to help you with that. Plus you can try the tea before you decide to buy it.
The tea comes in re-usable metal tins with loose tea or boxes with (Muslin) tea bags and have interesting Russian names such as Prince Vladimir or Russian Morning N°24. No English Breakfast at this place!
On my way home I picked up a delicious cupcake from Hummingbird Bakery. Because I may not like any sweetness in my tea, I sure love some with it. Any excuse to buy a cupcake, right?!
These last couple of days I've been trying some of Kusmi Tea's different tea blends, and I love them. Of course the packaging is already irresistible, but the tea also tastes really great. My favorite is Anastasia which is an exclusive Earl Grey blend and also one of Kousmichoff's iconic (and secret) recipes.
But I was also positively surprised by one of their other bestsellers: BB Detox. Especially after finishing that cupcake I figured that a cup of detox tea couldn't hurt. I must say that I'm not a big fan of teas that have strong fruity flavors and when I opened the tin that was exactly what I smelled. So I was a bit hesitant, but the taste is much more subtle and I actually really liked it. Will need to get back to you on its beauty effects though…
In collaboration with Kusmi Tea.