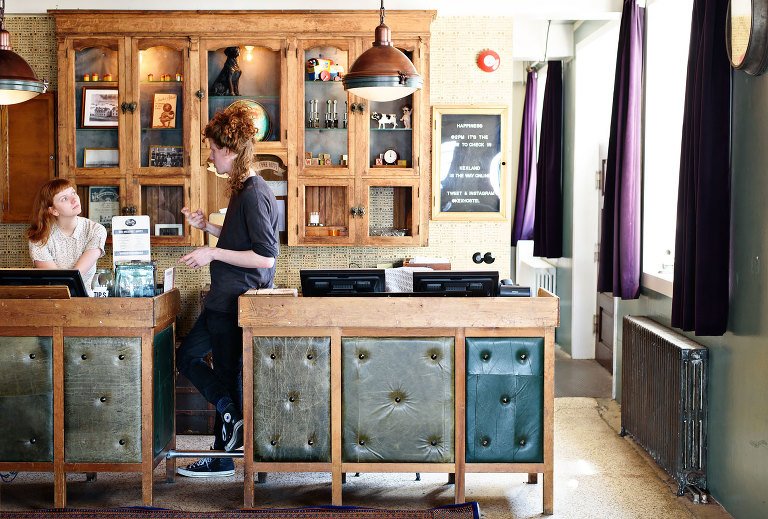 I'm not gonna lie. When I travel I appreciate a bit of luxury. Well, let me rephrase that, I like to travel in style. I love design boutique hotels and they often come with a certain price tag. But at the same time I don't want to spend my entire travel budget on a place to stay. So what if you could find an accommodation that's both stylish and affordable?
When I heard that KEX was a hostel, not a hotel, I was a bit hesitant. Me, in a hostel? Does that mean I won't have my own bathroom? But then I saw the pictures on their website and I knew this was exactly the kind of place I wanted to stay at in Reykjavik.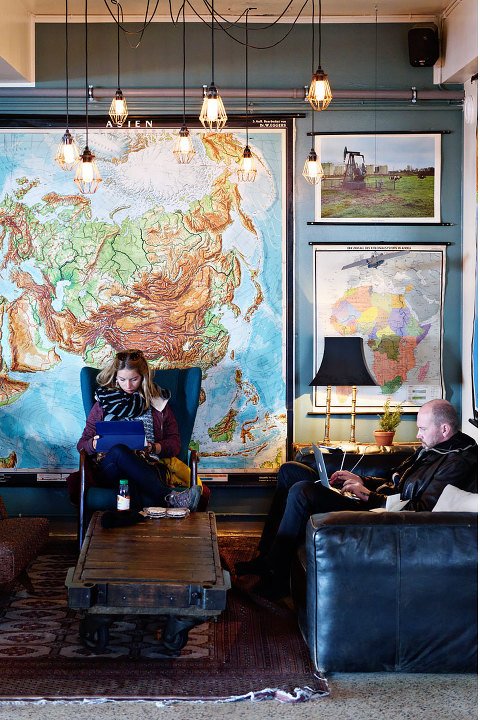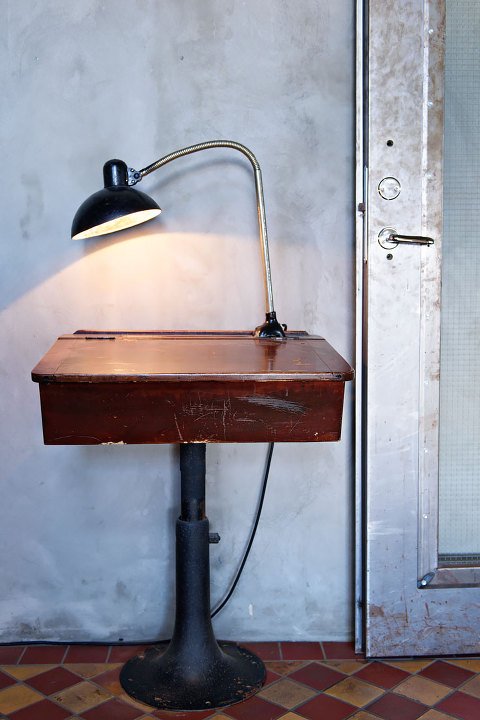 I might have never done the whole backpacking / sleeping in dorm rooms kind of thing, but you don't have to be a backpacker to enjoy staying at KEX. Walk into the main lounge and restaurant area and you'll see all kinds of people of all ages. Plus many local Reykjavikers hang out here during the day and in the evening. With the friendly staff, good food and a fast (free) wifi connection, it's ideal to meet with friends or get some work done.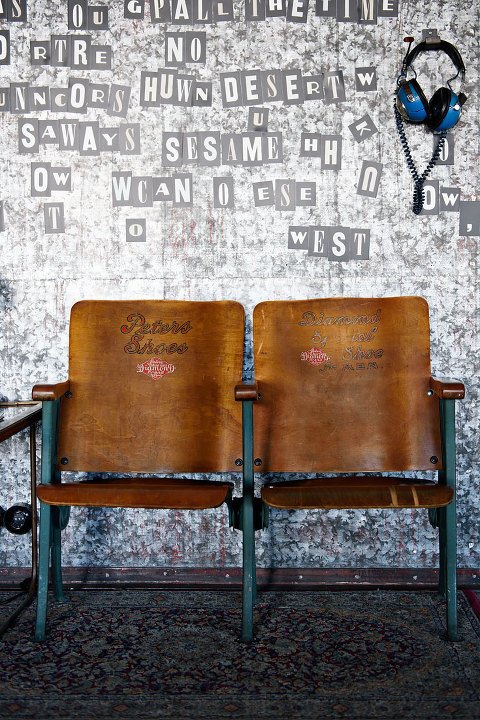 The rooms are basic, but good enough. It's a place to sleep, nothing more nothing less. If you want to relax and read a book, you'll go downstairs. But they're clean, spacious enough (we had a twin room with two single beds) and surprisingly quiet for what I was expecting from a hostel. Oh, and let's not forget: an incredible view across the sea and of snowy mountains.
And no, we didn't have our own bathroom. The showers and toilets were just outside the rooms and were always available and clean. So I actually didn't mind as much.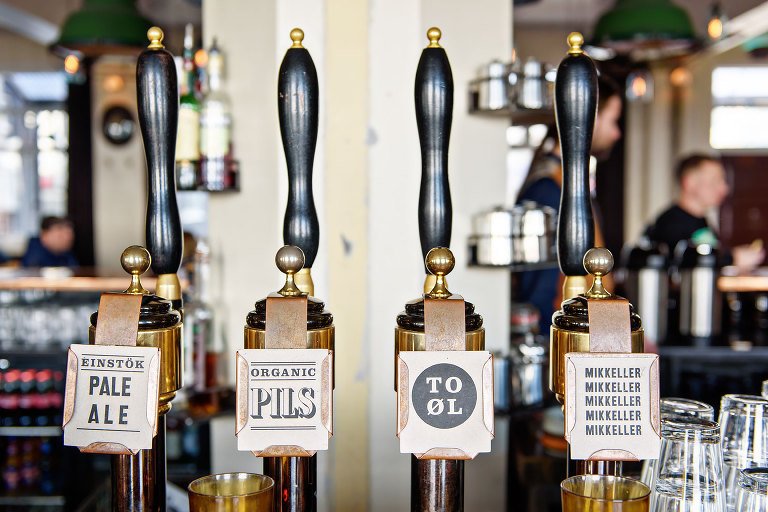 We didn't spend much time in our room, since the bar/restaurant/lounge area (very multi-functional) on the first floor is the place to be. I could have spent hours just sitting there and observe… You clearly need to have a hipster diploma to work here, but there's a great variety of 'looks' among the guests. Plus I kept discovering these interesting items as part of the decor. Including the vintage barber shop where you can get a haircut on Fridays and Saturdays. Whoever was responsible for the interior did an amazing job.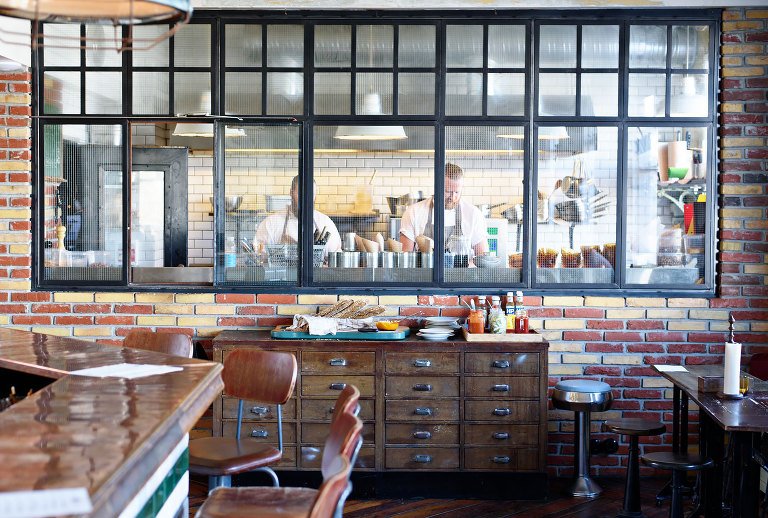 And we had to try the food of course. As I soon found out, the food in Iceland is ridiculously expensive. So I was very pleased to see that the kitchen staff at KEX not only prepared some very tasty dishes, but that it was also very affordable compared to the rest of our trip.
The breakfast buffet in the morning with fresh bread was the perfect start of the day. And we were especially crazy about the bar snacks. I think we tried them all. I only struggled with the dried catfish with butter (which I mistakenly took to be mayonnaise), a typical Icelandic snack. Seriously, I don't understand how people eat this without breaking their teeth. But I loved the rest.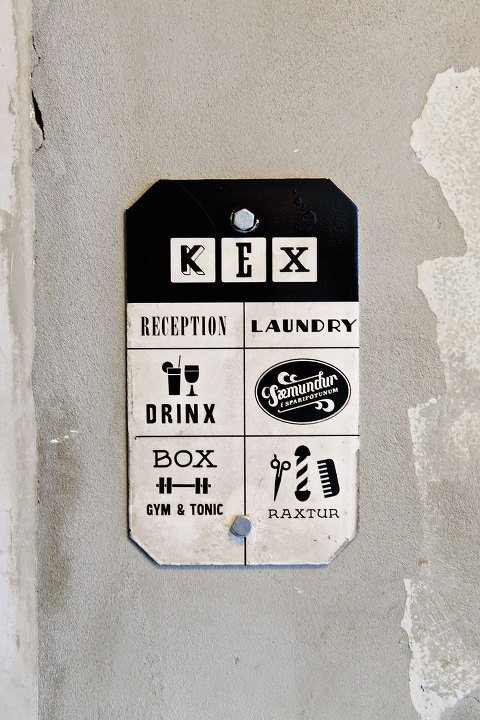 We stayed at KEX the first two nights and came back for our final night in Iceland before flying home the next day. Reykjavik is quite small, but it was still nice to be only a 5 minute walk away from the city centre, so the location was perfect. I couldn't have asked for a better start and ending to our Iceland trip.
**A huge thanks to KEX for having us as their guests for the purpose of this review.