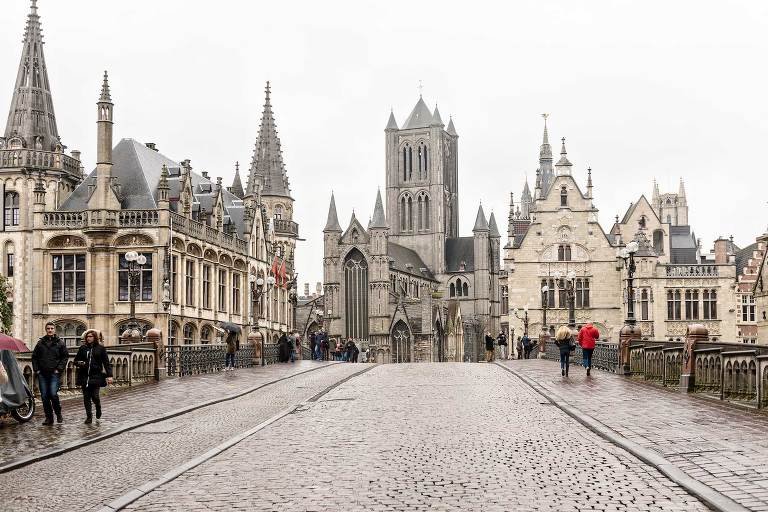 This is a story about how my family and I visited Ghent in Belgium and couldn't get ourselves to leave the hotel.
If you've been reading this blog for a while you know that 1) I have a thing for beautiful boutique hotels and 2) I usually have a long list of all the things I want to do, see and eat when traveling to new places. When I travel by myself these two work together fine. But this weekend, not only I but my entire family fell in love with our hotel which made seeing more of Ghent a lot more challenging.

The reason for this trip to Ghent is my father's birthday. That is, his birthday two and half years ago… And since we don't go on these trips together very often, I want to make sure that we're staying somewhere special.
From the outside 1898 The Post looks very familiar to anyone who lives in or has visited Ghent. For many years this beautiful neo-gothic style building with its clock tower in the heart of the city was the main post office. Recently Zannier Hotels took over and turned it into 1898 The Post, a luxury boutique hotel with 38 rooms.
Where to stay in Ghent: 1898 The Post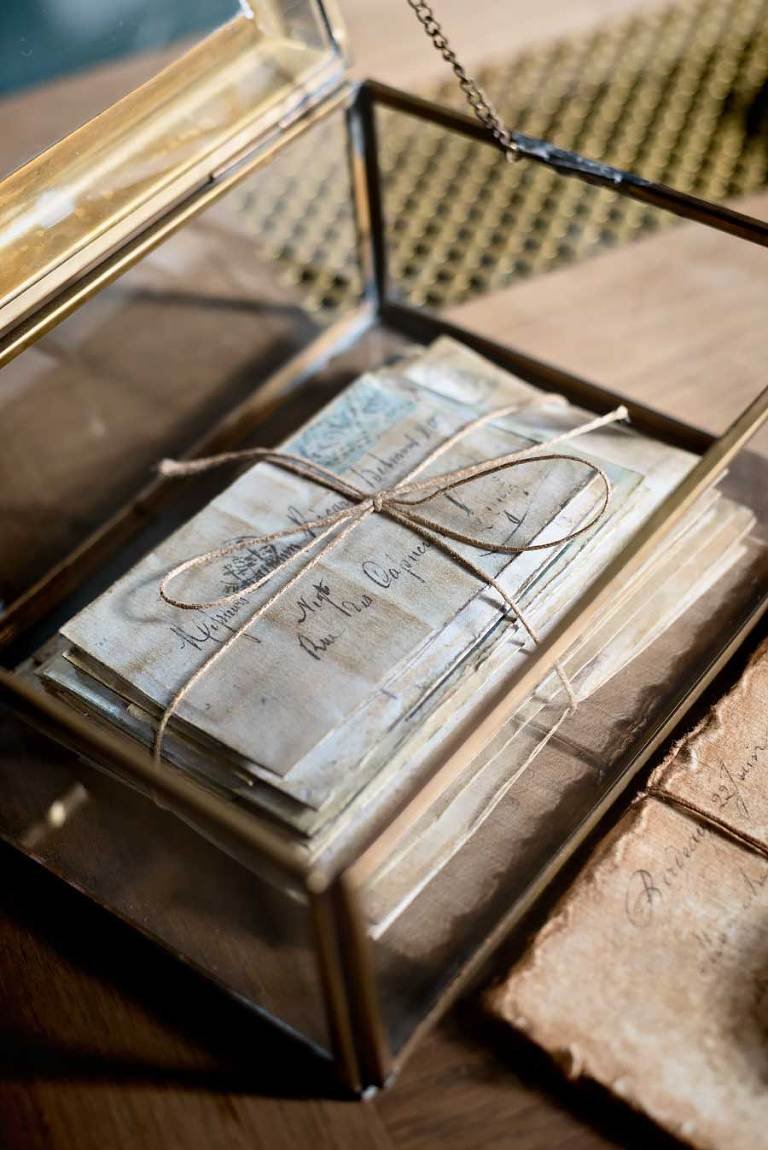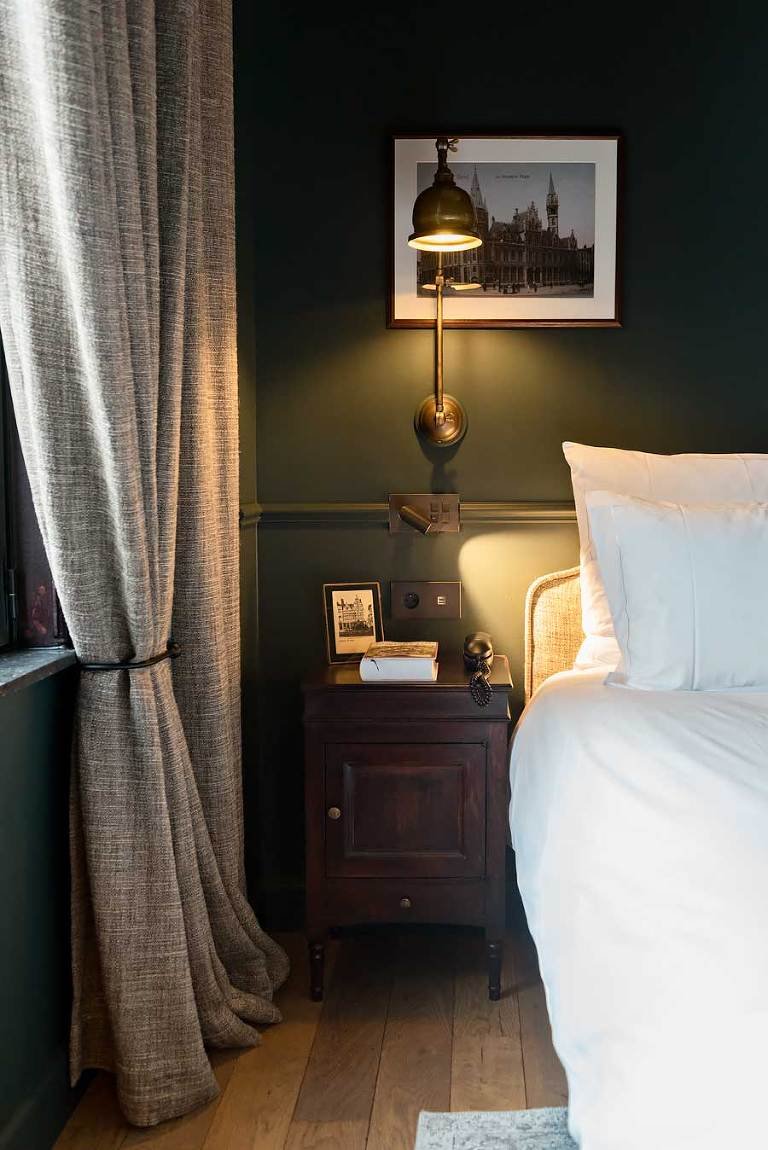 The hotel has a warm, intimate atmosphere. Everything is brand new, but little touches remind you of its past. Such as the names of the room types: stamp (the smallest room), postcard, envelope, letter, etc.
I'm staying in The Letter. A beautiful room with dark green walls, wooden floors, high ceilings and large windows with a view of the city. And two floors! Upstairs is a modern bathroom with Le Labo amenities (my favorite).
With antique furniture in the rooms and the use of dark colors and soft dimmed lighting there's a risk of making it look old-fashioned. But it doesn't at all. You can tell that a lot of thought went into every single detail of the interior design. And even though it shows zero resemblance with my own apartment, I feel immediately at home.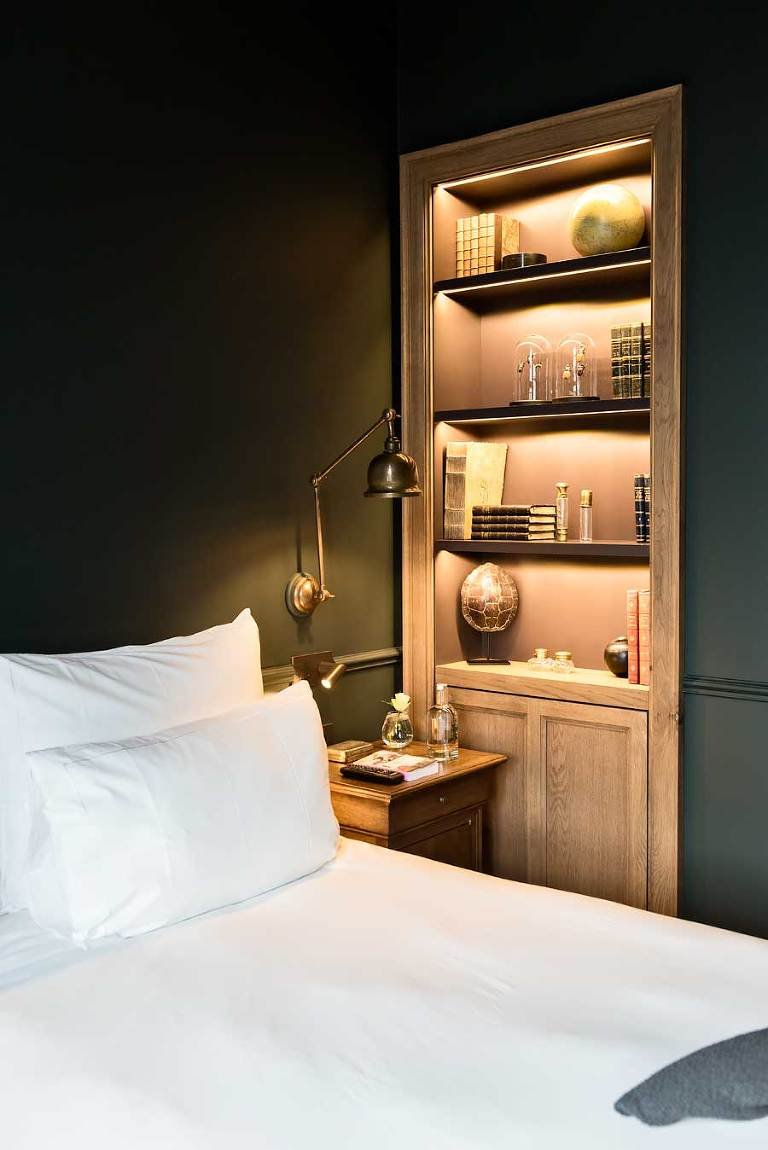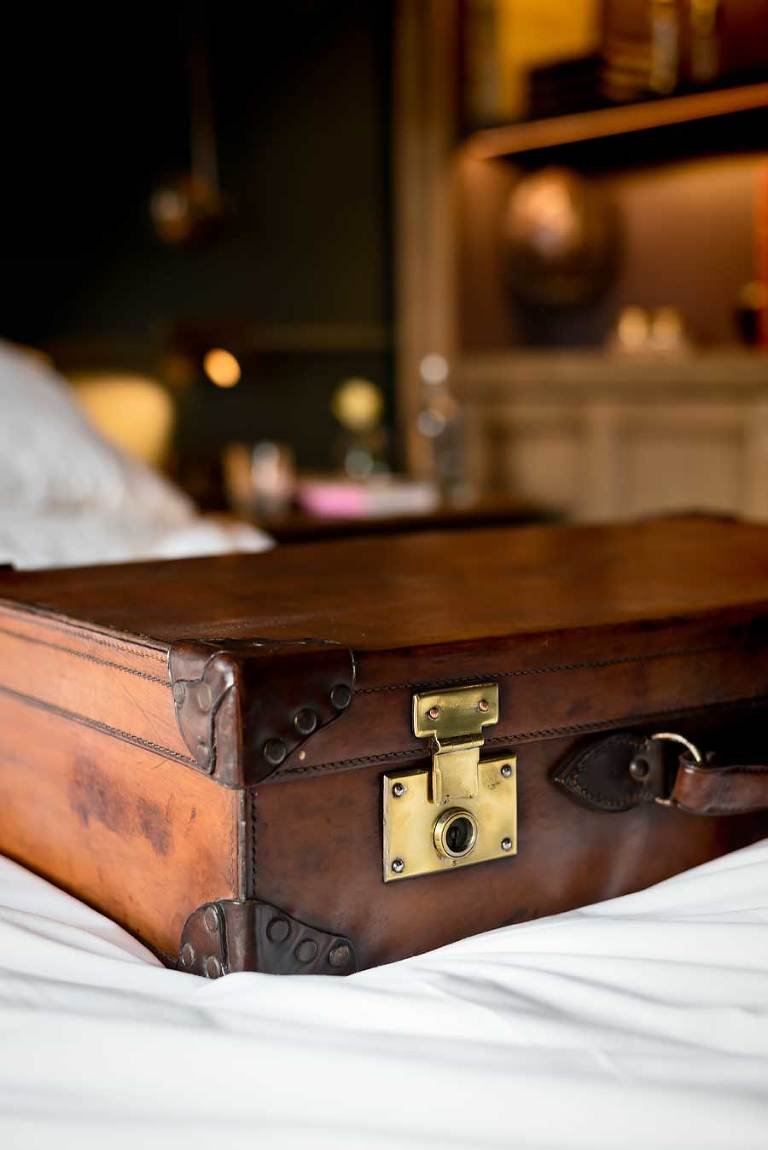 And I'm not the only one. As soon as we check in, the enthusiastic text messages start coming in along the lines of 'my room is better than yours'. Which I should have taken as a sign that we're never going to leave.
The perfect lunch & dinner spot in Ghent: Pakhuis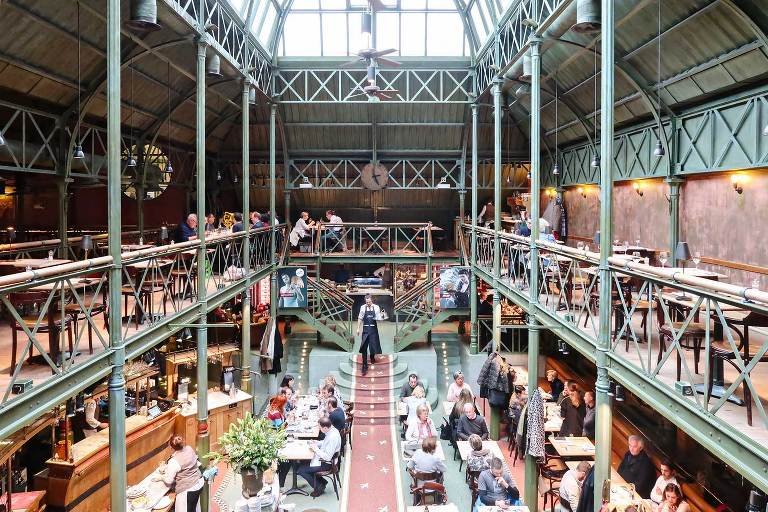 Of course we're not spending all our time at the hotel. One has to eat after all, and it's lunch time. Which in Belgium means more than a cheese sandwich and a glass of milk, and it will take more than 30 minutes.
Around the corner from our hotel is restaurant Pakhuis, located in a former warehouse. The industrial design looks great and we all love the steak 'tartare' which is one of their specialties.
Cocktail Bar The Cobbler at 1898 The Post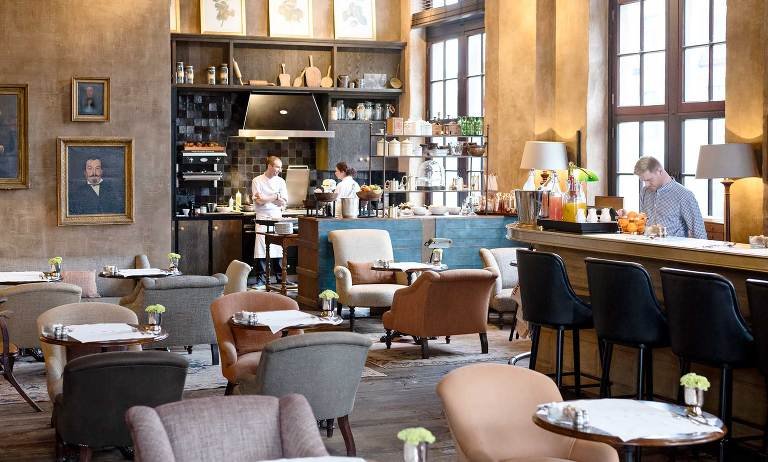 Then it starts to rain. We visit Saint-Bavo's Cathedral (Sint-Baafskathedraal), home of the famous painting 'The adoration of the mystic lamb' which is currently being renovated.
Unfortunately it's still raining so instead of walking around town, we decide to go for a drink instead. By now I've turned my entire family into travel bloggers, so we feel we should fully experience every single part of the hotel. And if there's one thing you cannot miss at 1898 The Post, it's their amazing cocktail bar The Cobbler. One drink turns into two, and again it looks like we'll never leave.
Drinks at Ghent's smallest Cafe 't Galgenhuis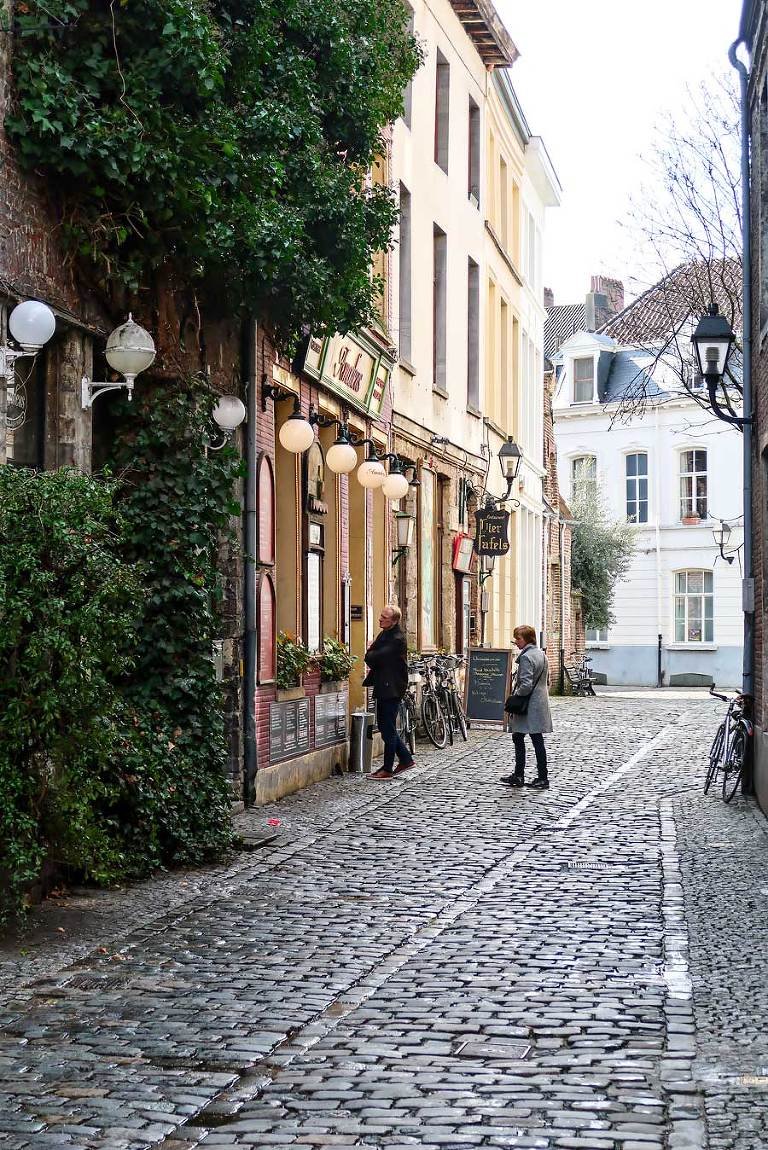 But again food seems to be the only thing that can get us out of the hotel, it's dinner time. Followed by drinks at 't Galgenhuis, Ghent's smallest café and one with an interesting history that goes back several centuries. The name of the café means gallow's house, where people sentenced to death had to wait for their punishment.
Breakfast at 1898 The Post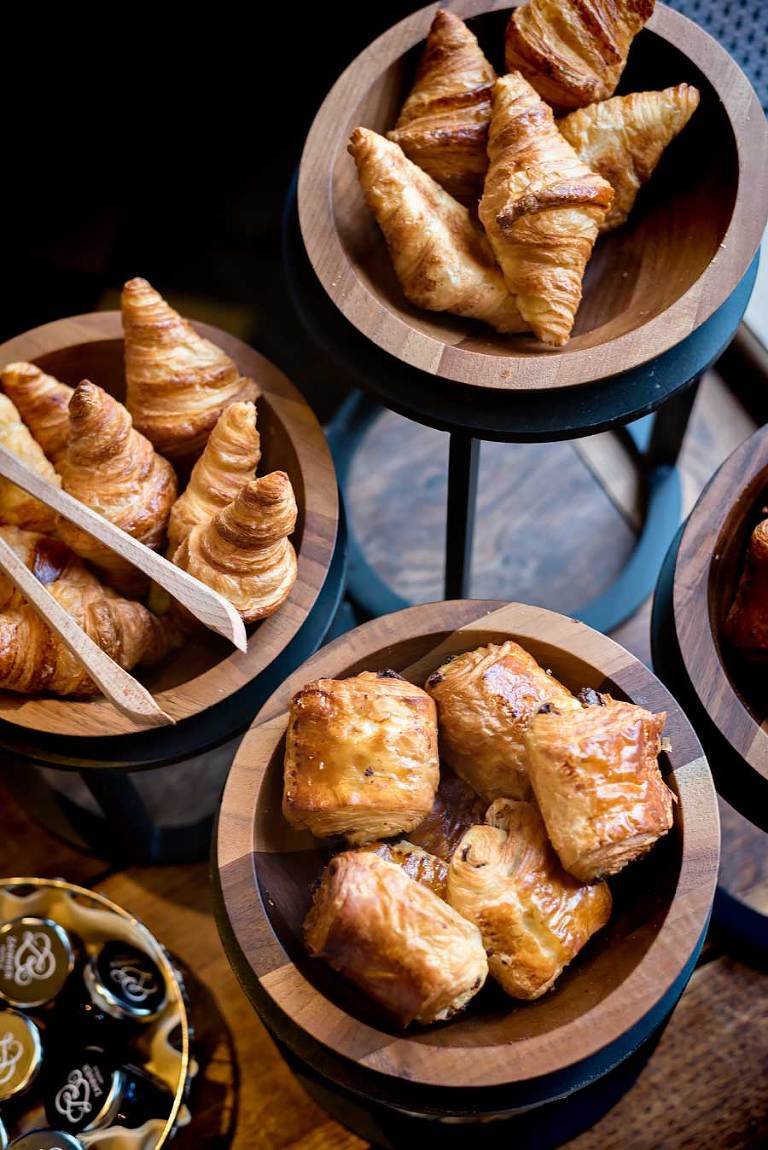 The next morning we're back at The Cobbler, this time for breakfast. In The Kitchen they freshly prepare your eggs any way you like and you can choose the rest from the buffet breakfast. It looks like it has finally stopped raining, but we're in no rush and take our time to enjoy our breakfast which is turning into brunch by now.


Honesty Bar
They're not literally kicking us out, but it is time to check out. I'm taking this opportunity to quickly visit the Honesty Bar located in the tower and only open to hotel guests. This charming turret room feels like a living room where you're free to pour your own drink. Just tell the hotel staff what you had afterwards, it's the honesty bar after all.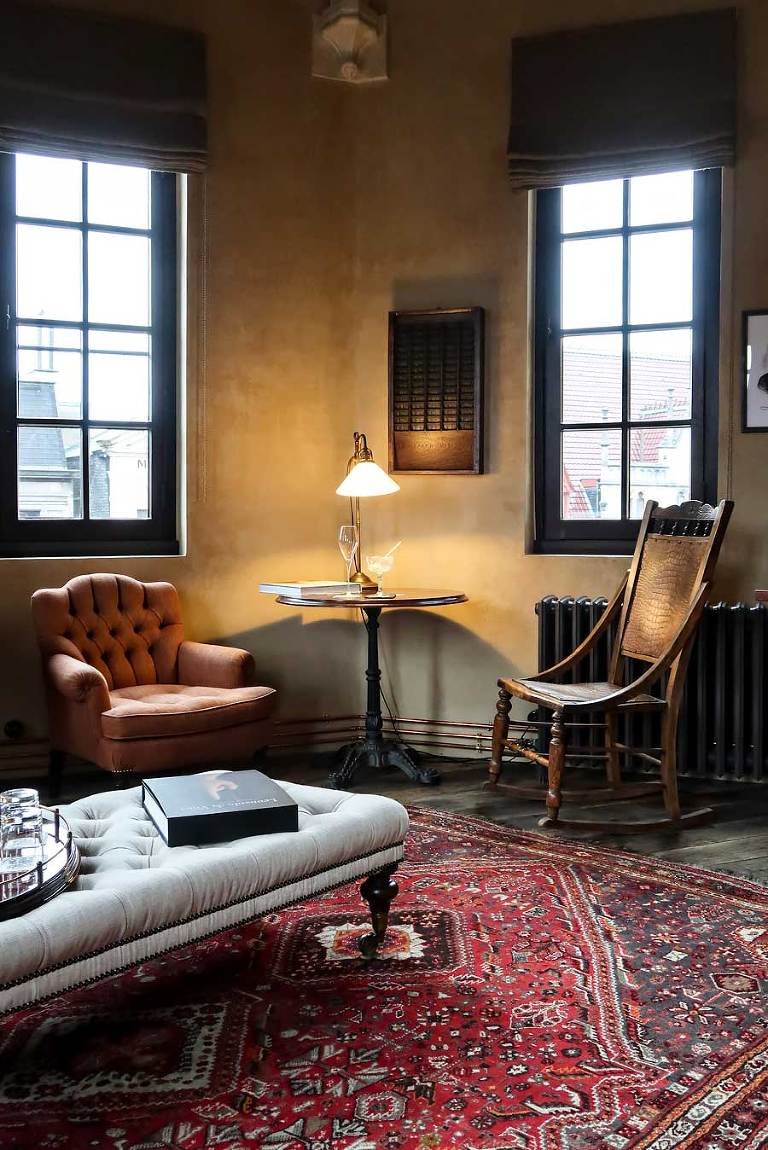 The rest of our time in Ghent we spend walking around the city with no specific goal in mind. Except for the occasional coffee and cake stop. The nice thing about Ghent is that the city centre is a car-free zone and quite small which makes it perfect to explore on foot.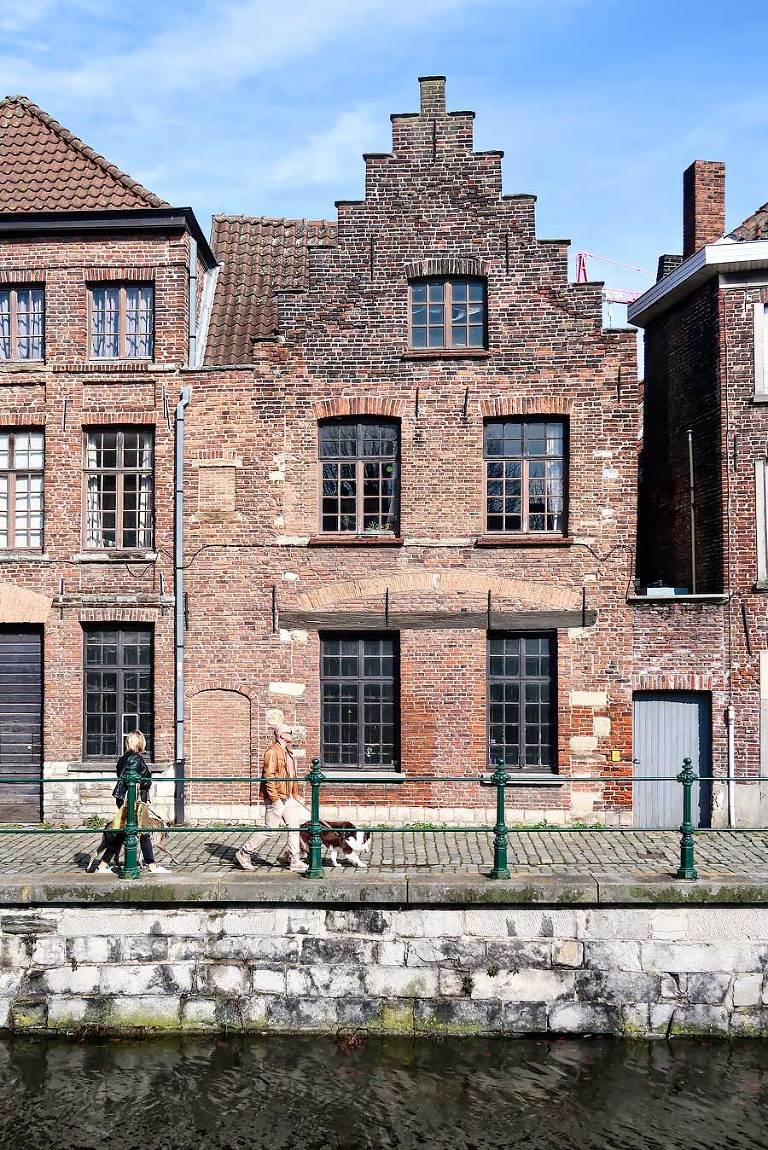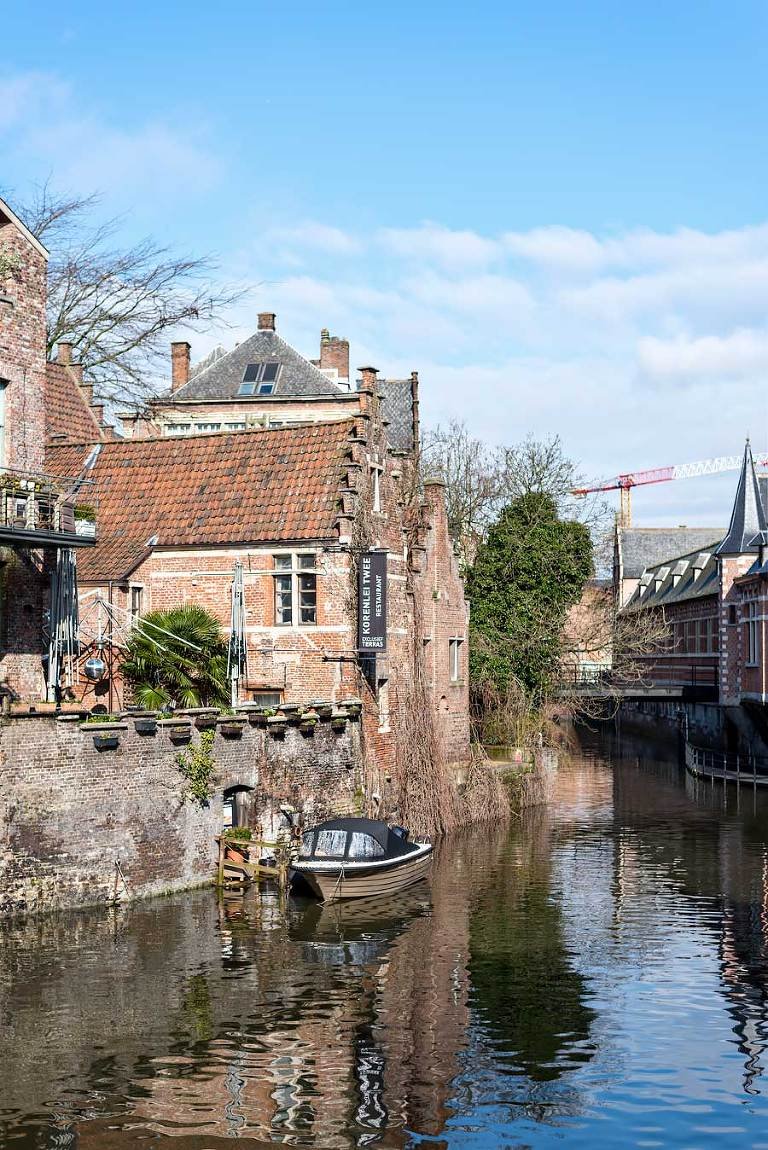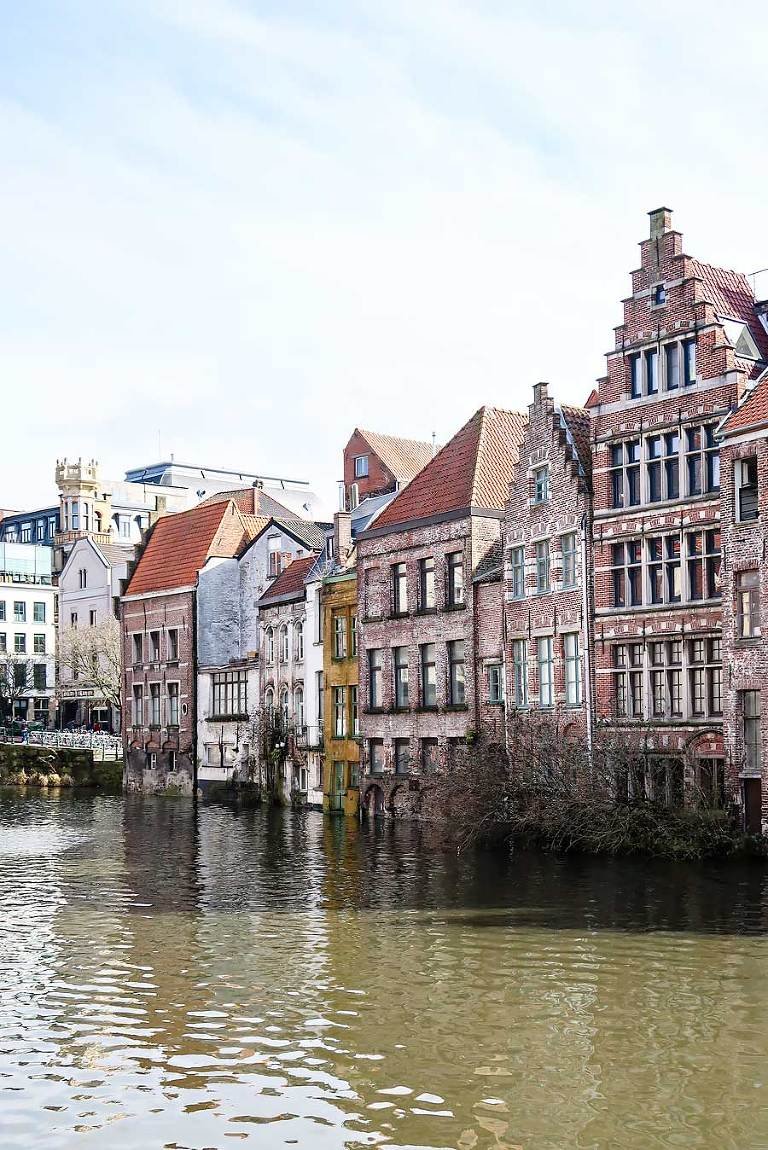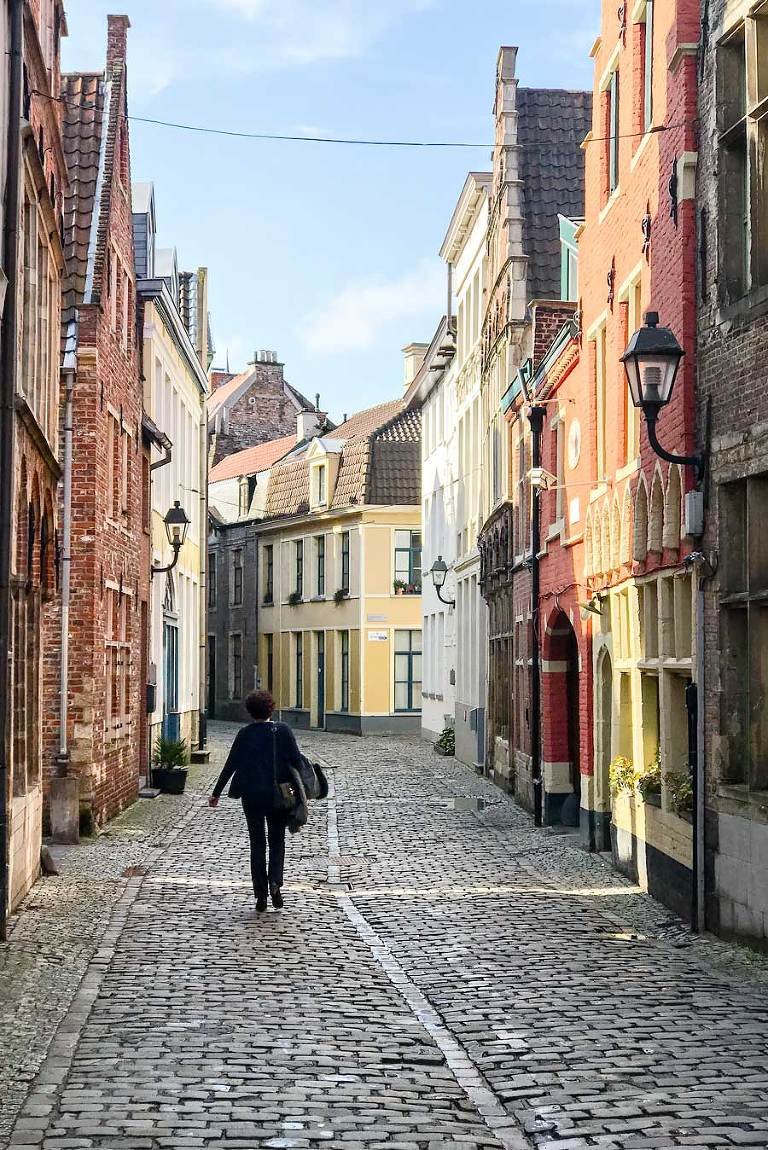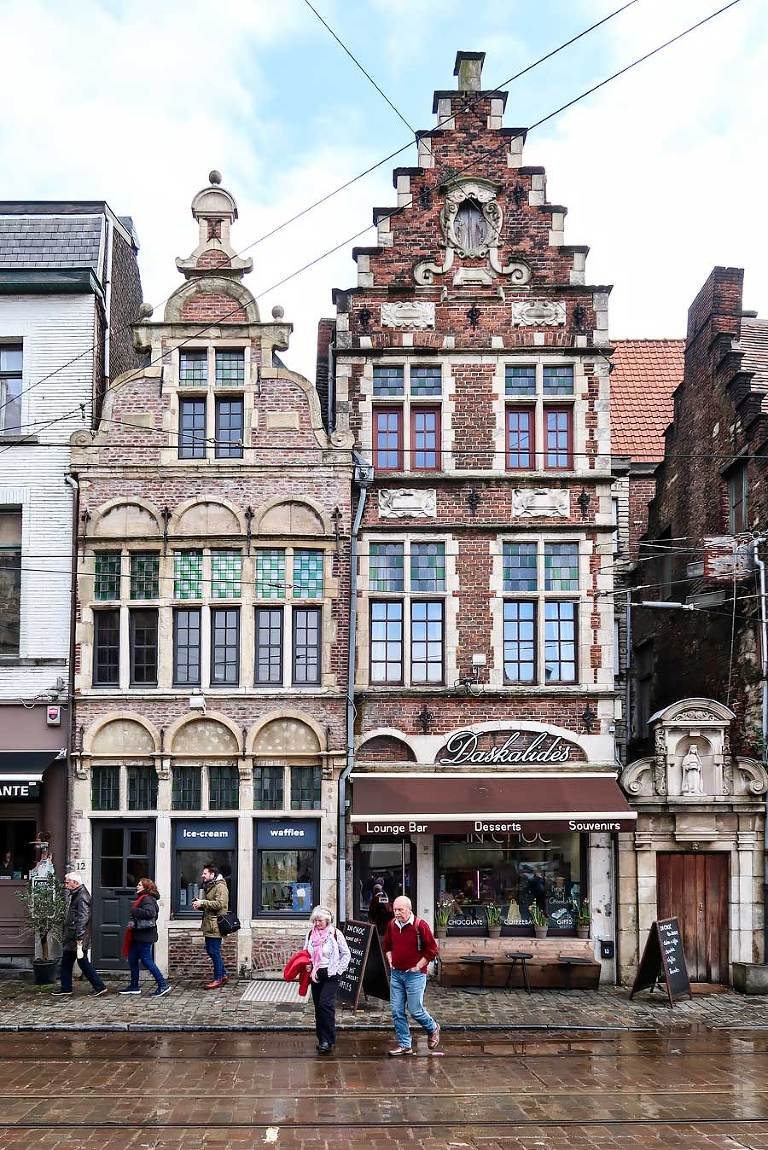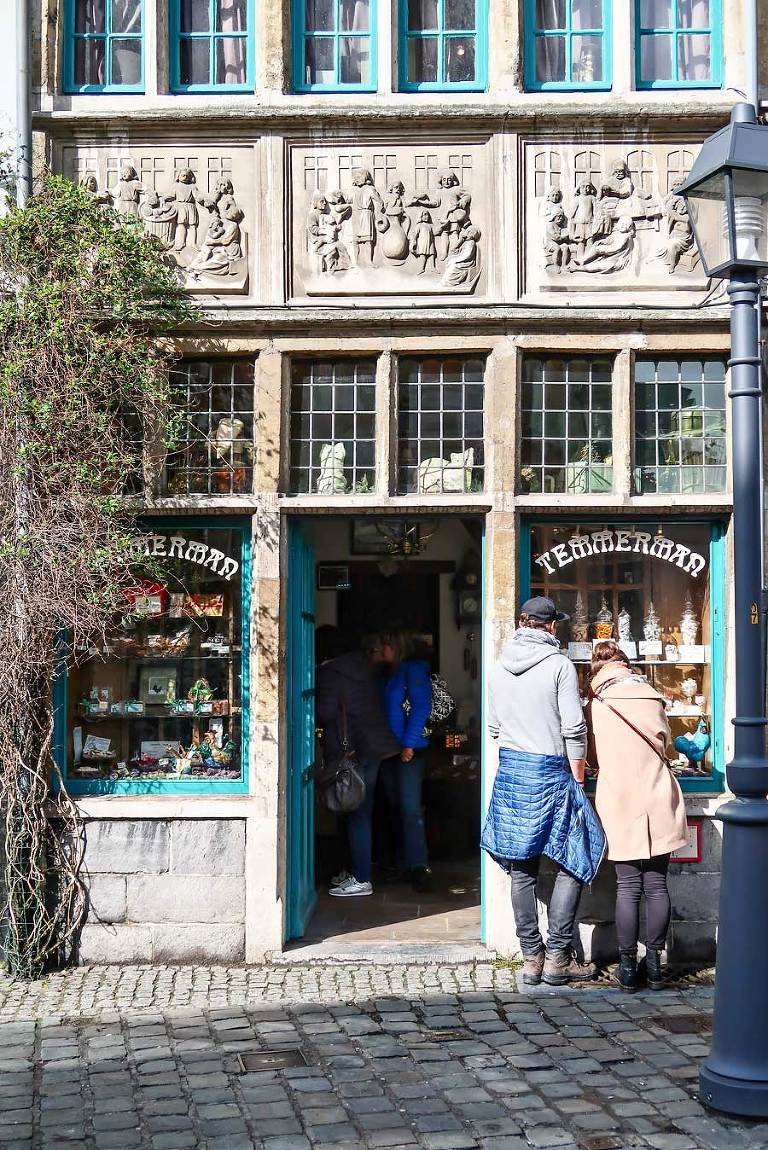 As I'm walking through the city I can't believe this is my first time in Ghent. It's so charming! And even though I spot plenty of shops, restaurants and coffee places that would normally be on my 'must-do list', just being here is enough to enjoy the city. No need to plan much in advance.
Holy Food Market in a 16th Century Chapel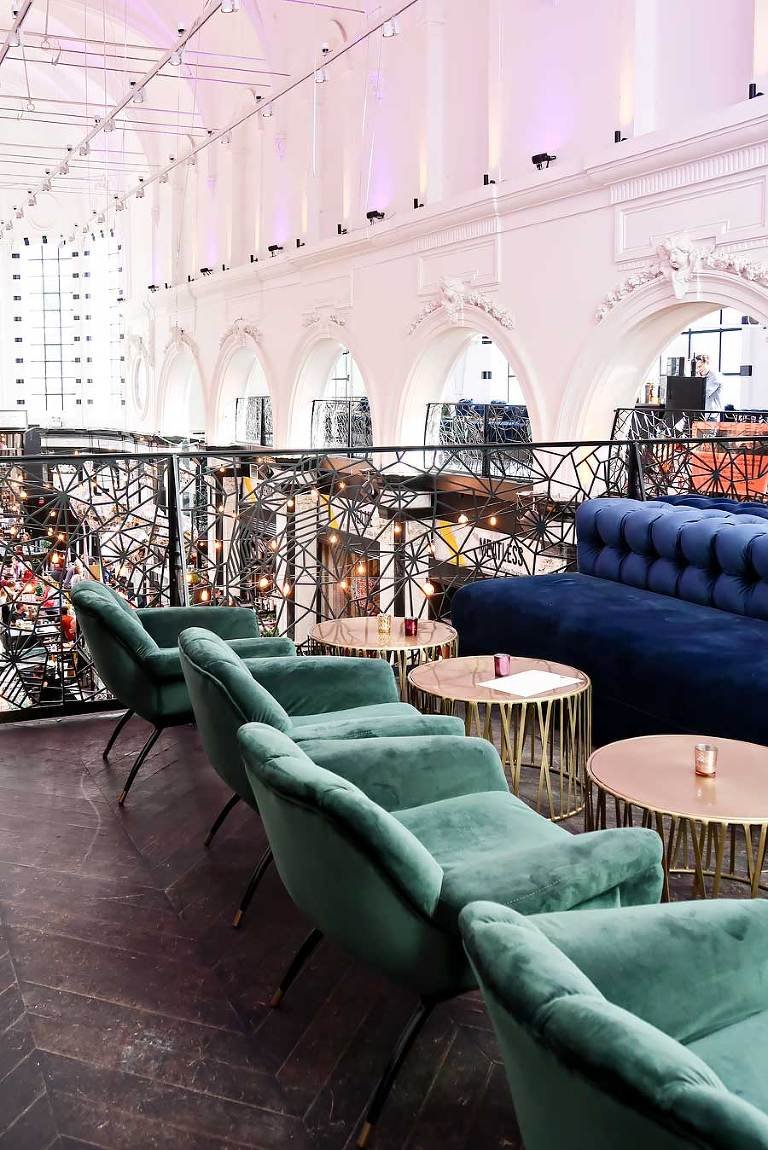 With the exception of one place and that is the Holy Food Market in a 16th century chapel. We discovered it too late, so next time I'll come eat here first.
This is one of the nice things about living in the Netherlands again. It's so easy to drive to Belgium for the weekend. So I'm sure it won't be long before I visit Ghent again. Hopefully with better weather, definitely with the same hotel, and maybe with a bit more sightseeing than this time.
Disclaimer: I was a guest of 1898 The Post for the purpose of this review