If I'm being honest, the real reason I wanted to eat at the Corner Room is because of its interior. It's one of those places that kept popping up on my Instagram feed and I just wanted to see (and photograph) it myself. Visiting friends and family are always a good excuse to try new places, so before my sister had to fly back to Amsterdam I took her to the Town Hall Hotel for lunch.
Well, actually I thought we were going for brunch. But it turned out that it's either breakfast or lunch and the restaurant had just opened for lunch when we arrived at noon. No problem, all the more reason to go for the two course menu since we needed to make up for that breakfast that we'd now apparently skipped.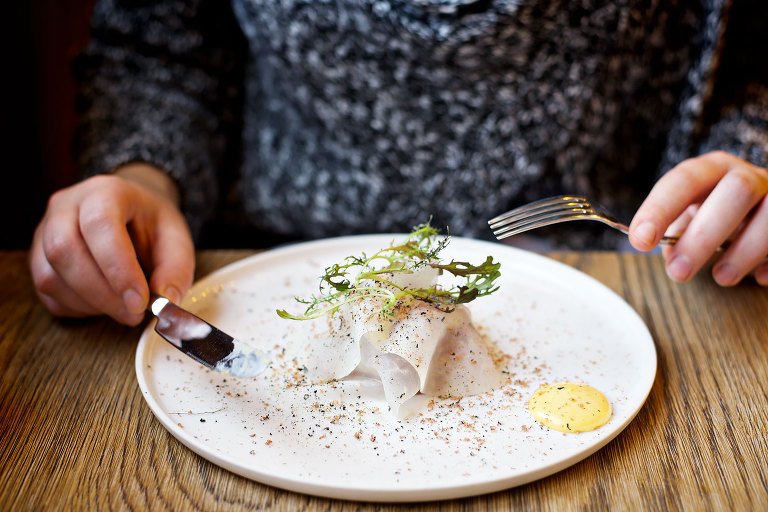 The good thing about being the first to arrive is that I could take photos in an empty restaurant, which almost never happens. (Or when it does, it's usually not a good sign). And it was just as beautiful as I had imagined. I loved the wall with the different lamps, but the entire hotel has these interesting features.
As the name suggests, the hotel was once a town hall and you can still enter the original council chamber which is on the same floor as the restaurant.   
But it was not just the decor that impressed me. Everything we ordered was delicious. The staff was friendly and gave us some good wine recommendations to pair with our food. (It was lunch after all, so we needed wine).
The flavors were pure and fresh, and that braised leek with riseley cheese and truffle….Well, food doesn't get more comforting than that!
You can have a two or three course lunch menu for a set a price. And even though I'm usually not the one to turn down something sweet, I decided to end the lunch with coffee instead. I later on saw some photos (again on Instagram) of their desserts which kind of made me regret my decision. But I'm sure I'll be back soon to try again.