I knew it was going to happen. After all it's one of the reasons why people come here. It is one of the reasons I'm here! Drawn by those images in travel magazines and on Instagram. Ignoring the little (but loud) voice in my head, reminding me that I'm afraid of heights.
I'm standing in front of the ledge. The ledge on the National Pass walking trail in the Blue Mountains. This 3,5 hour hike is famous for showing you the most beautiful parts of the national park. But it isn't an easy walk and from time to time even a bit scary.
Train from Sydney to the Blue Mountains
This morning I took an early train from Sydney. It's incredible. Two hours on a train for only AUD 5,81 (about € 4,00). Many people take the car to the Blue Mountains but the train is very comfortable and you can use your Opal (public transport) card on the train and bus.
Three Sisters
My first stop is Katoomba for the most famous part of the Blue Mountains: the Three Sisters. I take the bus across the street from the train station and it brings me straight to the viewing point Echo Park.
I take in the view and the same photo as all those other tourists and walk a couple of minutes down the walking path and down the steep stairs to the Three Sisters. Warning signs say you're not allowed to climb the rocks. As if the thought even crossed my mind.
Wentworth Falls
I take another bus to my next stop: Wentworth Falls. Since I can't go hiking on an empty stomach, I first get one of the award winning aussie pies at Mountain High Pies. Delicious!
To get to the start of the walking trail – the Wentworth Falls Picnic Area – is also a thirty minute walk (if you don't have a car). I understand why they're calling this the most beautiful town of the Blue Mountains. The houses are absolutely beautiful with big trees and coloured leaves falling on the ground (one of the signs that it's autumn here).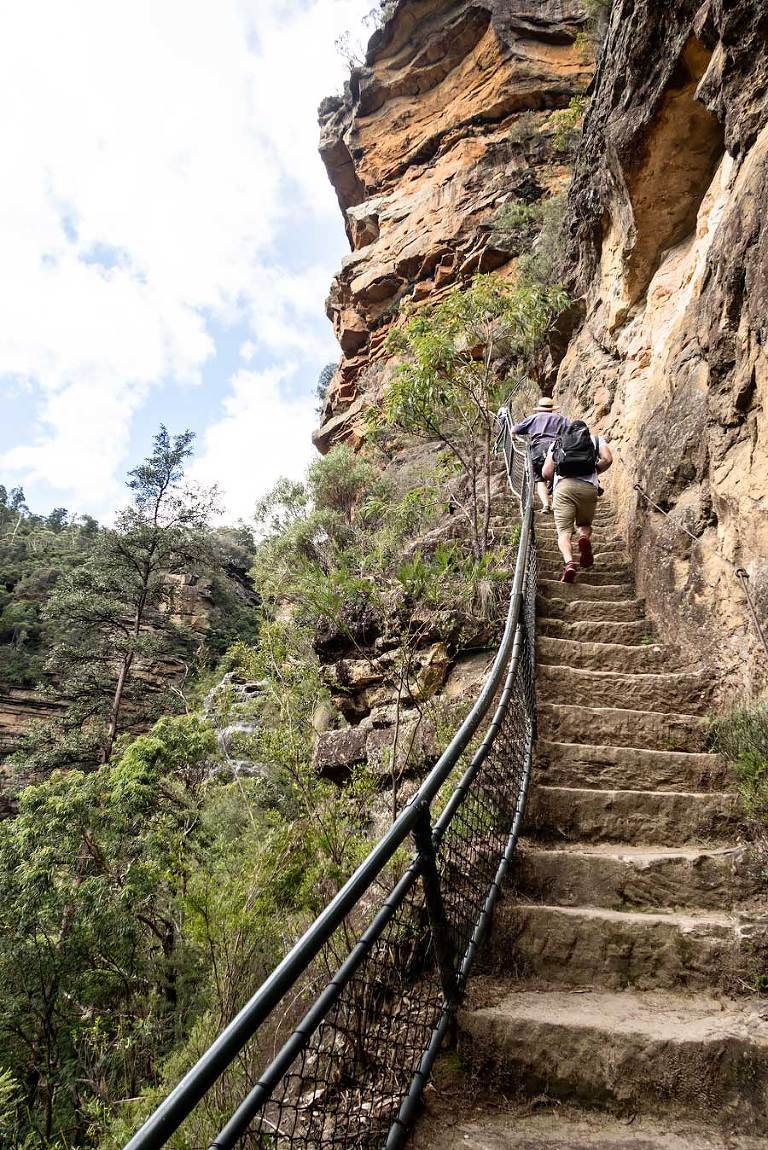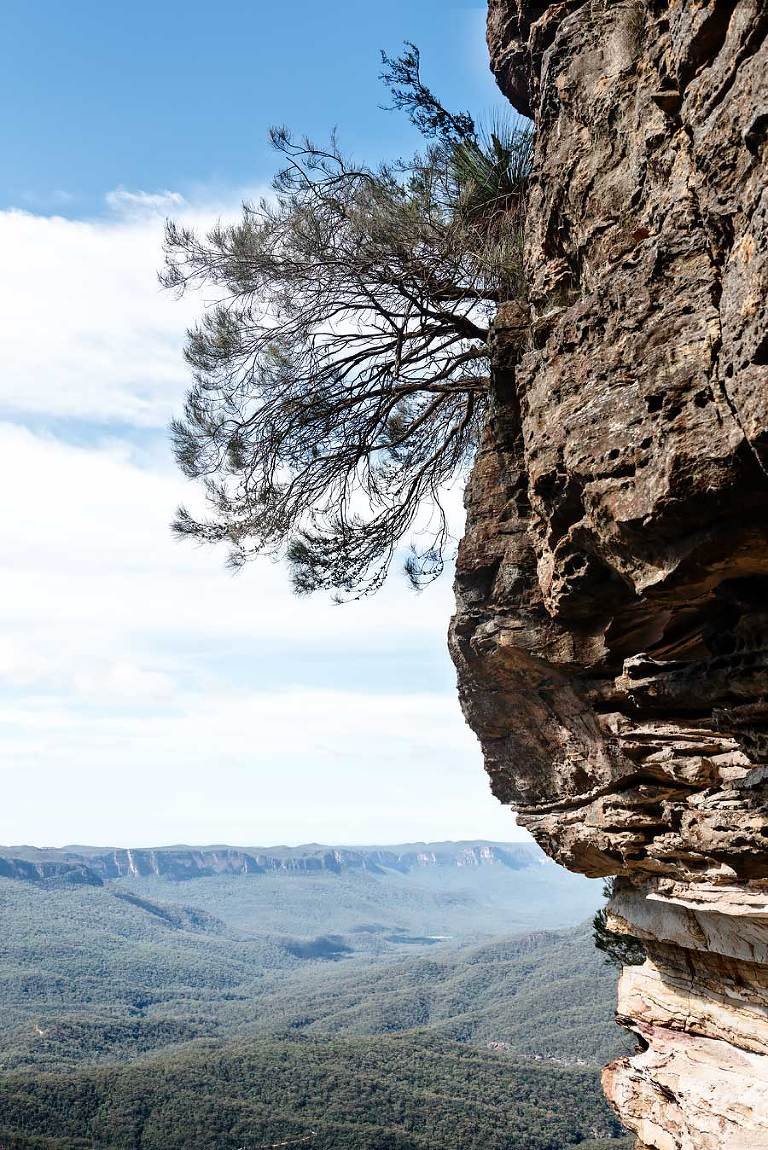 Before I left I was a bit worried about going on a long hike by myself. Would it be safe? But I'm clearly not the only one. Normally I'm not a fan of places that attract a lot of tourists but in this case I'm kind of glad that they're here.
Blue Mountains Walking Tracks
There are different walking trails to choose from. From very easy to for very experienced hikers only, and from less than an hour to 5 hours.
I'm choosing the famous and award winning National Pass Track. Which is one of the longer and more difficult walks (but not the hardest one).
Since the beginning of the trails overlap you'll find most people here. I'm surprised to see people carrying heavy tripods and bags full of camera gear, but I soon realise that most of them are only doing this part of the Blue Mountains to take some stunning pictures and then get back to their cars.

People or no people, the Blue Mountains are breathtaking. It's hard to believe that Sydney is not that far from here, because it feels like a completely different world.
The views are spectacular with the rocks, the trees and waterfalls along the way. And the path keeps changing. From wet and green to dry and sandy. It's as if you're walking through different national parks.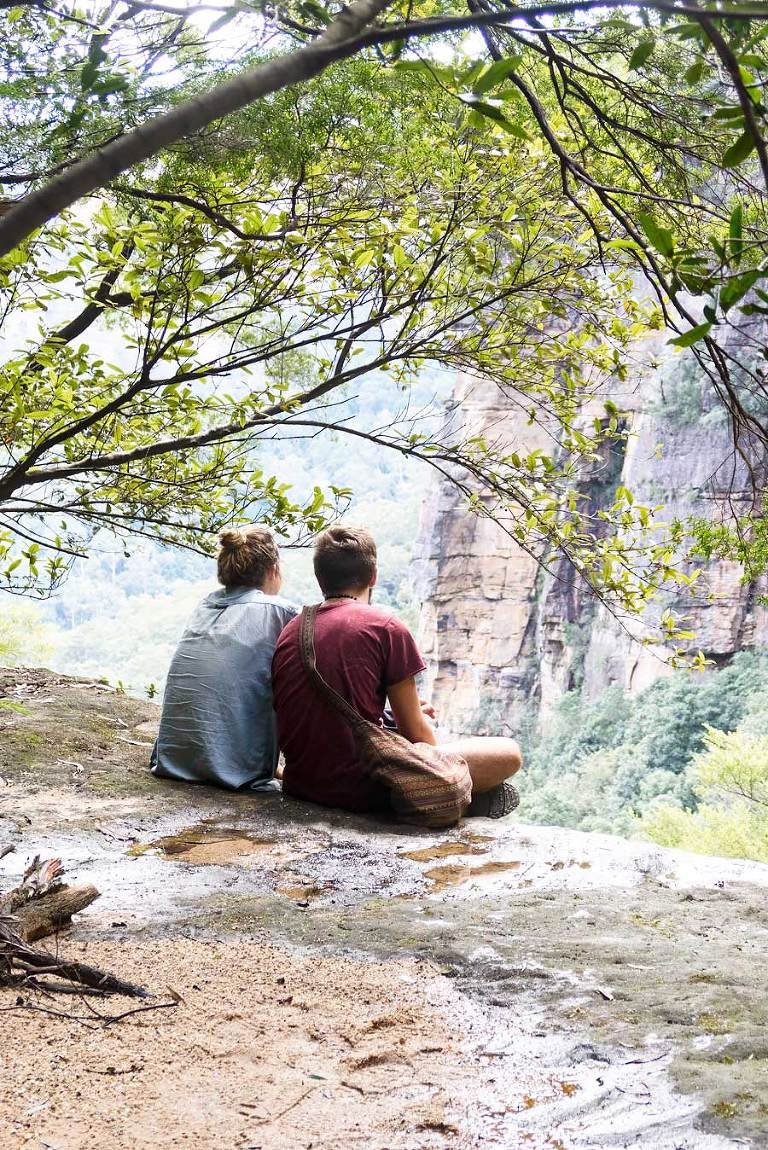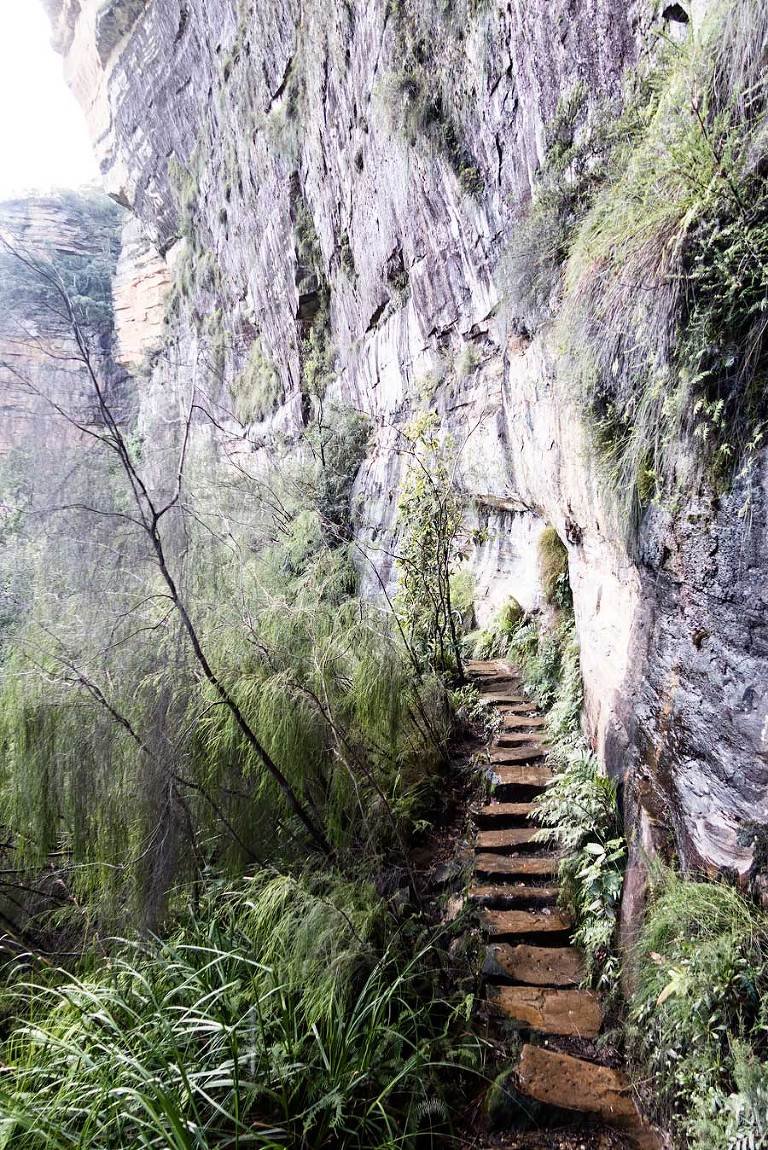 The Scary Part: The Narrow Ledge
When I'm reaching the ledge – which is relatively at the beginning of the trail – I pause for a moment. It looks incredible, but my palms start to sweat thinking about actually having to stand on it.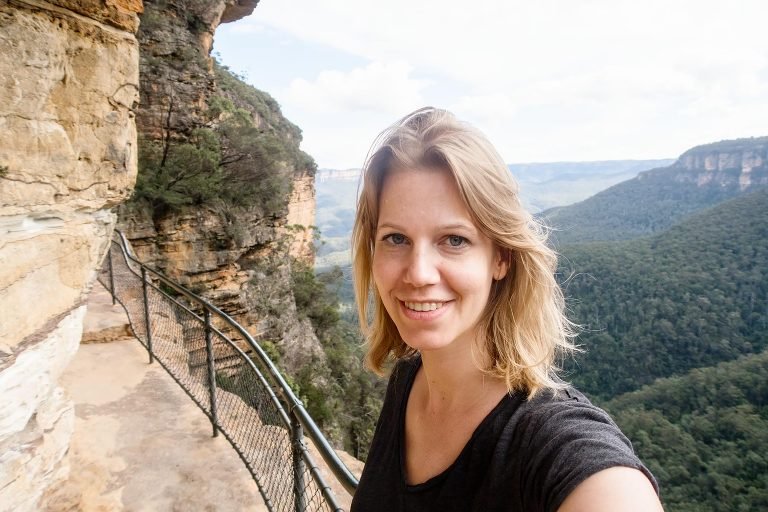 I do it anyway and to be honest, it's not as bad as it looks from the other side. It feels safe and the views are so beautiful that as long as I don't think about where I'm standing or look down I'm doing alright.
Once you've passed the Wentworth Falls waterfall it gets a lot quieter. There are clear signs along the way to point you in the right direction, but there are moments that I don't see anyone else for so long that I'm wondering if maybe I've missed a turn.
And of course it's when I'm all by myself, just me and nature, that I walk around a corner and there's this giant snake in front of me.
The Other Scary Part: The Snake
Now I mentioned that I don't like heights. I'm terrified (!) of snakes. So I have a little freak out moment which I think scared the snake since he starts to move (which scares me even more). I consider running back, but I've already walked for over two hours so going back is not really an option. So I take a deep breath and walk around the snake as far away as I can without falling of the cliff. Why do there have to be snakes here?!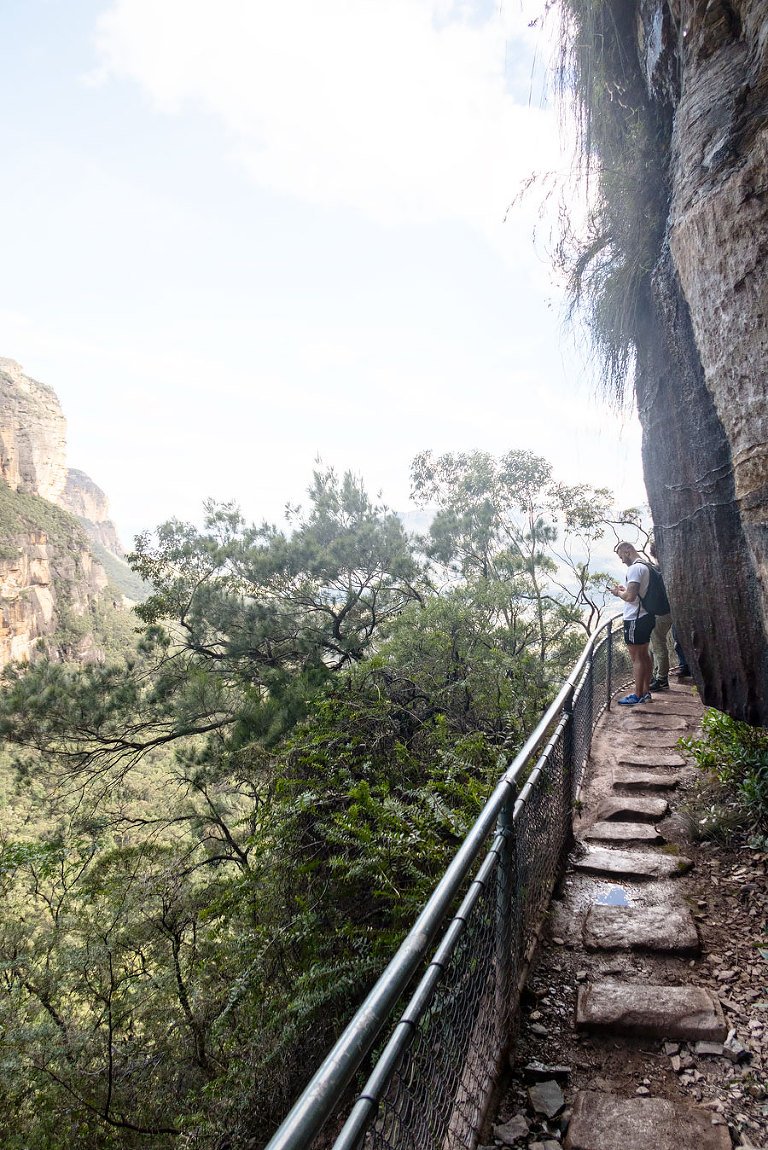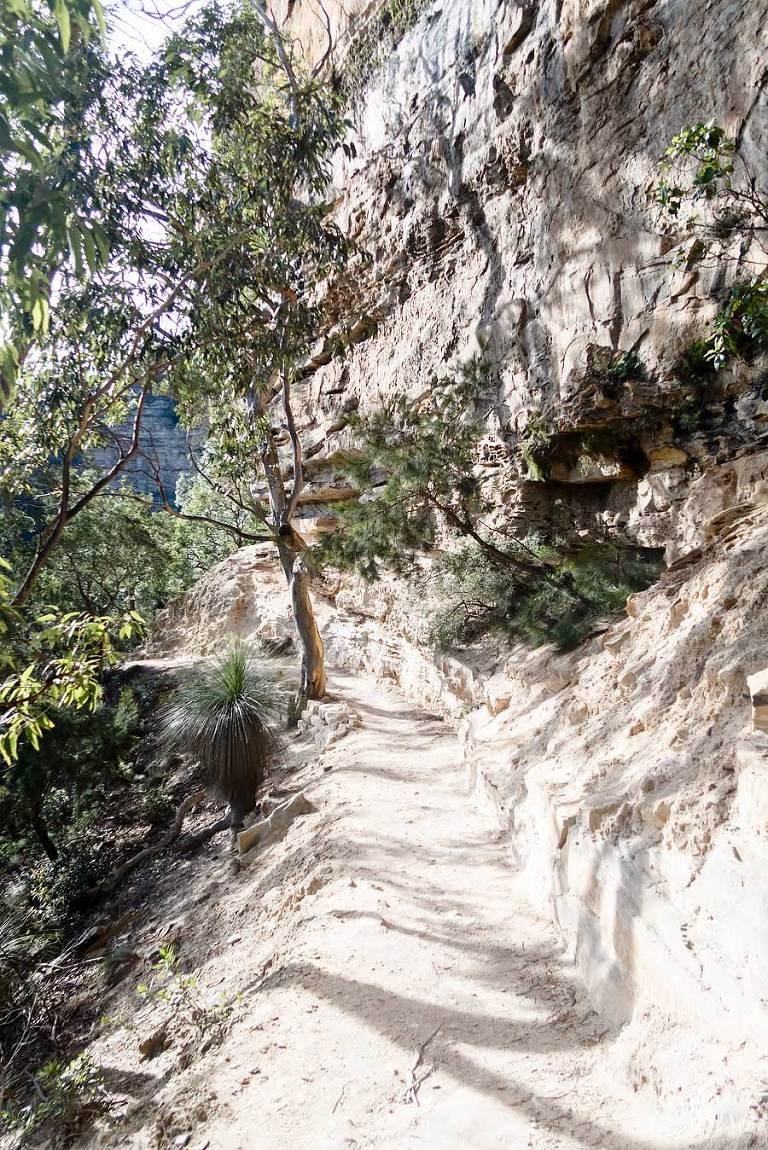 Fortunately the walk is getting more difficult which takes my mind of 'the incident' and lets me focus on this beautiful park again.
When I reach the end of the trail, back where I started, I'm tired but also sad that I need to leave this gorgeous part of Australia. It's really nature at its best. And I'm so glad I didn't just do the Three Sisters. To really experience the Blue Mountains you need to do one of the walks.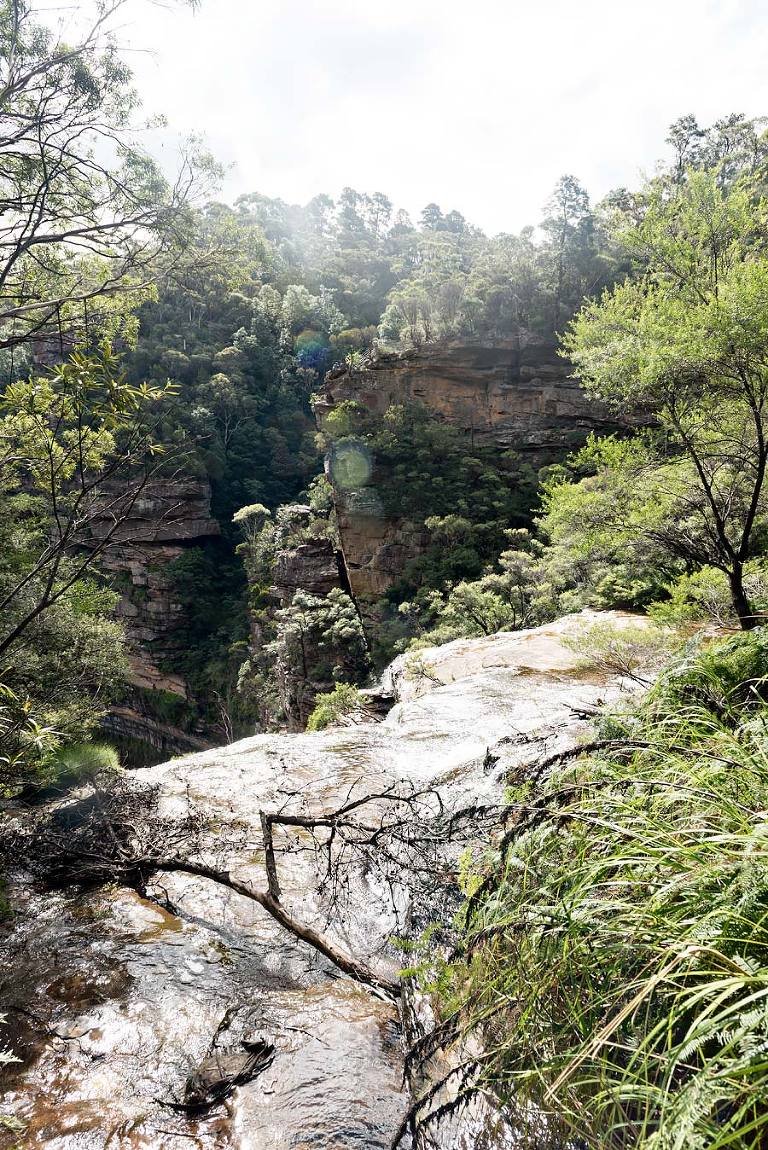 On the train back to Sydney I'm being treated to an incredible sunset. From pink and purple to an horizon so bright orange and red that it seems to be on fire. It's as if the Blue Mountains is trying to tell me that I'm crazy to leave.