I'm spending two weeks in Chiang Mai. With all the stories I'd heard about digital nomads choosing this city as their base in Thailand I figured there must be enough to do and see to keep me busy for two weeks.
After the first two days I'm wondering if maybe I was wrong. Chiang Mai is not a metropolitan like Bangkok. There's no public transport, almost no tall buildings. It feels a bit like a village, but with free wifi and an obsession with good coffee and instagrammable coffee shops.
I'm starting to understand why digital nomads love it so much. But as someone who's not here to work, staying for two weeks is actually a bit too long.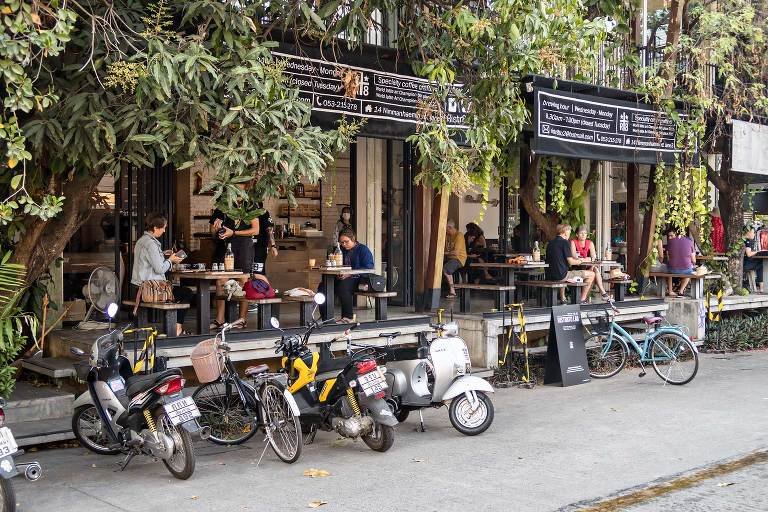 Now that I'm here though, with what feels like all the time in the world, I want to make the most of it. I just need to come up with a different plan. I need to slow down, enjoy sitting down with a book and read, take time to think about where I'm going to eat and not stress about not having a lot to do. I'll be honest, this doesn't come naturally and I'm struggling at first. But after a few days I'm starting to get better at it and actually enjoy not running around or worrying about what I might be missing.
Plus, while looking for new places to sit down and read or write in my travel journal, I get to explore this incredible creative coffee scene in Chiang Mai. So whether you're in Chiang Mai just for a few days or a lot longer, if you're looking for the best coffee this guide will tell you where to go.
Ristr8to Lab
If you only have time for one cup of coffee, have it at Ristr8to. These guys know what they're doing and have won several world championships. Their latte art is incredible and if you're looking for something even more special, some of their coffees are being served in a skull shaped glass. There are two Ristr8to cafés in Chiang Mai, both in Nimman. I preferred Ristr8to Lab which feels more spacious and is not right next to a busy road like the original Ristr8to café.
Address: 14 Nimmana Haeminda Rd Lane 3 & 15/3 Nimmanahaeminda Road
Gateway Coffee Roaster
With the entrance a bit hidden just outside the Old City walls, you climb up the stairs of this old concrete building to find Gateway Coffee Roaster. It's a nice escape from all the traffic on the streets downstairs. With plenty of comfortable seats, it's a great place to read a book while drinking the excellent coffee or work on your laptop.
Address: 50300 Chang Moi Rd Soi 2
Graph
The owners of Graph realized that serving good coffee is a skill you need to develop. They opened their first café in the Old City in 2014 after practising making coffee every single day for two years. With only a few seats in this intimate, minimalist café you'd be lucky if you can get a seat. But it's worth trying – or get your coffee to go – as it's very different from all the other coffee places. I opted for the 'Monochrome' a cold black and white coffee with espresso, vanilla milk and activated charcoal.
There's also a second café (with more seating) in Nimman at the One Nimman mall.
Address: 25/1 Rajvithi Lane 1 & 1/6 One nimman A103-104, Nimmanhaemin Rd
Artisan Café
Artisan Café is another one not to miss with two locations in Chiang Mai. I would recommend going to the one south of the Old City as the one in Nimman doesn't have a lot of seating options.
The café on Wua Lai Road – right next to the Oxotel hostel – is very spacious and has a nice, relaxed atmosphere. The interior is stylish with vintage furniture and there's fast free wifi!
Address: 204/1 Wua Lai Rd
The Verde
With the high temperatures in Chiang Mai you spend a lot of time indoors where there's air conditioning. But who wants to be indoors when you're traveling? Which is why I was so happy to discover The Verde, a green oasis in Nimman. With a lovely garden, there are plenty of seats in the shade to keep you cool(-ish).
Address: 33 Soi Sukasem, Nimmanhaemin Road
Taste Café
One of the best and most popular (hipster) coffee places in Chiang Mai is Taste Café. With its location just outside Nimman it requires a bit of a detour, but it's worth it.
Address: 2 Chiang Rai Road
ABCD: A Beter Cup and Design
With no 'real' public transport in Chiang Mai, I decided to walk from Nimman to the Old City on my first day. Normally a 30 minute walk would be fine, but I wouldn't recommend doing it in the middle of the day. Luckily, I found A.B.C.D. (A Better Cup & Design) along the way. I loved their Thai tea and they also sell really cute cookies.
Address: 1 Huaykaew Road
Looper Co.
I sometimes wonder if the coffee culture in Chiang Mai would also exist without the instagrammable interiors. Every cup of coffee turns into a full photo shoot. The same happened at Looper Co., a café east of the Old City that's not only serving coffee but also cocktails.
The interior has a minimalist, industrial vibe with vintage furniture and a large bar at the centre. There's also a garden to take your drinks outside (when it's not too hot).
Address: 151 Ratchawong Road
Akha Ama La Fattoria
It's almost impossible to pick a favorite, but Akha Ama Coffee definitely belongs in my top 3. I discovered the La Fattoria branch (there are 3 branches in Chiang Mai) by accident after visiting the Wat Phra Singh temple.
As a social enterprise their coffee supports the Akha hill tribe community in Northern Thailand. The owner of Akha Ama is now also working with Stumptown Coffee Roasters in the US which has resulted in even better coffee and more income for the Akha farmers.
Address: 175 Rachadamnoen Road
Yesterday Café
Yesterday Café was the first place I went to after arriving in Chiang Mai, and the one I kept going back to. I just loved the atmosphere here and couldn't get enough of their Thai tea.
Address: 24 Nimmanahaeminda Road
Transit Number 8
Transit Number 8 requires a bit of a detour. It's not really an interesting neighborhood either, but come on…. 'Travel is my therapy'? I could not skip this one.
The bright, white and minimalist interior is very stylish. With the airport almost next door (and the sound of low-flying aircrafts) you understand where they got their inspiration from.
Address: 56, 19 Soi Sanam Bin Kao 8
Palit Coffee
Speaking of not so interesting neighborhoods, Palit is another one where 'Instagram made me do it'. North of the city centre and close to the Ping river, Palit is a super charming (and yes, very instagrammable) café. There's really nothing else here to do, so despite it being charming and serving good coffee I wouldn't put it on top of your list.
Address: 34 Patan ngam Road Tambon Pa Tan
Cheevit Cheeva
Craving for something sweet with your coffee? Then you have to go to Cheevit Cheeva, a dessert café with three locations in Chiang Mai. You will want to come back for dessert after breakfast, lunch and dinner!
Address: 6 Siri Mangkalajarn Road
Good Morning Chiang Mai Café
While I've used the word vintage to describe several of the other cafés, at Good Morning Chiang Mai you really feel like you've stepped back in time. The restaurant is part of the Good Morning Chiang Mai Tropical Inn in the Old City. There are probably better places to find the best food and coffee in Chiang Mai, but it's certainly an interesting stop if you're in the area.
Address: 29/5 Ratchamankha Soi 6
SS1254372 Cafe
I'll be honest, even though I took these pictures of SS1254372, I didn't try the food or drinks of this café / gallery in Nimman myself. However, since I found out later that they get amazing reviews (especially their brunch menu), I felt I had to include them. Of course I'm hoping that you will go here and let me know how it was so I have a reason to go back.
Address: 22/1 Soi Nimmana Haeminda 17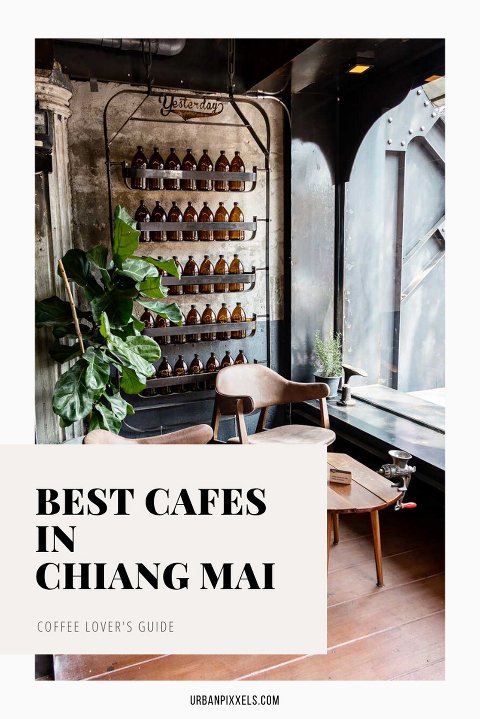 — related posts —