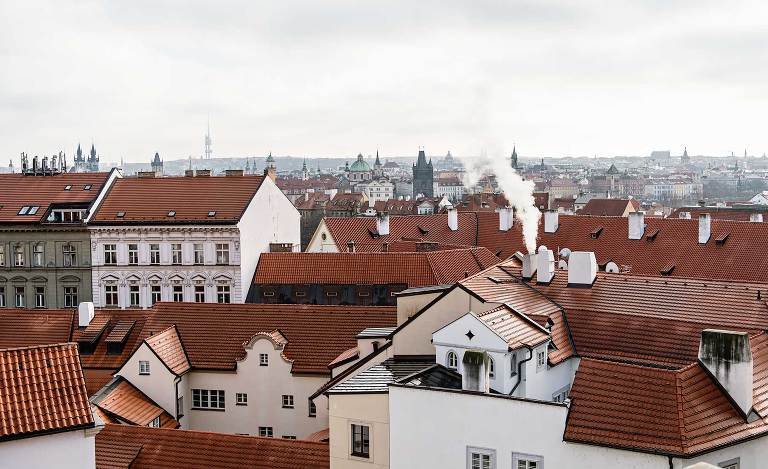 A monastery and a luxury hotel doesn't sound like an obvious combination, but it turns out to be a match made in heaven Prague. With secret passageways, beautiful courtyards, an astronomy tower with 360º views, friendly monks and an old library, I wouldn't be doing Augustine justice if I would describe it as 'just a hotel'. It was the perfect home away from home for our Christmas city trip to Prague.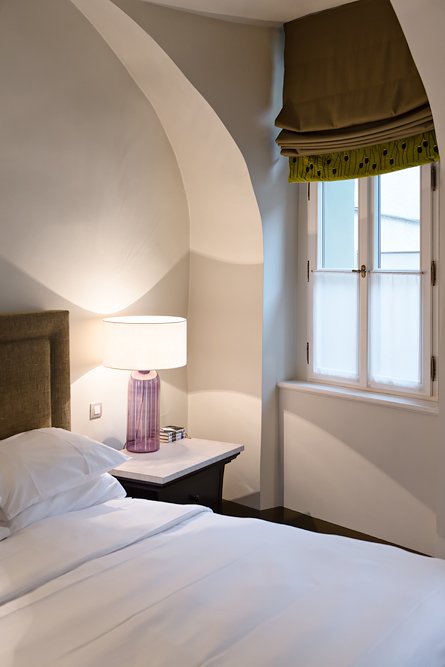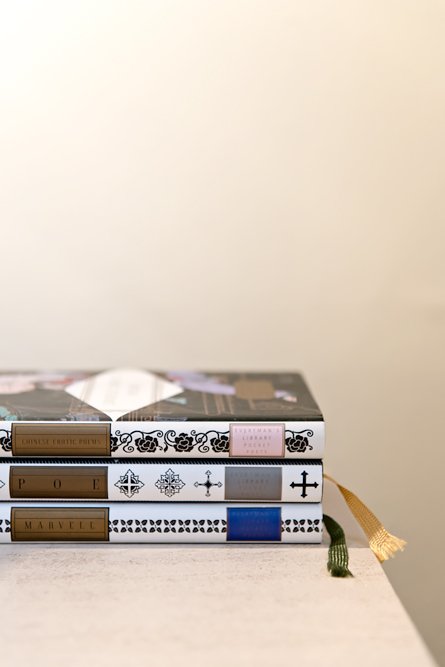 Together with Jess (Jess-on-Thames), Jo (Candids by Jo) and Geraldine (Little Big Bell), I was invited by Augustine, a Luxury Collection Hotel, to experience this special hotel and Prague at Christmas time.
Waking up at 4am to catch a flight from Heathrow is not exactly my idea of luxury, but it was well worth it. After all, Prague is so gorgeous this time of year, you want to be there as long as possible.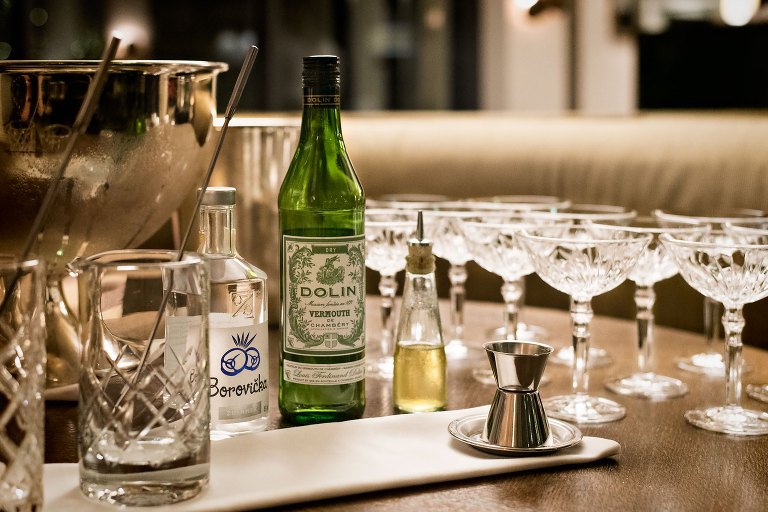 Relaxing Massage at the Spa
We were spending three days, two nights at the hotel and were determined to enjoy every minute of it. And so we did! Starting with a relaxing massage in the hotel's Spa on our first day. Oh, how I needed that! If you don't want to take my word for how good it was, ask the other girls how calm and happy I looked afterwards. And perfect timing to do this after our first day exploring the city and before dinner at the hotel.
Augustine Restaurant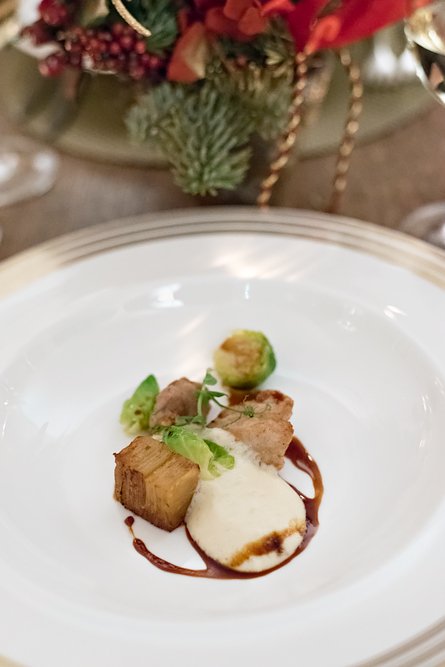 Normally, I wouldn't choose to eat at the hotel when I'm traveling, but if it's delicious, modern Czech or European food you're looking for, then the Augustine Restaurant is the place to be. The executive chef of the restaurant is one of the judges on the Czech Masterchef!
I did the Eating Prague food tour last time I was in Prague, so I had an idea of what typical Czech food was. I loved it then, but this was so much more sophisticated. Every course looked pretty and was super tasty. Yum! And, as I learned that evening, the Czech Republic produces excellent wine as well.
Breakfast at the Augustine Restaurant
The next morning, after a perfect night's sleep in my beautiful room, Jess and I decided to watch the sunrise on the Charles Bridge. Fortunately, sunrise is at 8am this time of year, so we didn't have to wake up in the middle of the night again. It was absolutely magical, and I can't wait to share some of my photos in another post.
By the time we got back to the hotel, I was super hungry and was happy to see the breakfast buffet was waiting for me. And in addition to the wide selection on the table, you can also order other dishes from the kitchen such as eggs benedict or french toast.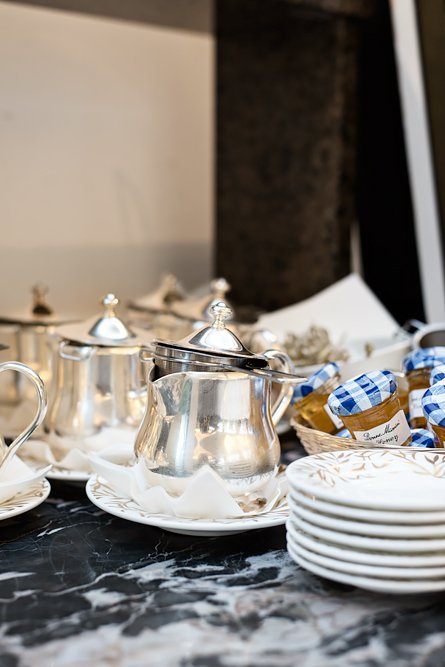 REFECTORY BAR 1887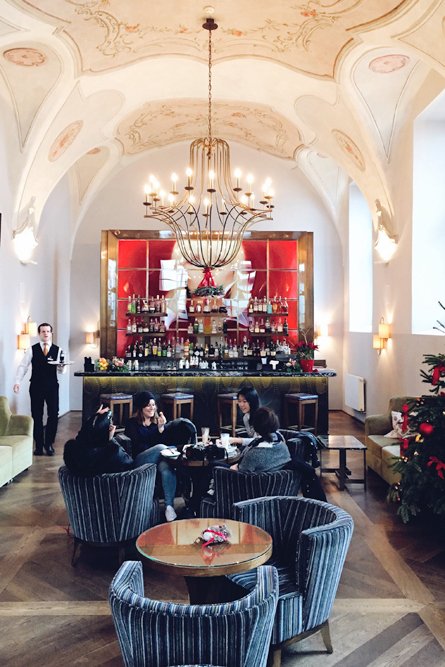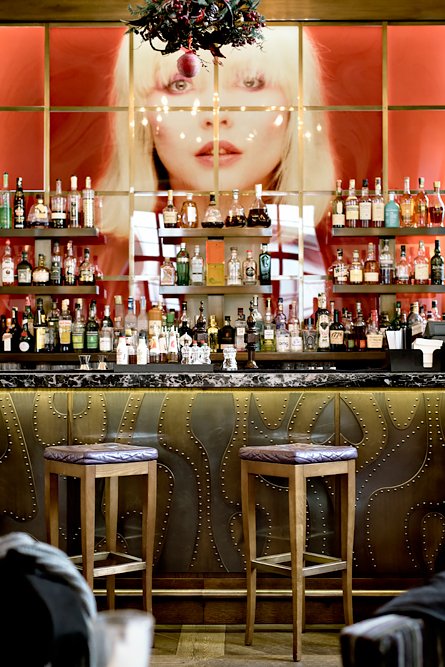 One of my favorite places of the hotel was the Refectory Bar 1887. Not only because they serve some pretty spectacular cocktails (try the 'Godfather' and Angel Cocktails), but more because of its beautiful interior. It's the perfect combination of old and new, with restored baroque frescoes from the 19th century on the ceiling and a huge photo of Debbie Harry (Blondie) behind the bar.
We ordered a cappuccino after breakfast and made plans for our second day in the city.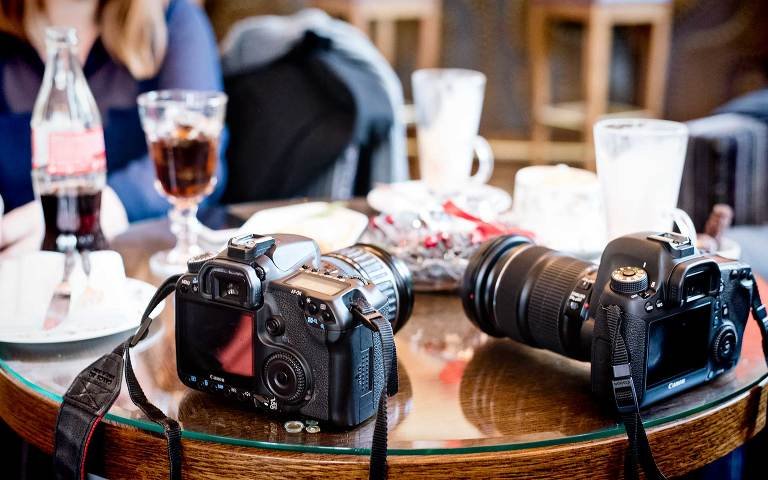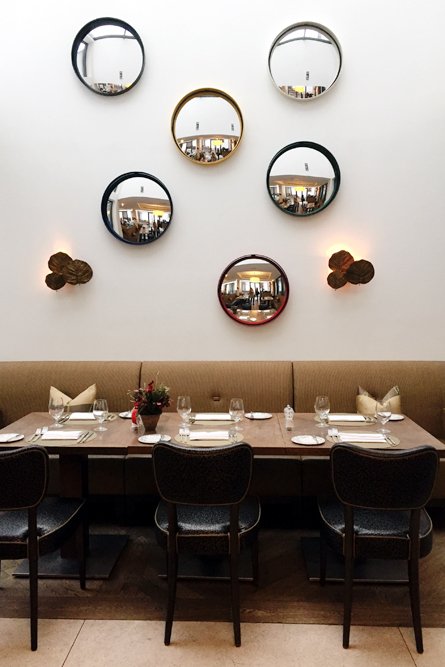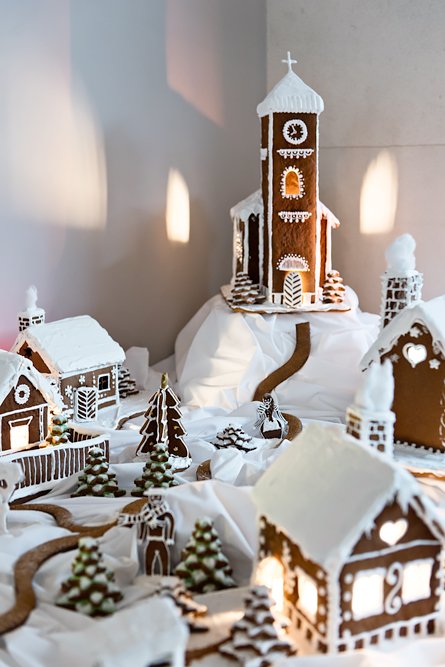 Wall of Fame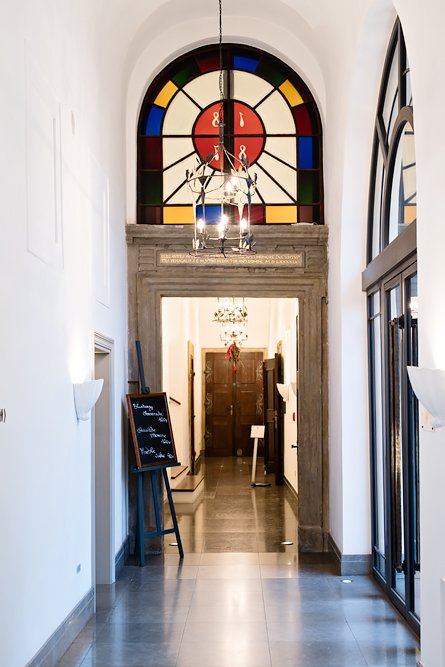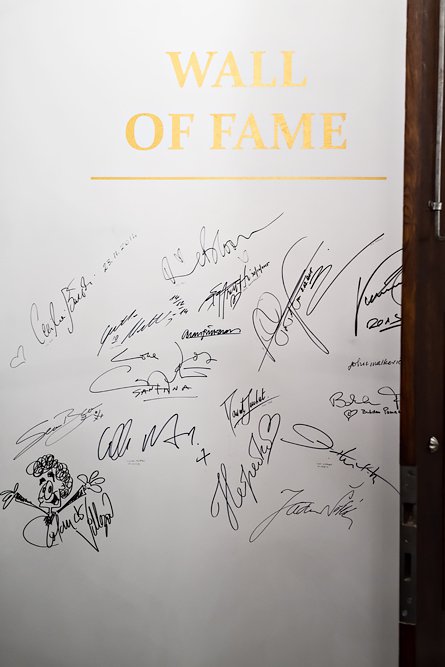 When you have a special hotel like this, word gets out quickly. So of course, when celebrities from all over the world are looking for a place to stay in Prague, many of them decide to stay at Augustine.
We tried – unsuccessfully – to get some juicy stories over dinner, but I wouldn't trust a group of bloggers either… We did however get to see the hotel's Wall of Fame. Hidden behind two heavy doors are the signatures of some of the celebrities that stayed here over the years (Orlando Bloom!).
Augustinian St. Thomas Monastery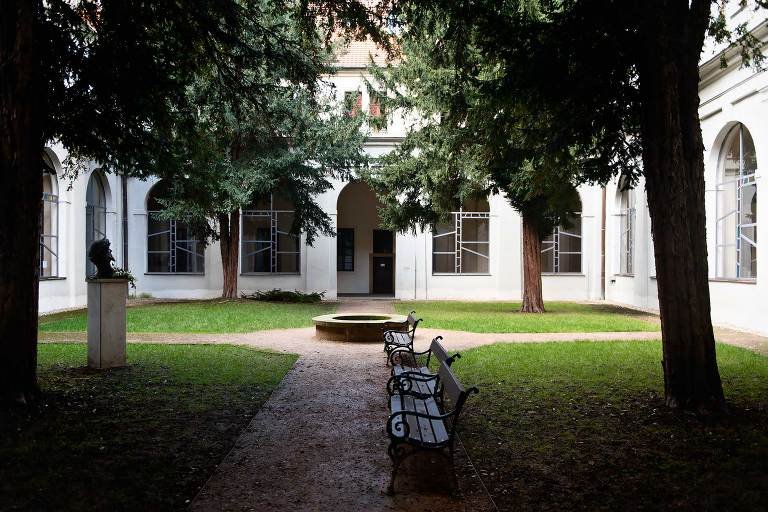 The hotel has everything you'd expect from a modern, luxury hotel. But some of the buildings (there are seven buildings that together form the Augustine hotel), have a long history dating back to the 13th century.
Once upon a time hundreds of monks were living here, but these days there are only a couple left. They still manage what's left of the monastery, and we were lucky to meet one of them to show us around.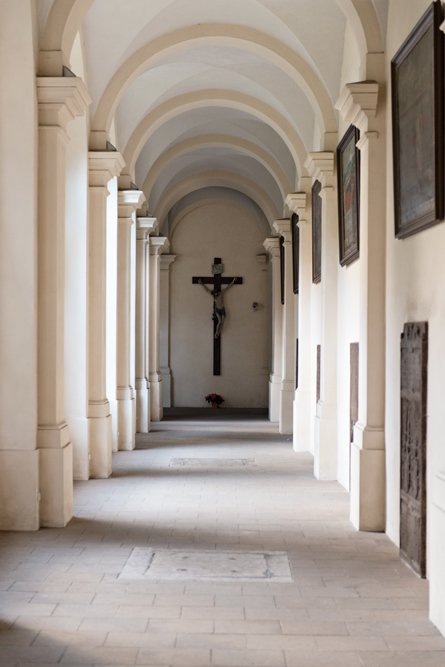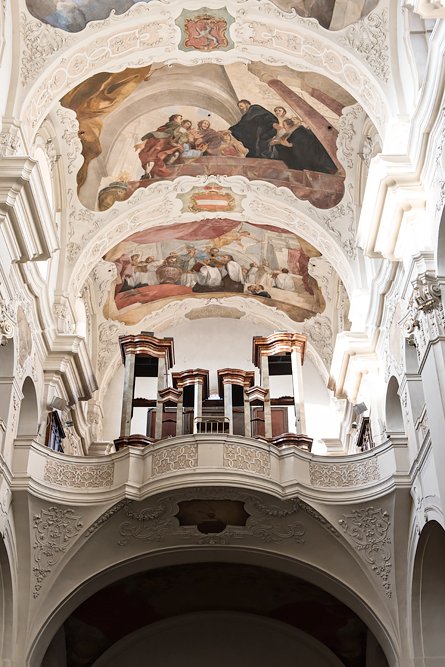 It was so special. One moment you're standing in the hallway of your hotel, you open a door and next you're stepping into a completely different world. So beautiful and peaceful.
Monastery Library
I have this thing with old books and old libraries. So you can imagine how excited I was when they told us we could have a look in the library that's normally closed to people who are not living here.
It was amazing. All these books, some dating back to the 13th century! I could have spent hours here, but I guess even a monk's patience has its limits…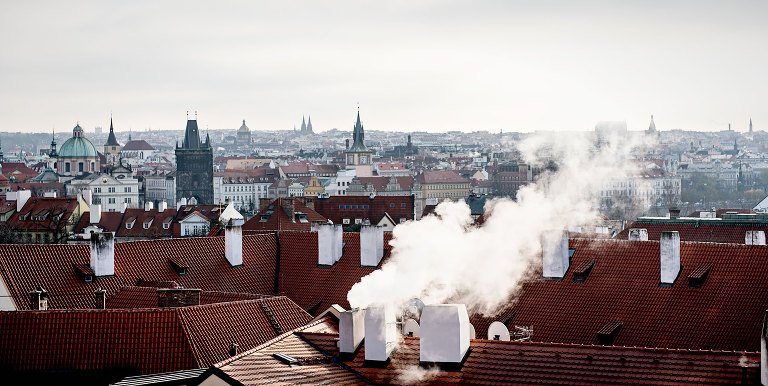 I honestly loved everything about my stay at Augustine. As you've seen on my blog before, I usually choose modern design hotels, which Augustine isn't. But I've never experienced a hotel with so many interesting stories and one that feels so 'warm'. In terms of how friendly the staff is and the general atmosphere in the rooms, restaurant and bar. I wish I could have stayed longer!
I'll share more photos of Prague and hopefully my own video of our trip soon, but for now here's a video of the hotel made by Augustine.
Website: Augustine, a Luxury Collection Hotel