There are many places in the world I'd like to go back to some day. But with Cape Town, it wasn't a matter of wanting, but knowing that this was going to be a first of many visits. This is my kind of city, I love it! And because I'm totally convinced that there will be other moments where I'll get to know this city better, I don't feel that pressure of having to do it all right now. So unlike my usual habit of running around, I'm feeling pretty relaxed in Cape Town. We're simply spending three days enjoying Cape Town, and saving the rest for our next visit.
Breakfast at the Neighbourgoods Market, The Old Biscuit Mill
Our first full day in Cape Town happens to be a Saturday. And there's no better place to spend a Saturday morning in Cape Town than the vibrant Neighbourgoods Market, located at the Old Biscuit Mill (warehouse) in Woodstock.
It definitely has a certain 'hipster' feel to it, with all the artisan produces and creative shops selling one of a kind jewelry and cute souvenirs, but without being pretentious. With live music playing in the background and people of all age groups walking around, it feels super welcoming. I could stay here all day. Or at least from 9 am to 3 pm, which is when the market is open.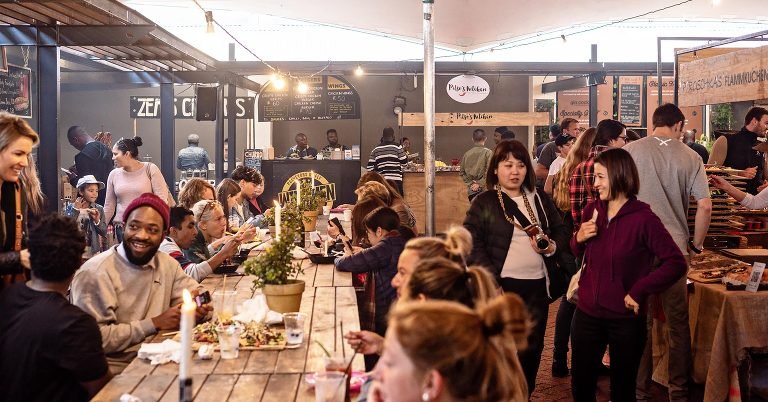 Parking at the Neighbourgoods Market
One more tip. If you're driving to the market, there will be men on the street helping you to find a parking spot in the side streets. They'll say they keep an eye on your car for which they expect to receive some money in return. Whether you should trust this person to do what he says is of course up to you. We didn't feel comfortable leaving our car in an abandoned side street, so instead parked at the College of Cape Town nearby. You'll pay only R10 and there's an official guard.
Cable car to the top of Table Mountain
Have you really been to Cape Town if you haven't been to the top of Table Mountain? The view from there is amazing….. Or so they say. On a cloudy day you can still go up, but you only see white clouds everywhere you look. Since we felt this is simply something you need to do on your first visit, we still decided to go up. And no view as a result. So try to plan this on a sunny day with clear skies, but if you can't, going up with the cable car is still a cool experience.
Explore the V&A Waterfront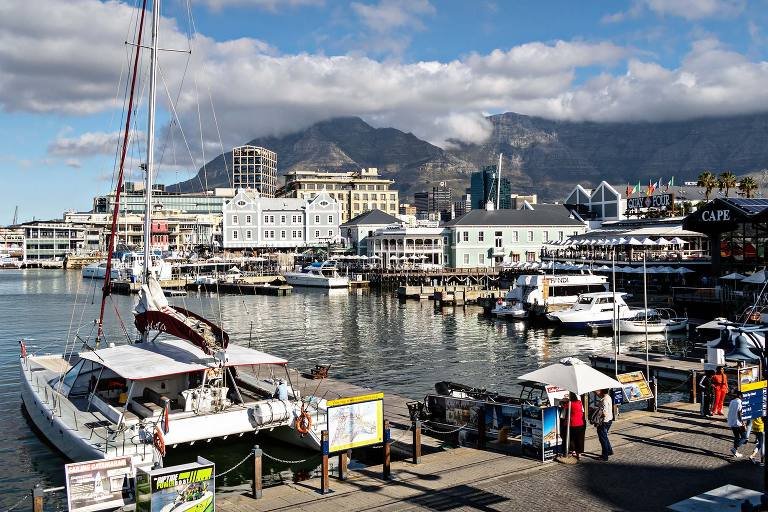 Visiting the V&A Waterfront is an interesting experience. With Table Mountain in the background and the boat leaving for Robben Island, it's both a historic spot as well as one of the most modern developments you'll find in Cape Town.
Despite it sometimes feeling a bit too touristy with more than 500 retail stores and almost 100 restaurants, I'd still recommend spending some time here. Don't miss the Nobel Square with sculptures of four South African Nobel Peace laureates, the historic clock tower, and the V&A Food Market.
Delicious steaks for dinner at HQ
Unfortunately, I didn't take any photos here as I was probably too busy eating. But if you're a meat-lover, then you can't miss HQ when you're in Cape Town.
This restaurant is famous for its steaks, they're the best. There's more on the menu, but why would you. Go for the legendary salad, steak and chips and thank me later.
Brunch & the world's best coffee at Truth Coffee Roasting
There are many places claiming to have 'the best coffee in town', but Truth Coffee Roasting was actually chosen by the Daily Telegraph to be the best coffee shop in the world. Twice! And on top of that, the interior of this steampunk-themed café is pretty spectacular as well.
Visit Robben Island
I won't say that visiting Robben Island is one of the highlights of my time in Cape Town, since 'highlight' feels like the wrong word to use for a place like this. But it's an experience that leaves a great impact and one you'll never forget.
Even after his death, Nelson Mandela is still everywhere in South Africa. We visited his house in Johannesburg, but Robben Island is where he spent 18 of his 27 years in prison.
You can only visit Robben Island as part of a 3,5 hour tour (make sure to book your tickets in advance). Our guide is a former prisoner who not only shows you around, but also tells you what it was like in those days. Seeing Nelson Mandela's cell is of course really special, but it's the personal stories of the guide that makes it an unforgettable experience.
Take photos of Cape Town's colorful houses in Bo-Kaap
Who can resist a street with brightly colored houses? Bo-Kaap ('above the Cape') is one of the oldest residential neighborhoods in Cape Town with some of the houses being more than 2 centuries old. Today there are different theories why the houses are this colorful, but nobody seems to know for sure.
Most residents are descendants of slaves brought from Dutch and British colonies, such as Malaysia and Indonesia, to Cape Town in the mid-17th century. Because of that this area has become known for its Cape Malay culture, although they prefer to call themselves Cape Muslims.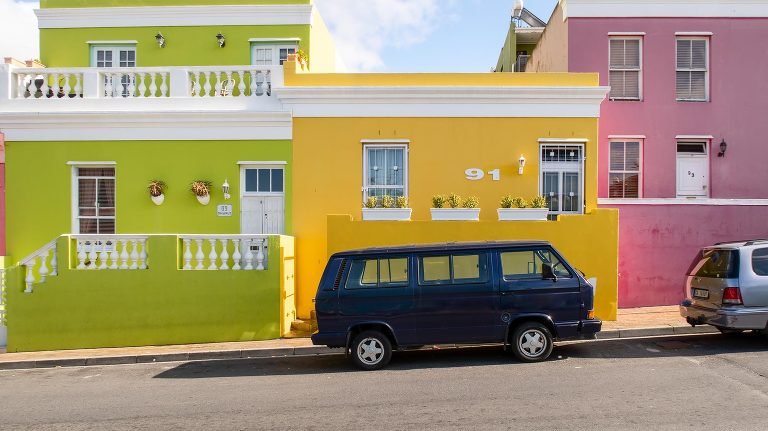 Where to stay in Cape Town
Writing this post I can tell that I wasn't really in the mood to take lots of photos in Cape Town. It happens sometimes. Up to that point I had already taken about a million during the game drives, so now I just wanted to enjoy being here and not document every single detail. Such as our hotel in Cape Town, which is actually really nice.
We're staying at the Radisson Blu Hotel & Residence. Not a small, cute boutique hotel, but the location is perfect, the room is modern and spacious, and there's fast wifi (which turns out to be a luxury during our trip). And valet parking for our rental car: woohoo!
Breakfast at Giulio's Café
Every time we left the hotel we could see this cute café across the street. So on our very last morning in Cape Town we decided we couldn't leave before having breakfast here. The staff at Giulio's Café is super friendly, the interior bright and cozy and the food delicious. If only we had decided to check it out sooner…
But there are penguins waiting for us at Boulders Beach today, so time to continue our South African trip.
— related posts —