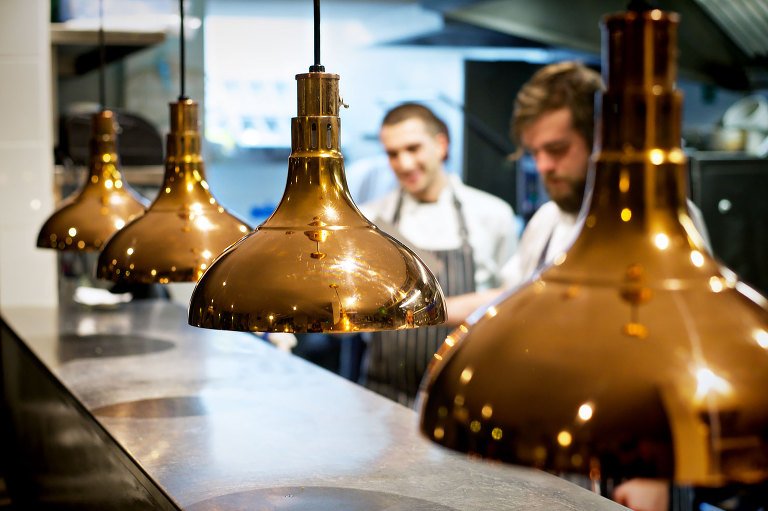 I've said it before: I love bloggers' dinners. Sharing a meal with other foodies without having to apologize for taking photos of your food. (Okay, maybe just one more from a different angle.) Or asking someone to pretend to reach for the food again because it looks so great and you were too late to capture it. Yes, going to a restaurant with a blogger and having a normal conversation without interruptions isn't easy. I know how I can be and I try to control myself. But then when you get invited to try the new menu of a beautiful restaurant in Chelsea together with eight other bloggers, there's no stopping me.
The dinner was organized by my friend
Giulia
at The Imperial in Chelsea. I'd seen the review and pictures of her
brunch
at this restaurant, so I was pretty excited to see it for myself.
Located in a beautiful Victorian building on King's Road, we were seated next to the open kitchen so we had a great view of the chefs preparing our dinner. I'm sure it's not every day that they have a group of women with cameras following and capturing every move, but even if it made them nervous it didn't show.
Because we were trying the new menu, there was a lot of food being prepared for us. Six courses to be exact. It sounded great on the menu, but this being my first time at The Imperial I wasn't sure what to expect.
When the first course arrived, I knew I'd come to the right place. Confit duck yolk with hay infused egg white. Have you ever seen or heard of confit duck yolk? It looked amazing and it tasted very interesting – in a good way – too. Great start!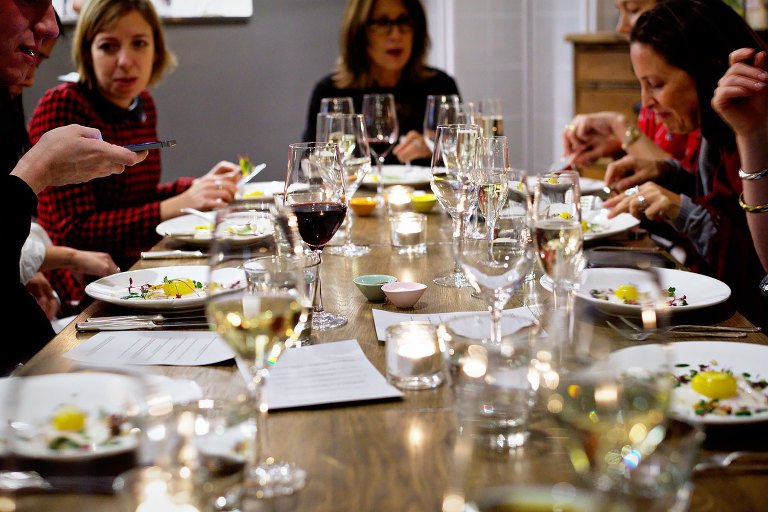 The second course was probably my favorite. Grilled mackerel with pickled cucumber, onion foam and egg crumble. I always like mackerel, but this combination with the other flavors was a winner. 

Chefs in action.

What I love about the menu is that is has a lot of international influences, but they only use local produce to prepare it. Such as this pan fried wild sea bream fillet with blackend leeks, cauliflower puree, samphire and kale foam.
I was already loving the fish courses, but meat lovers will enjoy this menu just as much. The braised pork shoulder was super tender and delicious. Personally I'm not a big fan of black pudding puree (or anything black pudding), but I must admit that the combination worked pretty well.
Another big hit was the last course before dessert: Schezuan glazed whole roast duck with spiced red cabbage, coconut rice, purple sprouting broccoli and red pepper sauce. Presented on a wooden plate to share, it looked great and we could each take as much as we liked. After all the previous courses there was not much room left to finish everything, but people were especially loving the coconut rice.
And no bloggers' dinner is complete without dessert. No matter how much you've eaten, you should always save some room for dessert. Especially when it comes in the form of a chocolate pot with barley foam, a barley crisp and chocolate sorbet. Yum! The perfect finish of a great evening.
It was time to put our cameras and phones away and head home. But I will definitely be back soon. I've heard rumors that their Sunday Roast is pretty amazing, I want to enjoy that beautiful garden as soon as it's getting warmer, and I can't wait to try their brunch…. With my camera of course.