It's not the first time I'm visiting Oslo. I've been here once before with my family when I was a teenager. Which, let's be honest, is a really long time ago. I remember seeing an old Viking ship, eating lots of waffles and trying cheese with a strange brown color. But I don't really remember what the city looks like, if it's big or small, what food the people like (did I actually like the brown cheese?), or what else there is to do apart from the Viking ship museum.
Of course not all Scandinavian countries are the same, but I really loved my recent trips to other Northern European cities such as Stockholm, Gothenburg, Helsinki and Copenhagen (and let's not forget my trip to Iceland). My guess is that I will like Oslo just as much.
I'm spending a long weekend in the capital of Norway, Thursday to Sunday. The flight from Amsterdam to Oslo (I'm flying with KLM) is only one hour and 45 minutes. So leaving early on Thursday and flying back Sunday late afternoon means I have almost four days to explore the city.
As always, the plan is to take it easy. Four days is plenty of time to see and do a lot without having to run around the city. I tried, not always successfully, and as a result I now have a long (!) list of tips to share for when you visit Oslo. It took me a bit of time to put it together, but what I hope it will show is what a great city Oslo is.
Where to get the best coffee in Oslo
Did you know that the people in Norway are the second biggest coffee drinkers in the world? They rank right after Finland (The Netherlands takes the 5th spot). I had no idea, but it explains why you won't have any trouble finding good coffee in Oslo.
There were more coffee places I wanted to try, but I'll save the others (such as Supreme Roastworks) for my next visit. The following two I can highly recommend.
Tim Wendelboe
Of course I'm recommending Tim Wendelboe. Who am I to argue with people who really know everything there is to know about coffee? Tim Wendelboe himself has been World Barista Champion and received the title 'Nordic Roaster' several years in a row. His espresso bar in the trendy Grünerløkka area is the most popular place to get coffee in Oslo.
Address: Grüners gate 1
Fuglen
Coffee and cocktails, Fuglen (translation: 'bird') serves both. The vintage interior (mostly Norwegian design from the 50's and 60's) makes it a cosy spot to sit down during the day with a cup of really good coffee. And in the evening it turns into a popular cocktail bar.
Fan of the interior? Almost everything you see is for sale!
Address: Universitetsgata 2
Where to eat in Oslo
Even people who have never been to Norway will tell you how expensive everything is. And I'm not going to lie, you will probably spend more money on food than you would in other European cities. Cheap is not a word you will often use while you're in Oslo.
But that doesn't mean you can't get an affordable meal. I'm personally not really a budget traveler (don't laugh), I like eating out, but I also don't want to spend all my money on a simple meal. And I didn't have to. I was surprised to find so many cool, new places where you can get a great meal that won't break the bank.
Mathallen
Indoor food market Mathallen has been around for a few years now. Make sure to arrive hungry, because with around 30 eateries, cafés and specialty shops (selling the best Norway has to offer), you'll have a hard time choosing where you want to eat.
Address: Vulkan 5
Vippa
Looking for great street food? Then you don't want to miss Vippa. Located right by the Oslo Fjord, you can sit outside overlooking the water on a sunny day. Instead of typical Norwegian food, at Vippa you'll find food stands from chefs with different cultural backgrounds, cooking with local produce.
Address: Akershusstranda 25
Syverkiosken for the real 'Pølse' experience in Oslo
I don't know why, but Scandinavian countries really seem to enjoy hotdogs. The Norwegian hotdog is called a pølse and it's probably the cheapest food you'll find in Oslo. Of course you can eat them with bread, but for the real 'authentic' experience, get a sausage wrapped in a lompe. This is a round pancake / tortilla made from potatoes. It's delicious!
Although there are plenty of places to eat a pølse in Oslo, there's only one real hotdog kiosk in the city: Syverkiosken. It's kind of an Oslo institution that you must try.
Address: Maridalsveien 45
Streetfood Oslo
More street food! This time not located in an old warehouse like Vippa, but in an old swimming pool. Oslo Street Food opened earlier this year and has seats for over 500 people. When I was here on a Friday night, the place was packed. There are 16 food stands and 4 bars, so enough to choose from.
Address: Torggata 16
Kulturhuset
I didn't really stay at Kulturhuset as I was on my way to something else, so I can't make any promises about the food or drinks. But this place just put a smile on my face, which is why I want to share it. It's literally a 'culture house' with events happening on all four floors.
Address: Youngs gate 6
Try 'Brunost' at W.B. Samson (+ the best cinnamon buns in Oslo)
Remember when I said I didn't know if I liked the Norwegian brown cheese? Well, turns out I do! I tried the brunost at W.B. Samson in Grünerløkka and really enjoyed it. It's a soft cheese made from goat's milk where they heat the milk, giving the cheese its brown color and sweet, caramel flavor.
W.B. Samson is a beautiful bakery and café that you'll find all over Oslo. And very important: they have the best cinnamon buns in the city!
Address: Thorvald Meyers gate 27A
My Ugly Baby for the best donuts in Oslo
For the best donuts (doughnuts?) in Oslo, go to My Ugly Baby. And they're not only passionate about donuts but also about their freshly roasted coffee. Or, as I can tell from experience, about brewing a perfect cup of tea.
SALT
I'm not completely sure how to best describe SALT. Located by the fjord overlooking the Oslo Opera House, they call themselves a nomadic art project, combining food, art and saunas (!). They'll be in Oslo until 2020.
There's plenty of food to choose from, mostly organic and many vegan options. But you should definitely keep an eye on their event calendar to see what kind of interesting concerts, exhibitions and other events are taking place.
Address: Langkaia 1
Best Things to Do & See in Oslo
So now that we've discussed everything you need to know about eating out in Oslo, let's move on to all the great things to do and see in Oslo.
If I would ask you to name a famous landmark in Oslo, you would probably have trouble naming one. This city doesn't have an Eiffel Tower, or a Big Ben or a famous mermaid… Well, they do have a pretty cool viking ship. But there's so much to do in this city, that I had a hard time fitting it all in one long weekend, leaving plenty of things to do for my next visit (such as the new Munch Museum).
And unlike the food, I don't think visiting museums in Oslo is expensive. Admission prices are the same or even lower than what I've seen in other cities.
Oslo Pass
But when you plan to visit many of them, it can add up. Visit Oslo was kind enough to offer me an Oslo Pass, the official city pass, for the duration of my stay. And it might be something you want to consider for your visit.
The Oslo Pass gives you free entrance to museums and sights and free use of public transport. Even though the city is not that big, you're going to need public transport to get around. Being able to jump on a tram or bus without having to think about getting a ticket first was really helpful.
The Oslo Pass starts at NOK 445 (€44,50) for 24 hours, and you can also get one for 48 hours (NOK 665) and 72 hours (NOK 820). I'm not sure you should get it if you're only staying a day, but it could be very well worth it if you have a full weekend of sightseeing planned.
Frogner Park & Vigeland Sculpture Park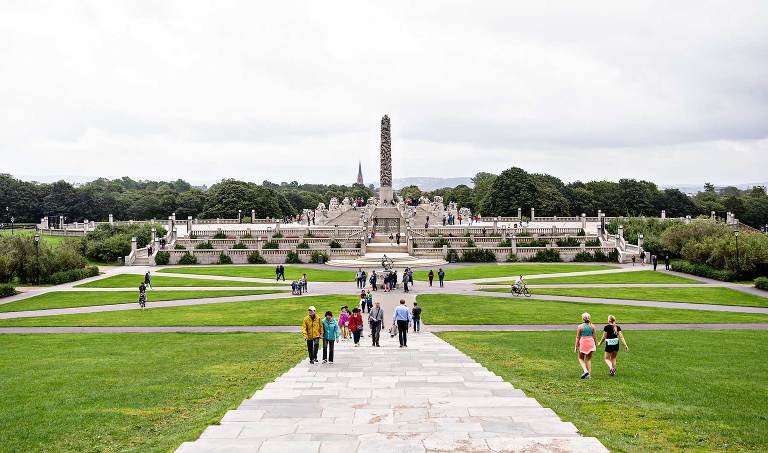 That being said, there are also plenty of things to do in the city that are free. Such as Frogner Park where you'll find the Vigeland Sculpture Park.
There are more than 200 bronze, granite and cast iron sculptures created by Norwegian artist Gustav Vigeland (1869-1943). The most famous ones are the 'Angry Boy' and the 'Monolith', a large sculpture made out of one stone block depicting 121 naked human figures.
Address: Kirkeveien
Oslo Opera House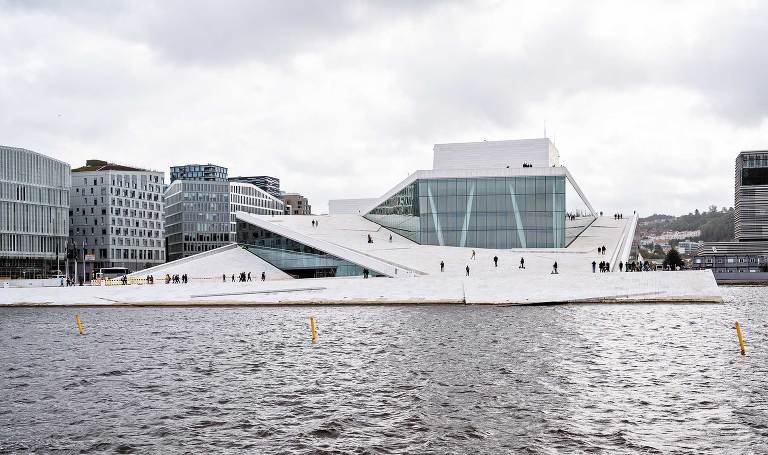 Ah yes, the Oslo Opera House, home of the Norwegian National Opera & Ballet. Located on the Oslo Fjord, the white building with its blue glass windows seems to rise from the water like an iceberg. Unfortunately I didn't get to see the inside of the building as they weren't open yet that morning, but the outside is just spectacular. And make sure to walk to the roof to admire a panoramic view of the city.
Address: Kirsten Flagstads Plass 1
Astrup Fearnley Museum of Modern Art
The Astrup Fearnley Museum is the place to go if you're interested in modern art. It's Norway's most extensive private collection of contemporary art. In addition to the changing temporary exhibitions there's a permanent collection with pieces by well known international artists such as Damien Hirst and Jeff Koons.
Address: Strandpromenaden 2
Grass Roots Square by Do Ho Suh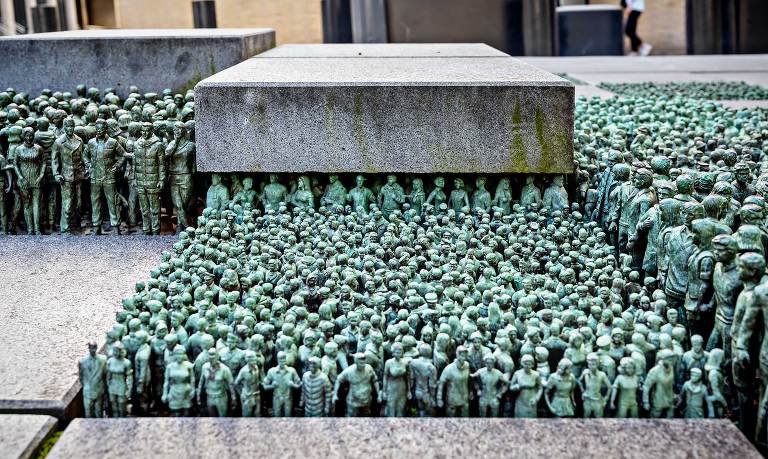 I had seen an exhibition by Do Ho Suh in The Hague only a few weeks before my trip to Oslo. So finding this fantastic public art project by him was such a nice surprise.
At first sight it looks like an ordinary square with grass in between the stones. But when you get closer you see that some of the paving stones have been replaced by thousands of tiny bronze statues. Some standing under a stone, standing next to each other, talking. According to the artist: 'Grass Roots Square is at ground level, the same level as the plaza and the public. It is at this level, the grass roots level, where you can truly understand a community.'
Address: Teatergata
Ekebergparken Sculpture Park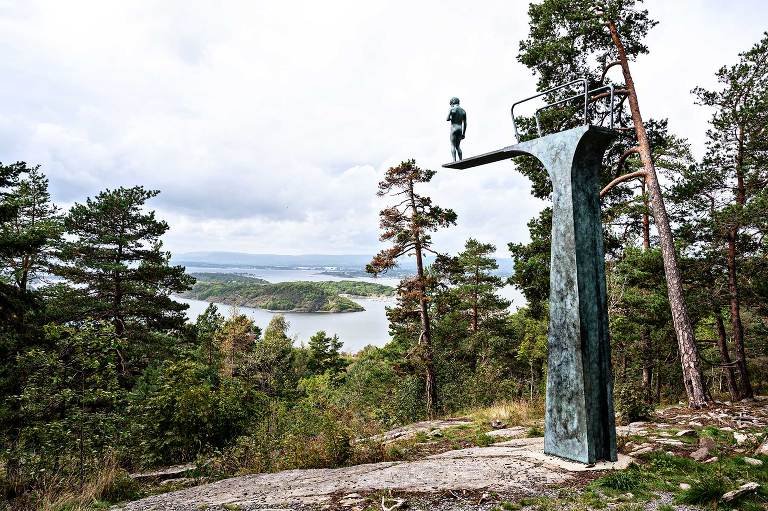 For more free public art, take the tram to Ekebergparken. This national heritage park is so close to the city, but being surrounded by trees and overlooking the Oslo Fjord it doesn't feel like you're in a city anymore.
I've never seen anything like it. The beautiful scenery combined with the amazing art that you'll find as you walk through the park. It's quite spectacular. And they're not just any pieces of art, but work by famous artists such as Dalí, Rodin, Renoir and Damien Hirst.
And if you're planning to visit the Munch Museum, in this park you can see the viewpoint where Edvard Munch had his experience (the sunset turned the sky blood-red which terrified him) that inspired him to paint the Scream.
Address: Kongsveien 15
Nobel Peace Centre
Every year the Nobel Peace Prize is awarded in Oslo by the Norwegian Nobel Committee. The ceremony takes places at Oslo's City Hall, but if you want to learn more about the Nobel Peace Prize laureates and the history of Alfred Nobel, you should visit the Nobel Peace Center.
I wasn't sure what to expect, but I'm glad I decided to go. The exhibitions tell really important stories about peace, war and conflict resolution and the groundbreaking work the laureates are doing.
Address: Brynjulf Bulls plass 1
Norwegian Folk Museum
A Norwegian Folk Museum? Doesn't really sound like something I will enjoy… Wrong: I loved it!
On my last morning in Oslo, I finally take the bus to the Bygdøy Peninsula. There's the Viking Ship Museum, but since I've already been there and don't have enough time, I decide to visit the Norwegian Folk Museum. It's one of the oldest and largest open-air museums in the world with 160 traditional houses from different time periods (1500- today). Most of the buildings date back to the 17th and 18th century, but there's also a Gol Stave Church from around 1200. With several exhibitions, demonstrations and activities taking place you can easily spend several hours here.
Address: Museumsveien 10
The Norwegian Royal Palace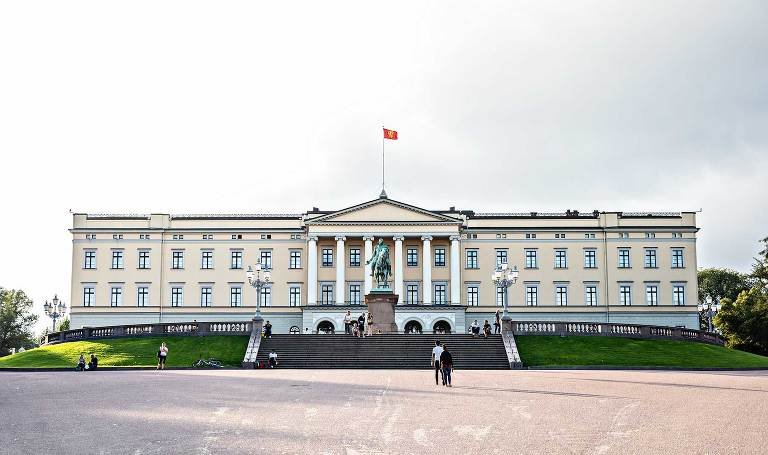 It's impossible to miss the Royal Palace when you're in Oslo. The residence of King Harald V and Queen Sonja is right in the city centre at the end of the main shopping street Karl Johans Gate, so you won't have trouble finding it.
What's interesting about this palace is how close you can get. There are guards in front of the doors, but you can walk all the way up to them. Or have a chat as I saw some people doing. The changing of the guards is every day at 1.30pm. And when you turn around you get a great view over the city.
During the summer it is possible to visit the Royal Palace with a guided tour. Ticket sale for the tours (via Ticketmaster) starts on 1 March.
Address: Slottsplassen 1
Damstredet & Telthusbakken: Picturesque Streets in Oslo
Most modern cities start to look more and more alike, and Oslo is no exception. Which is why I always hope to find something in a city that reminds and shows you what a city used to look like (#authentic). Something you won't see back at home.
As I mentioned before, visiting the Norwegian Folk Museum is one way to do it. But there are two streets in Oslo that still have those cobblestone streets and colorful wooden houses from the 1800s: Damstredet and Telthusbakken. In between the two streets is the cemetery with Edvard Munch's grave and those of other famous Norwegians.
Where to stay in Oslo: Amerikalinjen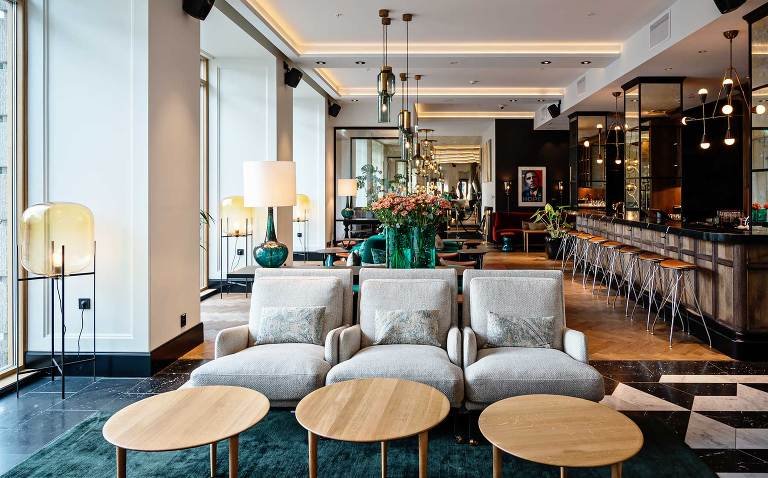 There's a full review of my boutique hotel in Oslo in another post, so this is just a preview. But as I'm sharing all my Oslo tips here, I do want to mention my amazing hotel.
I stayed at the new Amerikalinjen for three nights and absolutely loved it. The hotel, located right next to the central station, is very new, but the building is not. A hundred years ago, this was the headquarters of the Norwegian America Line (hence the name of the hotel), where thousands of Norwegians started their journey to a new life in the United States. On the wall in your room you'll see photos and documents that remind you of those days.
For me it was the perfect place to stay while I was exploring Oslo and I would definitely stay here again next time I'm in Oslo.
Address: Jernbanetorget 2